The mega-retailer Wal-Mart announced yesterday their "suspension" of their corporate membership in the American Legislative Exchange Council (ALEC), they were also joined by Medtronics Corporation, who like several members claimed to have given up ALEC membership much earlier in 2010. But the question remains - Will Michigan's "Detroit 3" (GM, Ford and Chrysler) also drop their ALEC membership? GM has already dropped their support of the Heartland Institute.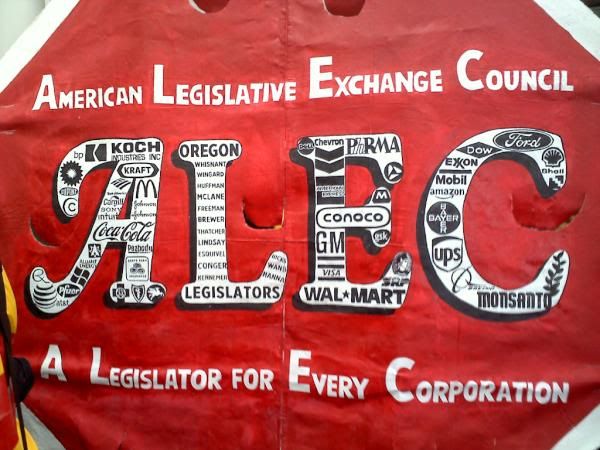 In a letter to ALEC's national chairman, State Rep. Dave Frizzell (R-IN) and executive director, Ron Scheberle on May 30, 2012, Wal-mart informed ALEC that their political and business agendas were no longer aligned. According to Maggie Sans, Wal-Mart Vice President of Public Affairs and Government Relations at Wal-mart:
"Previously, we expressed our concerns about ALEC's decision to weigh in on issues that stray from its core mission 'to advance the Jeffersonian principles of free markets."

"We feel that the divide between these activities and our purpose as a business has become too wide. To that end, we are suspending our membership in ALEC."
There are still over two-dozen Michigan-based major corporations and foundations (such as the
Mackinac Center for Public Policy
) that are ALEC corporate members. Included in that list are the "
Detroit 3
" formerly known as the "Big 3" or automotive OEMs of
General Motors (GM), Ford Motor Company (Ford) and Chrysler Corporation (Chyrsler)
.
Earlier this year GM (and ten other major corporations) discontinued funding to the Heartland Institute, one of many Heritage Foundation associated radical right-wing think tanks, due to pressure of customer concerns about their activities in the denial of climate change movement, promotion of oil & gas industry myths and messaging, as well as other political hot-button related issues. Heartland and ALEC work closely in tandem on a broad range of political issues that go beyond just business into other increasing controversial topics such as the NRA/ALEC promotion of the Florida "Shoot to Kill" law (at the center of the Trayvon Martin case), which as proved by the Sunlight Foundation, most closely matches a 2006 Michigan gun law.

UPDATE:
Commerce, Insurance & Economic Development Task Force
2011 Annual Meeting
Friday, August 5
2:30 pm – 5:30 pm
2. Model Legislation and Presentations
Amendments to the ALEC "Resolution on Franchise and Business Agreement Legislation"
Mr. Jeff Perry, General Motors
Mr. Troy Flanagan, International Franchise Association & Parquet Public Affairs
The Mackinac Center for Public Policy: Heritage's State-Level Darling & ALEC Lab
Mack' Attack: Serving up ALEC and Heritage Rad-right Services to the 1% for decades
Ties between ALEC and the Mackinac Center have been well documented and the two organizations have co-authored, coordinated and promoted multiple publications and issue campaigns ranging from anti-collective bargaining and union activities and legislation to public education, environmental and social issues. Most recently the Mackinac Center and their relationship with ALEC was linked to the "Emergency Manager" law in Michigan.
Since the Mackinac Center does not adhere to the basic principal of transparency and freedom of information (tools they used frequently against their political opposition and as tactics to eliminate and/or privatize government functions) make its funders or membership public, it is not known if GM and other Michigan corporations will also drop their funding for the Mackinac Center.
In a story by the Mackinac Center media outlet "Capitol Confidential", the uneasiness of right-wing network of think tanks and "charities" is becoming more pronounced. As Tom Gantert, formerly a reporter at the Ann Arbor News, reported in "Intimidation, Threats Take Place of Civil Discourse". This coming from an organization that basically admits such tactics while criticizing critics as promoting an "endgame (that) is putting the other side out of business". Ask any of the Mackinac Center opponents if there is any mercy and one will find very little, if any out of the mavens of Midland, MI.
US Representative Sandy Levin has made a call for an IRS investigation of the Mackinac Center, similar to the calls being made on ALEC and a growing list of Heritage state-level think tanks pushing ALEC policy and "model legislation" and their circumvention of lobbying restrictions and financing laws.
Michigan Now the Most Active ALEC Laboratory
Caught like lab rats in a Maze of ALEC/Mackinac Legislation
There now have been over a dozen ALEC model bills added to several identified last year that are now current Michigan law; include a law to give favored liability protection for businesses related to Crown & Cork embroiled in decades long law suits and damages claims by people killed or disabled by asbestos. Media Matters, a national media watch organization, observed that there was absolutely no Michigan media coverage of the limited discuss or passage of the asbestos bill into law earlier this year. In fact, there was no official announcement by the Michigan government or governor's office of the signing of the bill into law at all.
The ALEC asbestos model which was introduced three times by Michigan ALEC members started with Wayne Kuipers in 2006, appeared on a 2011 spreadsheet listing ALEC model bills across the nation made available by a leak of ALEC internal documents. The first leak of ALEC documents (over 800 "model" bills and additional support materials) occurred in April of 2011 and are posted to the tracking portal ALECexposed.org.
At the ALEC National Task Force conference in Charlotte, NC last month at least 5 bills with Michigan origins were presented (three personally presented by Paul Kersey of the Mackinac Center and two others by the Goldwater Institute based in Arizona, also based on related Michigan legislation) as future potential "ALEC Models" for use by ALEC legislative members (both legislators and corporations) across the country, once they have been reviewed, refined and "voted" upon by corporate legal staffs and ALEC corporate members. Since ALEC does not allow any media/press or transparency in their Task Force meetings, a full list of what their future "models" will look like is not yet available publicly, but only accessible to ALEC corporate and legislative members.

UPDATE:
Commerce, Insurance and Economic Development Task Force
2012 Spring Task Force Summit
Friday, May 11, 2012 2:00 PM – 5:15 PM Grand A

Tentative Agenda
Presentations and Model Legislation 2:30 PM
"The Financial Accountability for Public Employee Unions Act"
Mr. Paul Kersey, The Mackinac Center
"The Election Accountability for Municipal Employees Act"
Mr. Paul Kersey, The Mackinac Center
"The Decertification Elections Act"
Mr. Paul Kersey, The Mackinac Center
"Prohibition on Paid Union Activity (Release Time) by Public Employees Act" [also MICH - added Facilities banned from Union any activities]
Dr. Byron Schlomach, The Goldwater Institute
"Public Employee Paycheck Protection Act" [also MICH- Passed into Law 2012]
Dr. Byron Schlomach, The Goldwater Institute
ALEC's main mission as revealed by a "
coordinated and well-funded intimidation campaign
" (…lol) of dozens of organizations and hundreds of activists opposing ALEC, is to serve as a clearing house or "service provider" of pre-written, pre-fabricated laws that support the ALEC organization and members, which is 98% funded by corporate and foundation ALEC members. Opponents called ALEC activity illegal lobbying under the guise of a "charity" 501(c)(4) and decry that their processes circumvent and/or subvert the basic principals of the democratic law making process to the advantage of corporations and special interests, thereby
threatening citizen government as Thomas Jefferson and James Madison envisioned
they might.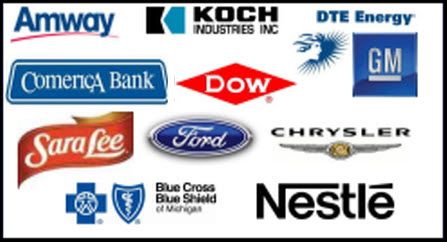 ALEC in Michigan
Worse off than Wisconsin and don't even know it...
Over 150 former and current Republican Party members and legislators have been identified as ALEC members in Michigan going back to the 1980's and 90's, John Engler had a "founding role" among other GOP figure heads from the Koch, Scaife, Olin, and Michigan's DeVos and Van Andel families, and the ALEC National Convention was held in Traverse City, MI in 1993.
Currently 11 (less Blue Cross Blue Shield which dropped their membership on April 17, 2012) of 68 corporate members of the "Business Leaders for Michigan", backers of the candidacy and election of their final choice, Rick Snyder, for Governor of Michigan are currently ALEC members, including the Detroit 3. Hundreds more ALEC corporate members due business in Michigan and across the country, and activists continue to protest at various HQ following a national day of action called for by Occupy Portland last #F29, 2012.
At least 7 major elements of the "ALEC State Budget Toolkit", which was first presented at the Mackinac Center, and then subsequently to the Michigan State Senate, by Michigan Northwood graduate, Jonathan Williams, Director of the ALEC Tax and Fiscal Policy Task Force, and co-author of ALEC's "Rich States, Poor States" one of several ALEC publications highlighted and referenced as justification for policy (business tax cuts, regulation rollbacks, K-12 and higher education funding shifts to private organizations, new bills supporting unfettered fracking, etc) in Snyder and BLM presentations and plans which now serve as the "Blueprint" for Michigan.
This past week, at the Detroit Chamber of Commerce's annual Mackinac Policy Conference 2012 on Mackinac Island, over 3 hours of presentations were made by members of the "Business Leaders for Michigan" (BLM), and their future plans, presumably to also be executed by the Rick Snyder administration, for Michigan. Snyder announced in one of two speeches that the "time for planning" was over and this year was to be "a time of action". The BLM has published a number of "Michigan Turnaround Plans" dating back to their time as the "Detroit Renaissance" under current BLM Executive Director, and former Snyder administration member, Doug Rothwell. BLM plans nearly precisely match the checklist of Snyder's official stated "accomplishments" for 2011, and Rothwell has stated publicly that "things are ahead of schedule" in the Michigan legislature and governor's office, which he and his wife, Sharon Rothwell, organized as part of Snyder's original transition team. Many of members of the Snyder team were in the Engler administration and a clear repeat of several Engler strategies are underway.
Sale of a State (Just Part of the Story)
Corporatocracy isn't coming to Michigan, it's here...
Michigan's ALEC and corporate takeover problems are now infesting other States. Not only is Snyder getting kudos directly from ALEC, but many ALEC observers at the national level exposing ALEC have expressed their deep concern about ALEC activity in Michigan, which continues unabated.
In many US States, ALEC has become one of the core elements of campaigns and investigations (Arizona, Maine, Missouri, Michigan, New Hampshire, New Jersey, Ohio, Pennsylvania, Texas, Utah, Virginia and Wisconsin) leading to mass defections of State Legislators from ALEC, most recently in Pennsylvania, where 18 members quit. Despite plenty of warning and some limited exposure, ALEC remains solidly in place, alive and well in Michigan.
So where other States are waking up to all this, and corporation after corporation opt "out" of their support of the ALEC state policy agenda and programs, Michigan is still betting the farm on the ALEC/BLM path to corporate "business prosperity" ala the ALEC "Rich States, Poor States" snake oil using "Top Ten" ranking and metric arguments, and remains "all-in" irregardless the costs to the average, or even more despicable, the battered, poor and disadvantaged Michigander.
Cross-posted from Blogging for Michigan.