"We March in Solidarity with the Students of Quebec."
Alyssa @alyssa011968
#OO #OccupyOakland join us! It's beautiful out. #solidarity with #CLASSE
On a beautiful Friday evening,
Occupy Oakland marched in solidarity
with Quebec students, CLASSE (their student union), and their supporters, who have taken the streets of Montreal. These tens of thousands have stood against and continue to stand against a government that has denied them civil liberties, arrested them without cause, and then refused to negotiate in good faith.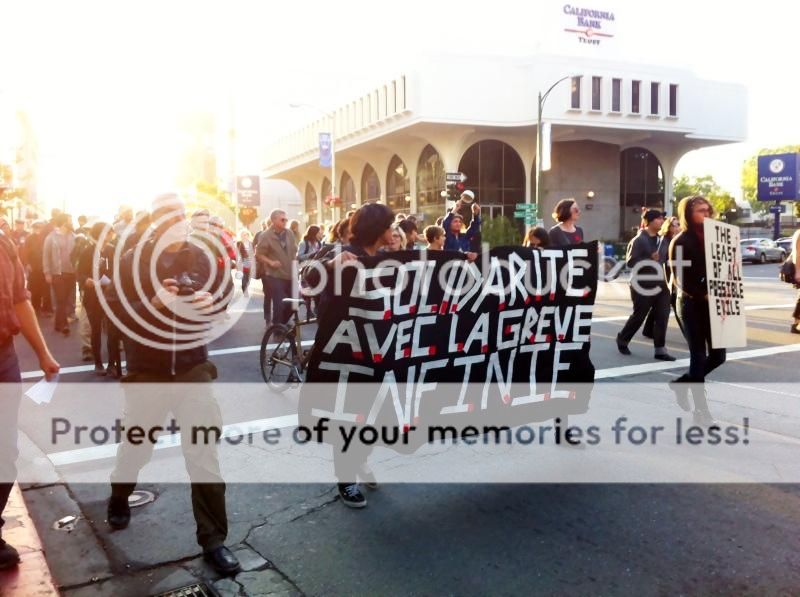 "Solidarity with the infinite strike"

Jaime Omar Yassin @hyphy_republic
On the caserole march in support of montreal; fuckin noisy
The symbol of the Quebec protests is a piece of red cloth, pinned to clothing. And so I marched with such a patch on my hat. And the students' weapons of choice are pots and pans, and wooden spoons and drumsticks, making enough noise to wake Napoleon. And so I marched with a pot, banging it with a wooden spoon.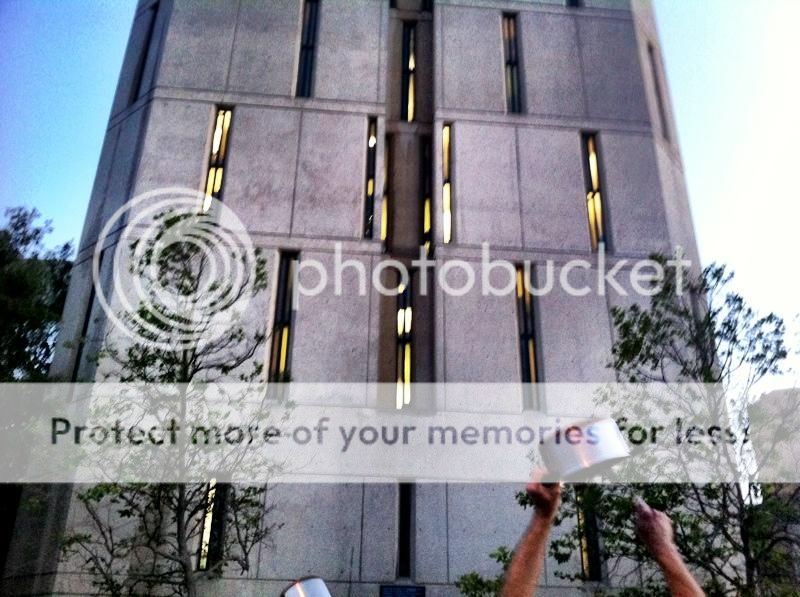 Prisoners listen as we bang and shout.

Occupied Oak Trib @OccupiedOakTrib
#ggi RT @alyssa011968: #oo #OccupyOakland people in jail make noise and wave. awesome. solidarity w/all locked up
Pots and pans were out in force tonight on the streets of Oakland, temporarily joined by a marching band playing 'Oh When the Saints Come Marching In' ...

The brass band joins us.

as we marched around uptown, then down to the jail (shown above), and finally back to our starting point of 19th & Telegraph. With no police to harrass us, solidarity and camraderie were in the air, and the streets of Oakland were alive with First Friday Art Murmer afficionados.

Alyssa @alyssa011968
#oo #OccupyOakland "United we stand. divided we fall" everyone is feeling good. love to c people so happy.

Starting out strong.

Alyssa @alyssa011968
#oo #OccupyOakland it is a good night. Told someone other day if oo is real then it is about international human rights!
CLASSE has been on strike for months. If all you read is American newspapers, you might have missed it completely. The hundreds of thousands of people protesting in the streets, some of the largest demonstrations anywhere in the world recently. The clashes with police. The government's attempt to squash the demonstrations by imposing fascist restrictions on their right to march. The students' defiance of these restrictions. And the negotiations that began in earnest Monday and fell apart yesterday.
The Montreal protesters and CLASSE are fighting for all of us. The least we can do is send them a message of support.

Bill 78 is the measure restricting protest marches andi imposing massive fines on organizers

worthoftheworld @worthoftheworld
If you weren't w #oo tonight, you missed a really fun march!! PotsNpans! Brass band joined the march! ...

Alyssa @alyssa011968
#oo #OccupyOakland we will have Solidarity w/ Montreal march again next friday http://campl.us/...
Background
:
If you would like more background on why the students are protesting, how they have organized, and what they have done to sustain the struggle over these many weeks, check out this diary from a few days ago which includes an interview with three of CLASSE's spokespeople. Here's an article detailing the most recent happenings. And here is Ten Things Everyone Should Know About Quebec's Student Movement.
Viva le CLASSE!
-----
Photo credits: Allie123 (alyssa011968 on Twitter) took most of the pictures. I got the one of the marching band from a Ghostpickles tweet.