Welcome to "What Are You Working On?(WAYWO)" - a place to share all things creative. If you sew it, knit it, crochet it, paint it, carve it, sauter it, felt it, or use any other means to make something new and interesting, please share! This is a friendly, supportive group and we love photos.
As for me, I like to do tutorials and little explanations of different methods. Today I will explain the mysterious world of Tunisian crochet.
First of all, it isn't Tunisian. (See, already a mystery!) There has been a good bit of research into the origins of Tunisian crochet. The only link to Tunisia seems to be that North Africans used a knitting needle that was long with a hook on the end, which is what a Tunisian hook is. The actual technique seems to have appeared in England in the late 1800s, at a time when fancy names were given to techniques, which could account for the Tunisian label. I have a reprint of a 1907 English booklet on Tunisian crochet, calling it "Tunisian or New Crochet." Here is an example of a simple baby blanket I made in Tunisian: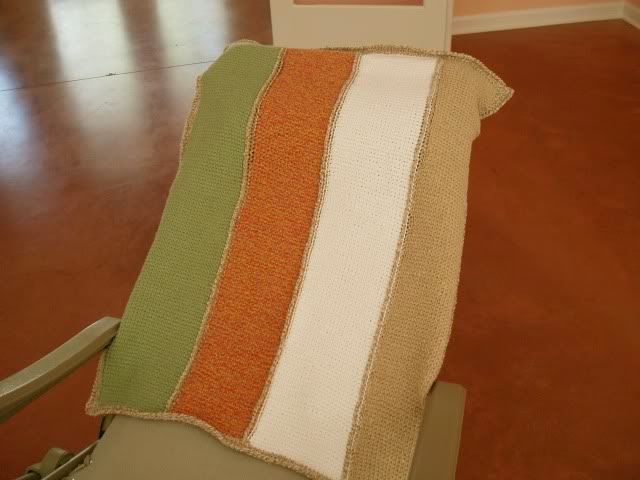 And here are a few Tunisian hooks, long like a knitting needle, but with a hook: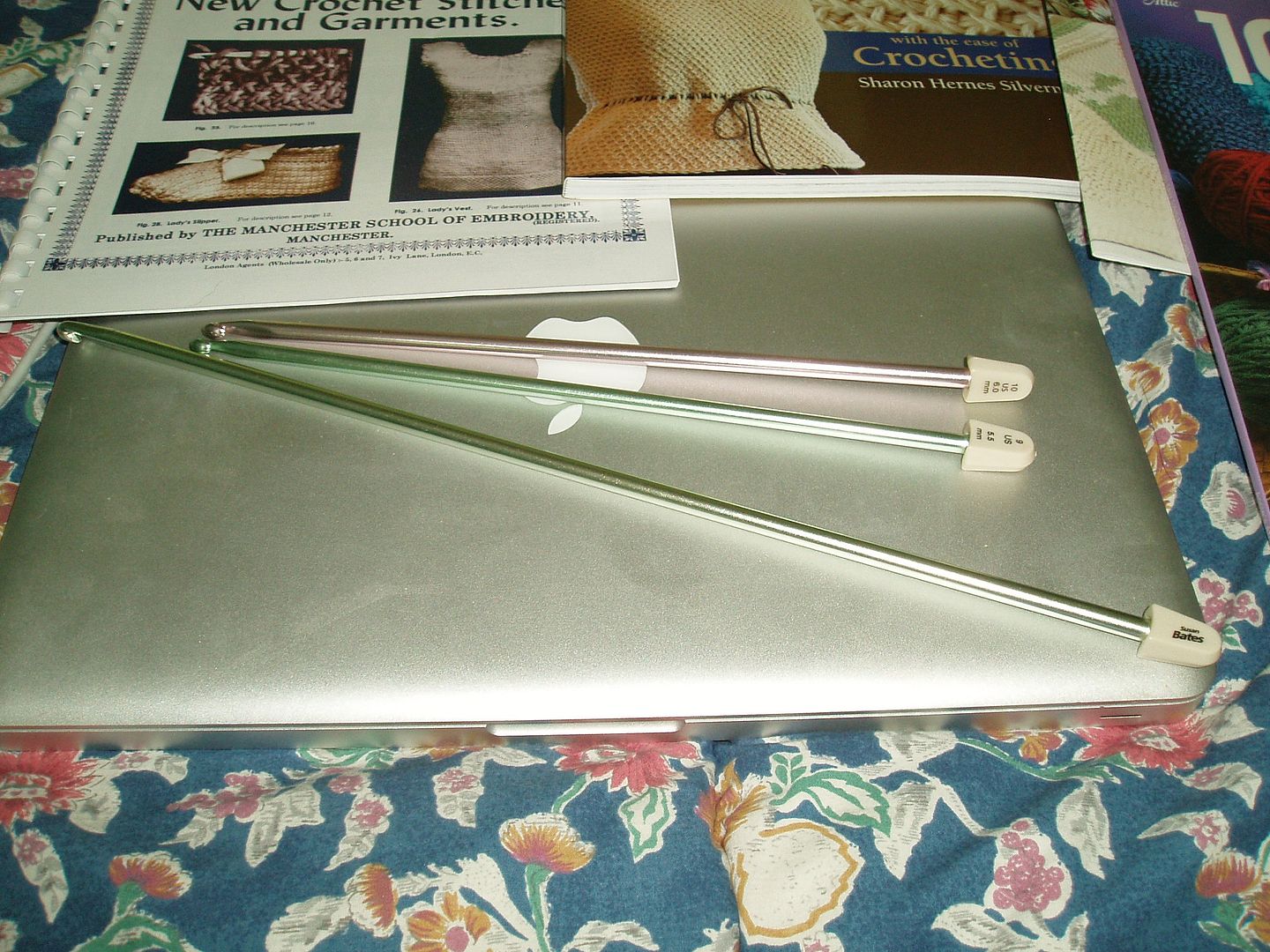 To begin to do Tunisian, you can practice with a regular crochet hook. Make a slip stitch and chain ten.
Insert your hook into the front or back loop of the first chain from the hook, and pull up a loop. Here is where the difference begins. In "normal" crochet, we complete a stitch and move to the next(or do a cluster,complete and move). In Tunisian, we work in rows, There is a forward pass, going right to left to the end of the row, and a return pass, completing each stitch.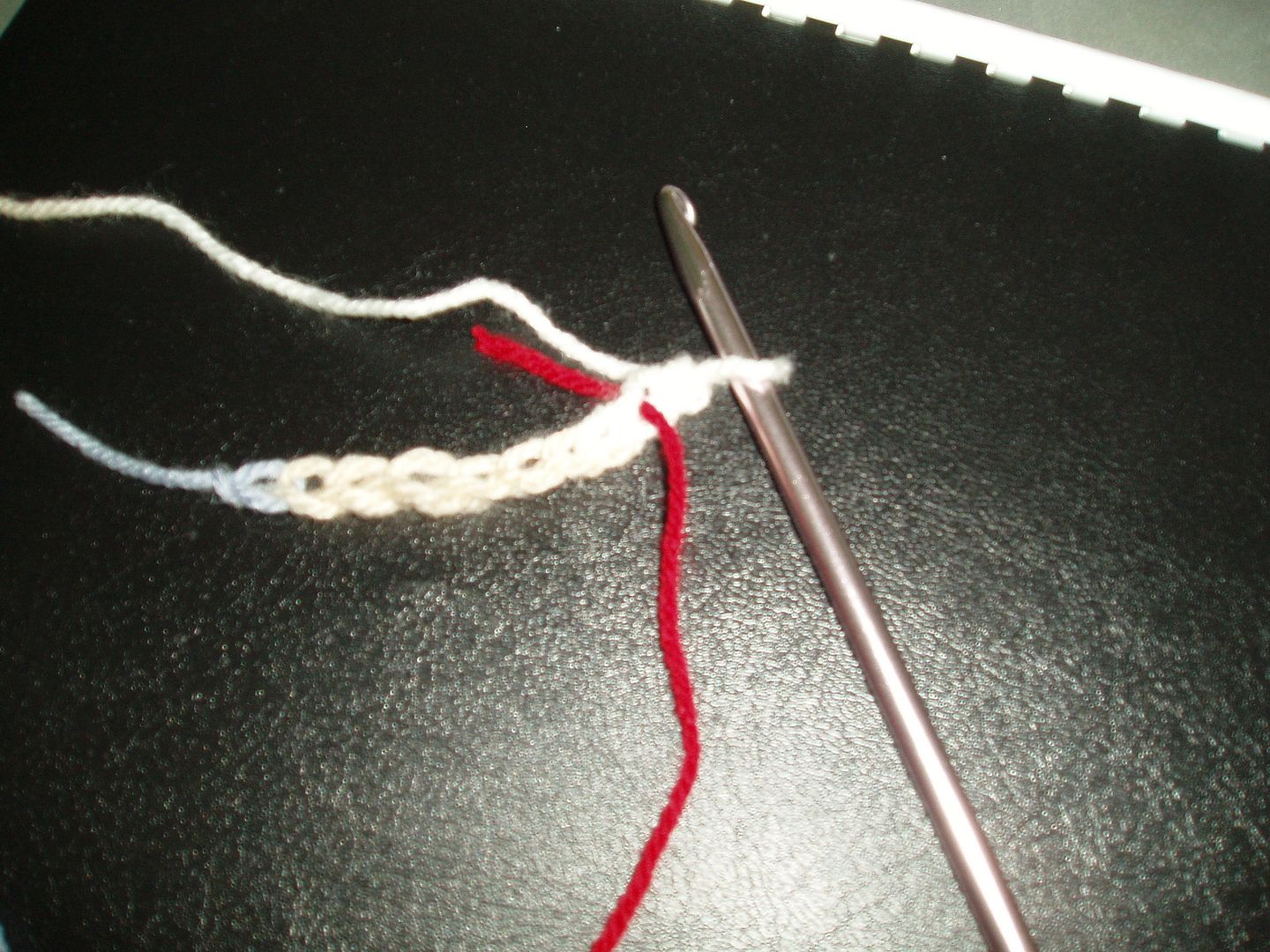 The red yarn shows where the hook will go.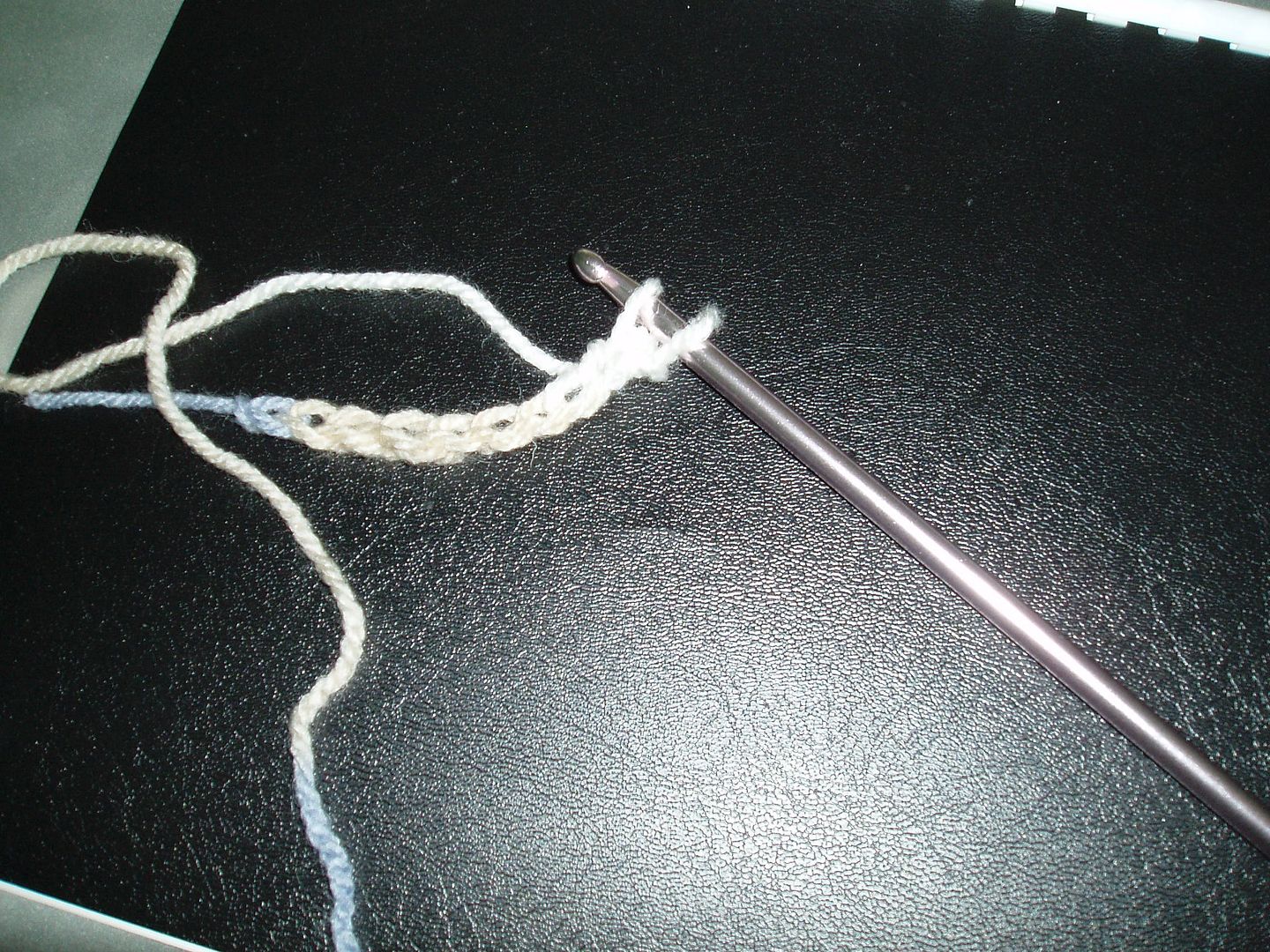 Continue across the chain, pulling up loops and leaving them on the hook until you are at the end of the chains and have TEN loops on your hook. It should look like this: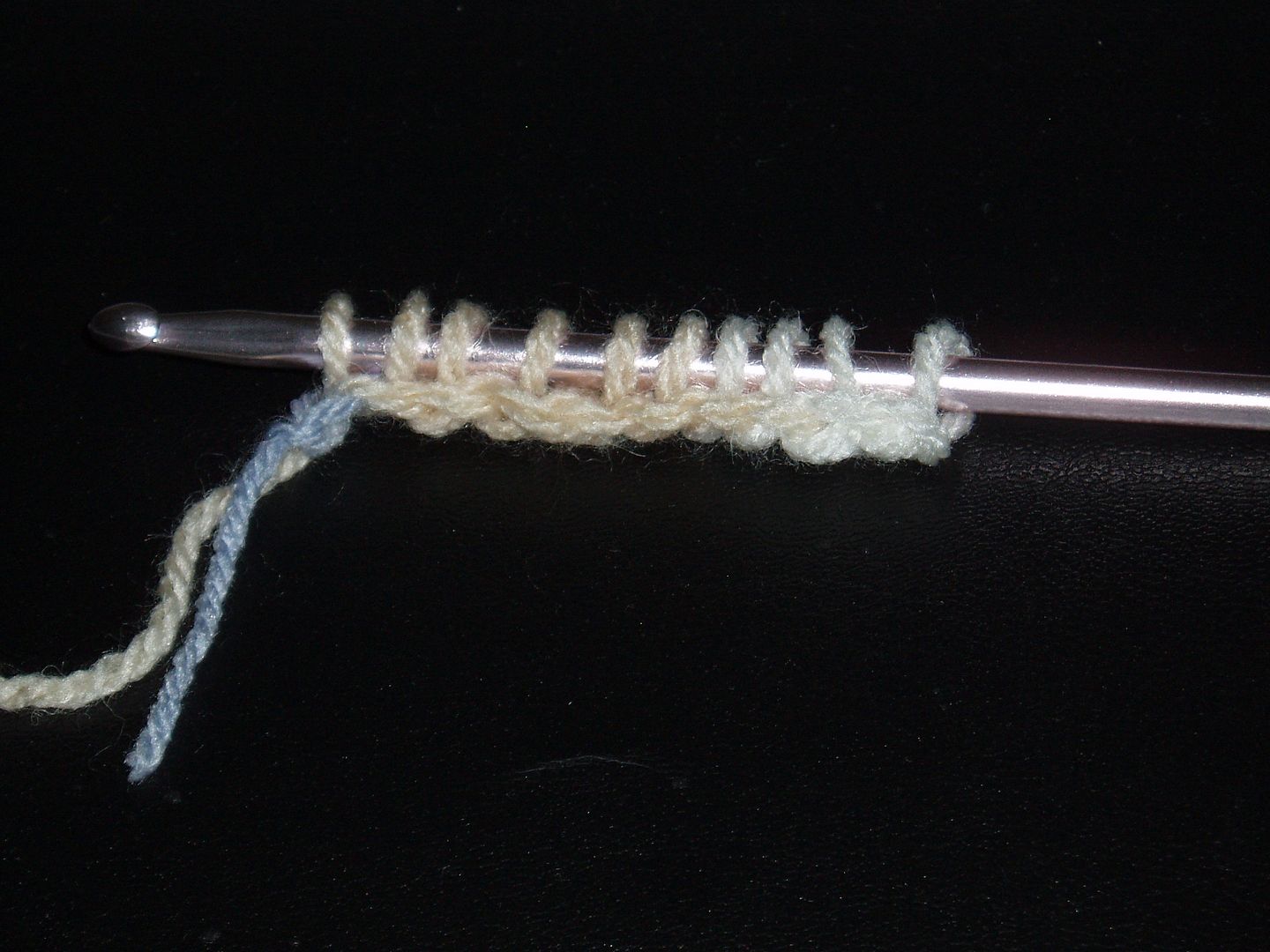 Now, you are ready to do a return pass. Every row is done the same way in return pass. First, draw up a loop through the last loop on your hook.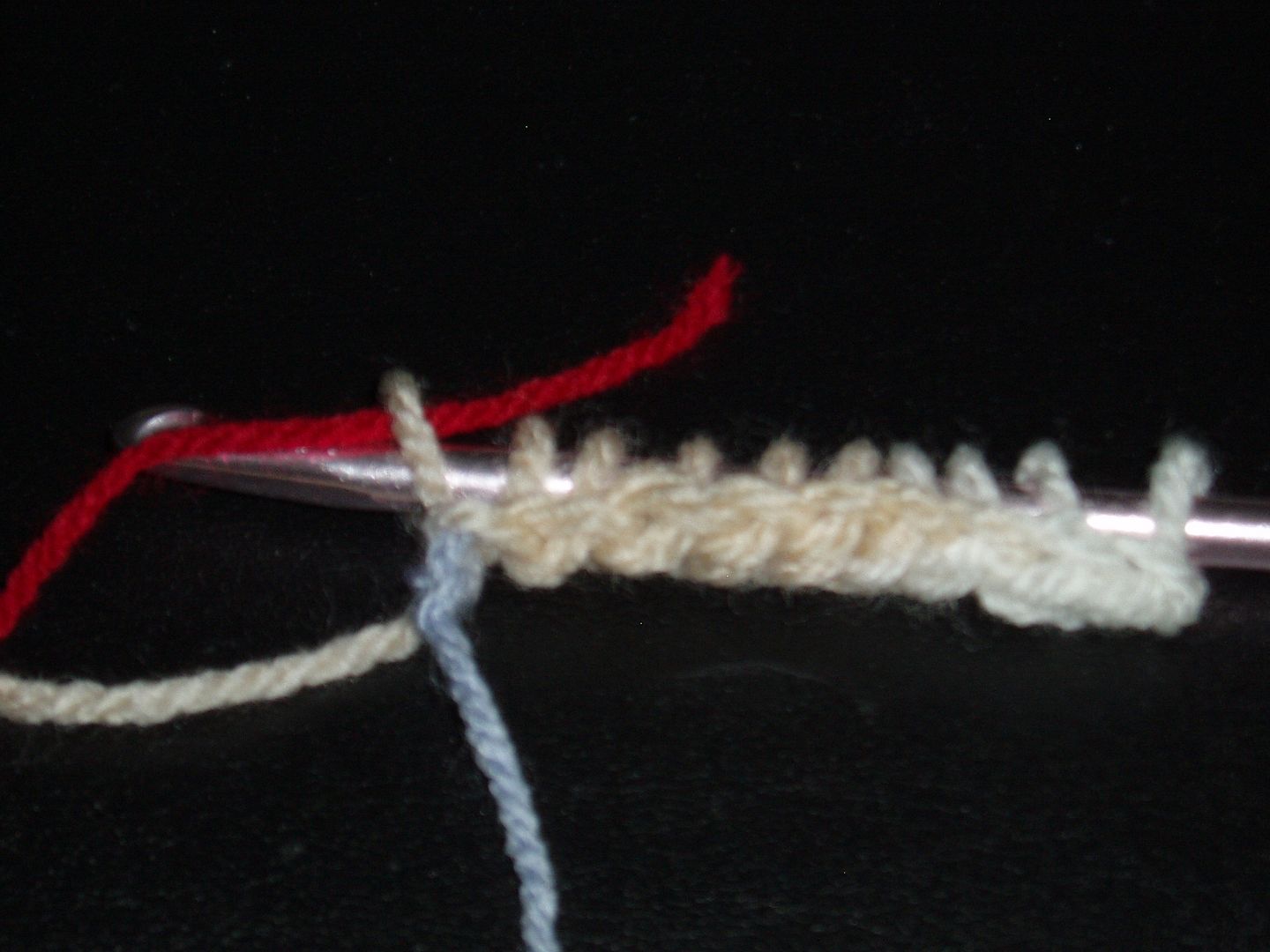 After that, you will draw the loop through TWO loops on your hook.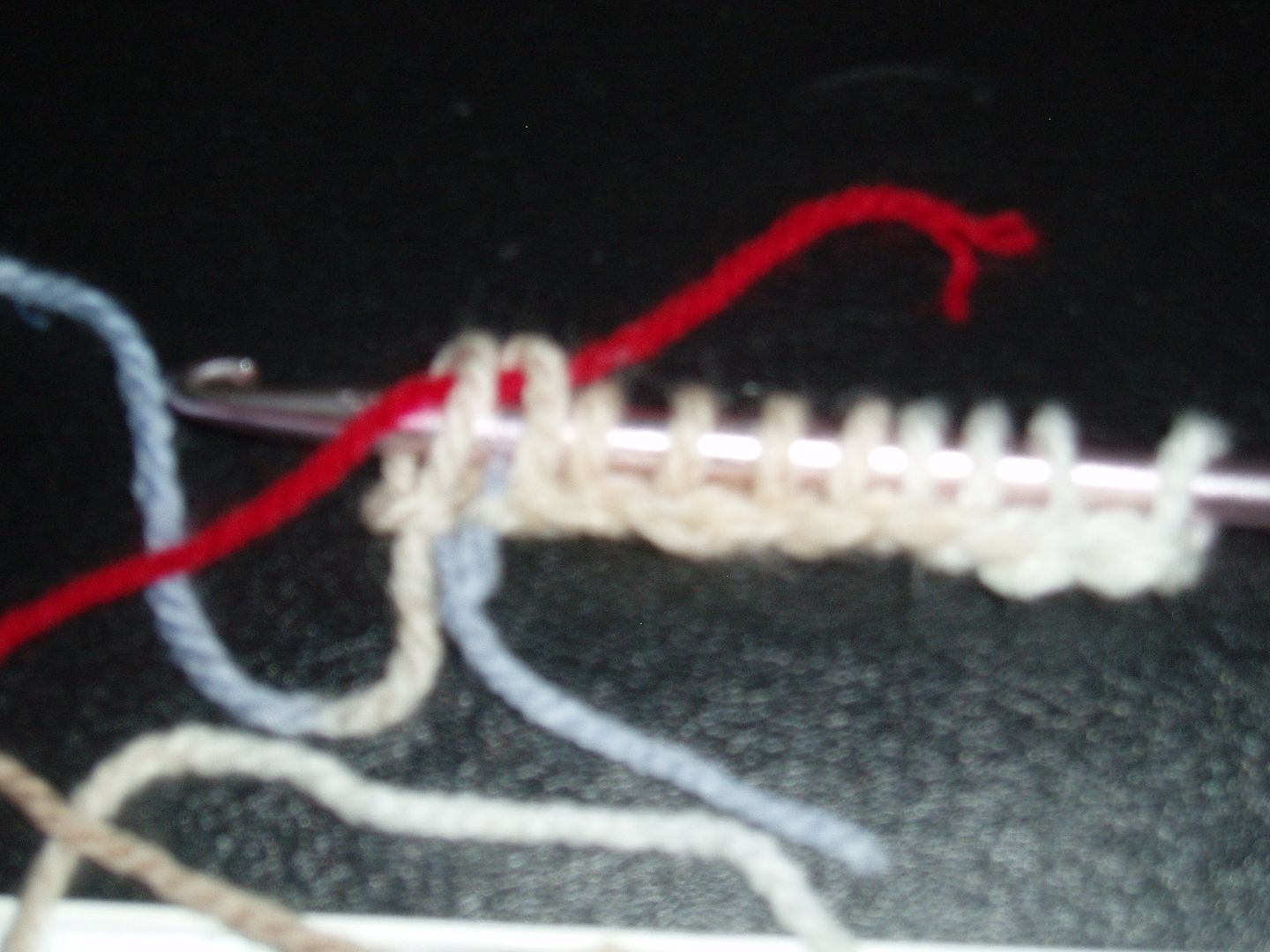 If you count, that first single loop is 1, and by the time you get to the last single loop on the hook(pulling two at a time) you should have counted to ten. It should be looking like this on the return pass: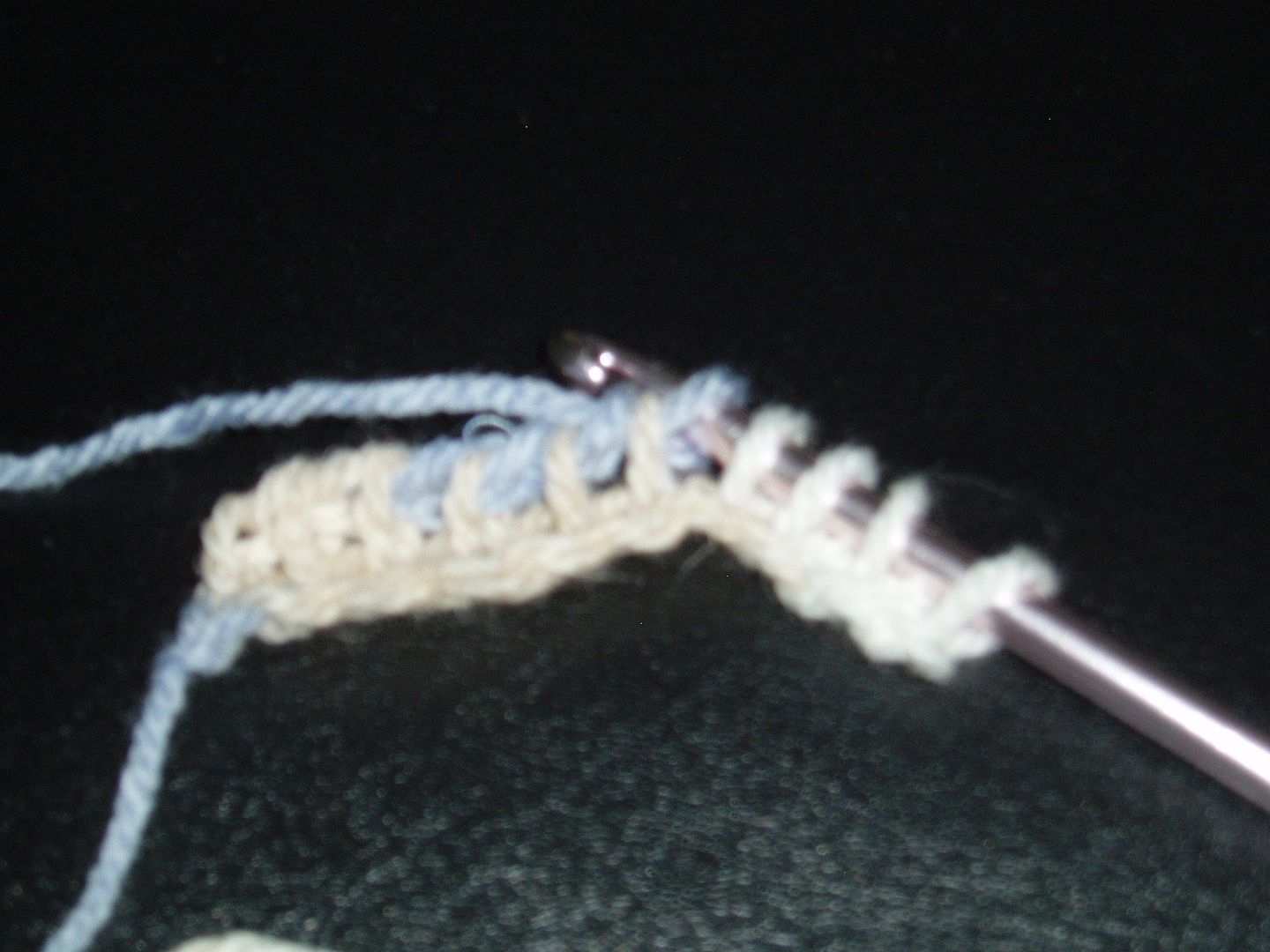 You keep doing two loops til there is just one loop left on the hook, and now you are ready to start the Tunisian simple stitch row. The first row(forward and return make one row) is a foundation row.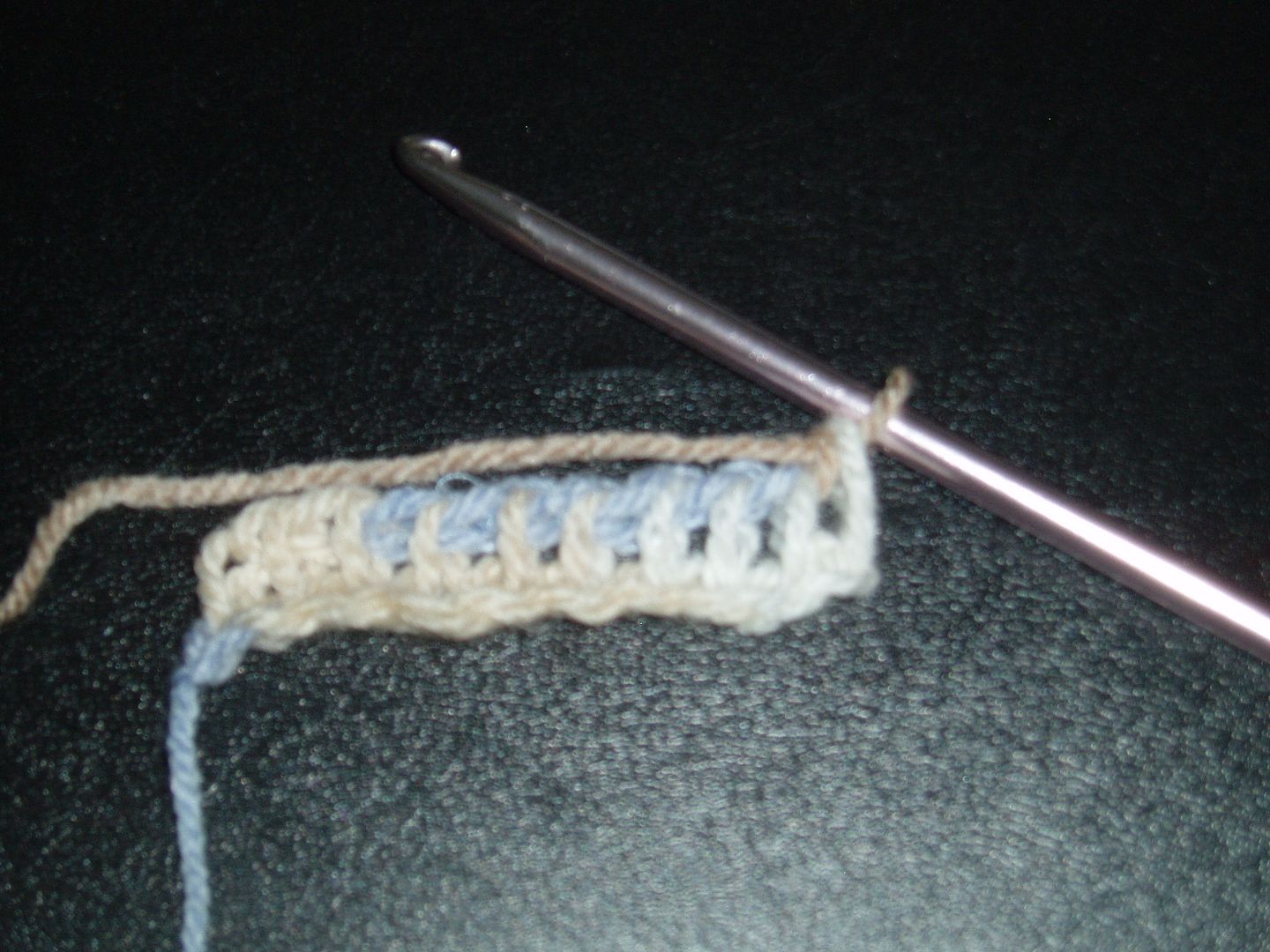 The row looks different from a normal crochet row, and you will see two vertical loops.(where the red yarn is).
Put the hook from right to left in front of the work, through that loop. Bring up a loop and leave it on your hook. Continue across, one vertical loop at a time.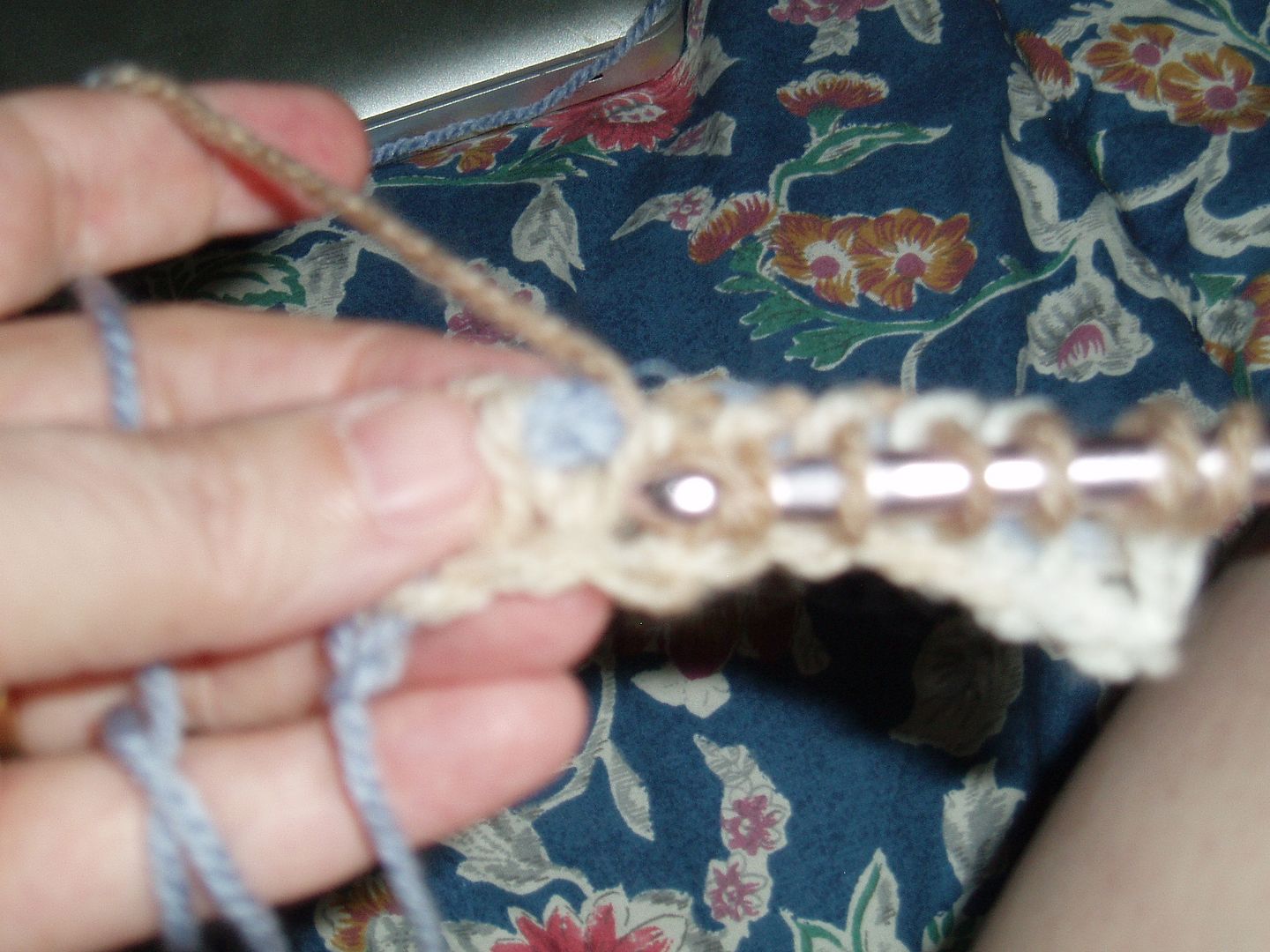 Then do a return pass exactly as before: pull a loop through the last loop on your hook, then pull a loop through two loops on hook at a time, til there is only one loop left.
After a few rows, you will see the tight, woven look that makes Tunisian crochet so attractive.
Do not be alarmed by the curling of the beginning edge - it is just a feature of Tunisian crochet. There are recommendations for eliminating it: using a larger hook at the beginning, using the back bump behind the chain...I have tried them all, and it still curls. I get used to it. It is the reason I laid hooks across the work so you could see it clearly. There are many Tunisian stitches, some give the look of knitting and others are nice for lacy scarves - I invite you to Google and find the wide variety. There are good tutorials but they are pretty slow. I will show a few other stitches I tried: the knit stitch,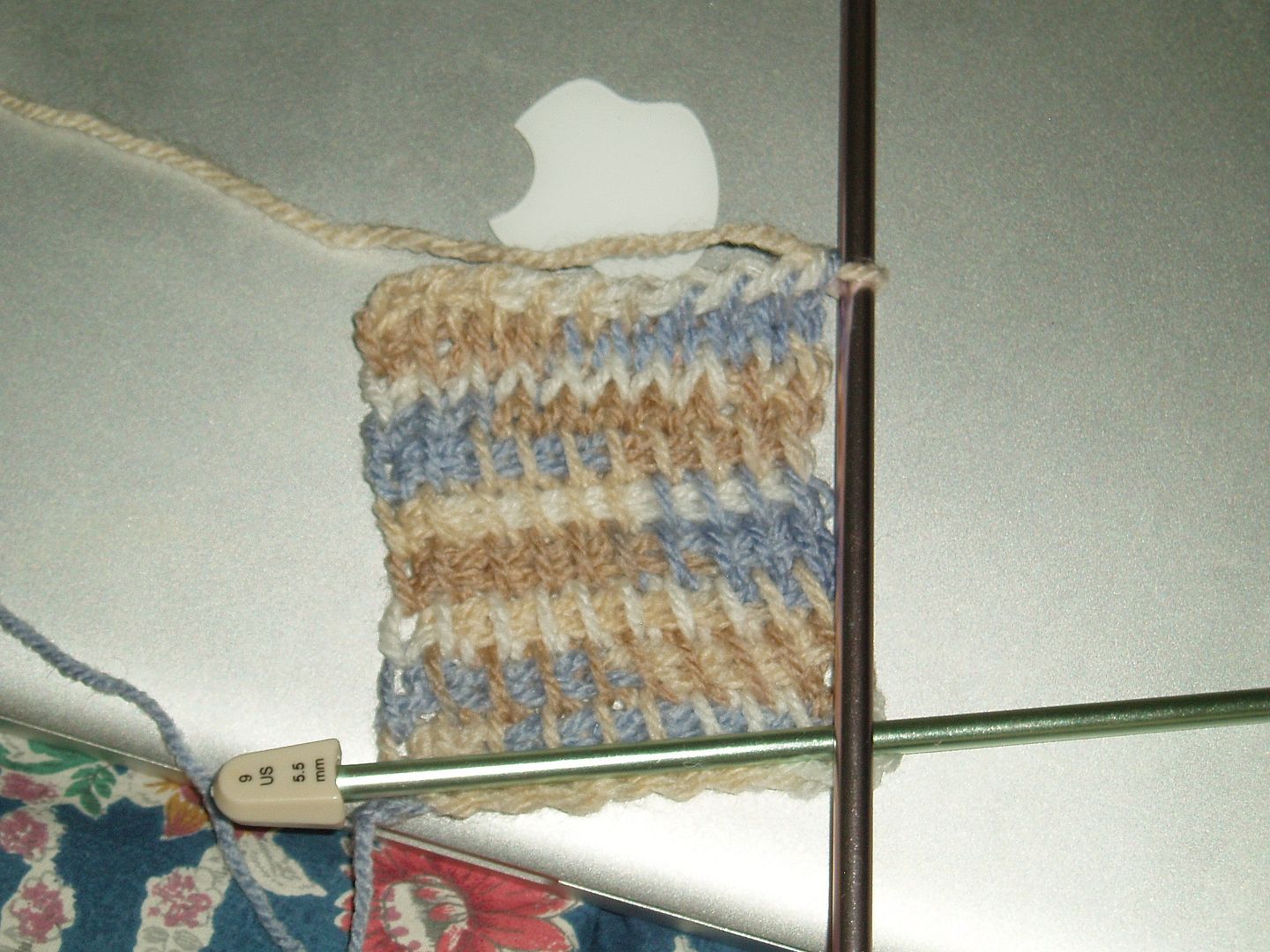 and after that, a lace stitch.
I have loved adding this technique to my repertoire - it is wonderful for blankets but can be good for switching colors, as a background for embroidery, etc. I will end with a photo of a monster size S wooden Tunisian hook that I used for a blanket.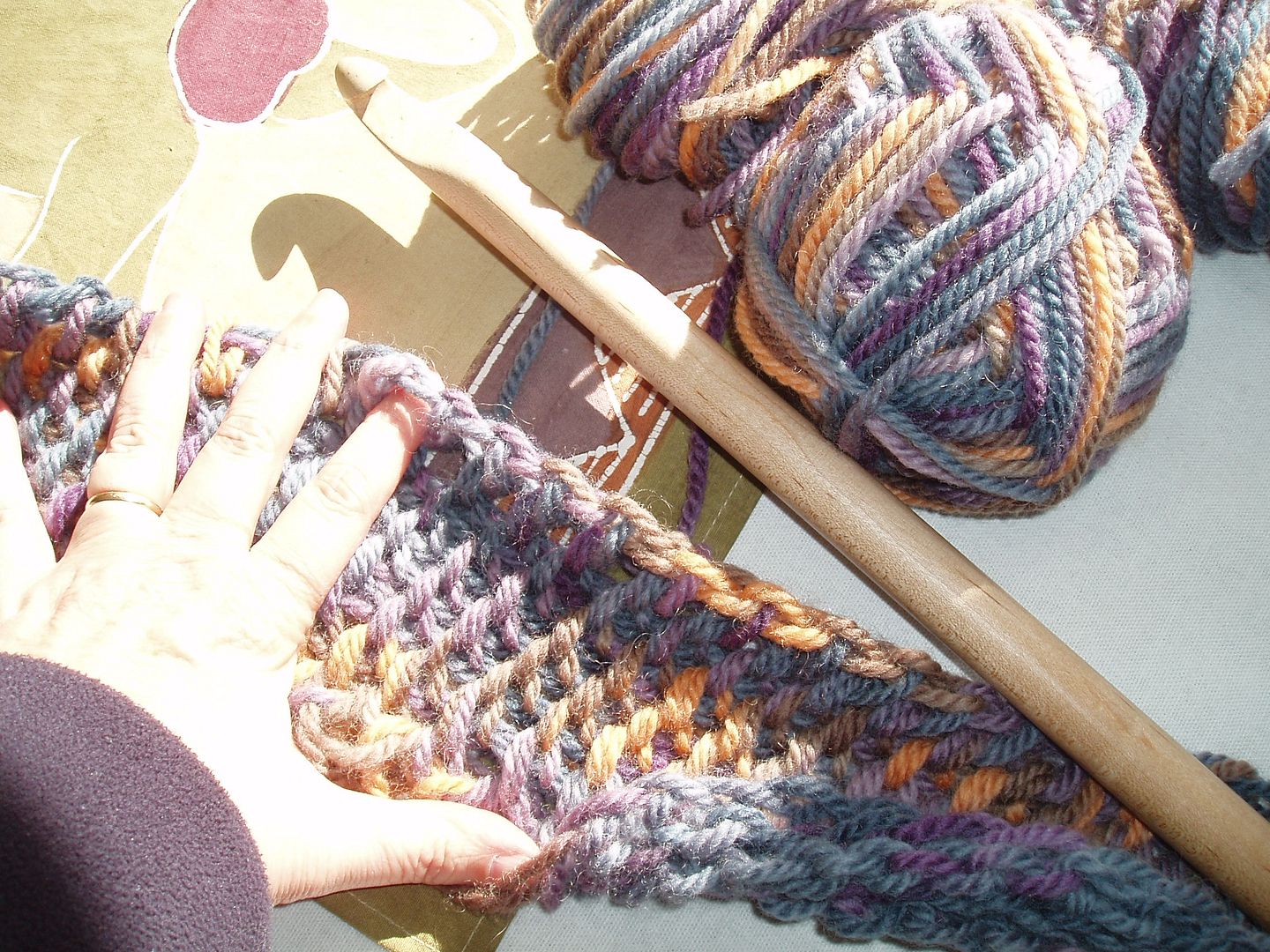 I don't have good photos of the whole blanket, as the colorway was hard to photograph. This photo gives a good idea of it, though. I used a chunky wool and it went very quickly. My arms got to be extremely strong from holding the weight!