After a big weekend with the house overflowing with grandkids for three days running, gramma and grampa needed some R and R. So after after all her cousins had returned to their respective homes we dropped our little one off at Day Care Tuesday morning, tossed our camera, binoculars, and a bite to eat in the car and hit the road for leisurely drive over to one of Missouri's many springs. This spring ranks only fifth in size in the state of Missouri but even so it's average daily flow rate of nearly one hundred million gallons is pretty impressive. The crystal clear cold water that bubbles out of the ground forms a beautiful stream that makes a perfect environment for rainbow trout and attracts many fisher men and women to the park each year. We didn't go for the fishing this trip , just for a peaceful walk along the stream to enjoy the scenery and birdlife and other wildlife of the area. At times the park can be very crowded but we were counting on a slow day since we were going on the day after a big weekend and we weren't disappointed in that. We didn't have the park to ourselves but it wasn't crowded at all and the few people we saw were quiet and seemed to respect the serenity of the area as much as we did.
The Karst topography of this region has created a large aquifer below the surface that encompasses about 300 square miles. This aquifer consists of interconnected fissures and caves that hold varying amounts of water depending on the time of year and the amount of rain water that falls on the watershed above. Eventually all of this water finds its way to an underwater cave opening where it rushes up out of the dark confines to once again greet the light of day. As it does so it forms this pool of incredible blueness whose beauty never fails to blow me away no matter how many times I've seen it.
At the lower end of the pool the calm serenity ends in a rush of tumbling dancing water to begin it's journey through the ancient rocky landscape in the bed that it has been steadily carving out for itself for countless thousands of years.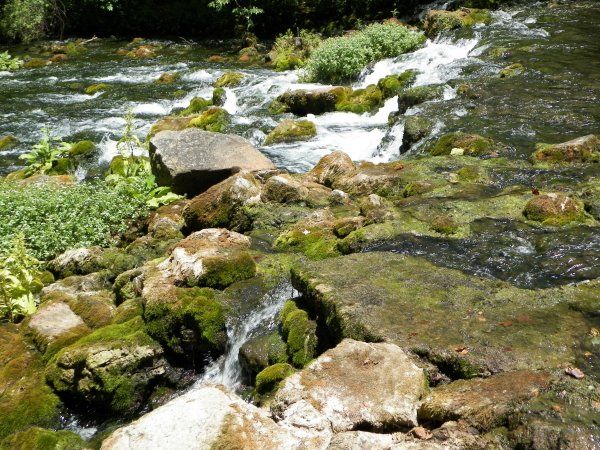 And a view of the pool overflow from just downstream.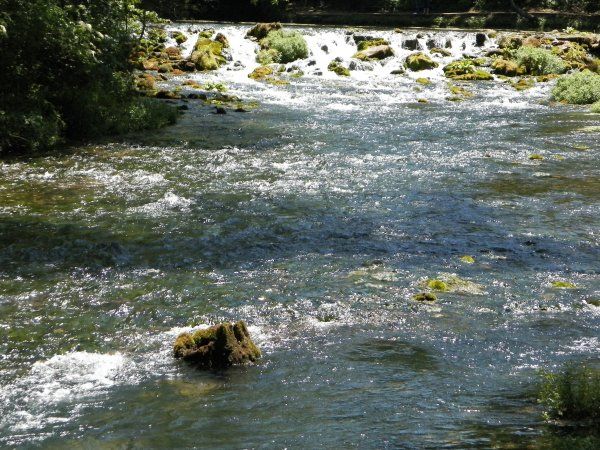 A small foot bridge crosses this little waterfall and you can both see and hear the power of the water as you stand above the rushing water.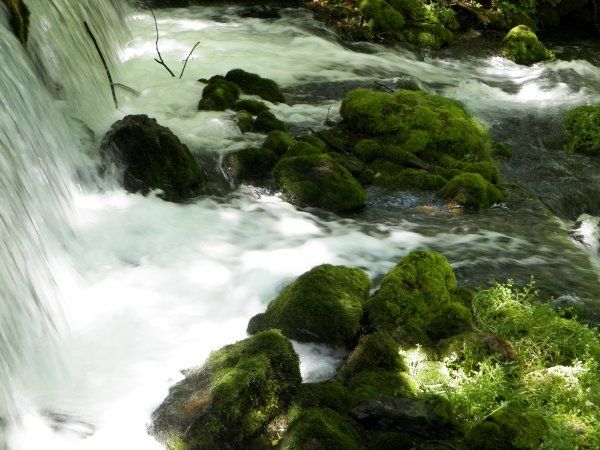 Here is the view from just below the bridge and falls.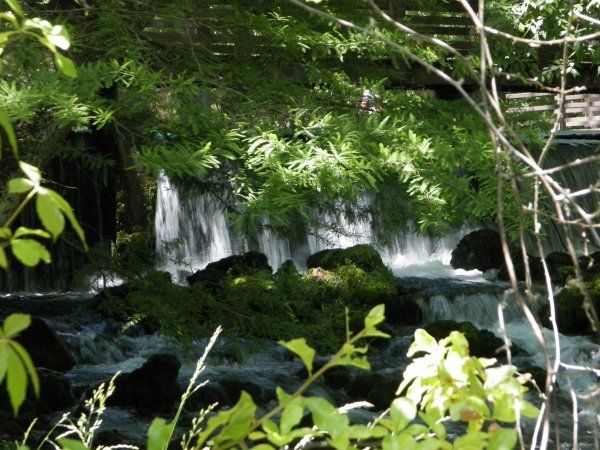 This little blue tailed skink , as we call them locally but technically known as five lined skinks, didn't seem too concerned with us as we crossed his bridge.
Fishing is not allowed above a certain point and many trout have found their way back up into this part of the stream and enjoy complete safety in this sanctuary.
There are strategically placed gumball machines at various places along this no-fishing stretch and for the price of a quarter you will be rewarded with about a pennies worth of fish food. If you toss this into any of these upper pools the trout will come to the surface to gulp down those goodies. I donated a quarter just to get a picture of this activity.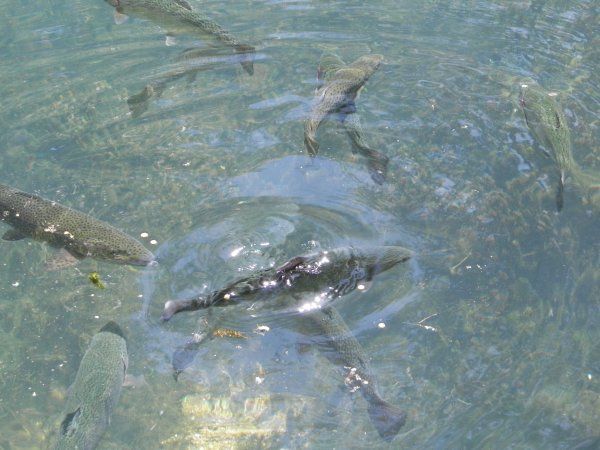 This little guy has learned to hang out near one of the gumball machines and at the sound of the handle being turned he magically appears waiting for dropped or spilled pellets. Very cute ,yes, and he will eat right out of your hand, but as I soon found out, his teeth are quite sharp.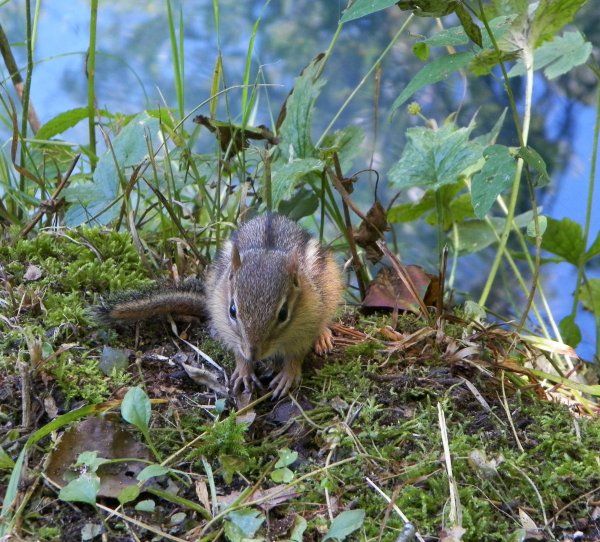 These stunningly beautiful damsel flys were very abundant all along the stream. They sparkled in the sun like little green emeralds while their wings created a perfect black velvety contrast. I believe they are Ebony Jewelwings.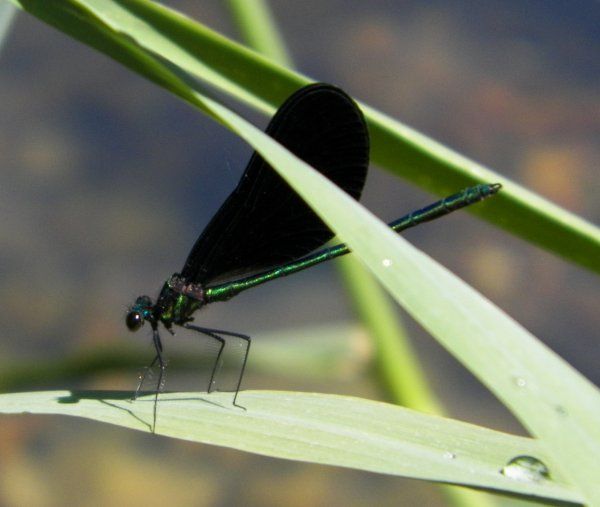 And this one was cooperative enough to let me get a shot of him with his wings opened up.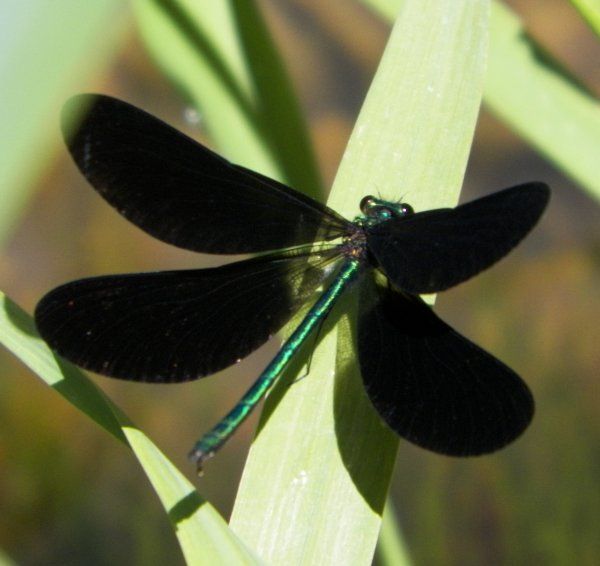 An uncooperative Indigo Bunting pulled me well off the stream and into the woods as I tried to get it's picture. Ended up with a blurry bluish blush which isn't worth posting but during the chase I did come across this beautiful dragonfly. My best googleing efforts failed to get me a positive ID but I think it may be a member of the clubtail family.
What's missing from these pictures is the sound of the water itself as it rushes and tumbles over and around the rocks. I wish I had some audio to go along with this diary.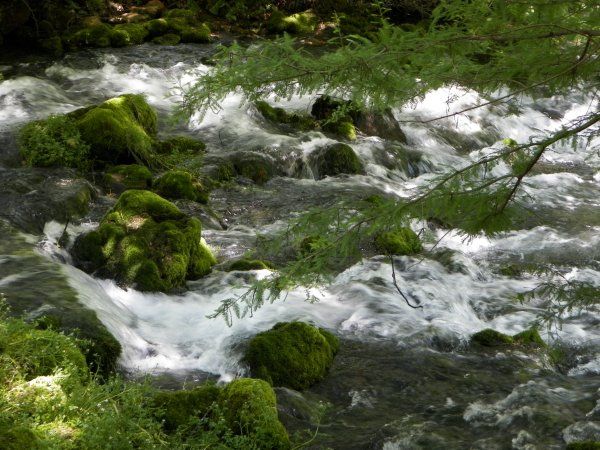 Eventually the stream bed levels out and widens a bit and the flow though still quite quick, slows down just a little and settles comfortably into the age old and natural instinct of all rivers to become a blue and silver chain of pools and riffles This is the area that trout fishing is allowed and here and there you will see fishermen and women as they seek out the beautiful rainbows hiding within as you walk along the stream.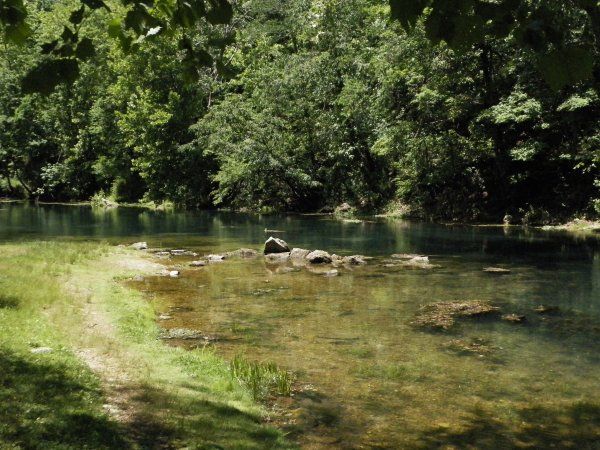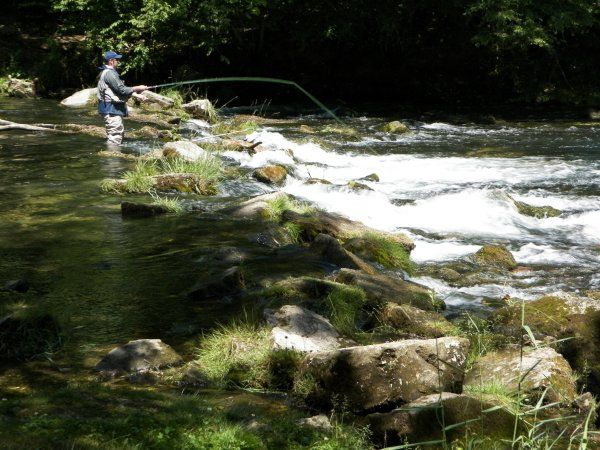 I'll end this diary where it began, with one more picture of this incredible blue serene pool.