The quote above was from yesterday's NYT. It wasn't about youth unemployment in Spain or Greece, and it wasn't a joke. Houston, we have a problem.
For this generation of young people, the future looks bleak. Only one in six is working full time. Three out of five live with their parents or other relatives.
First of all, let's dispel a few myths.
Number one, kids aren't going to college in radically greater numbers than in the past. Thus kids seeking "shelter in school" is a myth created by those trying to make the falling labor force participation rate seem better than it actually is.
Secondly, many kids will never be able to go to college. Period. It might be money, or grades, or family situation, or whatever, but college will be out of the question. We can't just say "tough luck" to a huge percentage of a generation. It is these kids that the Depression has fallen on hardest.
Americans who graduated from high school just before layoffs started to swell — in this report, defined as 2006-8 — were having trouble making ends meet. Just 37 percent employed were full time and another 23 percent were working part time, usually because they could not find full-time work.
But among those who graduated after the financial crisis, the numbers are far worse: only 16 percent of the classes of 2009-11 had full-time jobs. An additional 22 percent were working part time, and most of them wanted full-time work.
Thirdly, a college diploma is
anything but
a sure ticket to the good life.
About 1.5 million, or 53.6 percent, of bachelor's degree-holders under the age of 25 last year were jobless or underemployed, the highest share in at least 11 years. In 2000, the share was at a low of 41 percent, before the dot-com bust erased job gains for college graduates in the telecommunications and IT fields.
In fact, for the first time in history, a
majority of the unemployed have attended college
.
And even those college graduates with jobs are seeing their
wages plummet
.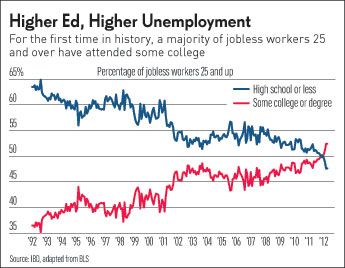 The Screwed Generation
The youth today have it tougher than anytime in memory. The Associated Press reports that the 20-30 age group, "are less likely to be employed than at any time since World War II."
"Since World War II" means "since the Great Depression."
The question that people should be asking is: can we afford this?
It's one thing to write off the neighbor's kid, or a kid in another town you don't know. It's entirely different to write off an entire generation.
That's a generation that won't be starting families. A generation that won't be buying homes. A generation that won't be able to get into careers that they want. A generation who's earnings will be much less than the generation before them. A generation who's savings will be much less than the generation before them.
Who are you going to sell your house to when you retire? Who are you going to sell your stocks and bonds too when you retire?
How do you think that will play out socially? Higher drug use and crime rates for decades to come.
How do you think that will play out politically? A more stratified economic life means more extreme and radical policies, both at at home and abroad.