"Pastor" Terry Jones is trying to give Fred Phelps a run for his money for the title of "most insane, hate filled religious leader in America."
While his Quran burning didn't quite do that, though it did spark riots in the Middle East, get people killed, engender more anti-American sentiment and put our troops at increased risk, he didn't quite out do Phelps.
This stunt might not give him the crown for king crazy either, but it will sure earn him something (like hopefully a long, many day "talk" with the Secret Service)

Now he's decided that hanging the President of the United States in effigy, in front of a church, is necessary and appropriate. Keep in mind, this in Florida, not Afghanistan or some other third-world hellhole where this sort of thing is common.
Addicting Info
He also released a video about his lynching protest
How long will it be until a right wing apologist comes out in favor (under the guise of freedom of speech) or give a weak statement of outrage. Because you know if it had been Rev. Wright about Bush, you couldn't hear over the din of the right wing media calling for each and every Democrat in office to apologize, refute, denounce, etc., the display.
1:32 PM PT: ljcrazyhistorian posted a diary about this as I was writing mine. His focuses on the comments and what is free speech. Check it out
3:14 PM PT: I took the photograph ljcrazyhistorian updated his diary with and pulled out the head of the analogue so you can get a better look at it.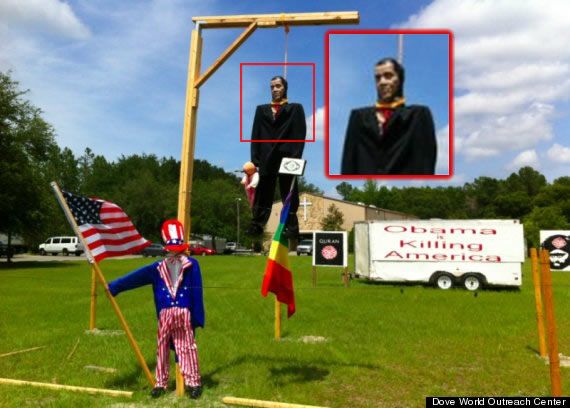 8:39 PM PT: from jcrazyhistorian, and even better closeup