Peace...
I used to believe... I used to think it was completely possible and when President Obama took office, I believed that the old order of "Bombs Away and Pass the Freedom Fries" were over. I think the President tried to make peace in the region (I/P) but simple fact... as much as people say they want it (and I think majorities of people on both sides do want peace - or that is what the polls say.. ) there are some people that simply don't want anything to do with it.
That, whether we like it or not is a fact. Who are some of these people. Well there are good (/snark) folks at Palestinian Islamic Jihad who decided to "celebrate" a kindegarten graduation with the a demonstration on the evils of Israel and the "joys" of suicide attacks and matyrdom operations.
This is what happens when Kindegarten Graduations go bad...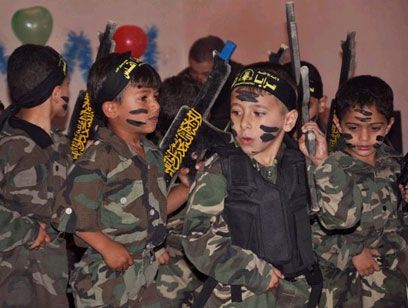 and: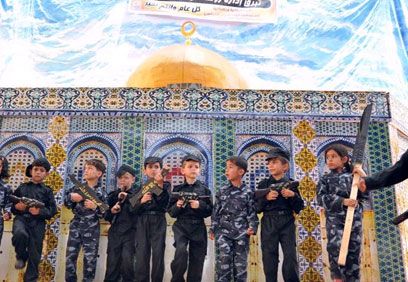 We get this:

"It is our obligation to educate the children to love the resistance, Palestine and Jerusalem, so they will recognize the importance of Palestine and who its enemy is," the kindergarten's director said.....

One child, Hamza, said "When I grow up I'll join Islamic Jihad and the al-Quds Brigades. I'll fight the Zionist enemy and fire missiles at it until I die as a shahid and join my father in heaven.

"I love the resistance and the martyrs and Palestine, and I want to blow myself up on Zionists and kill them on a bus in a suicide bombing," he said....

...."At every kindergarten graduation ceremony we focus on the children to represent the role of struggling and resistance in the way of Allah so they will grow up to love the resistance and serve the cause of Palestine and Holy Jihad, as well as to make them leaders and fighters to defend the holy soil of Palestine," one of the teachers said.
Great...
Now... It is important to note that P.I.J. is a second tier party (though there was once talk of merging it with Hamas) - but despite that, it's popularity in Gaza did see an increase due to it's "resistance" to Israel particularly during the recent exchange of cross border fire.
What is discouraging is that this correlates to a recent Pew Poll which found that the Palestinian Territories sympathy for considered "terrorist" groups: Hamas, Hizbollah (61% favorabliilty), and al-Qaeda (28% favorability) was higher than anywhere else (with the exception of a 42% favorability for Hamas in the Territories but Hamas enjoyed higher numbers in both Egypt and Jordan).
And then there is this discouraging fact:

Only a minority of Muslims – and in some cases a very small minority – endorses suicide terrorism in these nations, with one clear exception: the Palestinian territories. Roughly seven-in-ten Palestinian Muslims (68%) say that suicide bombing and other forms of violence against civilian targets can often or sometimes be justified in order to protect Islam from its enemies. Large majorities hold this view in both Gaza (70%) and the West Bank (66%)....

However, the high level of support for suicide violence in the Palestinian territories has not changed over time. And in Egypt, support has actually been slowly on the rise since 2007 – then, only 8% of Muslims said suicide bombing can often or sometimes be justified to protect Islam from its enemies; today, 28% hold this view – the same percentage as in 2006.
Now... is this a typical kindegarten graduation... I would say most probably not. In fact, I would highly doubt it.
THIS is probably more accurate:
That is an image of kids that makes me feel hopeful. Not one where kids are fed hate and the glory of a violent end. On either side... when you teach children to hate (and it does happen in Israel as well), they will grow up to hate. Until this kind of behavior changes how can one expect to see any kind of Peace or agreement.