The pound of flesh, which I demand of him,
Is dearly bought; 'tis mine and I will have it.
- Shylock, Merchant of Venice
"The Debt Doesn't Matter, Reagan Proved That"
- Dick Cheney
It is ironic that debt seems to be one of the most misunderstood objects in a world saturated in debt.
Yet understanding what it is and what we should do about it has never been more important.
I wrote this essay about 18 months ago that explains how debt works in the real world.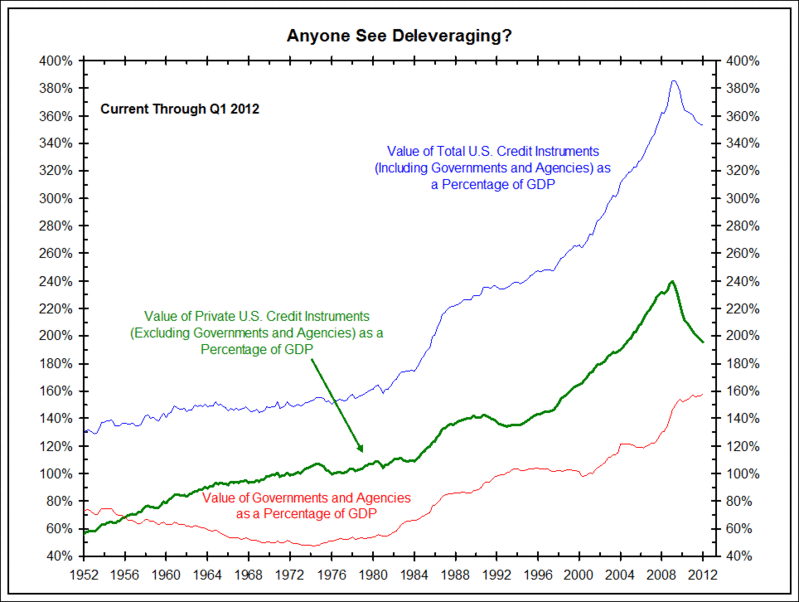 It always amazed and confused me how everyone in America is obsessed with their credit rating. It's almost as if people don't realize that credit equals debt. Debt is something that people have feared for thousands of years, because unlike Americans today, historically debt was always associated with another scary term - slavery.
Debt bondage, indentured servitude, slavery, they all mean the same thing. Yet somehow the establishment has convinced us that the ability to "manage" our slavery is something to be proud of. They even have a rating system for it.
If people really understood how compounding interest worked - something you were supposed to have learned in 7th grade Algebra - people would care a lot less about their credit ratings and would avoid debt altogether.
Just drinking water, flushing the toiler, and having your garbage collected ultimately involves paying interest on debt. In fact, interest has been shown to make up half of the cost of everything we buy.
The fact that it takes $6 of debt to create $1 of GDP growth is proof enough that we have serious debt problems in this country.
In a recent essay I was told that the way to fix the economy is to borrow and spend like crazy, and that the markets were telling us to because interest rates are so low.
There are several problems with this belief:
1) We are borrowing and spending like crazy already. The current federal deficit is around 8% of GDP. That's at a level that is historically unsustainable.
2) The markets also told us, back in 2004-2006, that we should all be taking out huge loans to buy huge houses. The markets lied to us. Why should we believe them now that treasury yields are at historic lows?
3) Borrowing and spending huge amounts of money is unlikely to fix anything. Consider the example of Japan.
"I thought America had studied Japan's failures," said Hirofumi Gomi, a top official at the Japanese Financial Services Agency during the crisis. "Why is it making the same mistakes?"
Japan entered 1990 with a huge asset bubble, both stocks and real estate. Both of them burst. Instead of reforming its banking industry, Japan went to a program of deficit spending to try and stimulate the economy. They assumed it was OK because the markets were giving them near-zero borrowing costs.
Does any of this sound familiar? It should.
13 years later the Japanese economy was still in the duldrums, the real estate market was still contracting, the banking industry was still occupied by zombies. The difference is that their public debt was now sky-high. Japan can no longer afford to see its interest rates normalize.
Historically huge debts, whether by countries, corporations, or people have almost always led to one thing - an economic crisis.
Does that mean I am endorsing austerity? No. Not at all.
The people who want austerity are the same ones that got us into this mess - the banks. They want to protect the sanctity of their loans.
Interestingly, the people who want us to borrow as much money as possible are also the banks. That's how they make money and are able to pay themselves obscene amounts of money.
Therefore, if the debate concerning what to do to fix the economic crisis amounts to nothing more than borrowing/spending versus austerity, bankers win either way.
So what do I suggest? I suggest fixing the problems rather than papering them over with mountains of borrowed dollars. Allow me to list the reforms we need (in no particular order).
Let me start with Greece: They need to default and leave the Euro. The sooner the better. For those that think that would be suicide, consider the example of Argentina. They were supposedly committing suicide too.
Look what happened when they defaulted in early 2002.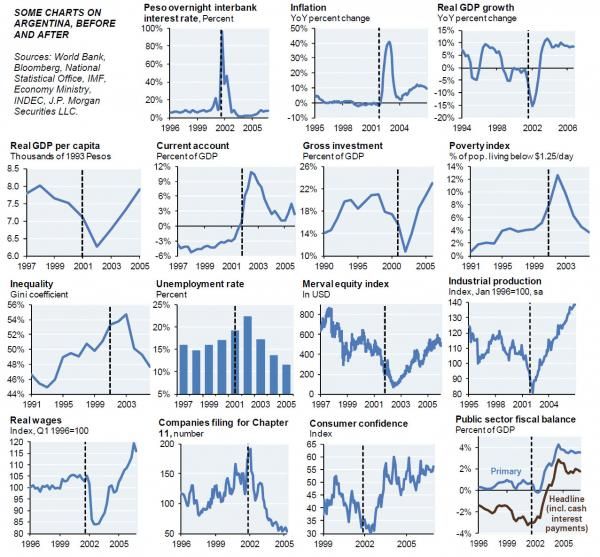 The lesson here is that unpayable debts will not be paid, nor should they.
This applies to countries, corporations, and people.
Don't kid yourself, companies use bankruptcy laws all the time (Bain Capital comes to mind). They shouldn't be the only ones.
That brings me to my first reform: Reverse the 2005 Credit Card Company Protection Act (also known as the Bankruptcy Reform Act).
The effects of this law were clear 1) the act helped credit card company profits at the expense of the consumer, and 2) caused more foreclosures.
People need to be able to get out from under their debts. The fact that debtor prisons have returned should be all the evidence you need.
Speaking of creditors, that brings me to my second reform: Enforce anti-trust laws again.
Economists have known since the days of Adam Smith that monopolies are bad for economies. They strangle competition and gain too much influence on governments. Unfortunately our federal government has almost completely giving up on enforcing the anti-trust laws on the books.
If the federal government somehow decided to start enforcing the law again then the Big Five Wall Street banks would have to be broken up.
It would go far beyond that. Companies like Monsanto, for example, would also have to be broken up.
In fact, so many major companies would need to be broken up over so much of the economy, that it would almost surely inspire a huge spurt of start-ups across the country.
As for enforcing laws, that brings me to my third reform: Enforce the laws on the 1%, not just the 99%.
Protecting criminals has a price, and that price is a loss of faith in the government, in justice, and in economic endevours. Bankers are currently getting away with every sort of law breaking.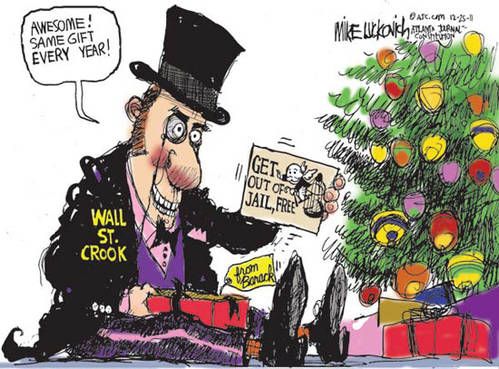 When people lose faith in the system they take fewer risks. The economy becomes less dynamic. There is lots of evidence that the failure to prosecute fraud in the financial system is actually the largest reason for the dragging economy.
My fourth reform is an easy one: Declare victory in the war on terror, bring the troops back, and then cut the military budget by 3/4.
First of all, our wars are immoral. Therefore I don't need an economic reason to demand this. Secondly, the wars have failed to achieve their objectives, and are instead causing enemies. Thirdly, the external wars are causing liberties in this country to be put in danger. Forthly, there is no military justification for spending as much on the military as the entire rest of the world combined.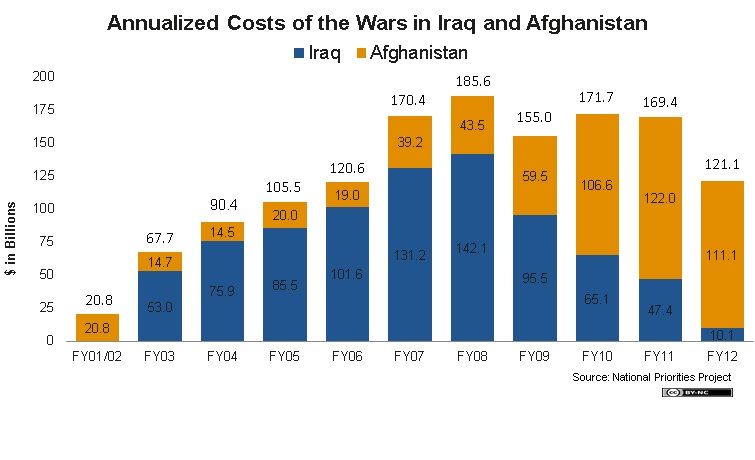 But since we are just talking about economics here, cutting the military would go a long ways towards balancing the budget, or at least freeing up money for more productive uses. Plus, the defense budget contains more waste and fraud than any other place in the federal government budget.
After the banks get broken up the financial system will still need to be reformed and consumers will need to be protected from predatory lending.
To do that, my fifth reform, would be to roll back all the financial deregulation of the last 32 years. Starting when President Carter signed the Depository Institutions Deregulation and Monetary Control Act in 1980 and up to Glass-Steagall being overturned in 1999.
Because of this complete gutting of consumer protections from usury, payday loans, for example, can charge 391% interest rates. Almost without exception, the poorer you are, the higher the interest rates you pay.
My sixth reform is more far-reaching. I think America should join the rest of the industrialized world and have a national economic plan.
America once had one. It was called the American School of Economics. It existed from President Lincoln to President Nixon, and during that time America went from a backwater country to the most powerful and richest nation on Earth. What did this economic plan do?
The key components of the American School directly confront, deny and refute the economic imperialism that the so-called "Free Trade" school championed then by England and imposed by means mostly foul upon Europe over the years. It rejects free trade by imposing a system of duties, tariffs and other measures designed to defend the nation against economic threats by foreign predators. It uses government-directed spending projects meant to provide the infrastructure necessary for individuals to develop into the highly-educated and highly-trained people capable of being the ambitious and enterprising productive people we are famous for being. It chartered a national bank, owned wholly by the government, that administered the lines of credit necessary to get all of this done and otherwise oversaw the monetary policy of the state- and thus remained utterly accountable to the people by way of Congress and the Presidency.
Imagine a government that looked out for the economic interests of the people, instead of putting total faith in the markets. Imagine a government actually having a plan for the future instead of reacting after the fact.
My seventh reform is rather obvious: a single-payer health care system.
We currently pay about twice as much on health care as every other industrialized nation on Earth. That's because we don't control costs.
We also lose jobs because health care costs for employers is so high.
Behind all this is a need for global financial reform, my eighth reform. The current currency system is unstable. We need a new Bretton-Woods.
My ninth reform would be to triple capital gains taxes. Capital gains are unearned income, and thus subtract from the productive economy. Taxes should be lower on productive parts of the economy, and higher on unproductive parts. That would do more to encourage growth than any other tax proposal out there today.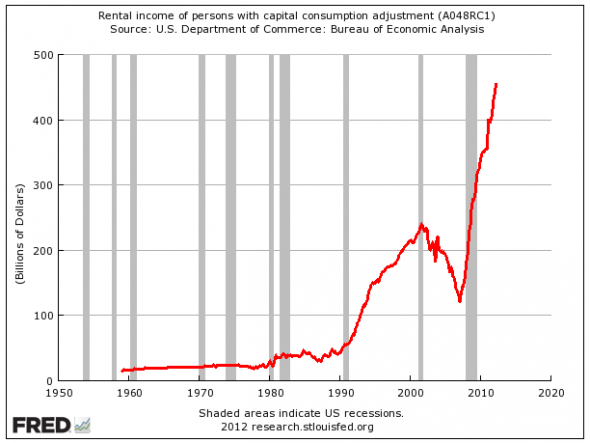 Other laws that need to be seriously reconsidered are corporate personhood, limited liability laws, and the structure of the Federal Reserve.
This shouldn't be considered a complete list. However, these are reasonable reform suggestions that a) go far beyond the public debates, and b) attack to the root problems with the economy rather than try to borrow and spend our way past them.
It might have made sense that we didn't have the time to reform our system during the crisis of 2008. But that excuse died several years ago. We no longer have a choice in the matter. We must reform our economy and we must start now.