Why do the Birthers hate Hawaii?
August 21, 1959, a day that will live in infamy. It was on this date that Hawaii became a state. Apparently, it was a very bad decision. After all, it is clear that Hawaiian citizens are pretty stupid. Consider the fact that they can't seem to clear up the Obama problem with a birth certificate. They are just useless. The Birthers can't stop calling Hawaii stupid, and they are certain that President Obama is a usurper and has stolen the presidency as a non-citizen with the help of inept Hawaiians.
Seriously, what is wrong with the Birthers? Can't they read? Hawaii is so fed up with the Birther Ballad that the state has a special page with information about Obama and his life changing experiences in that state. So here is an open letter to the Birthers.

Dear Birthers:
Clean your glasses. Barack Hussein Obama II was born in Hawaii which has been, as of August 21, 1959, a part of the United States. He was born August 4, 1961. You, obviously, can't read and, in case you can't count, 1961 comes after 1959. That means Hawaii was a state when Obama was born. Dr. Alvin Onaka, the Hawaii State Registrar, signed the copy thus making it official.
What does this mean? It means that Obama is a citizen and eligible to be President. Get over it, and start thinking about more important things. In other words, get a life.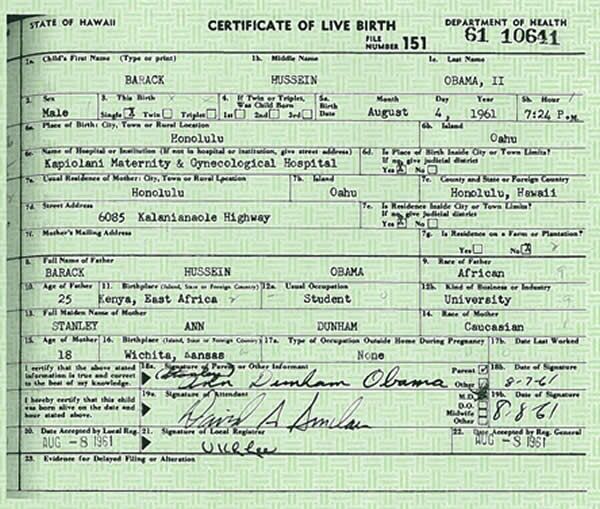 Very Sincerely,
The Rest of the Citizens of the U.S.

Truthfully, Birthers are people who know it is impossible to attack Obama for moral indiscretions. For example, he has not:

refused to release his tax returns (Romney)
had numerous affairs and married his mistresses (Gingrich)
hidden his financial assets in off-shore accounts (Romney)
been an alcoholic (George W. Bush)
abandoned a child (McCain)
I guess the Birthers feel if Obama can't be attacked on moral grounds, they need to draw attention away from the real issues, so they obfuscate by suggesting he is not a citizen.
Birthers also know they can't fault Obama for having such a difficult time with Congress. If the Republicans really focus on Obama's "failures" in his first term, they will not be able to avoid the fact that Congress, dominated by the Party of "No," contributed to the problem. They filibusted everything thus negating the Democratic majority which wasn't large enough to stop the Republican sissy filibusters. In the "olden days," if you wanted to filibuster, it was hard work. Now, they just set it up and let it ride.
I suggest the Republicans start telling the truth. Of course, that might be difficult, but it would be refreshing. For instance, if they want the Bush tax cuts for the "job creators" to continue, they should show how many jobs were created. After all, they have been in effect since 2001 and 2003. Now, where are those jobs? I just want one of them.
Oh, well. About the only thing that everyone can agree on is that politics is really depressing.