Maude: Does the female form make you uncomfortable, Mr. Lebowski?

The Dude: Is that what this is a picture of?

Maude: In a sense, yes.
My art has been commended as being strongly vaginal,
which bothers some men.
The word itself makes some men uncomfortable.
Vagina.

The Dude: Oh, yeah?

Maude: Yes, they don't like hearing it and find it difficult to say, whereas without batting an eye,
a man will refer to his dick or his rod...or his... Johnson.

The Dude: Johnson?
UPDATE: Progress Michigan has picked this up and is running with it! :)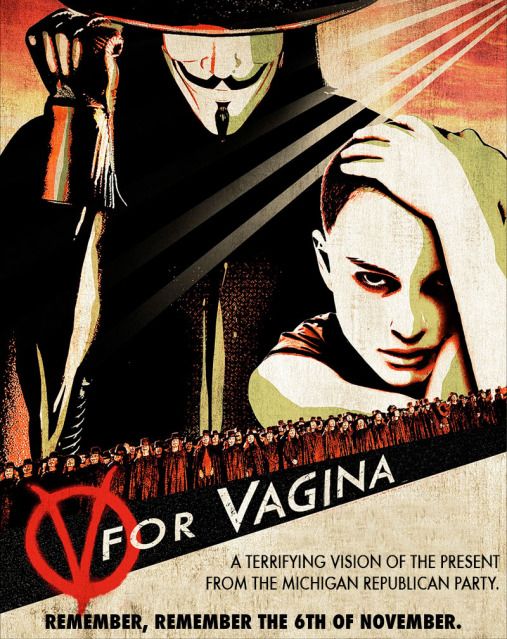 (ThinkProgress actually screwed up the quote in the original version of this, which is unfortunately being reposted all over Facebook; they have it as "you want to get into my vagina" instead of "you're all so interested in my vagina", which is a rather important distinction, so I've corrected it here).
Folks, I do believe we have a meme developing here...then again, I'm not sure you want the word "viral" and "vagina" in the same sentence...
CONTRIBUTE TO THE LISA BROWN "V FOR VICTORY" FUND!
UPDATE: WAS HIS NAME JASE BOLGER??

MAN SHOOTS HIMSELF IN PENIS

A Southfield man is recovering after accidentally shooting himself in the penis as he adjusted his gun, according to police.

The 45-year-old heating and air-conditioning company employee was on a job in Birmingham on Tuesday when the incident took place, Birmingham Police Deputy Chief Mark Clemence said today. He was getting ready to work and was moving the .40-caliber Glock pistol in his pants when it discharged at 11:15 a.m.

"Through and through, if you can believe it," Clemence said. "The situation could have been a lot worse. You think about it -- your femoral artery runs down there. He could have shot it off. It could have been a lot worse. It's a big bullet; you're not talking a small bullet."

A coworker on the job on the 300 block of Wimbleton saw the accident and drove the man to Beaumont Hospital in Royal Oak. Clemence said today he did not know if the man has been released.

Although he had a permit to carry the gun, he may face charges of reckless discharge of a firearm, Clemence said. The city's prosecutor is expected to review the case, he added.