I post a weekly diary of the historical notes, arts & science items, foreign news (often receiving little notice in the US) and whimsical pieces from the outside world that I featured this past week in "Cheers & Jeers". For example .....
If you've been to the movies lately ...... you're not actually seeing double. Or are you? ....
SEPARATED at BIRTH - film stars Guy Pearce ("LA Confidential", "The King's Speech") and Mark Wahlberg ("Boogie Nights", "The Fighter").
OK, you've been warned - here is this week's tomfoolery material that I posted.
ART NOTES - featuring more than 100 lithographs, lead relief prints and silkscreens: a career retrospective of the works of Jasper Johns is at the Phillips Collection museum in Washington, DC to September 9th.
FOR A NUMBER of YEARS Austria's capital city of Vienna has scored quite high in international surveys for safety, cleanliness, affordable housing and public services - largely due to Social Democratic-led administrations - but due to a strong tradition of discontent and complaint, the party has been losing ground to the far right in recent years.
AFTER TWO MONTHS a young penguin which escaped - by scaling a wall and slipping though a fence at the Tokyo Sea Life Park - has been caught in the Japanese capital. Investigators were initially hampered by the release of this inaccurate photo.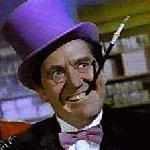 HISTORY NOTES - clues to the fate of a 16th-century outpost claimed by the English crown - the 'lost colony' of Roanoke - may lie beneath a golf course on the coast of North Carolina designed by Arnold Palmer.
IN ANSWER to the question of why are there no African inventions ... one essayist says actually, there are.
WEDNESDAY's CHILD is Garfield the Cat - a suburban New York kitteh currently one pound heavier than the late Mr. Meow - but not for long, if a shelter is able to keep him on a diet.
ENVIRONMENTAL NOTES - the port city of Gladstone is now undergoing the biggest dredging operation ever approved in Australia in order to facilitate several plants to process output from fracking operations - and one official from conservative Queensland (unconcerned that the city is part of the Great Barrier Reef) suggests simply moving the boundary of the world heritage area to exclude Gladstone.
ART NOTES - more than 100 posters by Henri de Toulouse-Lautrec and his contemporaries are on display at the Milwaukee, Wisconsin Art Museum to September 9th.
IN AN ESSAY of the goings-on at summit conferences - the English alphabet usually ensures that United Kingdom prime minister sits next to the United States president .... but that was before NATO expanded to include Ukraine - which, when led by former president Leonid Kuchma from 1994 to 2004 (and who is now under investigation for the murder of a journalist) - was not exactly a favorite of the West. This led to the creative use of NATO's second language, French: "And that meant that Tony Blair was sitting beside Romania as Royaume-Uni and George Bush was sitting beside Estonia because it was Les Etats-Unis and President Kuchma was sitting on his own".
THURSDAY's CHILD is Tiny the Cat - the guest of honor at the main cat show in the Canadian Maritime provinces, as his weight-loss regimen is progressing.
BRAIN TEASER - try the latest Weekly World News Quiz from the BBC.
IN THE CURRENT parliamentary elections in France - for the first time, French citizens living abroad will be able to vote for a member of Parliament: with one contest being the Northern Europe constituency (comprising the UK, Ireland, Scandinavia and the Baltic states) with twenty candidates vying for that seat.
SEPARATED at BIRTH - two former "Party of Five" cast members: Lacey Chabert (later as Gretchen Wieners in "Mean Girls") and Jennifer Love Hewitt (now on "Hot in Cleveland").
IN a PROFILE of Rachel Carson - as we approach the 50th anniversary of her magnum opus: the questions she asked (and the opponents she generated) as still quite relevant.
IT IS FAR from the world's record for overdue books - but one was discreetly returned to a library in Ireland after eighty years.
FRIDAY's CHILD is Sid the Cat - an English kitteh reunited with his family after being mistaken by a shelter for a stray.
... and finally, for a song of the week............. while other drummers have appeared on multiple famous rock'n'roll recordings by virtue of being an in-demand LA or NY session player (with Hal Blaine as well as Steve Gadd as prime examples of both) ... someone who has achieved this status instead by being a full-fledged band-member (or at least touring member) is Aynsley Dunbar – whose 50-year career hasn't made him a household name, yet he has performed on thirty gold/platinum albums in all types of rock-band genres. The one constant is his ability to play with force yet never bombastic: you know it's him driving the band, yet he plays with taste and appropriateness to the music he is playing.
The Liverpool, England native began as a jazz drummer for Leo Rutherford in 1961 (at the age of 15). When rock music hit with a vengeance in 1963 he shifted easily into that scene, performing with a number of bands (including Stu James and the Mojos) before his first major gig in 1966 as a member of John Mayall's Bluesbreakers, on A Hard Road - along with Peter Green and John McVie (who were soon to co-found Fleetwood Mac).
John Mayall was quick to change his lineups back then, and so Aynsley had to move on. He had a fateful audition with a then-unknown guitarist who had just relocated to Britain from the US, who couldn't decide between Aynsley and another drummer ... and thus - incredibly - a coin flip led to Mitch Mitchell being offered a spot in the new Jimi Hendrix Experience, instead of Dunbar.
Undeterred, Aynsley joined the Jeff Beck Group (with Rod Stewart on vocals) and played on its Truth album - with songs such as "Morning Dew" and "Old Man River" - before that band splintered, and then he spent time touring with Tim Rose (of "Hey Joe" fame) plus blues veteran Champion Jack Dupree.
In 1968 Aynsley Dunbar formed – as near as I can tell – his only group as a bandleader: the blues-rock Aynsley Dunbar Retaliation (referring to his being unceremoniously dumped by John Mayall) at age 21. The band featured John Moreshead on guitar, Alex Dmochowski on bass and Victor Brox on keyboards/vocals (who later sang the role of Caiaphas on the Jesus Christ Superstar album) and had a number of successful albums in Britain, though not in the US (despite some heavy and successful touring).
When they disbanded in late 1970, a short stint in the band Blue Whale featured a Frank Zappa cover song – which led to his meeting Zappa. Frank never did anything conventionally, and so made him an official Mothers of Invention member first – then auditioned him by saying, "OK, remind me why I hired you?" Dunbar proceeded to do so, then helped arrange Zappa's Chunga's Revenge recording. Dunbar went on to play with Zappa through 200 Motels in 1972 (although recording selectively with Zappa up to 1974).
In 1973, Dunbar replaced the "Spiders from Mars" drummer in David Bowie's band, where he performed on Pin-Ups and Diamond Dogs - most notably on the hit single Rebel, Rebel - and he remained with Bowie through 1974.
For the next year-and-a-half, Dunbar played as a session drummer on a dozen recordings – notably on Lou Reed's album Berlin (with Steve Winwood and Jack Bruce), and on solo albums by former Mott the Hoople singer Ian Hunter, as well former Bowie guitarist Mick Ronson.
Then in 1975, he accepted an offer from Santana sidemen Neal Schon and Gregg Rolie to join the new jazz-rock band called Journey they were forming. He performed (and wrote several songs) on their first four albums, then left when the band made a major change in music (i.e., the Steve Perry arena-pop/rock band that Journey became).
After a guest spot on vocalist Sammy Hagar's solo album "Nine on a Ten-Inch Scale", Aynsley Dunbar joined the Jefferson Starship from 1978-1982, performing on such songs as Jane and "Find Your Way Back". Finally, he took some time off to help raise his four children.
After dinner with singer David Coverdale at the LA restaurant La Dome in 1985, Dunbar was persuaded to return as the drummer in Coverdale's band Whitesnake - and was there for the band's commercial breakthrough in 1987, with the song Here I Go Again reaching #1 on the US charts.
In the late 1980's, he again took time off to be with his family again before returning in 1994 on tours by Pat Travers, John Lee Hooker and Michael Schenker. The tragic loss of his five year-old son Dash (to brain cancer in 2000) saw him once again take time off from the road.
Since then he's maintained a less-hectic, yet still wide-ranging schedule: including a stint in the Best of British Blues (along with Ten Years After's Alvin Lee and the Animal's Eric Burdon). Dunbar has performed with Burdon's "New Animals" often (including the 2000 Democratic National Convention) and since 2003 has also toured with the World Classic Rockers band from time-to-time.
In 2008, Aynsley Dunbar released a solo album called Mutiny - where he re-visited several popular songs from his past - and in 2010 performed on an album by The Bluesmasters with former Starship singer Mickey Thomas on vocals.
Now at age 66: Rolling Stone named him as #27 on its list of 100 Greatest Drummers plus as an original member of Journey: he is part of their star on the Hollywood Walk of Fame .... and recently he became friends once again with his neighbor John Mayall – apparently the "retaliation" days are in the past.
When the first Black Sabbath album came out in 1970 it really wasn't my music, and I told my friends that. But upon hearing the entire recording, I must say that I did like the final song "Warning". It was the only cover song performed on the album, a blues theme.
It turns out it was written and first performed by the Aynsley Dunbar Retaliation three years earlier – but the song "Warning" did not appear on any of the band's original, non-compilation albums; having only been released as a single in Britain (and just 3:17 in length). Black Sabbath revved the song up and extended it, and its doomy lyrics may have convinced Ozzie and the lads to record it. And below you can hear Victor Brox sing it, with Aynsley Dunbar driving his bandmates (as per usual).
The first day that I met you
I was looking in the sky
When the sun turned all-a-blur
and the thunder clouds rolled by
The sea began to shiver
and the wind began to moan
It must have been a sign for me
to leave you well alone
I was warned about you, baby
but my feelings were a little bit too strong

Now the whole wide world is moving
Because there's iron in my heart
I just can't keep from crying
Because you say we've got to part
Sorrow grips my voice
as I stand here all alone
And watch you slowly take away
a love I've never known
I was warned about you, baby
but my feelings were a little bit too strong
Just a little bit too strong