This is one of the few times I can sort of liveblog an event as I was there today as Eve Ensler and a number of women Michigan State Representatives and State Senators - assisted by a core of very able actors - gave a double helping and much needed dose of Vagina to the grounds of the Capitol building in my fair state.
I believe I have already stated that I like vaginas myself.
So I have pictures. . .
Lets start with a couple to show this was a well attended event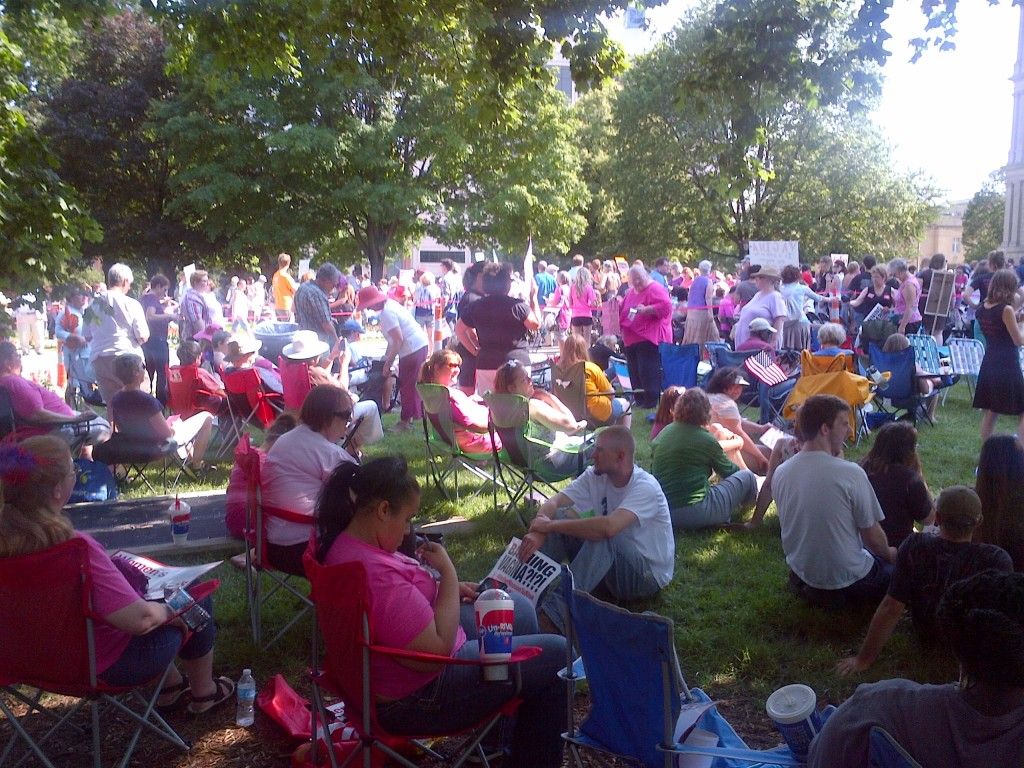 and
And I do mean well attended. The day had a late morning rainshower and there may have been some anxiety about the weather cooperating for the event. But by the time 5 PM came around the clouds went away, the temperature was perfect, and atheist though I am, I might nod if someone else had said that God smiled on the event.
To set the table for the event - now being covered by both Ed and Rachel, I note as I am frantically typing this - I refer you to Kaili Gray's excellent Vagina Diary Well of course, both representatives were there, as well as State Senate minority Leader Gretchen Whitmer (My state senator, I say with faux humbleness). And there were others. You know, even a few of us guys showed up to cheer on team Vagina: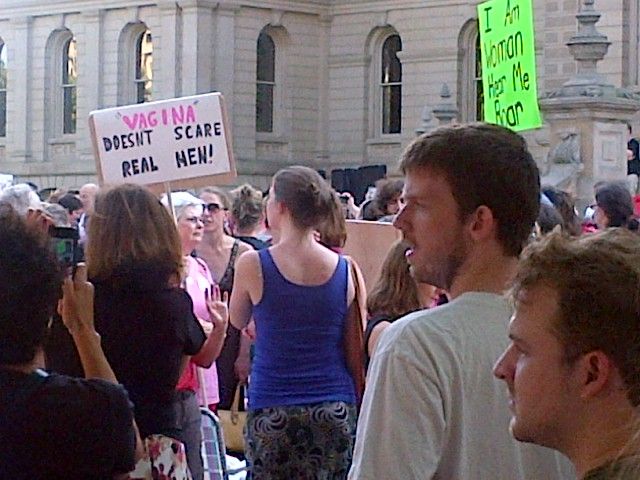 How nice that not only did our elected representatives show up and cheer for the event, the read the introduction to the 'Monologues' themselves. Eve Ensler was there, and although she didn't read her work - there were a panel of women actors who did that - allow me to now make a pitch for Vagina monologues worthwhile consciousness raising. But I digress.
Because as i mentioned, there were thousands there, and at the conclusion of the piece, we all chanted 'Vagina' with the enthusiasm that recalled the crowd at Woodstock Chanting 'Fuck' to Country Joe McDonald and his I'm-fixin-to-die-rag. I am not a fan of vulgar language for the sake of mere vulgarity. But when it is used to make a statement, and particularly a statement against the oppressive political patriarchy (there, I've said it) and for the rights and basic dignity of 51% of the human race, well, then, bring it on, baby. I use it all the time for far lesser things.
Even the little one's got into the act: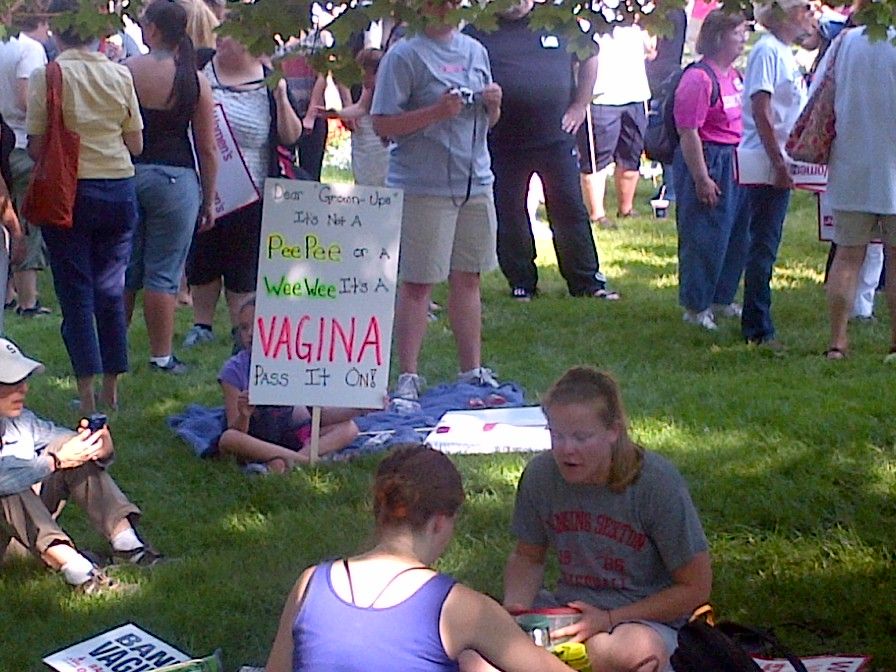 And. at the conclusion of the work Eve Ensler did address the crowd: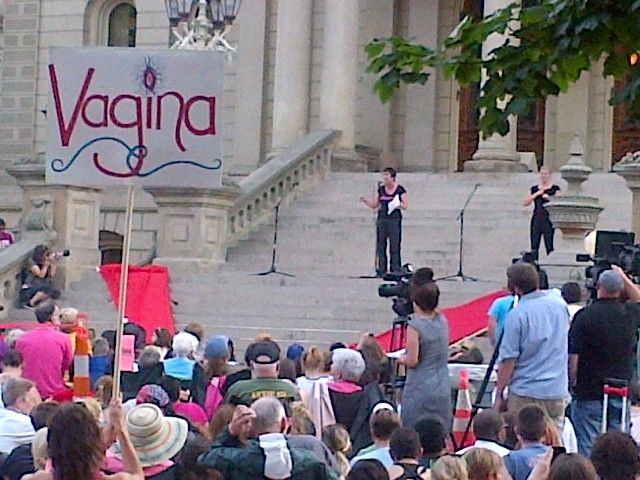 And fired it up, of course. She does have a way with words.
I found this gratifying on two levels. First, those of us who have been fighting for reproductive rights for more than two decades, and have watched in dismay as battles we felt were settled long ago have emerged and re-emerged, and the populace seemed to accept them with a bewildering sort of supine indifference, those of us who wondered what the hell it was going to take to get the population aware that the other side wasn't kidding, that they wouldn't stop and had no interest in any common ground with us at all, well, to finally see a fired up crowd that took this little Jayce-inspired mini tempest seriously was really something. Do we all get it now, Ladies. . .and gentlemen? If our women aren't free, no one is.
Second as American society has grown dismaying uptight, terrorized, and quasi-fascistic it was so nice to hear so many 'Vaginas' uttered on the capital where some uptight fogies had tried to sweep accurate speech under the rug. . and so deserved. As I said, I don't normally like a lot of vulgar language, but in this case. . .it was so nice to see so blatant a Fuck You given to those who so richly deserved it.
Tue Jun 19, 2012 at 4:52 AM PT: And here is the list of our Michigan legislators who supported the event - and read part of the VMs (thus turning it into Vagina Dialogues. Hence the title of the diary)
Rep. Lisa Brown (D-West Bloomfield)
Sen. Rebekah Warren (D-Ann Arbor)
Sen. Gretchen Whitmer (D-East Lansing)
Rep. Barb Byrum (D- Onondaga)
Rep. Stacy Erwin Oakes (D-Saginaw)
Rep. Dian Slavens (D- Canton Township)
Rep. Rashida Tlaib (D- Detroit)
Rep. Vicki Barnett (D-Farmington Hills)
Rep. Joan Bauer (D-Lansing)
Rep. Ellen Cogen Lipton (D-Huntington Woods)
Rep. Maureen Stapleton (D-Detroit)
Maybe come election time we can show those of them that can still run a little DK love and support, Yes? Incidentally, the list was provided to me by the campaign of Susan Schmidt who is running in the primary in my district, and could also use a little support&love as she was with us and solid on this issue. End sneaky endorsement