This is a problem.
Exhibit A: Andrei Cherny yesterday: "We need to defend the Affordable Care Act and build on it to include a public option and end the unconscionable giveaways for drug companies."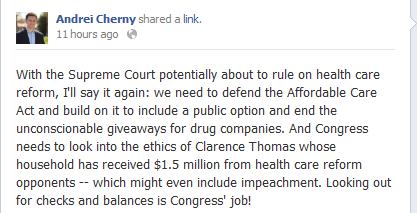 That's a perfectly logical statement, and one that is actually nice to see coming in the wake of the 2010 elections, when it seemed like every Democrat under the sun refused to not only defend, but BRAG about the passage of the Affordable Care Act (AKA 'Obamacare').
So, the message isn't the problem.
The problem is the messenger.
Exhibit B: Video of Andrei Cherny appearing at a Tea Party event when he was running for State Treasurer in 2010.
In the video, he is asked whether he supported or opposed Obamacare.
His answer? "Opposed."
Here's the video: http://www.youtube.com/...
For those keeping score at home, that's Andrei Cherny taking two completely different positions on the Affordable Care Act.
In 2010, when appearing before the Tea Party, he told them he opposed it.
Yet, in 2012, now that he's running in a Democratic primary for Congress against two progressive candidates (one of whom, Kyrsten Sinema, actively worked to build support for health care reform), he's trying to make himself into some kind of champion of it.
So what does he really believe? Or does it even matter?
Whatever the case, this presents a very striking indication that Cherny has no real core convictions, and brings to mind a certain Republican candidate for president, except in reverse.
You recall Mitt Romney in 2009, when he urged President Obama to embrace what he had done in Massachusetts: enact an individual mandate as part of health care reform.
Now that Romney is running for president, though, he says he would repeal that very same mandate.
Of course, one can argue that Obama made a similar move by criticizing the individual mandate when he was running against Hillary Clinton before eventually signing it into law.
But the circumstances were quite different. Obama was seeking bipartisan support for health care reform. He moved to the center in order to at least attempt to generate some Republican votes because he was, in fact, advocating a health care plan that Republicans like Romney had supported.
There's no such higher motive to be found in Cherny's case. The video speaks for itself: He told the Tea Party what they wanted to hear in 2010, and now he's doing the same thing with Democratic primary voters in 2012.