Now that redistricting is complete, I've had the chance to update my House of Representatives Race Ratings. These ratings, like DailyKos Elections' own, are based on the likelihood each party has of winning each seat and are subjective and speculative, but based on polling, district dynamics, candidates, and campaigns. Since there are so many races to cover, I'll provide some brief commentary for the 50 most competitive races and a few others. Let's get started.
The Map
This will be the first cycle after decennial reapportionment and redistricting has been finished, so several districts have changed substantially. Let's first take a look at the national map and the state of partisan control in each seat with a map I put together utilizing
DKE's Complete Redistricting Resources
:

(Full size, fully clickable/interactive version available for viewing/download here)
(To customize the map, download it from google docs and open it in any graphic editor program such as MS paint)
Dark Red/Blue Incumbent running
Light Red/Blue Open seat
Medium Red/Blue 2 Incumbents of 1 party running
Yellow 2 Incumbents of different parties running
Gray New district from reapportionment (not redistricting)
And then we have my personal race ratings:


(Click for larger image)
Dark Red/Blue - Safe R/D
Medium Red/Blue - Likely R/D
Light Red/Blue - Lean R/D
Yellow - Toss Up
In addition to the map, I've organized them in a handy excel table as well:


Districts are colored according to partisan control, with open seats in italics and new reapportionment seats in black.
And finally, the more competitive races: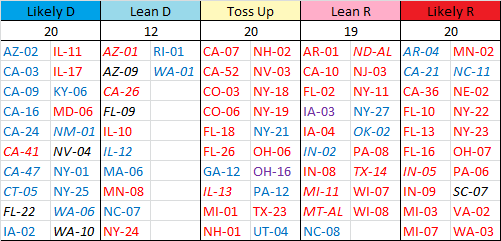 Democrats start out favored in 190 districts while Republicans start out favored in 225, which leaves 20 Toss Up seats.
Leans Democratic
AZ-01
Republican Held
Open
Paul Gosar (R) - Running in the 4th
Incumbent freshman Paul Gosar had a relatively narrow 6% win over Democratic Rep. Ann Kirkpatrick in 2010 and was viewed as in trouble when she opted for a rematch. With redistricting making this seat 3-4% more Democratic, Gosar opted for the much redder and open 4th district, leaving Kirkpatrick to run against state senator Jonathan Patton. Kirkpatrick seems to be in the driver's seat in this race, having raised over $1 million so far while Patton did not release a fundraising report for the 1st quarter since he has not been in the race for long. With Obama expected to invest in voter registration and turnout in Arizona coupled with Kirkpatrick's high name recognition as a quasi-incumbent, she starts out favored.
AZ-09 New Seat
Open
Democrats made out like bandits with Arizona's redistricting process when the state added a new district. This seat is really more of a successor to the old 5th held by Republican Dave Schweikert, but is open since he and Ben Quayle are running in the new 6th. At 51% Obama, this seat is fairly Dem leaning once you factor out McCain's 4-5% home state advantage and it is trending Democratic as well. The Democratic nominee will either be former state senator Kyrsten Sinema or state senator David Schapira, while former DLC wunderkind Andrei Cherney has seen his candidacy hounded by, well, being a DLCish hack and panderer. The Republican candidates for this seat have been far outraised by the Democratic field, which is a formula for a Dem win in a D+4 seat.
CA-26 Republican Held
Open Elton Gallegly (R) - retiring
Redistricting radically reshaped the political fortunes of several California incumbents and Elton Gallegly was among them. The 26th district became 5-6% more Democratic which prompted his retirement. After the top 2 primary, this race will be a match up between Democrat assemblywoman Julia Brownley, who has the solid backing of Emily's List, and staunch conservative Republican state senator Tony Strickland. While Strickland has so far outraised Brownley, the Democratic lean of this district should prove to be too strong for him to overcome in November and Brownley starts off as a slight favorite.
FL-09 New Seat
Open
Reapportionment granted Florida two additional seats and Republicans decided to draw this quasi-vote sink in the Orlando area to protect vulnerable freshman Dan Webster. This open seat will see former Dem rep. and left-wing firebrand Alan Grayson seeking a return to congress. Grayson, drawing heavily on his liberal celebrity and netroots support garnered from his 2009 statements during the HCR debates, has raised a substantial amount of money. He will most likely face one of two Republicans, either Osceola county commissioner John Quiñones or tea partier Todd Long who nearly unseated former Rep. Ric Keller in the Republican primary in 2008. Quiñones is undoubtedly the stronger candidate in this heavily Hispanic district. Normally a 60% Obama district would strongly favor the Democrat, but this seat has trended sharply Democratic between 2004 and 2008 and Grayson is viewed as a very polarizing candidate. Still, Grayson should be able to ride Obama's coattails and the district's blue trend back into office.
IL-10 Republican Held
Bob Dold (R)
When Bob Dold rode the 2010 wave to a narrow upset over third time Democratic candidate Dan Seals, he was instantly viewed as one of the most vulnerable incumbents in what is the most Democratic district held by a Republican. So far, Dold has made most of the right moves in establishing a reputation as a moderate. Unfortunately, Democrats didn't field the strongest candidate, eventually nominating businessman Brad Schneider. Still, this seat was made more Democratic during redistricting by shedding downballot Republican areas for more strait ticket Dem ones. At about D+6 or so and with favorite son Barack Obama heading the ticket, Schneider starts out with a narrow advantage.
IL-12 Democratic Held
Open Jerry Costello (D) - Retiring
This labor Dem district was shifted a point more Democratic in redistricting to counteract southern Illinois' Republican shift. Republicans nominated 2010 Lt. Gov nominee Jason Plummer while Democrats just this weekend nominated attorney and recently retired Commander of the Illinois National Guard Bill Enyart after primary winner Brad Harriman dropped out for health reasons. Plummer isn't the greatest candidate in the world, though it isn't like Republicans have the greatest bench here. The district's historic blue lean (D+4 or so in 2004) and presidential turnout boosting minority turnout in East Saint Louis should help propel Enyart to victory as long as he runs a solid campaign.
MA-06 Democratic Held
John Tierney (D)
Normally an 8-term incumbent running in a D+5 seat should be fairly safe, but Tierney has been plagued by a scandal involving his wife, though he has not been implicated. He will face a very strong challenger in moderate and openly gay former Republican state senator and 2010 Lt. Gov nominee Richard Tisei. Tisei has kept pace with Tierney in terms of fundraising which should give him enough ammo to keep Tierney on his toes. Fortunately for Tierney, Obama should again easily carry this district in November and pull Tierney to victory along with him.
MN-08 Republican Held
Chip Cravaack (R)
Freshman Chip Cravaack won in a narrow upset over longtime incumbent Jim Oberstar in 2010 in this strongly Democratic district comprising the Iron Range. Democrats though, did not field their strongest candidates with long ago Rep. Rick Nolan taking the role of the establishment candidate. Former state senator and 2010 6th district candidate Tarryl Clark is also running here and has so far been the best fundraiser due to her national fundraising network. Still this district can behave quite parochially when it comes to downballot elections as evidenced by local candidates performing far better than Obama did. As long as Nolan or Duluth city councilor Jeff Anderson wins the nomination then the Democratic lean of the district should help overcome Cravaack's money advantage.
NC-07 Democratic Held
Mike McIntyre (D)
Republicans struck gold by capturing the redistricting process in North Carolina and were able to turn Mike McIntyre's safe blue dog seat into a strongly conservative one. However, eastern North Carolina is still prime blue dog territory down the ballot and McIntyre is the best possible candidate we could field here. Republicans nominated state senator David Rouzer from Johnston County, a heavily Republican are up and down the ballot. McIntyre has raised far more money than Rouzer and his name recognition especially in the Wilmington media market is much higher. Rouzer will perform well in the more Republican areas of his base closer to the Triangle, but McIntyre should be able to hold on to a large share of the populist blue dog vote in rural eastern areas. As long as Obama wins or doesn't lose North Carolina by more than a few points, McIntyre should prevail.
NY-24 Republican Held
Ann Marie Buerkle (R)
Incumbent freshman Ann Marie Buerkle won in an upset over former rep. Dan Maffei in this Dem leaning district in 2010. Maffei is now seeking a rematch in this Syracuse district that was made a touch more Democratic in redistricting. Buerkle ran as a tea partier the first time and Maffei has kept pace with her fundraising. An internal Buerkle poll showed her up 42-38, but this is not where you want to be as an incumbent. Maffei should be able to win with presidential turnout in a D+3 seat.
RI-01 Democratic Held
David Cicilline (D)
Freshman David Cicilline's popularity has collapsed due to revelations about his oversight of Providence's finances during his time as mayor. He is being given a strong challenge by Republican Superintendent of the State Police Brendan Doherty who has raised a respectable amount of money thus far. In addition, Cicilline is facing off against former 2010 primary challenger and self-described "conservative Democrat" Anthony Gemma. Cicilline is probably still a favorite in the primary, though if Gemma wins it this seat becomes safe. Ultimately, it would be very difficult for Doherty to pull of the win in this D+13 seat with presidential turnout.
WA-01 Democratic Held
Open Jay Inslee (D) - Resigned to run for Governor
Redistricting has radically reshaped what was Jay Inslee's old seat and not in a way favorable to Democrats. Due to the deal between Slade Gordon and Tim Ceis, formerly safe seat was turned into a narrowly Dem leaning one to shore up 2nd district Dem Rick Larsen. Republicans are running Larsen's 2010 challenger, tea partier John Koster who came within 2 points of winning that year. A plethora of Democrats are running with the two most notable candidates being the 8th district nominees in 2006 and 2008 Darcy Burner, a netroots favorite, and 2010 nominee Suzan DelBene. Both came fairly close to beating Dave Reichert and are now fighting for the 2nd place spot in the top-two primary. This district is about D+3, or about as Democratic as Larsen's old seat. As long as this year doesn't turn into another 2010 and Darcy Burner, if she's our nominee, can avoid being portrayed as a radical liberal then we should be able to hold this seat.
Leans Republican
AR-01
Republican Held
Rick Crawford (R)
This ancestrally Democratic seat was won by Crawford in 2010 and should have been a prime pick up for a blue dog, but no top tier candidate ran, leaving us with prosecutor Scott Ellington. He has been far outpaced by Crawford in fundraising but will be helped somewhat by the populist nature of the district. Still, Crawford will be able to use Obama's unpopularity in the district to help him secure another term, though an Ellington win isn't out of the question.
CA-10 Republican Held
Jeff Denham (R)
The 10th district in the central valley was radically reshaped by redistricting like many other California districts. It went from heavily Republican to an R+1 Obama district. Democrats recruited a strong candidate in former astronaut Jose Hernandez, but Denham is a strong campaigner who easily held a competitive state legislative seat prior to his 2010 election. Hernandez's chances will be dependent on Obama driving up Hispanic turnout and on how quickly this district is trending Democratic, but for now Denham retains the edge.
FL-02 Republican Held
Steve Southerland (R)
The 2nd district based around Tallahassee is another prime blue dog seat and was even made 2 points more Democratic during redistricting. Alex Sink received 51% here in her 2010 loss which is indicative of how a local Dem can perform. The Dem candidates are state rep Leonard Bembry and longtime former state house member Al Lawson who nearly knocked off Allen Boyd in the 2010 primary. Hopefully the Blue Dog endorsed Bembry wins the nomination as this is still a strongly conservative 47% Obama seat and the more liberal Lawson would struggle to win over the demosaurs here. Southerland should start off the favorite unless Bembry can start fundraising a lot more.
IA-03 D vs. R Incumbent Held
Leonard Boswell (D), Tom Latham (R)
This R+1 sees one of two match ups between a Democratic and Republican incumbent in a district where the Republican is a slight favorite. Boswell had several close races in his old D+1 district while Latham, a fairly establishment Republican, easily won his swing seat from 2002-2010. One thing working in Boswell's favor is that he represents and has represented substantially more of the new district previously while Latham has represented relatively little of it. On the other hand, Latham has outraised Boswell by about 4-1 and if the most recent weeks' polls are correct, Iowa won't be as strongly Democratic this year as it was in 2008. Given Latham's heavy crossover appeal and monstrous cash on hand advantage, I would have to say that he is the slight favorite as of now.
IA-04 Republican Held
Steve King (R)
The trade off with the 3rd district's shift toward Republicans is that the 4th district shifts 4% more Democratic. Steve King's ultraconservative voting record and habit of making outrageous statements have made him a big target for former Iowa first lady Christie Vilsack. She has outraised King for several quarters, most likely due to national fundraising against King, and should have a fair amount of name recognition due to her husband's two term tenure as governor. The district is still about R+5 and Vilsack has never run for anything before, but this race will be one to watch in November.
IN-02 Democratic Held
Open Joe Donnelly (D) - Running for Senate
Republicans made this seat 4% more Republican though still an Obama seat, prompting Joe Donnelly to run for senate in the hopes that hard right Republican Richard Mourdock would win the nomination, which he did. Obama performed unusually well across northern Indiana in 2008, which allowed him to win the state, so this seat is normally Republican leaning. 2010 nominee and narrow loser Jackie Walorski is the Republican candidate and she will face DCCC backed Democrat Brendan Mullen. Though Walorski leads in fundraising so far, Mullen has raised a very respectable amount as well. With Romney looking like he has the advantage in Indiana so far, Walorski will probably win in the fall. However, if the Obama campaign does decide to invest substantially into winning the state then Mullen might have a more even chance.
IN-08 Republican Held
Larry Buschon (R)
When former Democratic rep Brad Ellsworth left this seat open to run for senate in 2010 it became a guaranteed Republican pick up, even though current incumbent Larry Buschon wasn't exactly the strongest candidate. This seat is known as the bloody 8th for its competitive campaigns and it even shifted a point to the left during redistricting. Democrats nominated former state rep Dave Crooks who has kept up with and even led Buschon at times in terms of fundraising. This seat is also home to a lot of conservadem areas where Crooks should perform well. However, as with the 2nd district, unless the Obama campaign heavily targets Indiana and drives up turnout, Buschon will probably hold on for another term.
MI-11 Republican Held
Open Thad McCotter (R) - Retiring
The 11th should have been a safe district for Republicans, but shortly before the filing deadline, current incumbent Thaddeus McCotter either badly screwed up his petition signatures or flat out knowingly submitted bogus ones. Either way, the elections commission ruled that the vast majority of his signatures were invalid and he decided to retire after briefly flirting with a write-in bid. This leaves Democrats with Dr. Syed Taj who is a member of the Canton Township board of trustees (county commission). Despite not formally having a candidate on the ballot other than Ron Paulite Kerry Bentivolio, Republicans will be trying to coalesce around former state senator Nancy Cassis to run as a write in. Assuming she can get on the ballot, Republicans should still be favored, though Taj has raised a decent amount of money for what was at the time a fairly long-shot bid. Due to redistricting though, this seat was made several points more Republican and Obama performed above the historical norm for the district, so Republicans start off as the favorites to retain the seat.
MT-AL Republican Held
Open Denny Rehberg (R) - Running for Senate
This seat became competitive once the incumbent Denny Rehberg decided to run for senate. Republicans nominated their 2008 Lt. Governor nominee Steve Daines while Democrats nominated moderate state senator Kim Gillan. Daines has so far outraised Gillan by a considerable amount, but the only public poll of the race by PPP showed him up just 33-27 over Gillan despite higher name rec. Montana is a fairly conservative state though, but Gillan might have a path to victory if Obama keeps his loss there narrow and Senator Jon Tester wins in convincing fashion.
NC-08 Democratic Held
Larry Kissell (D)
Like neighboring incumbent Mike McIntyre, Larry Kissell saw his district dramatically reshaped to Republicans' advantage during redistricting. What was a Democratic leaning district became pretty staunchly Republican and gave Kissell a considerable amount of new territory. Republicans will chose between establishment favorite and former hill staffer Richard Hudson and former Iredell County commissioner Scott Keadle in the July runoff. Either would be a modest favorite over the now Blue Dog coalition member Kissell, who has an unfortunate reputation as a poor fundraiser. Still, Kissell produced an unanswered internal showing him leading all of his potential opponents, but he was only at 45% of the vote, not somewhere you want to be in your own internal. This one will probably move to Likely R by the fall.
ND-AL Republican Held
Open Rick Berg (R) - Running for Senate
With the incumbent running for senate, Republicans have nominated Public Service Commissioner and establishment insider Kevin Cramer while Democrats have nominated former state rep Pam Gulleson. Gulleson has so far managed to outraised Cramer thanks to not having a competitive primary. This seat was held by Democrats until 2010 and the state will see a very competitive upballot senate race. Like with Montana, Democrats' path to victory here is a respectable showing by Obama plus a solid win by the senate candidate Heidi Heitkamp.
NJ-03 Republican Held
Jon Runyan (R)
Former NFL player Jon Runyan beat 1 term Democratic rep John Adler by 3% in 2010 and then saw his district slightly shored up by the Republican passed gerrymander. Democrats have nominated Shelly Adler, the widow of John Adler who unexpectedly passed away in 2011 from heart problems resulting from a staph infection. Adler should have fairly high name recognition and so far has posted strong fundraising for being in the race just a short time. The seat is still fairly Republican leaning and more so downballot, so Runyan has the advantage for now.
NY-11 Republican Held
Mike Grimm (R)
This seat should be more competitive given Mike Grimm's ethics issues, but sadly we didn't land a top tier recruit such as former rep. Mike McMahon, whom Grimm beat in an upset in 2010. The Democratic candidate, Mark Murphy, son of former rep. John Murphy, has solid credentials but has had fairly poor fundraising for the expensive New York media market. Given the district's moderately strong Republican lean and Grimm's large monetary advantage, Republicans should hold this seat as long as Grimm's ethics issues don't explode.
NY-27 Democratic Held
Kathy Hochul (D)
Kathy Hochul's upset win in the 2011 special election was seen as a sharp rebuke to the backers of the Paul Ryan budget, but to win this new and even more Republican seat she'll have to campaign on more than just opposition to that plan to win. The Republican candidates are former Erie County executive Chris Collins and tea party war vet David Bellavia. Collins has the Conservative party line, but was fairly unpopular as executive of Erie County, though the county itself is fairly blue and this district excludes much of it. Hochul is by no means a lost cause, but this district will be a pretty tough haul at R+8 and a guaranteed Romney district.
OK-02 Democratic Held
Open Dan Boren (D) - Retiring
Dan Boren, likely the most conservative incumbent house Democrat, did us no favors when he retired at the ripe old age of 37 and turned a safe seat into a pretty strong Republican pick up opportunity. This seat was one of Obama's very worst in 2008 but is probably the best example of a "Demosaur" or "ancestrally Democratic" district in the country. Republicans have a myriad of candidates who don't really interest me yet, but Democrats are set to nominate former assistant United States Attorney Rob Wallace who has so far kept up a fairly good fundraising pace. Democrats still have a chance to hold onto this seat, though it will probably end up Likely R due to the probable 2-1 margin that Romney wins by in the district.
PA-08 Republican Held
Mike Fitzpatrick (R)
Fitzpatrick won this seat back again in 2010 from Dem Patrick Murphy, but there was no way for Republicans to protect him in redistricting, so this remains a swing seat. Democrats nominated attorney Kathy Boockvar who has posted strong fundraising thus far. Hopefully the blue trend of the Philadelphia suburbs coupled with Obama-generated turnout will be enough to push Boockvar over the top, but for now Fitzpatrick has the advantage. This race is a strong candidate for becoming more competitive later on.
TX-14 Republican Held
Open Ron Paul (R) - Running for President
When the new Texas map came out, this district strongly resembled the one that former Democratic rep Nick Lampson represented from 1996-2004 and once Ron Paul made it clear he would retire, Lampson entered the race. Republicans will nominate either state rep Randy Weber or Felicia Harris. Despite the strongly conservative lean of the district, Lampson is the strongest possible candidate we could have fielded here and will make it very competitive.
WI-07 Republican Held
Sean Duffy (R)
Gaffe-prone freshman Sean Duffy was helped substantially by redistricting which turned this Dem-leaning seat held by former rep Dave Obey for over 40 years into more of a swing seat. Unfortunately as well, Democrats didn't nominate the best candidate here with former state rep Pat Kreitlow, who lost in the 2010 wave. Kreitlow's fundraising thus far has been less than impressive, which prompted me to move this race from tossup to Leans R. However, if Obama is on track to come close to his 2008 performance in Wisconsin then Kreitlow should have a good chance to ride his coattails into office.
WI-08 Republican Held
Reid Ribble (R)
This seat remained fairly similar after redistricting and despite being a nominal D+ district it is fairly ancestrally Republican. Democrats have fielded a strong candidate, Jamie Wall, who actually outraised Ribble for a few quarters, but is behind in overall fundraising. As with the 7th district, Obama's performance here could really make or break our downballot chances, but unlike the 7th Ribble has worked harder at earning some bipartisan cred and avoiding gaffes.
Toss Up
CA-07 Republican Held
Dan Lungren (R)
Redistricting made this Sacramento area district more compact and a touch more Democratic. Lungren, who won by an unimpressive 7% in the 2010 wave, will face a rematch against Democrat Ami Bera who has a knack for outraising Lungren most quarters. Bera, if elected, would be the first Indian-American Democrat elected to congress, and should be a very narrow favorite as of now.
CA-52 Republican Held
Brian Bilbray (R)
This seat changed fairly dramatically in redistricting by shedding conservative territory to the north in exchange for more Dem leaning parts of San Diego to become a slightly Dem leaning though historically Republican seat. Bilbray will face off against San Diego Port Commissioner and former City Councilman Scott Peters. Peters has so far outraised Bilbray, but his path to victory will require a strong showing by President Obama. Right now, I believe this is the most competitive race in the entire country, but if forced to choose I think Bilbray would narrowly win.
CO-03 Republican Held
Scott Tipton (R)
Freshman incumbent Scott Tipton knocked off Democrat John Salazar in something of an upset in 2010 in this fairly Republican district. Still, this seat is pretty friendly to blue dogs like Salazar. Tipton will now face Colorado House Minority Leader Sal Pace who has posted strong fundraising, though Tipton has as well. With Colorado trending Democratic and Tipton being somewhat of a weak incumbent, I think Pace will pull it out, but this race will remain very competitive barring a Romney implosion out west.
CO-06 Republican Held
Mike Coffman (R)
Unlike the 3rd district, this seat is primarily urban and suburban and was changed dramatically during redistricting. By shedding rural and ultra-conservative parts of Douglas County in exchange for the city of Aurora, this seat became a slightly Dem-leaning swing district. Unfortunately for Democrats, Coffman has a large warchest and this district has plenty of fiscally conservative suburbanites who tend to vote Republican. On the other hand Coffman got a ton of flak for making birther comments recently and a half-hearted apology that followed. Democrats will put their hopes in state rep Joe Miklosi who will need to pick up his fundraising to whittle down Coffman's cash on hand advantage. Reducing that gap and utilizing presidential turnout will be the key to winning here, but this race tilts slightly Republican.
FL-18 Republican Held
Alan West (R)
Alan West is easily my least favorite member of congress with his tea party-favorite inflammatory rhetoric and conservative voting record. He essentially fled to this more conservative R+2 district when his old 22nd district was made solidly Democratic and thus represents roughly a quarter of it. Democrats will field first time candidate "no not that" Patrick Murphy who has posted very impressive fundraising each quarter. West has as well, though he is using direct-mail methods which have a very high burn rate. Reminiscent of Alan Grayson's 2010 race where his huge cash advantage didn't save him, I think West will ultimately lose as swing voters are turned off by his very conservative posturing.
FL-26 Republican Held
David Rivera (R)
In early 2011 I would have though Rivera would be a goner by either being indicted for corruption, primaried out, or easily defeated by a Democrat. Sadly, Democrats have been flailing around for a candidate until former 2008 and 2010 nominee Joe Garcia threw his hat into the ring once more. This seat became 2% more Democratic during redistricting and Garcia performed respectably for the national and state environment in 2010 by keeping his loss to single digits in an R+5 seat. As long as Garcia wins the nomination and can get his fundraising going (he only entered the race this quarter), he should hopefully be able to pull off a win.
GA-12 Democratic Held
John Barrow (D)
Republicans have once again targeted Blue Dog John Barrow, this time to much greater effect by turning his D+1 district into an R+9 seat. Luckily for team Blue, Barrow's conservadem record will actually come in handy here rather than be a nuisance. Several Republicans are running here, though Barrow has buried the field in terms of fundraising. Hopefully he will be able to win with his conservadem and crossover appeal plus increased black turnout due to the presidential election, but right now I think it might prove to be too steep a climb.
IL-13 Republican Held
Open Tim Johnson (R) - Retiring
Tim Johnson's unexpected retirement scrambled this race where he would have been a slight favorite to hold on. Republicans chose Rodney Davis, a former congressional aide to John Shimkus, as their replacement candidate, while Democrats narrowly nominated physician and 2004, 2006, and 2010 15th district nominee David Gill as their candidate. Though Obama only got 55% here in 2008, southern Illinois didn't really give him much of a home state advantage, so as of now I think Gill is a very slight favorite, but this race will be very close.
MI-01 Republican Held
Dan Benishek (R)
Sensing the writing on the wall, longtime Democratic rep Bart Stupak retired in 2010 which turned a safe seat into one that tea partier Dan Benishek won by low double digits. Democrats will nominate our 2010 candidate, former state rep Gary McDowell who represented a fairly conservative district in the house. A PPP poll from several months ago found McDowell narrowly leading Benishek, and given this district's history of favoring socially conservative, economically liberal Dems like Stupak, McDowell should ultimately prevail.
NH-01 Republican Held
Frank Guinta (R)
Former Manchester Mayor Frank Guinta knocked off Dem rep Carol Shea-Porter by a solid 12 point margin in 2010, but surprisingly enough, every single public poll has shown Shea-Porter, who is seeking a rematch, with a small to moderate lead. Guinta had ethics issues relating to his time as mayor, but Shea-Porter was unable to gain any traction with them in 2010. This time, I suspect the rebounding of the Democratic brand in New Hampshire and an improving economy will help propel Shea-Porter to victory.
NH-02 Republican Held
Charlie Bass (R)
Bass' narrow 1.6% win in 2010, despite having represented the district for 6 terms, was an early indicator to me that he would be screwed come election day when he faces a rematch with Ann McLane Kuster. However, the same polling that has shown Shea-Porter leading in her race has surprisingly shown Kuster either only slightly behind or slightly ahead of Bass. Kuster, an Orange to Blue candidate, has posted very impressive fundraising and should be able to use the blue lean of the district to ultimately win.
NV-03 Republican Held
Joe Heck (R)
Freshman Joe Heck narrowly defeated Dina Titus in 2010, but saw his district shift more Republican by a little over a point. Titus opted to run for the safe 1st district, so Democrats have nominated Assembly Speaker John Oceguera. At first, Oceguera's fundraising was lagging far behind Heck's, but this has picked up significantly during the past quarter. Very similarly to CA-52, this race will be all about how well Oceguera is able to convert Obama's win into a downballot win. This is probably the second most competitive race nationwide, though I expect Heck to narrowly win again.
NY-18 Republican Held
Nan Hayworth (R)
With New York's court map, the upstate districts changed fairly significantly, though Hayworth still represents a large amount of the new district. It became a point more Democratic and Hayworth got some very bad press for comments she made during the aftermath of Hurricane Irene. The Democratic nomination will be a contest between Sean Patrick Maloney, who was an aide in the Clinton White House and is openly gay, and physician David Becker. Maloney is the establishment favorite and likely to win the nomination. He has raised a respectable amount of money, but will have to contend with the slight Republican lean of the district even though it is trending Democratic. As of now, I think Hayworth will end up winning.
NY-19 Republican Held
Chris Gibson (R)
Redistricting gave Gibson a more Democratic district with a large amount of new territory, however unlike Hayworth he has avoided gaffes and has tried to establish a more moderate image. He will face attorney Julian Schreibman who has raised roughly $250k despite being in the race just a relatively short period. This race should be quite competitive, but I expect that Gibson will prevail.
NY-21 Democratic Held
Bill Owens (D)
Bill Owens' winning scenario in the 2009 special election and 2010 general thanks to Conservative Party nominee Doug Hoffman will not happen again since former 2010 Republican nominee Matt Doheny now has the Conservative Party line. The district was made a touch more conservative during redistricting, but after 2 elections and hopefully with a much more favorable national environment, Owens is in a stronger position. Unhelpful to Doheny was an incident where the press obtained photos that caught him making out with a woman who was not his fiancé earlier in the year, but that story seems to have died down. Owens is hopefully on his way towards entrenching himself here and I believe he will win yet again this year.
OH-06 Republican Held
Bill Johnson (R)
Freshman Bill Johnson won in a bit of an upset in 2010 against former rep Charlie Wilson, with whom he will face a rematch this year. This district which contains many blue dog and labor Democrats along the Ohio river was made somewhat more Republican during redistricting, which should be enough to save Johnson, but Wilson will make this race competitive.
OH-16 D vs. R Incumbent Held
Betty Sutton (D), Jim Renacci (R)
The 16th is the 2nd of the two districts where both a Democratic and Republican incumbent are running. Ohio Republicans really put the screws to Betty Sutton with redistricting by eliminating her seat and leaving her best option, the 16th district, as a seat over 9% more Republican. Sutton has a record as a strong campaigner though and this area will be heavily targeted by both presidential campaigns. However, the district is R+6 which should mean Renacci starts out as a very slight favorite.
PA-12 Democratic Held
Mark Critz (D)
Mark Critz pulled off a pretty shocking upset in the Democratic primary against Jason Altmire, who represented far more of the new district. While on the surface this district, at only 45% Obama, appears to be quite unfriendly turf, local labor Democrats such as Critz typically outperform the president by several points. Critz recently released a poll showing him with a healthy lead over Republican nominee Keith Rothfus, who held Jason Altmire to a narrow win in 2010. I'm tempted to move this race to Lean D and probably will as the campaign progresses, but for now it's a tossup though tilting towards Critz.
TX-23 Republican Held
Quico Canseco (R)
This Hispanic majority VRA seat was won by Canseco largely due to poor midterm turnout in the Rio Grande Valley in 2010. The Democrats will have a runoff to decide whether to nominate former rep Ciro Rodriguez for a rematch, or hopefully instead will pick state rep Pete Gallego. Rodriguez's fundraising has been quite frankly pathetic for a former member of congress, while Gallego has done a much better job to keep Canseco's cash advantage narrow. With presidential turnout, Democrats have a shot regardless, but I suspect Gallego, whom I expect to win the nomination, would be a slight favorite while Rodriguez might be a slight underdog.
UT-04 Democratic Held
Jim Matheson (D)
Jim Matheson is turning out to be the Harry Houdini of Utah politics, narrowly escaping an attempt in 2002 to redistrict him out and surviving with relative ease ever since. Thus, when Utah gained a 4th seat, Republicans attempted to screw him over once again and have nominated Saratoga Springs mayor Mia Love. However, Matheson has a ridiculously favorable image among the Utah electorate and all public polling so far has shown him leading, to the point where I would almost classify this as leans Dem. I expect Matheson to win as long as Romney doesn't win by a wide margin nationally.
Incumbent vs. Incumbent Primaries
AZ-06
Republican Held
Ben Quayle (R), Dave Schweikert (R)
This is most properly thought of as Quayle's district, seeing as he represents 2/3rds of it, which would make the 4th district Arizona's new seat and the 9th district Schweikert's old one. However, Schweikert figured his chances were better here than in the much more Democratic 9th. Oddly enough, Quayle has garnered a lot of establishment support despite being a much weaker potential statewide candidate. Given how much more of the district he represents, Quayle probably starts off as a slight favorite.
Leans Quayle
CA30 Democratic Held
Howard Berman (D), Brad Sherman (D)
This race, the battle of the -ermans, has turned out to be a huge money-pit for Democratic donors as Berman and Sherman will have spent several millions between them when all is said and done. Redistricting prompted this race when a heavily Latino seat was created out of Berman's old one and he ran here where Sherman represents the majority. Both have fairly similar voting records, so I would expect geography to play a much larger role than ideology. So far, Berman has had very crappy ads and has even explicitly been courting the small but still sizable Republican minority here. In the end I would expect Sherman's geographic advantage to carry him to victory, though Berman's nearly exclusive support among the establishment could allow him to win.
Leans Sherman
CA-44 Democratic Held
Janice Hahn (D), Laura Richardson (D)
Redistricting merged Hahn and Richardson's districts to create the new CA-47 and both decided to run here. Though Richardson should have the advantage due to the district's heavily minority demographics, Hahn has a built in strength due to her and her father's past tenures on the L.A. City Council. Combined with Richardson's ethics violations and Hahn's strong showing in the June top 2 primary, Hahn starts off as a strong favorite.
Likely Hahn
FL-07 Republican Held
John Mica (R), Sandy Adams (R)
This match was completely avoidable, but the popular and long-serving John Mica decided to screw over Sandy Adams by running where his home was, despite his representing more of the neighboring 6th and Adams actually representing the majority of this district. Both Mica's and Adams' campaign polls have shown Mica with a huge lead name recognition and head to head match ups, so barring an unexpected shift in this primary, Mica should cruise.
Safe Mica
LA-03 Republican Held
Jeff Landry (R), Charles Boustany (R)
Louisiana lost a seat in reapportionment and since the lone Dem-held seat was VRA protected, that meant a Republican had to go. The decision to target Jeff Landry seemed pretty obvious considering he was the only freshman and state Republicans matched him up in a new district which heavily favored old 7th district incumbent Charles Boustany. Landry though, retains a lot of popularity with tea partiers, but lacking any obvious apostasies, Boustany should prevail on his geographic advantage.
Likely Boustany
MI-14 Democratic Held
Hansen Clarke (D), Gary Peters (D)
Michigan lost a seat as well in reapportionment, though here Republicans were able to eliminate a Democratic seat and forced a Dem on Dem match up. Gary Peters has surprisingly been getting nearly all of the establishment and union support against Hansen Clarke in this heavily black VRA seat. Peters is also helped out by the presence of Southfield mayor Brenda Lawrence, who like Clarke is also black while Peters is white. My instinct is that the overwhelmingly black primary electorate will stick with Clarke, but without any reliable polling it is impossible to know where exactly Peters stands.
Tossup/Tilt Clarke
MO-01 Democratic Held
Lacy Clay (D), Russ Carnahan (D)
Again, Missouri is a state which lost a seat due to reapportionment. Most disgustingly though, Lacy Clay and 5th district incumbent Emmanuel Cleaver conspired to screw over 3rd district incumbent Russ Carnahan by having their allies in the state house vote with Republicans to override governor Jay Nixon's veto of the Republicans gerrymander. Thus, Carnahan's base was packed into this heavily Democratic district and he was left without any good options. Since both Clay and Carnahan have pretty solidly liberal voting records, race and geography will likely be the determinants of this race and with the Democratic primary having a large black majority, Clay should easily win.
Safe Clay
Summary
(Click for larger image)
In total, my current analysis yields a net gain of 9 seats for Democrats, which is still 16 short of taking back the house. Democrats' main problem comes from redistricting which allowed Republicans to substantially shore up a lot of their 2010 gains and endanger a handful of Democrats. I expect a theoretical generic ballot, one where voters had a choice more akin to proportional representation, to yield a D+4 electorate. This is in line with many reputable polling firms who do national polls, such as PPP and Pew.
The most competitive races in the country will likely be CA-52 and NV-03, which at this point are narrowly favoring the Republican incumbent, but are as close to a pure tossup as possible.
My next diary will focus on the Senate Race Ratings and I hope you have enjoyed reading my take on the most competitive house races this year. I welcome any of your comments and critiques (as well as pointing out any errors or typos). I'll be happy to elaborate on my ratings in the comments and will include a Likely D/R race in the diary if necessary.