This is the second installment of my race ratings for the elections to the United States Senate this fall. You can find my ratings and analysis for the House of Representatives here. Since there are only 33 seats up, I'll detail all of them, but for some that are beyond safe there is not much to mention. So far the outlook for Democratic chances of retaining the Senate is little changed from earlier in the year, meaning we are still favored.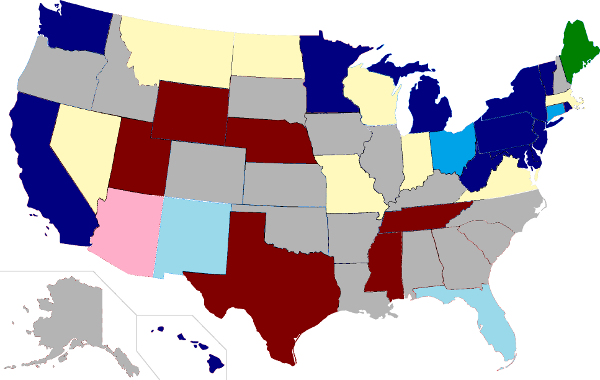 Arizona
Open Jon Kyl (R) - Retiring
Arizona became more competitive when Jon Kyl announced he would retire after 3 terms. Democrats scored an excellent candidate with former US Surgeon General Richard Carmona who is making his first bid for public office. On the Republican side, Libertarianish 6th district Rep. Jeff Flake entered as the presumptive nominee but has recently been taking more flak from more traditional conservative primary challenger and self-funder Wil Cardon. Polling here has been fairly limited, though PPP's few survey's have typically shown Flake with a decent lead due to Arizona's red lean, but this has been narrowing recently. The outcome of this race will probably be determined by how aggressively and successfully Obama targets Arizona this fall, but presently Flake (and Romney) is looking like a slight favorite. Should Cardon win the nomination the race would presumably get even tighter as he loses some of Flake's pull with country club/socially moderate Republicans and independents.
Lean R
California
Dianne Feinstein (D)
Feinstein is an institution in California and will easily win re-election in a landslide, especially with Barack Obama driving up turnout among Dem-friendly demographics.
Safe D
Connecticut
Open Joe Lieberman (I) - Retiring
Though Lieberman caucuses with and votes fairly often with the Democratic majority, this seat is now a solid bet for liberals to gain a seat. 5th district incumbent Chris Murphy is looking like a heavy favorite to win the Democratic nomination over former SoS Susan Bysiewicz and a solid favorite to win in November. Republicans recruited a potentially strong candidate with moderate former Rep. Chris Shays, but Shays has been outgunned by former WWE CEO and 2010 nominee Linda McMahon and her millions. Polling here has been almost non-existent or fairly suspect, but expect Murphy to have a relatively easier time defeating McMahon than even Richard Blumenthal did in his 2010 win. Were Shays to somehow pull off a primary upset, this race might get more competitive, but for now his path to a primary victory is looking quite difficult.
Likely D
Delaware
Tom Carper (D)
I always forget Carper is up for reelection this year and I really wish he weren't as Democrats could easily get someone more liberal into this seat. Anyway, Carper is beyond safe as the Obama/Biden ticket will easily carry Delaware and Carper remains popular.
Safe D
Florida
Bill Nelson (D)
With polling throughout the past few years showing Nelson with relatively low approval ratings (though much of that is from the left) Republicans figured that he would be a top target in a light red state such as Florida. Unfortunately for them, their standard bearer, 14th district Rep. Cornelius Harvey MacGuillicuddy IV Connie Mack has garnered bad press for weeks due to revelations about his "youthful indiscretions". Nelson also has a large cash-on hand advantage over Mack as well as posting strong fundraising each quarter, a huge boon in an expensive state such as Florida. With Nelson's strong crossover appeal among moderate Republicans and right-leaning Independents, he is a pretty strong favorite to be reelected, almost to the point where this race could be Likely D, but for now Mack still has a chance to turn his campaign around if he can ramp up his fundraising and avoid further gaffes.
Lean D
Hawaii
Open Daniel Akaka (D) - Retiring
When former two-term Republican governor Linda Lingle threw her hat into the ring for Hawaii's open senate seat, many of the beltway pundits immediately claimed that the race was competitive, but don't be fooled. Hawaii is a deep, deep shade of blue even with out native son Barack Obama set to win the state 3-1. Add to that a very pathetic track record for public polling in this state, which understates Democrats' support considerably (polls had the gov race a tossup in 2010 instead of the 17 point landslide it was). The real election here is the Democratic primary, where progressive 2nd district Rep. Mazie Hirono is facing off against her predecessor in that seat, Blue Dog former Rep. Ed Case. Again, polling showing Case ahead has been very suspect, with the DSCC even attacking one of his polls in a press release. Hirono is probably a strong favorite in the primary and a near guaranteed lock in the general. Don't get too worried if polls show her leading by just 5-8% or so in the fall, because chances are the margin won't be nearly that close.
Safe D
Indiana
Open Dick Lugar (R) - Defeated in Primary
Dick Lugar must have been trying to win an award for worst primary campaign by an incumbent senator. The six-term incumbent was defeated by over 20 points in the may Republican primary by state Treasurer Richard Mourdock, who ran a tea party style Club for Growth type of campaign. His victory turned a safe general election into a tossup without Lugar's popularity among swing voters and moderate Democrats. He will face 2nd district Democratic Rep. Joe Donnelly in the general. Donnelly has a very moderate record in his 3 terms in the house and has generally had decent fundraising though not quite keeping up with Mourdock. Donnelly's path to victory in this race will depend on how seriously Obama contests Indiana and how effectively he is able to cast Mourdock as a tea party extremist. While the race is a toss up for now, Indiana's red lean will probably be able to carry Mourdock to victory all else equal.
Tossup/Tilt R
Maine
Open Olympia Snowe (R) - Retiring
This race changed dramatically over a couple of weeks earlier this year when ultrapopular incumbent Olympia Snowe announced in a shocker that she was retiring after 3 terms. The surprises weren't over then however, as uberpopular former Independent governor Angus King announced that he would run to succeed Snowe. The Republicans nominated former SoS (unelected in Maine) Charlie Summers, while Democrats nominated state senator Cynthia Dill, however all public polling since the field started to shape up has shown King demolishing the rest of the field. The only question that remains is which party King will caucus with, but his endorsement of Obama and the ACA, his being pro-choice and pro-gay rights, and his record as a left-leaning governor all seem to indicate that he'll be a vote for Harry Reid.
Safe I (D) - Democratic Pick Up
Maryland
Ben Cardin (D)
Maryland is a deep blue state and incumbent Ben Cardin will have no trouble winning reelection.
Massachusetts
Scott Brown (R)
Massachusetts is actually competitive for once after Scott Brown won an upset the 2010 special to replace Ted Kennedy. The Democrats are fielding first time candidate and netroots favorite Elizabeth Warren. She has posted truly monstrous fundraising with the most recent quarter seeing ~$6 million raised. However, Brown is no slouch when it comes to fundraising and has several million in the bank already. The Massachusetts senate race will probably see the most spent by the actual candidates of any race in the country. Though polling has consistently found a tossup and Brown as having a lot of appeal with swing voters, the unpopularity of the national Republican party in Massachusetts and Obama's likely 20 point win in November will most likely be enough to pull Warren over the top.
Tossup/Tilt D - Democratic Pick Up
Michigan
Debbie Stabenow (D)
Early on in the cycle, incumbent Debbie Stabenow appeared to be vulnerable when multiple polls showed her with middling approval ratings. Her image with the Michigan has improved though along with views on the national party and she now has fairly solid approval ratings. Republicans thought they landed a competent candidate in former 2nd district Rep. Pete Hoekstra, but he turned out to be anything but. Hoekstra's imfamous "Debbie Spend-It-Now" ad debacle has turned him into a laughing stock and since then he has gone quasi-birther. Stabenow's improved approvals, Hoekstra's mini-implosion, and a likely double digit Obama win here have turned a potentially competitive race into one that isn't. Regardless of whether the final margin is Stabenow by 10 or 15, at this point I see no path to victory for Hoekstra.
Safe D
Minnesota
Amy Klobouchar (D)
Though Minnesota is only a light blue state, freshman incumbent Amy Klobouchar is ridiculously popular and Republicans have a bunch of lower tier candidates running anyway.
Safe D
Mississippi
Roger Wicker (R)
Though Wicker actually had a somewhat competitive election in 2008 against former governor Ronnie Musgrove, he faces no serious opposition this time.
Safe R
Missouri
Claire McCaskill (D)
Claire McCaskill had a narrow win in the 2006 wave over former senator Jim Talent and has since then been viewed as a top Republican target. Though Talent decided against a rematch, McCaskill has been sporting poor approvals and Missouri is a light red, but red trending state. Working in her favor however is the weak state of the Republican field which features former state Treasurer Sarah Steelman, 2nd district Rep. Todd Akin, and businessman John Brunner. Each of those three has their own flaws and are fairly gaffe prone, but polling throughout the cycle has shown McCaskill effectively tied with her opponents despite their lower name recognition. She has a huge cash-on-hand and fundraising advantage, but at this point I'm somewhat pessimistic on her chances and would expect her to narrowly lose unless she can really define her opponent effectively a la Harry Reid in 2010.
Tossup/Tilt R - Republican Pick Up
Montana
Jon Tester (D)
As with McCaskill, Jon Tester was a 2006 wave winner who narrowly knocked off a GOP incumbent and is now vulnerable this year. Republicans put up their strongest possible candidate in current At Large Rep. Denny Rehberg. Tester has thus far run a great campaign though, running several ads which effectively paint him in a positive light while Rehberg and the Republican dark money groups have tried going negative. Tester has also outraised Rehberg by a solid margin and still maintains good approvals for a red state such as Montana. Polling has been fairly limited from reliable pollsters, but since the ad war started Tester was up by 5 in the most recent PPP poll. Given that Obama won't drop off too far from his 2008 performance and Tester's strong appeal to swing voters, he is probably a very slight favorite to survive the election.
Tossup/Tilt D
Nebraska
Open Ben Nelson (D) - Retiring
Incumbent Ben Nelson was always the most vulnerable senator this year, ever since his approvals tanked during the 2009/2010 health care debate. With his retirement, Democrats figured that former senator Bob Kerrey would be able to keep this race close, but that is looking very unlikely at this point. Nebraska is a heavily Republican state and all polls released in the past few months have shown Republican nominee, state senator Deb Fischer, or other primary candidates beating Kerrey handily. Kerrey's path to victory seems pretty non-existent at this point as he has lost almost all of the crossover appeal he would need to win.
Safe R - Republican Pick Up
Nevada
Dean Heller (R)
This race has been competitive from day one when Heller was appointed to the Senate to replaced resigned senator John Ensign. After much speculation on who Democrats would run, 1st district Rep. Shelley Berkley entered the race with the full backing of the Harry Reid machine. Berkley has consistently had better fundraising than Heller, though both have enough funds to be competitive. Polls have shown the race a tossup with narrow Heller leads, but public pollsters have consistently shown a Republican bias when polling Nevada while some of the internal pollsters don't. As long as Obama comes somewhat close to his 2008 win, his coattails and the turnout operation of the Reid Machine should help propel Berkley to victory.
Tossup/Tilt D - Democratic Pick Up
New Jersey
Robert Menendez (D)
By just taking a cursory look at the polling in New Jersey you would think Menendez would be quite vulnerable, but even though he has very "meh" approvals he still has healthy leads over potential opponents and most of the undecideds are Dem-friendly. New Jersey itself is like fools gold for Republican presidential campaigns and with a solid Obama win at the top of the ticket, Menendez should cruise.
Safe D
New Mexico
Open Jeff Bingaman (D) - Retiring
When popular incumbent Jeff Bingaman decided to retire, this race suddenly came somewhat competitive. Democrats have nominated 1st district Rep. Martin Heinrich while Republicans nominated his predecessor, former rep. Heather Wilson. Though polling has typically found Henrich with mid-to-high single digit leads, Wilson's "moderate" image has helped to keep her in the running. Still, her path to win will be quite steep with those same polls showing Obama destroying Romney by ~15 points. I suspect this one will probably move more towards Heinrich as low-info Dem-leaning voters start tuning in during the fall, but for now he starts out as just a moderate favorite.
Lean D
New York
Kristen Gillibrand (D)
Another deep blue state, another very popular incumbent. Kristen Gillibrand won in a landslide in 2010 and will do so again this year.
Safe D
North Dakota
Open Kent Conrad (D) - Retiring
Democrats were initially looking screwed here when veteran senator Kent Conrad announced in early 2011 that he would retire. Republicans have nominated freshman At Large Rep. Rick Berg, but Democrats were able to counter with an awesome candidate in former attorney general and 2000 gubernatorial nominee Heidi Heitkamp. She, despite not having run for office since that year, maintains an enormous reservoir of goodwill among the middle of the electorate and as a consequence has been roughly tied with or narrowly leading Berg in released polling. Berg, on the other hand, has a surprisingly high disapproval rating and hasn't run a very distinguishing campaign so far. He still maintains a cash-on-hand advantage though since Heitkamp didn't enter the race until this year. I'm feeling fairly optimistic that Heitkamp will be able to convert her unique appeal to the conservative-leaning North Dakota electorate and narrowly hold on to this seat for team Blue.
Tossup/Tilt D
Ohio
Sherrod Brown (D)
Class of 2006 senator Sherrod Brown has shown some surprising resiliency in maintaining solid approvals and strong leads over his Republican challenger, state Treasurer Josh Mandel. Brown has sustained a fairly liberal voting record and is a top target of Republican dark money groups who have spent several millions against him so far. Still, with Obama at worst even money to carry the state, Brown having a sizable amount of cash on hand, and the DSCC prepared to spend $5 million on his behalf, he is a definite favorite at this point.
Likely D
Pennsylvania
Bob Casey (D)
If only my name were Bob Casey, then all I would have to do is move to Pennsylvania to run for office. Seriously though, the Casey name is golden as many remember the tenure of his father, the popular former governor Bob Casey, Sr. Even if Obama were to lose Pennsylvania Casey would still be a heavy favorite as he is able to carry all of the old labor-dem coalition and most of the new Dem trending coalition in eastern PA. The only question is whether he wins by a larger margin than his 2006 blowout.
Safe D
Rhode Island
Sheldon Whitehouse (D)
Rhode Island is deep blue and Sheldon Whitehouse won't have any trouble winning reelection.
Safe D
Tennessee
Bob Corker (R)
Corker had a close race in 2006 during his first election to the Senate, but his reelection match up will be quite different against much weaker opposition than Harold Ford was.
Safe R
Texas
Open Kay Bailey Hutchison (R) - Retiring
When incumbent senator Kay Bailey Hutchison announced early on in 2011 that she would retire, this race looked like it could be potentially competitive, but has turned out to be far from it. All the action is on the Republican side as Democrats will nominate a decidedly 3rd tier candidate. The primary runoff taking place in June will decide whether Republicans nominate Lt. Governor David Dewhurst or tea party favorite and former Texas Solicitor General Ted Cruz, either of whom is guaranteed a win in November.
Safe R
Utah
Orrin Hatch (R)
As with Indiana, the Utah senate race looked as if it could see a veteran Republican incumbent taken down by a tea party insurgency. Instead, Hatch has quite effectively courted right wing/tea party groups and repaired his image enough to cruise to an easy primary victory. With Democratic Rep. Jim Matheson foregoing a senate run, Hatch will easily win a seventh and final term.
Safe R
Vermont
Bernie Sanders (I)
Vermont is one of the bluest states and Bernie Sanders is incredibly popular and thus will win in a landslide.
Safe I (D)
Virginia
Open Jim Webb (D) - Retiring
Jim Webb won a very narrow race against former senator George Allen in the wave of 2006. Even before he announced his retirement, this was slated to be a very competitive race as Allen sought a rematch. The Democrats have nominated moderately popular former governor and DNC chairman Tim Kaine, who consistently has narrow leads with Allen in credible public polling. So long as Obama wins the state, Kaine should be able to prevail as well, though expect it to be quite an expensive race going down the stretch.
Tossup/Tilt D
Washington
Maria Cantwell (D)
Cantwell has solid approvals, her state senator opponent has little money or name rec, and Obama will easily win Washington as will Cantwell.
Safe D
West Virginia
Joe Manchin (D)
Joe Manchin is ridiculously popular in West Virginia and is facing a rematch against joke of a candidate John Raese. The only question remaining is whether he wins by over 2-1 or not.
Safe D
Wisconsin
Open Herb Kohl (D) - Retiring
This race instantly became competitive when popular senator Herb Kohl decided to retire. Democrats are set to nominate 2nd district Rep. Tammy Baldwin while the Republican is divided among "moderate" former governor Tommy Thompson, and three more insurgent type conservative challengers: Assembly Speaker Jeff Fitzgerald, former rep. Mark Neumann, and businessman Eric Hovde. While most polls have shown Thompson with a narrow lead over Baldwin, much of this has to do with differences in name recognition as both are consistently in the 40s despite his much higher name rec. Once the campaign starts to heat up, I fully expect the partisan lean of Wisconsin to keep Baldwin competitive. If somehow one of the three stooges actually defeats Thompson in the primary, then I wouldn't be worried much about Baldwin's chances.
Tossup/Tilt D (This is a pure tossup but I think Baldwin ultimately wins)
Wyoming
John Barasso (R)
Very deep red state and Barasso is very popular there as befits a Republican.
Safe R
So when all is said and done I think the Democratic caucus actually gains a seat by picking up Maine, Massachusetts, and Nevada while losing Missouri and Nebraska. Obviously some of the tossups such as Wisconsin could easily go the other way, but it just goes to show that Republican chances of flipping the senate aren't that particularly good as they would have to practically run the table on tossups.
The most exciting race to watch should hopefully be Arizona where the dynamics could change dramatically depending on how close the presidential contest is and how good of a campaigner Carmona turns out to be.
I hope you enjoyed this part of the series and I welcome any feedback/corrections.