The Daily Bucket is a space to put any and all observations of the natural world around you. Weather, birds, insects, meteors, and wildflowers are among the many bucket-appropriate items. A new kind of earthworm in your yard? Daisies flowering earlier than normal? Let us know and please also let us know, at least approximately, where you are.
My own observations for the bucket are relatively sparse and I'll leave them to the end. Instead I'll post some interesting observations made by my friends and colleagues in the aftermath of TS Debby.
Today is a beautiful cloudless day with temperatures in the mid-80s and low humidity. Here in Tallahassee life seems pretty much back to normal.
Two different people have reported seeing Magnificent Frigatebirds in the area. One (who has way more time on his hands than I do) has seen three in Leon County in the past few days. Someone else told me an hour or so ago that yesterday they saw one while driving, just a mile or so north of downtown.
Here's a picture of a Magnificent Frigate Bird (taken in Ecuador but the Florida ones look much the same). This is a juvenile as indicated by the white head
Here is a female sitting on a nest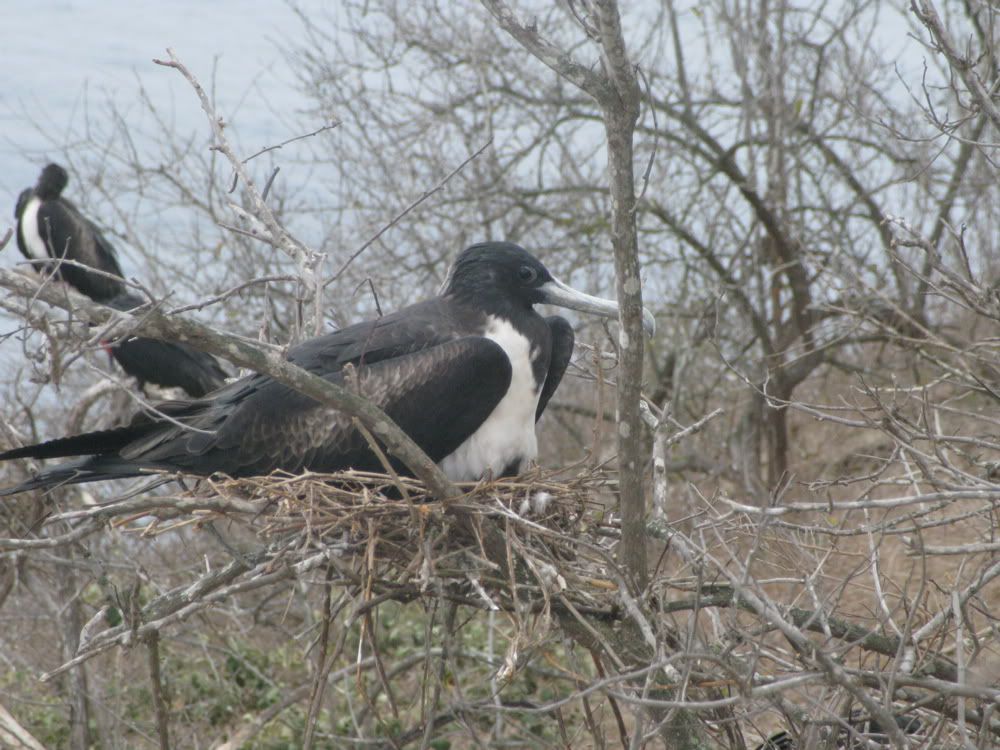 There are five species of Frigate Birds worldwide, two of which are restricted to single isolated islands and their surrounding waters. The other three have wider ranges in the tropical oceans of the the world. All are very similar in appearance and ecology. The Magnificent Frigate Bird (Fregata magnificens) is the only species occurring in the New World north of the equator although the Great Frigate Bird (Fregata minor) occurs in the Galapagos and Hawaiian Islands as well as further west in the Pacific.
Frigate birds are large, long-winged sea birds that are sort of a tropical cross between a bald eagle and an albatross. That are amazing soarers that can glide effortless for hours at a time. They are also agile during powered flight and, like bald eagles, are frequent kleptoparasites, stealing food from other sea birds. They also capture prey from the surface of the water as they cannot swim.
The Magnificent Frigate Bird breeds in the Dry Tortugas in extreme southern Florida and can be seen fairly regularly in coastal areas of the Keys and mainland south Florida.
Here in the Panhandle they are considered rare birds to see on the coast and only in summer when birds wander more widely. The closest location that they occur regularly in the summer is Cedar Key, a small group of islands off the Gulf coast of the Florida Peninsula over an hour's drive north of the Tampa/St Petersburg metropolitan area. The populations of other water birds breeding on these keys no doubt provide an excellent food source even if the Frigate Birds don't nest there themselves.
It seems most likely that the eastern side of Debby carried these birds north and dumped them off here. I am hoping to get one on my yard list but I would rather that they safely navigate back to the Gulf.
My colleague who lives in Wakulla County reports that water levels continue to rise around her home even after the rain has stopped. She has to park her vehicle in a different spot than usual because her main entrance is flooded and has had to contend with a Cottonmouth that seems to think the parking spot belongs to it. Hopefully she will go home today and find that the water has receded somewhat and that the snake has found a new home.
My own observations are rather pedestrian in comparison. One large tree came down in our neighborhood. It was in a vacant lot (which here means a dense patch of trees) and the only effect was that it partially blocked the road.
Water level in the lake has gone up a few inches. I will go and check the drained part later today. Eastern narrow-mouthed toads were calling in numbers from the lake, something we had not heard before this batch of rain.
That's it for Tallahassee (and Leon and Wakulla counties generally). What's blown into (or grown up in) your neck of the woods?