I know what you're thinking - it's about time! But wait, it's not what you think...
Instead of "cleaning house" and ridding itself of the pedophile priests and those who would cover it up, THIS is the house they are cleaning: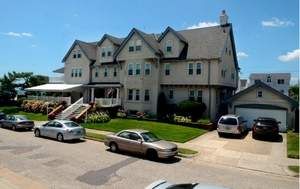 In response to legal bills associated with the recent court case involving Msgr. Lynn and Rev. Brennan [$10 million and counting], the Philadelphia diocese is doing what most of us would - unloading it's estimated $6.2 million dollar beachfront property along the Ventnor, NJ boardwalk. While I understand that not all priests or diocese's take a vow of poverty, this seems to fly in the face of the Code of Canon Law:

Can. 281 §1. Since clerics dedicate themselves to ecclesiastical ministry, they deserve remuneration which is consistent with their condition, taking into account the nature of their function and the conditions of places and times, and by which they can provide for the necessities of their life as well as for the equitable payment of those whose services they need.

Can. 282 §1. Clerics are to foster simplicity of life and are to refrain from all things that have a semblance of vanity.
To me, this indicates that perhaps this multi-million dollar mansion along the Jersey shore doesn't quite follow the "simple way of life" and, I don't know where you're spending your summer vacation, but mine is probably going to involve a tent and some mosquito repellant!
From the Article:

The home used by vacationing retired priests will be shuttered on Saturday.

The house cost the archdiocese almost $115,000 in property taxes last year.

The church also paid for staff including cooks, waiters and caretakers for the retired priests.
Now where will they go for their summer vacations??
Granted, priests deserve time off - as evidenced in Can. 282 §2.

They are entitled, however, to a fitting and sufficient time of vacation each year as determined by universal or particular law
But this? Really?
[And the sad thing of it is this isn't even to pay judgements to the victims - but rather to pay for the defense of those who aided and abetted the pedophiles]