Tonight we remember the service and sacrifice of Staff Sgt. Matthew J. Leach who lost his life in Afghanistan on Tuesday. He is the latest of at least 1892 US service members who have lost their lives since the start of the war in Afghanistan over ten years ago.

I Got the News Today is a diary series intended to honor, respect and remind. Its title is a reminder that almost every day a military family gets the terrible news about a loved one. Diaries about the fallen usually appear two days after their names are officially released, which allows time for the IGTNT team to find and tell their stories.

All of the U.S. fatalities can be seen here and here. They all had loved ones, families and friends. The DoD news releases are here. I Got the News Today is intended to honor, respect and remind.

Click the IGTNT tags below to see the series, which was begun by i dunno, and which is maintained by Sandy on Signal, Monkeybiz, Noweasels, Chacounne, Twilight Falling, Joyful, SisTwo, Spam Nunn, True Blue Majority, CalNM, Wide Awake in Kentucky, Maggie Jean, Jax Dem, Kestrel 9000, TheFatLadySings, Ekaterin and me, blue jersey mom.

Please bear in mind that these diaries are read by friends and family of the service members chronicled here. May all of our remembrances be full of compassion rather than politics.

Please follow me below the fold.

On Wednesday, the Department of Defense made the following announcement:

The Department of Defense announced today the death of a soldier who was supporting Operation Enduring Freedom.

Staff Sgt. Matthew J. Leach, 29, of Ferndale, Mich., died June 26, in Kandahar, Afghanistan. He was assigned to the 1/334th Regiment, 1st Brigade, 104th Training Division (Leader Training), Fraser, Mich.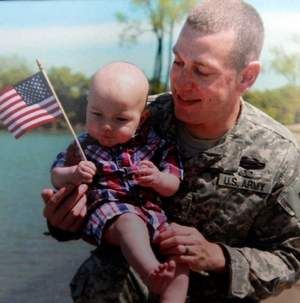 Matthew Leach was born in Texas and lived in Pennsylvania before his family moved to Ferndale, Michigan where he grew up. SS Leach graduated from high school in 2000 and went to work as a state certified auto body repair specialist in Ferndale. In 2003, he joined the army. Leach wanted to serve his country after in attacks on 9/11.
As an active-duty member of the Army, SS Leach completed two tours of duty in Iraq totaling 20 months in-country. In 2008, he entered the Army Reserves. He signed up for a one-year tour of duty in Afghanistan where he worked with robots. He had been in Afghanistan about a month at the time of his death.
Matthew Leach married his wife, Sarah, in 2005. Although the had attended school together, they did not begin to date until after high school graduation. They are parents of a son who just turned 7.
Sarah Leach told reporters from the Detroit Free Press that:

He was happy to be doing what he was doing and felt like he was doing something for his country... He was a great father and a husband.
The cause of SS Leach's death remains unknown. He was found unresponsive in his bed in Kandahar on Tuesday. Funeral arrangements are pending.
The mayor of Ferndale, David Coulter, issued the following statement on Thursday morning:

The thoughts and prayers of our entire community are with Matt's wife, son, family and loved ones. We've lost a neighbor and patriot, and we're reminded how painfully high the price of freedom can be. I encourage all residents of Ferndale to fly a flag until Matt comes home, in honor of him and in support of those he leaves behind.
May Staff Sgt. Matthew J. Leach rest in eternal peace. Our prayers are for his wife and young son. Poppies are the universal symbols of remembrance. May we always honor his service and his sacrifice.