A mile above sea level, where the Spanish Peaks meet the Great Plains, it is 64 degrees at 5:30 in the morning. We start this early because by noon it will be 100 degrees, our materials will have become too hot to touch and we will go home. We are replacing the roof on an old stone schoolhouse built in 1919; my helpers' parents and grandparents attended the Dilia school and we are taking great satisfaction in saving this magnificent building from its slow decline. This is my neighborhood, and these men are my neighbors of nearly 20 years.
Yes, there was once a bell in this belfry, and you can see why we are doing this.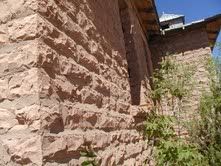 The framing was done well and most of this wood is still sound. We have replaced a few boards damaged due to rot and fire. You can see an area of the framing that has weathered silver from the sun because the old metal had blown off this area.
The new roofing metal stands in stark contrast with the old, rusted and wind-torn galvanized steel.
We are covering the original exposed rafter ends with a fascia and soffit, and adding a continuous gutter, as the new owners will want to harvest the rainwater. An inch of rain on this surface will yield almost 1200 gallons of water. Fascia and soffit boards were pre-cut and painted in the shop beforehand.
The roof panels are galvalume steel, a zinc and aluminum coating superior to a zinc-only galvanized coating. The panels come pre-cut to length (19' 10") and we site-cut the angles with a diamond blade on a skilsaw. It is all fastened down with gasketed screws, which will not be pulled out by the relentless force of the winds. All the old purlin boards have been reinforced to the old rafters with screws as well; not a single nail has been used.
The stone is 6 inch coursed ashlar of locally quarried sandstone. It is laid in a double wythe with random rubble stonework in the inner wythe, for a 20 inch wall thickness. The eaves are 12 - 13 feet above the ground, and the interior ceilings are almost 12 feet tall.
We will be working for another two weeks; it happened that I chose the hottest week of the year so far to begin this job. After 31 hours, we have two of the four planes done.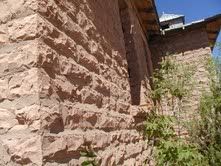 The photos are here at evil Photobucket, if you care to click. I give up on why I can't post the belfry pics. Prolly the Christianists doing, or something.