Last week, we discussed Andrei Cherny's two positions on the Affordable Care Act.
The latest position is that he supports it.
Here's what Cherny said a week ago: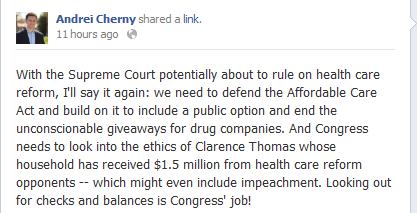 Of course, that's what he's saying now that he's running in a Democratic primary for Congress.
But that's a marked departure from his position in 2010, when he appeared before a Tea Party crowd in Tempe and told them that he was "opposed" to Obamacare:
Here's the video: http://www.youtube.com/...
Once Cherny was called on his apparent flip-flop, he claimed that he was simply following the rules of the debate by giving a one-word answer and that he should have provided context for his answer.
In making such a claim, Cherny apparently would like us to believe that he is the only politician on Earth who actually abides by debate rules, but that's beside the point. The fact is that he publicly "opposed" the Affordable Care Act and now would like us to believe he supports it.
Now that the Supreme Court has upheld the Affordable Care Act, the right-wing is predictably going off the rails.
Part of that right-wing is putting its (dirty) money where its mouth is:
The Hill: "Koch-backed group launches $9 million ad campaign against health law"
It's only been in the past few years that the plutocratic Koch Brothers have risen to a more public form of infamy on the left, thanks to their funding of the Tea Party movement, the horrendous "Americans for Prosperity" and other right-wing front groups.
But in the insider political world, they've been known for quite some time.
In 2010, the New Yorker did an excellent profile on the Kochs that discussed, amongst other things, the fact that the Koch Brothers had, at the time, pumped over $100 million into the far-right noise machine and campaigns, helping to launch nutzo groups like the Cato Institute and the so-called "Citizens for a Sound Economy" to help push perfectly awful ideas like loosening environmental restrictions and privatizing Social Security.
Some of that money came through the Koch-affiliated front group called Triad that was created in the mid-90s.
The New Yorker provides a pretty good analysis of what the Kochs were up back then:
In 1997, another Senate investigation began looking into what a minority report called "an audacious plan to pour millions of dollars in contributions into Republican campaigns nationwide without disclosing the amount or source," in order to evade campaign-finance laws. A shell corporation, Triad Management, had paid more than three million dollars for attack ads in twenty-six House races and three Senate races. More than half of the advertising money came from an obscure nonprofit group, the Economic Education Trust. The Senate committee's minority report suggested that "the trust was financed in whole or in part by Charles and David Koch of Wichita, Kansas." The brothers were suspected of having secretly paid for the attack ads, most of which aired in states where Koch Industries did business. In Kansas, where Triad Management was especially active, the funds may have played a decisive role in four of six federal races. The Kochs, when asked by reporters if they had given the money, refused to comment. In 1998, however, the Wall Street Journal confirmed that a consultant on the Kochs' payroll had been involved in the scheme. Charles Lewis, of the Center for Public Integrity, described the scandal as "historic. Triad was the first time a major corporation used a cutout"—a front operation—"in a threatening way. Koch Industries was the poster child of a company run amok."
In other words, even though Rachel Maddow wasn't around to dissect the Koch Brothers' dubious and slimy moves on a nightly basis, people in the political world were well aware of who they were way back in the 1990s. People just like Andrei Cherny, who was moving and shaking his way through the DC political world at the time.
In 2001, Cherny announced that he was running for the California State Assembly.
Among his earlier donors? A pair of Koch Industry Lobbyists.
On June 29, 2001, Koch Industries lobbyists Robert Hall and Wayne Gable contributed a combined $750 to Cherny: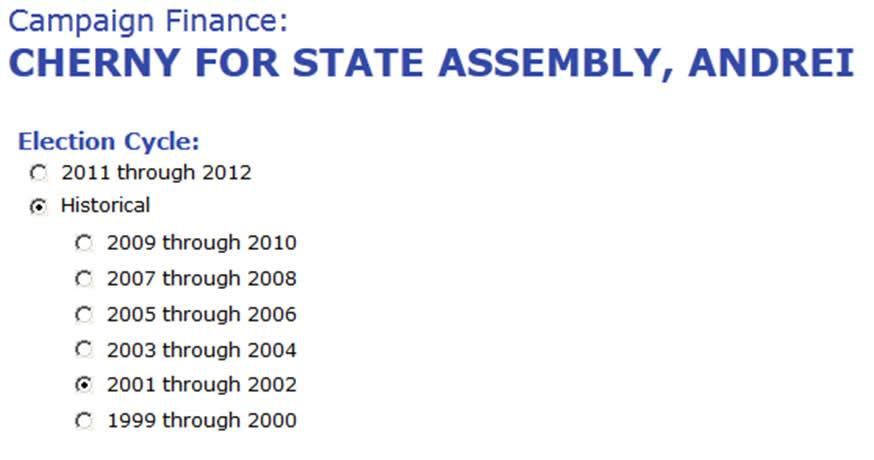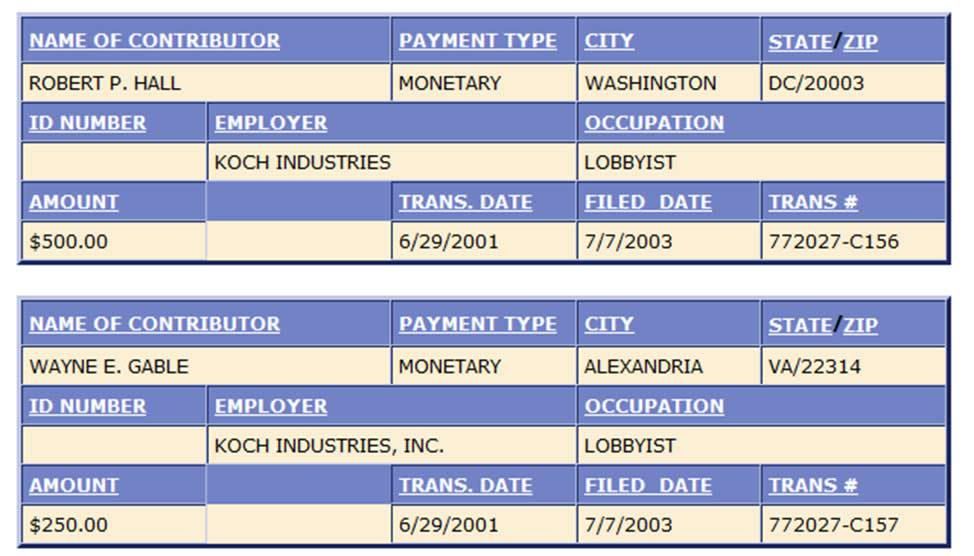 Today, Gable serves as the
Managing Director of Federal Affairs for Koch Industries.
Hall served as a lobbyist for Koch through at least 2008, according to the U.S. Senate's lobbying database.
What's their connection to Cherny?
More than likely, Cherny made his way into the world of Koch Industries via the Democratic Leadership Council, the corporatized version of the Democratic Party that pushed trade with China and other more Republican-oriented policies before shuttering its doors last year.
The organization was so (justifiably) loathed by progressives that, upon learning that the group was disbanding, Daily Kos founder Markos Moulitsas wrote "Where is the grave, so I can go dance on it?"
And what company had a seat on the DLC's board of directors?
Koch Industries.
And what company had not one, but two members of the DLC's board of trustees and event committee?
Koch Industries.
Robert Dreyfuss broke it all down in the American Prospect:
One member of the DLC's executive council is none other than Koch Industries, the privately held, Kansas-based oil company whose namesake family members are avatars of the far right, having helped to found archconservative institutions like the Cato Institute and Citizens for a Sound Economy. Not only that, but two Koch executives, Richard Fink and Robert P. Hall III, are listed as members of the board of trustees and the event committee, respectively--meaning that they gave significantly more than $25,000.
How does Cherny fit into all of this?
Cherny was the editor of the DLC's magazine, Blueprint, which was entirely financed by one Bernard Schwarz. Schwarz, then the CEO of Loral Space and Communications, "sought out" members of the board of trustees like those from Koch Industries.
Cherny went on to run a nasty, dishonest, race-baiting and ultimately unsuccessful campaign, despite the best efforts of the California Chamber of Commerce, which, according to the Los Angeles Times, spent roughly $70,000 in an attempt to elect him.
Meanwhile, the oil, energy and tobacco front group "Californians for Common Sense" spent about $20,000 in support of Cherny's bid for office outside of Los Angeles.
All of this boils down to a fundamental question: Why would Koch Industries, the California Chamber of Commerce, Sentra Energy and other Republican-leaning groups have had such a vested interest in electing Cherny in the first place?
The answer shouldn't take much to figure it out, but here's a hint: The Los Angeles Weekly described Cherny as advocating for "school choice (verging on vouchers), Social Security partial privatization, and the kind of deregulatory nonsense that led straight to the Enron debacle."
Needless to say, those are positions that don't particularly match up well with Cherny's 2012 campaign slogan of wanting to 'save the middle class.'
There's another inconsistency here too.
In my email this morning, I found a fundraising solicitation from Mr. Cherny.
In that email, Cherny says that one of his opponents was planning to "raise a lot of money this quarter from high-powered lobbyists at the state capitol."
They don't get much more "high-powered" than the ones at Koch Industries, Mr. Cherny.