After a bit of a travel hiatus this year, we were ready to road test a few new personal life situations, including a new pootie caretaker for Pumpkin and Riley. When a trip to visit North Carolina fell through, we picked a road trip to Arkansas, first, because it was one of three states Mrs. Rileycat hadn't visited since moving from Switzerland many years ago and, second, because we had heard hiking in the Ozarks was nice. Hiking in Arkansas in one of the hottest and driest Junes in global warming denying history? What could possibly go wrong, right?
Well, nothing went wrong. We had a very nice trip, managed a few warm, but enjoyable hikes, saw some nice scenery and a little wildlife, and drove way more than we really wanted.
As usual, Pumpkin knew something was up and did her best to keep us from leaving.
This was to be a short trip, just two days (more or less) to drive from Chicago to Paris, AR, two days/three nights at the Mount Magazine State Park Lodge south of Paris, and two days back to Chicago. To get a few things out of the way, the Lodge, located on a bench just below Arkansas' highest point (Signal Hill) and overlooking the adjoining valley to the south, is very nice, easily living up to some great reviews. The Lodge restaurant wasn't quite as dismal as one reviewer put it: "crazy bad", but after three dinners, we were very ready to move on. The park also has a number of cabins to rent that looked very nice from a distance, also overlooking the valley.


The temperatures up on the hill were noticeably cooler than below, a blessing when the mercury was hitting mid 90s (same as back in Chicago, as it turned out). At night, we were able to sleep very well with the ceiling fan on and the balcony door open. And really no bugs.
OK – the hiking part. We managed three hikes, not challenging ourselves too much for a number of reasons, not the least of which was the heat. The afternoon of our arrival we took a very short walk up to the top of Signal Hill, the highest point in Arkansas, although only at 2753 feet. The trail was a little over a mile total distance and, this being Arkansas, the top was wooded with no views to speak of. There was a sign and a big, walkable map of Arkansas made of local sandstone - designed to show the state's major geographic regions. The trail was pretty much a highway, not very steep, and the woods were very nice; good to work the driving kinks out. I also understand they have some of the state's largest Sassafras trees.

The next morning we drove for about an hour through Havana, AR to Mt. Nebo State Park east of Mt. Magazine.

.
Although a state park, and a very nice one, there are residents on top of the modest "mountain" and have been for a long time; people trying to escape the heat of the valleys. We did the Bench Trail, a 4-mile loop around the base of a sandstone cliff that caps the mountain.


The trail is wide and well-tended and is flat to gently undulating. In the late 1800s there was a hotel and residences along the "bench", but none remain and everything is wooded, limiting views except at the parking area at the beginning.


Evidence of the past human land use is visible, including old spring collectors, with butterflies, and an artificial pond.


Also, much poison ivy!
After finishing the loop, we had a nice picnic and then sat for a while at the visitor center on top, enjoying the views, before driving back to Mt. Magazine.


The following morning we headed over to the park visitor center for a planned 6.5 mile loop comprising parts of the Will Apple's Road Trail, Bear Hollow Trail, Mossback Ridge Trail, and Greenfield Trail. This was a nice hike. A good trail, well maintained, but generally not a highway – definitely a hiking trail. No net elevation change, since it is a loop, but some short, moderate ups and downs. A good thing because it was hotter than the day before. Although, as usual, views were a little sparse due to the heavy forest, it opened up in several areas to overlook the adjoining valleys. We encountered a few deer, a teeny-weeny snake, frogs in an old spring collector, and butterflies.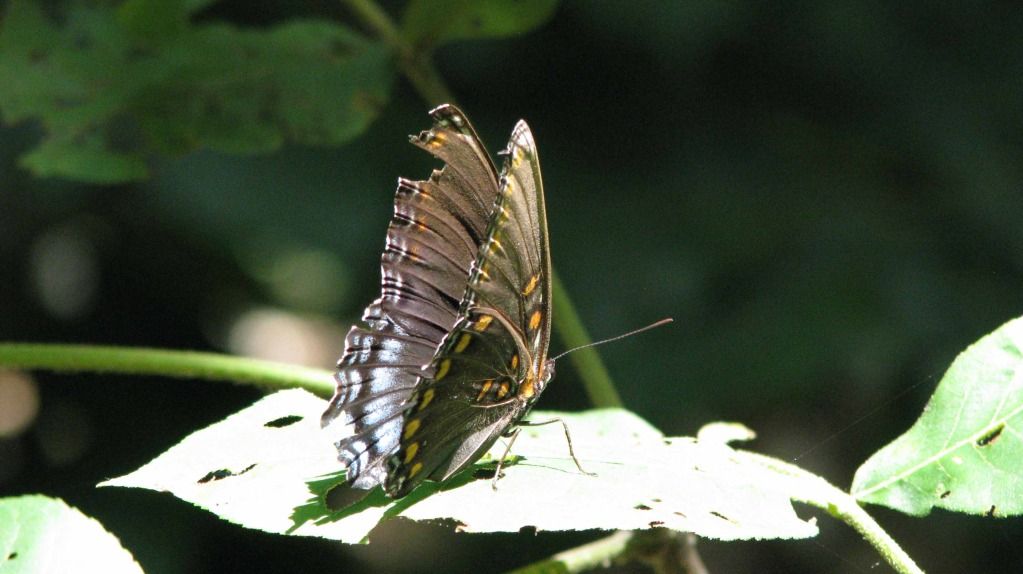 To go along with the heat, the area has been extremely dry. There was a burn-ban in effect throughout the Ozark forest and the parks. A local we chatted with the previous day said the only reason the forest and fields look generally OK was because the temperatures hadn't yet hit the oven-broil level. As I write this has changed. Below is a shot of a creek we crossed on this hike which was described as a reliable source of water.


The trail ended back at the visitor center, where a nearby picnic ground, deserted on this weekday, offered a nice lunch spot. The center has a nice little museum and a wildlife viewing room. We admired the hummingbirds feeding and (now this is a technical birder term, so bear with me) pretty little yellow birds.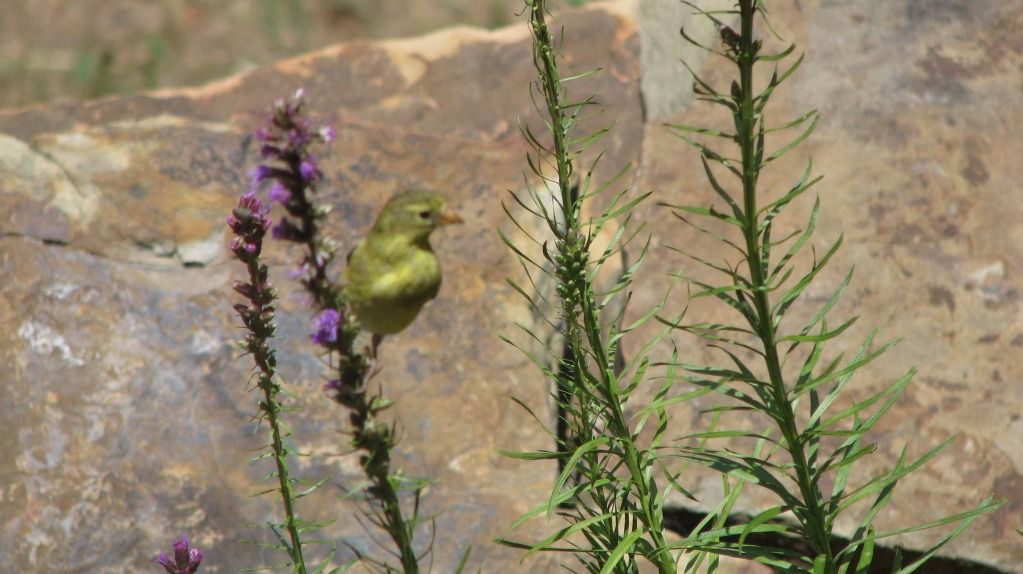 Then it was back to the lodge for our last meal of "crazy bad" food (not really, but we were ready for home cooking) and an early morning departure back to Chicago. A nice trip. Although we enjoyed it, we agreed a visit in the Fall, with changing colors, would be preferred and possibly magnificent. Oh, and on the way out of the park, we drove right past a mamma wild turkey and a handful of chicks. Very close, but too fast for a picture.