The Daily Bucket is a place where we post and exchange our observations about what is happening in the natural world in our neighborhood. Each note about the bugs, buds, and birds around us is a record that we can refer to in the future as we try to understand the patterns of nature that are quietly unwinding around us.
Some of you will remember a couple weeks ago when I posted the pic of the headless Kingfisher. For those of you that didn't see that, I had but one chance to get a shot of him and it turned out that in that one shot, his head was hidden behind a dead tree branch. I didn't know that until I got home and had eagerly put the pic on the computer. To say I was disappointed would be an understatement. But I vowed to go after him again and after spending several days housebound due to the heat, cabin fever got the best of me and in spite of the heat, I headed out this morning for another try at him. He didn't show up this morning but I didn't have time to miss him. Jump the squiggly to see what showed up instead.
For those that missed this a couple weeks ago here he is one more time. He gave me time for this one quick shot a couple weeks ago and I was determined to get a better shot of him today.

This morning I heard a kingfisher chattering noisily as it flew away before I was close enough to see it, no doubt having heard me as my clumsy human feet crunched and crashed through the brush as I made my way down to the rivers edge. But not to be discouraged that easily I made a makeshift hide in a clump of river willows near where I thought he had been and sat down determined to wait for his return. I was ready for a long wait but was delighted when after only about fifteen minutes he came back and landed less than fifty yards from me.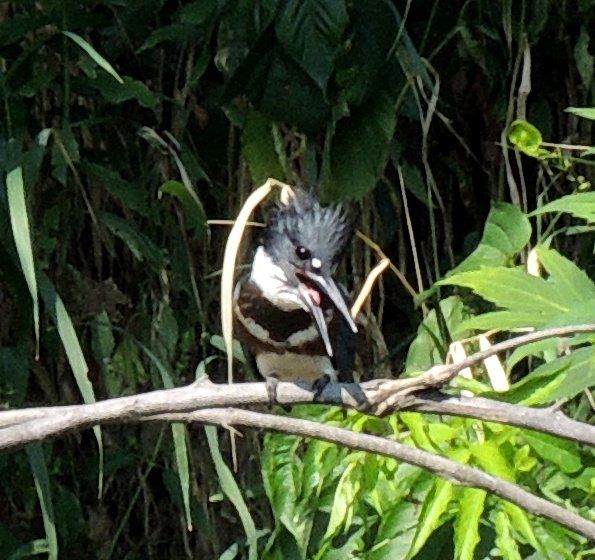 But hey, wait a minute.......that's not him, nor is it any other "him". That's a her!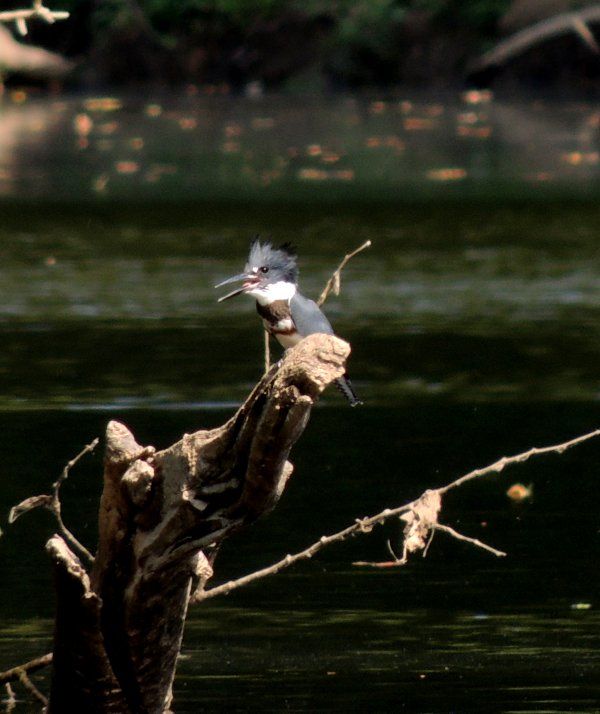 She was doing a lot of diving and I really wanted a picture of her, wings folded up tight, just as she was hitting the water but though I tried very hard I never did get the timing right. This is as close as I came to getting a dive picture. Next time!

I also wanted to get a picture of her with a fish wriggling in her beak but that will have to wait for another time too. The minnows she was catching were small enough that she had them swallowed before I could get my camera focused.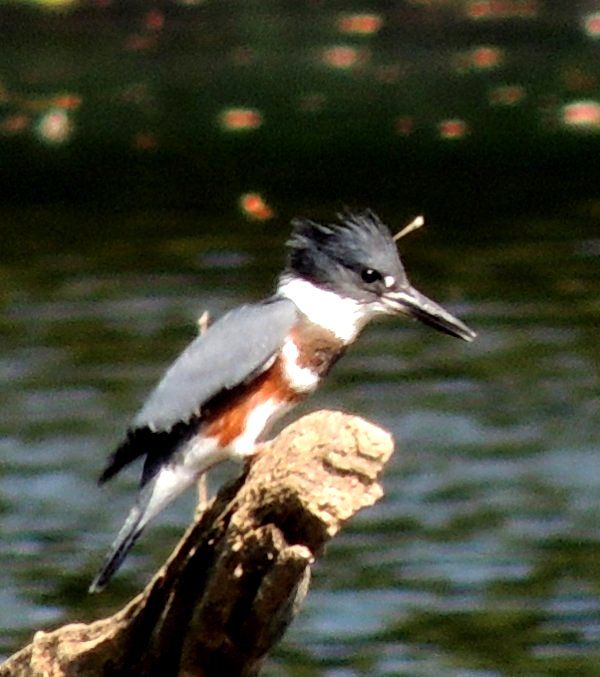 At least she gave me plenty of opportunities and put on quite a show for me. I felt very privileged to be able to witness it all and was really enjoying just watching her fish.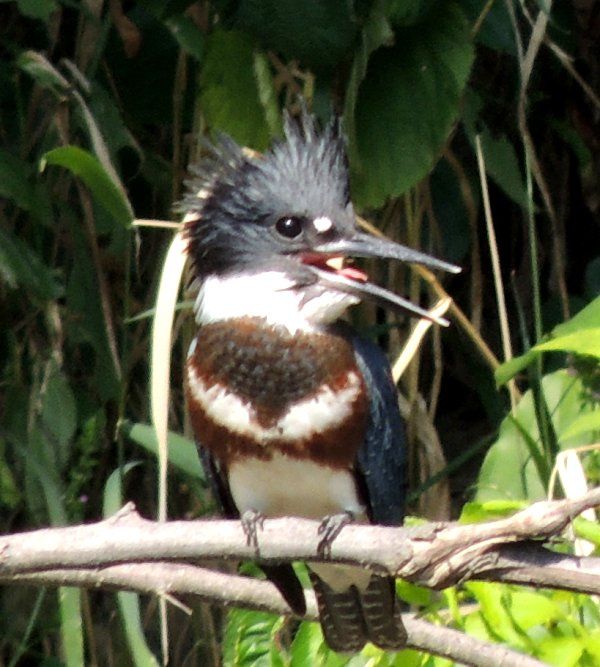 She got pretty wet after several dives and after awhile took some time to do a little preening.

The morning got even better when I heard another one chattering and looked up just in time to see yet another female land on a limb a few yards from her. She immediately flew over and suddenly there were two!

It was very interesting to watch them together. They were almost identical twins. Sisters, I'm guessing........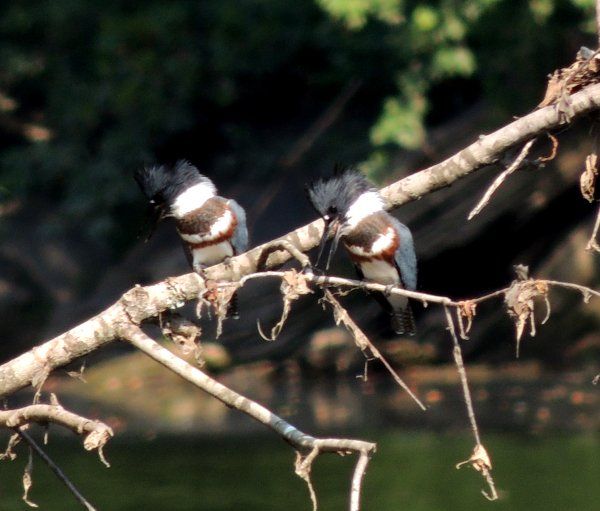 They were carrying on quite a conversation with each other and I got the idea that the second one wasn't real happy with this choice of fishing holes. And maybe that was the case because once she showed up they didn't stay too long and took off together and headed back upriver.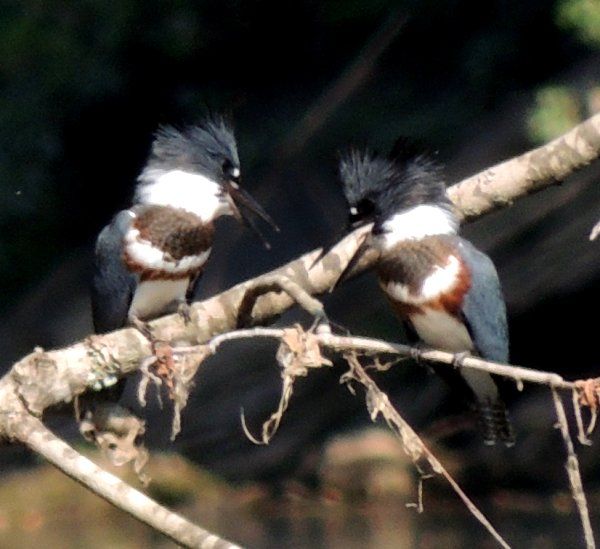 I already had more pics than I had hoped to get and the heat was starting to really bear down so I took one more pic for a wider view of their fishing hole and headed back to the house. I do plan to get back down there one of these days for another shot at the old man. But I think I'll wait for cooler weather.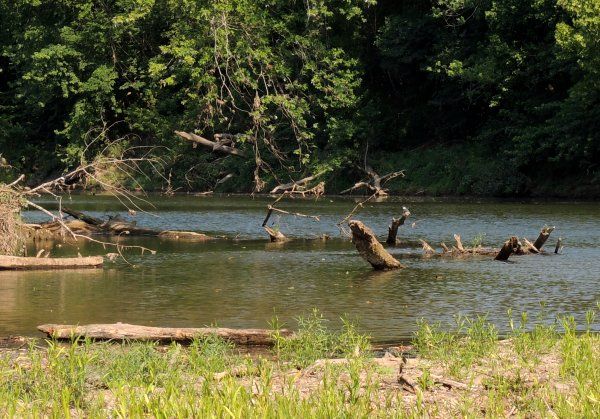 The biggest thing to report on for mid Missouri today is that we finally got a bit of rain here this afternoon when we caught the outside edge of a thunderstorm. It wasn't much but it sure felt good while it lasted and at least everything got a small drink. I expect we'll pay for it tomorrow when the sun gets up and the humidity kicks in......
So that's what's happening in my neighborhood, what's Mother Nature up to in your neck of the woods?
Edit
This morning as I sat out here on the back porch waiting for the sun to come up I heard more bird song than I've heard in quite awhile, bluebirds and tanagers especially were sounding very happy. A pair of barred owls were talking to each other too. Guess they all appreciated the rain last evening as much as I did.