Much has been made of Mitt Romney's career at Bain Capital, the venture capital firm that he helped to found.
Newt Gingrich called his tenure there "exploitive" and claimed that Bain worked to "leverage the game, borrow the money, leave the debt behind and walk off with all the profits."
Rick Perry described Bain as "vultures," "sitting out there on the tree limb waiting for the company to get sick and then they swoop in, they eat the carcass."
Meanwhile, President Obama's campaign has launched ads attacking Romney on Bain, seizing on a Washington Post report that "During the nearly 15 years that Romney was actively involved in running Bain, a private equity firm that he founded, it owned companies that were pioneers in the practice of shipping work from the United States to overseas call centers and factories making computer components."
How's that for bipartisanship? Newt Gingrich, Rick Perry and Barrack Obama all agree that Mitt Romney and Bain Capital were exploitive vultures who shipped jobs overseas.
But what does Andrei Cherny call Bain Capital?

Cherny accepted
a $5,000 contribution from Bain Capital big-wig Josh Bekenstein on March 31, 2012, a week after accepting a $2,500 contribution from another Bain investor, Mark Nunnelly.
According to the Bain web site, Bekenstein "joined Bain Capital at its inception in 1984. He has been a Managing Director since 1986," meaning that he was right there working with Mitt Romney from the start of the company.
In the photo below, he's the one standing over Romney's (middle) shoulder, holding up money while simultaneously chewing on more money and having yet even more money coming out of his jacket.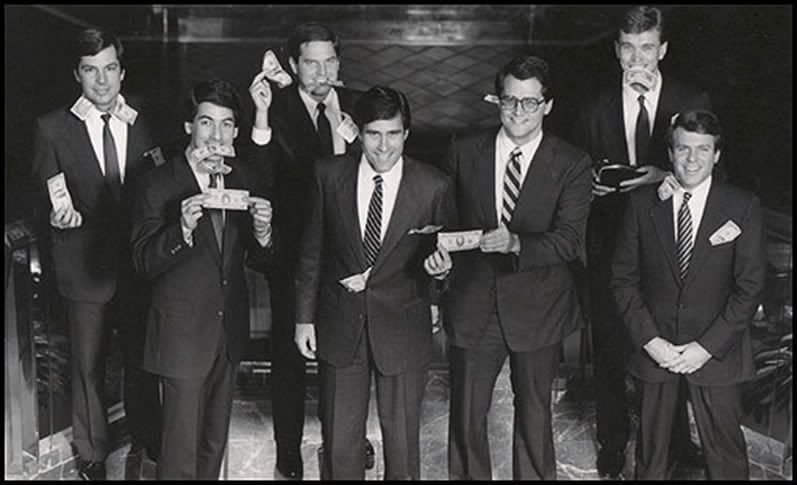 From left, Fraser Bullock, Eric A. Kriss, Joshua Bekenstein, Mitt Romney, Coleman Andrews, Geoffrey S. Rehnert, and Robert F. White.
While the genesis of Cherny's ties to Koch Industries seems pretty clear, it's less obvious how he got himself close to the Bain crowd.
But, given Cherny's apparent lack of concern about outsourcing, they may just be ideological soul mates.
Here's a passage from Cherny's book, "The Next Deal," which makes the case that the kind of work conducted by companies like Bain Capital isn't a real reason to be upset: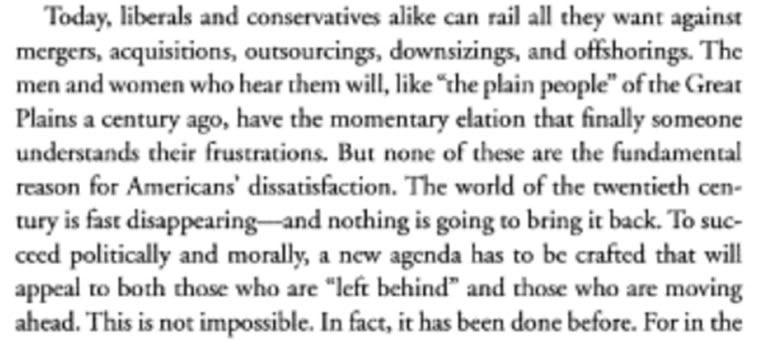 I'll pause here to say that despite some truly outrageous and awful policy proposals in Cherny's book, it is actually rather interesting and I enjoyed reading it. He's undeniably a good writer, even if he is more in-line with the Romney-wing of the Republican Party than with your average Democrat.
That said, Cherny isn't running for Book Club President (unless the seat is open).
He's running for Congress, and anyone who doesn't see a reason to be upset about outsourcing American jobs doesn't need to be writing our laws.
The smug attitude displayed about outsourcing and offshoring is a real problem. Cherny dismisses the issue with a shrug, as if to say, "That's just the way it is, so get used to it."
Not so fast, partner.
This isn't a cry, as Cherny might suggest, to take us back to the 'good old days.'
It is an acknowledgement that policy decisions have consequences… that there is a cause-and-effect relationship between the policies our leaders enact and the outcomes in our daily lives.
What we've seen over the past few decades - as the very wealthy suck up more and more while everyone else gets the shaft - is more than just an issue of people being 'left behind' in Cherny's new world economic order.
It's what happens when our elected leaders enact laws that gives carte blanche to mega-corporations, Wall Street, oil companies and 'investors' like those at Bain Capital, at the expense of everyone else.
And what have those interests gotten? Deregulation of Wall Street. Massive tax breaks for the richest people. Trade deals that devastate the middle class towns while enriching corporate CEOS.
The list could go on endlessly.
As a nation, we don't have to do those things.
We don't HAVE to enter into trade agreements like NAFTA or CAFTA, and we don't HAVE to provide perverse tax incentives for companies to move jobs overseas, or give subsidies to profitable oil companies. State governments don't HAVE to contract with companies that outsource to India or other far-flung places.
Those are among the reasons we've gotten into our current mess.
And as long as the likes of the American Legislative Exchange Council, the U.S. Chamber of Commerce and the Koch Brothers continue to get their way, the middle class will continue to struggle.
Counter to Cherny's assertion, those ARE 'fundamental reasons' to be upset, not just because they've happened and continue to happen, but because, at best, our elected officials allow them to happen, and at worst (embodied today by the Koch-disciples), they willfully seek to enact policies like the Ryan Budget that would make things worse for everyone, save a wealthy handful, like the executives at Bain Capital and the repugnant Koch Brothers.
There are a lot of problems in Congress right now.
The Tea Party / Koch Heads are certainly among them, but not far behind are Democrats like Cherny, who hypocritically preach about 'saving the middle class' while at the same time cozying up to the very forces that are systematically destroying it.
The last thing we need is another one.
As always, I continue to encourage you to make a contribution to one or both of his opponents, Kyrsten Sinema or David Schapira.