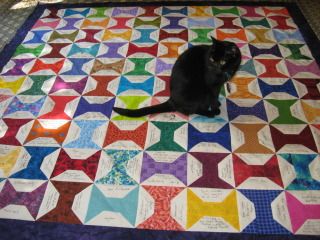 top of the quilt signed in Providence
The entire month of July will be a quilt fundraiser for Darcy Burner, candidate for Congress, WA-01. There will be a drawing for the quilt signed in Providence at NN12 the first week in August. Everyone can get one chance per day, each and every day in July by EITHER donating $10 or more to Darcy Burner's campaign through this Act Blue page OR by writing a 50-word-or-less essay on this topic: How can we bend the arc of history more towards justice for all?. If we deem your essay to be on topic, it will count for a chance. Send essays to winglionquilts AT gmail DOT com with "Darcy Burner" in the subject line. To recap, earn an equal chance once a day every day in July by either donating or sending a short essay (one or the other). That means everyone who began at the beginning can have as many as thirty-one equal chances in this drawing. The first week in August, I will find a neighborhood child to do the drawing and someone will become the new owner of the quilt.
Quilt stats: It will be about 66" square, sleeved for hanging. The fabric is cotton, the batting a fine wool. I am quilting it by hand and am more than a third done. It will be finished by the end of July.
Here are the quilt signatories:

TexDem
Sara R
Kitsap River
Charles CurtisStanley
Chris Loesch
Phyllis DeGrave
Monsieur Georges
Velo Vixen
Hawkwife
Abraham J. Bonowitz
CA Berkley WV
Ramara
Barbara Banoff
Leslie Simmons
Jessica Wainfor
Immy Humes
The Fat Lady Sings
Marcy Miranda
Ann Porter
Carol Neil
Malaka Gharib
Susie Kameny
Sandy on Signal
Bill Lusk
Charlie Harris
Macaela Gardner
Flamingogirl
Paul Krugman
Martin Garcia
Lefty coaster
Samuel Skurkovich
Krista Brewer
Markos Moulitas
Hunter
Ken Schider
Sharon Saltzberg
Nancy St. Germain
Carl Farmer
Angelajean
Susan Gardner
Brian Loper
Betsy Cazden
Catherine Casas
Erika Martinez
Marcy Chong
Faith Gardner
Pamela Mackey
Shirley Koegel
Andy the Cat
Mimi Marziani
Sonrisa
Cheryl Krauss
Ann Savage
Paula Dove-Jennings
Megan Secatore
Jee Fedele
Dominique French
Dennis Travares
Mark Musho
Hayden
Erin Hofteig
Bill in Portland Maine
Common Sense Mainer
Canilo Viveiros
Sean Kitchen
SSMIr
Marta Turnbull
Navajo
Grace
Priscilla Cruz
Shayan Zdrisavi
Nomandates
Jodie Evans
Glitterscale
Nik Swiatek
Sam Schoeburg
Rachel Gordon
Jamie McGonnigal
Brillig
Mik
Laura Clawson
EK Hornbeck
Hannah Resseger
Alan Grayson
Arjun Jaikumar
Kari Fulton
Terilee Edwards-Hewitt
Alisa Roost
Linda Lee
Luan Tatum
Karen Bradbury
Kate Coyne McCoy
Elena Perez
Triciawyse
Steve Dondley
Katie DeCarlo
Diane Palmer
Eric Packer
Cheryl McLeod
Chacounne
Keesha G
Oke
Greyhawk
Meteor Blades
Rep. David Cicilline
Sen. Sheldon Whitehouse
Charles Patenaude
Tool
Cynthia Kain
Mike Ertel
Emberlyn
Transactivist
Patrick St John
David Braun
Una Spenser
San Mateo DFA
Evan Leeson
Moody Loner
Erin souza
Jeana Brown
Sen. Jeff Merkley
Maria Luz Torre
Olive Niccoli
Nancy Peckenham
Matt Bors
Yasuragi
Benis Binion
LaToya Egwekwe
Peregrine kate
NW Terri D
David Gusick
Vicky Rateau
Marcia Robbins
Eric Thut
Molly D
CJ
Adam Skoog
Brandon Silverman
MsSpentyouth
Jay Lustgarten
Onomastic
Mommy Pooka
The momcat
Lilian Molina
Robyn Carmichael
Ed Tracey
Suzanne Turner
Erika Boulware
Amy Ziering
Joan Brooker
N in Seattle
Malik Rhasaan
Kafi Rouse
Poe
42
gizmo59
Regan McCarthy
4Freedom
Scottie Thomaston
Jo Lux
Arenosa
Megan Lickley
Polisigh
True Blue Majority
Kelly Lincoln
Eclectablog
The left neck chick
Tarryl Clark
Little Loner
Nancy Green
JoAnn Schwartz
Side pocket
Dev Tobin
Brian Swinehart
Andrew Hubbs
Don Rhodes
Belinda ridgewood
Winglion
Cendwyn
Winkk
Commonmass
Terri Foster
April Pederson
Loggersbrat
Katrina Gamble
Lightbulb
Jennifer Miller-Smith
Vec
Gina Fesmire
Clytemnestra
Click on the thermometer to donate!
It would be great to have a diary every day in July about this fundraiser and about different aspects of Darcy Burner's campaign -- lots of issues to choose from! I have set up a group for these diaries, -- so follow the group so as not to miss any! If you will be writing a diary, I will add you to the group.
Here is a quilt fundraiser diary schedule for July. Please let me know in the comments if you would like to post a diary. Thank you!
Wednesday, July 4 - Horace Boothroyd III
Thursday, July 5
Friday, July 6 - BeninSC
Saturday, July 7 - Joan McCarter
Sunday, July 8
Monday, July 9
Tuesday, July 10
Wednesday, July 11
Thursday, July 12 - Meteor Blades
Friday, July 13
Saturday, July 14
Sunday, July 15
Monday, July 16
Tuesday, July 17
Wednesday, July 18 - Oke
Thursday, July 19
Friday, July 20
Saturday, July 21
Sunday, July 22
Monday, July 23
Tuesday, July 24
Wednesday, July 25
Thursday, July 26
Friday, July 27
Saturday, July 28
Sunday, July 29
Monday, July 30
Tuesday, July 31