Sara R is holding a month-long fundraiser for Darcy Burner (D), candidate for the US House from Washington State in Congressional District #1.
From Sara R's announcement diary:
The entire month of July will be a quilt fundraiser for Darcy Burner, candidate for Congress, WA-01. There will be a drawing for the quilt signed in Providence at NN12 the first week in August. Everyone can get one chance per day, each and every day in July by EITHER donating $10 or more to Darcy Burner's campaign through a special Act Blue page which I will post on July 1, OR by writing a 50-word-or-less essay on this topic: How can we bend the arc of history more towards justice for all?. Send essays to winglionquilts AT gmail DOT com with "Darcy Burner" in the subject line. To recap, earn an equal chance once a day every day in July by either donating or sending a short essay (one or the other), every day in July. That means everyone can have as many as thirty-one equal chances in this drawing. The first week in August, I will find a neighborhood child to do the drawing and someone will become the new owner of the quilt.
So join me, below the Fleur-de-kos, for an interesting idea which every one of you can put to use in your very own neighborhood - and help send
more and better Democrats
to the US Congress. And hey, if you can spare the $10 or more, why not send it to
Sara R's Act Blue page for Darcy Burner
and get yourself a shot at winning that fantastic quilt!
First off - here's the Quilt up for grabs!
Quilt stats: It will be about 66" square, sleeved for hanging. The fabric is cotton, the batting a fine wool.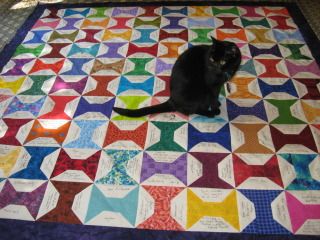 (*see end of diary for a list of signatures)
For me, Darcy Burner is the sort of person whom we should all want to be our Representative to the US Congress.
Dedicated. Informed. Persistent. Progressive.
Darcy Burner is a wife, a mother, a former Microsoft (and Lotus) employee, the sister of an Iraq War Veteran, a member of a variety of Boards (mostly progressive political organizations).
Darcy was the President and Executive Director of 2 direct-action, progressive organizations (ProgressiveCongress.org and the Progressive Congress Action Fund) from 2009-2011. I received many emails from Darcy on behalf of these 2 non-profit organizations during her tenure there, some of them lead me to action, too!
-- from the www.darcyburner.com campaign website:
I expect you want to know a little bit about me and what makes me tick before deciding if you're going to support me. So here's a little of my life story:

I grew up in family of pretty modest means. My dad enlisted in the US Air Force right out of high school and served through the Vietnam era. He and my mom married young, and she stayed home to raise the family. And a big family it was! I was the third of five kids, adopted because my parents wanted a girl after two boys. (I don't think they were counting on my innate love for Tonka trucks and electronics. But my sister Tammy, two years younger than me, fulfilled my mom's desire for ribbons and bows.)

Click HERE for the full biography on the campaign website.
So, why aren't more people like Darcy Burner in the US Congress right now
?
Some people will tell you that it's all about the money, and in light of the SCOTUS finding in Citizens United vs F.E.C. and the amounts of money we are seeing flood the nation during the current election cycle, it would appear that they are correct.
I disagree. Oh, the money is important, I fully admit, but there is something that we still have which is more powerful than all of that money (which, after all, is only being turned into advertising, mostly on television).
We have us, The People, which is (in my opinion) our best, most valuable natural resource. People who can make a difference, if they only try.
Never doubt that a small group of thoughtful, committed citizens can change the world. Indeed, it is the only thing that ever has.
-- Margaret Mead
You want to do something that will make a difference, a real difference, in the November elections, from President down to County Commissioner in your own county? (and for those Kossacks in WA State's 1st Congressional District, to help send Darcy Burner to the US Congress)...
Don't know where to start, or how to find any of these people in your own County?

Start right HERE, at the www.democrats.org website.

In the top menu, mouseover ABOUT, and click on "Dems in Your State".

There's drop-down menu at the top right to choose your state. You will see a link to your State Democratic Party website and/or contact information. If you see a link, click it.

On the state-level Party website, look for a link to "get involved" or "Become a PCO". If you can't find one, look for the "Get Local" or "Contact your Local Party" link.

You'll be looking to contact your County Central Committee or local County Democratic Party Chairman... email, call them, they will be HAPPY to speak with you!
2012 SUPER SUMMER CANVASSING PLAN
1. Contact your PCO (precinct committee officer) or Precinct Captain. If there isn't one, contact your local County Party Central Committee Chair and volunteer to be "Acting PCO" or "Acting Precinct Captain". This is the person responsible for Walking and Knocking the approx. 1,100 voters in each precinct, for your local Democratic Party Central Committee. This is the bulk of the 'duties' of a PCO.
2. Volunteer to Walk & Knock your block. That about 20 doors. Do more than your block. Do your neighborhood. That's about 100 doors.
3. You can get pre-printed campaign literature for your local candidates and for the US Congress candidates and if your local Party is working with OFA (and I'm sure that they are!), you'll also be able to get some literature about President Obama.
4. Take the literature home. Read it. Learn the high points of each one.
5. Check on your state's Voter Registration rules. If they allow it, take registration forms with you! Just bring the website address, if your state allows ONLINE REGISTRATION for voters who have a state-issued photo ID (WA State does this HERE).
6. Then stride out with confidence and enthusiasm, and start knocking on doors. Assist in Voter Registration. Inform your neighbors about the issues and what's coming on the Ballot in your State and County. Help them decide to support the Party that supports People First before the Corporations. Be a standard bearer right where you live.
7. Go the first time in July, just after Independence Day is when I go. It is easy to remind folks of their duty to vote right after they've gotten done celebrating the nation's birthday, they are in the mood to be patriotic. It's a great time to make a first contact with the voters in your neighborhood.
8. Go again in August and September, to remind folks of the coming deadline to Register before the November Election!
9. People are sick of political advertising, both TV and radio; what with the Citizen United ruling, the money has been flowing for a couple of years now, and everyone has been overexposed now even to ads which once appealed to them... but a personal visit is different. Talk as little ("Just a reminder from a neighbor that it's time to vote soon, are you Registered?") or as much (have literature, registration cards and a sticker for the Calendar for October to remember to look for your ballot in the mail in time to ask for one if it doesn't come) as you want.
10. What matters is that you Participate, and you do so by contacting the people who live in your own neighborhood. These personal contacts are more valuable than any ad on television, and seasoned, professional political strategists will tell you it's true, because they know it from past experience.
Why in the world do you think the Republicans spent 30 years and millions and millions of dollars building not just a money-train of historical proportions, but a canvassing membership that spanned the nation right down to the precinct level?
That's right - because they know it, too.




I hope this inspires each person who reads this diary to get out there and make a difference right where you live and across the nation!
Signatures from Netroots Nation 2012 on Quilt
:
[my personal favorites are highlighted, your mileage may differ :) ]
TexDem
Sara R
Kitsap River
Charles CurtisStanley
Chris Loesch
Phyllis DeGrave
Monsieur Georges
Velo Vixen
Hawkwife
Abraham J. Bonowitz
CA Berkley WV
Ramara
Barbara Banoff
Leslie Simmons
Jessica Wainfor
Immy Humes
The Fat Lady Sings
Marcy Miranda
Ann Porter
Carol Neil
Malaka Gharib
Susie Kameny
Sandy on Signal
Bill Lusk
Charlie Harris
Macaela Gardner
Flamingogirl
Paul Krugman
Martin Garcia
Lefty coaster
Samuel Skurkovich
Krista Brewer
Markos Moulitas
Hunter
Ken Schider
Sharon Saltzberg
Nancy St. Germain
Carl Farmer
Angelajean
Susan Gardner
Brian Loper
Betsy Cazden
Catherine Casas
Erika Martinez
Marcy Chong
Faith Gardner
Pamela Mackey
Shirley Koegel
Andy the Cat
Mimi Marziani
Sonrisa
Cheryl Krauss
Ann Savage
Paula Dove-Jennings
Megan Secatore
Jee Fedele
Dominique French
Dennis Travares
Mark Musho
Hayden
Erin Hofteig
Bill in Portland Maine
Common Sense Mainer
Canilo Viveiros
Sean Kitchen
SSMIr
Marta Turnbull
Navajo
Grace
Priscilla Cruz
Shayan Zdrisavi
Nomandates
Jodie Evans
Glitterscale
Nik Swiatek
Sam Schoeburg
Rachel Gordon
Jamie McGonnigal
Brillig
Mik
Laura Clawson
EK Hornbeck
Hannah Resseger
Alan Grayson
Arjun Jaikumar
Kari Fulton
Terilee Edwards-Hewitt
Alisa Roost
Linda Lee
Luan Tatum
Karen Bradbury
Kate Coyne McCoy
Elena Perez
Triciawyse
Steve Dondley
Katie DeCarlo
Diane Palmer
Eric Packer
Cheryl McLeod
Chacounne
Keesha G
Oke
Greyhawk
Meteor Blades
Rep. David Cicilline
Sen. Sheldon Whitehouse
Charles Patenaude
Tool
Cynthia Kain
Mike Ertel
Emberlyn
Transactivist
Patrick St John
David Braun
Una Spenser
San Mateo DFA
Evan Leeson
Moody Loner
Erin souza
Jeana Brown
Sen. Jeff Merkley
Maria Luz Torre
Olive Niccoli
Nancy Peckenham
Matt Bors
Yasuragi
Benis Binion
LaToya Egwekwe
Peregrine kate
NW Terri D
David Gusick
Vicky Rateau
Marcia Robbins
Eric Thut
Molly D
CJ
Adam Skoog
Brandon Silverman
MsSpentyouth
Jay Lustgarten
Onomastic
Mommy Pooka
The momcat
Lilian Molina
Robyn Carmichael
Ed Tracey
Suzanne Turner
Erika Boulware
Amy Ziering
Joan Brooker
N in Seattle
Malik Rhasaan
Kafi Rouse
Poe
42
gizmo59
Regan McCarthy
4Freedom
Scottie Thomaston
Jo Lux
Arenosa
Megan Lickley
Polisigh
True Blue Majority
Kelly Lincoln
Eclectablog
The left neck chick
Tarryl Clark
Little Loner
Nancy Green
JoAnn Schwartz
Side pocket
Dev Tobin
Brian Swinehart
Andrew Hubbs
Don Rhodes
Belinda ridgewood
Winglion
Cedwyn
Winkk
Commonmass
Terri Foster
April Pederson
Loggersbrat
Katrina Gamble
Lightbulb
Jennifer Miller-Smith
Vec
Gina Fesmire
Clytemnestra

CLICK THE IMAGE TO DONATE!!!
Horace Boothroyd III has set up a group for these diaries,follow the group so as not to miss any!
Darcy Burner July 2012 Quilt Fundraiser Calendar




Please let Sara R know via DKos messaging if you would like to post a diary. If you haven't learned how to navigate DKos messaging, please leave a comment in the diary, and I will forward to Sara R. Thank you!




Wednesday, July 4 - Horace Boothroyd III
Thursday, July 5 - Angie in WA State
Friday, July 6 - BeninSC
Saturday, July 7 - Joan McCarter
Sunday, July 8
Monday, July 9 - Chacounne
Tuesday, July 10 - Lefty Coaster
Wednesday, July 11
Thursday, July 12 - Meteor Blades
Friday, July 13 - belinda ridgewood
Saturday, July 14
Sunday, July 15
Monday, July 16
Tuesday, July 17
Wednesday, July 18 - Oke
Thursday, July 19
Friday, July 20
Saturday, July 21
Sunday, July 22
Monday, July 23
Tuesday, July 24
Wednesday, July 25
Thursday, July 26 - llbear
Friday, July 27
Saturday, July 28
Sunday, July 29
Monday, July 30
Tuesday, July 31