Sorry it's taken me a bit of time to return to this series! In this entry, I'll be showing some interesting visual representations I found of just how much Fairfield County has diversified. After that, I decided I would focus this entry largely on one of Fairfield County's most atypical, diverse, and (for Democrats) useful towns: Bridgeport. We'll be looking at a range of demographic and economic indicators across this great city.
Introduction:
I took these screen-grabs from the must-visit site Mixed Metro.us, a project by (among others), "Steven Holloway ([University of] Georgia), Mark Ellis ([University of] Washington), and Richard Wright and Jonathan Chipman (Dartmouth)." (I found the site via this piece by Emily Badger. She includes screen-grabs, so hopefully it's all right that I do as well.)
Here is Fairfield County in 1990:
As you can see, while Bridgeport, Danbury, Stamford, and Norwalk are clearly identifiable, even "medium-diversity" areas don't always extend beyond the core areas of each city proper. Most of those cities have a medium-diversity, black-majority area, but there aren't a lot of Hispanic-majority areas of any kind. There are some in our diary's main subject of Bridgeport, however, even then.
Here is Fairfield County in 2010: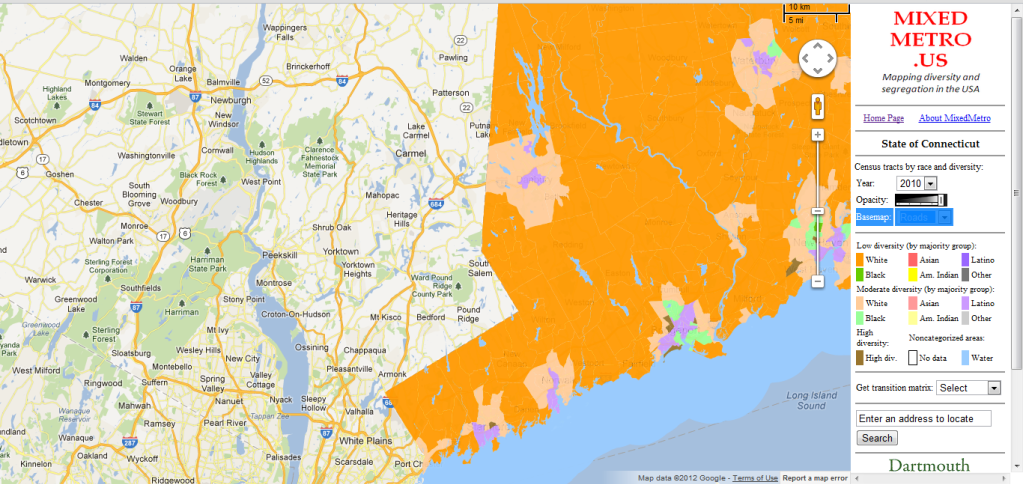 Twenty years later, it's a very different picture. All four cities now have majority-Latino, medium-diversity cores. Virtually all of the Danbury area's diversification has happened over the past twenty years. Stamford's "diversity zone" is pushing into Greenwich, while Bridgeport's is pushing into Fairfield, Trumbull, and farther into Stratford.
Democrats have been doing better in Fairfield County, and Fairfield County is still pretty rich and pretty white. But it simply isn't the same kind of place that it was twenty years ago, and it's difficult to separate Democrats' improving chances from that change.
With these great new visuals in mind, let's return to this series' main project.
Bridgeport: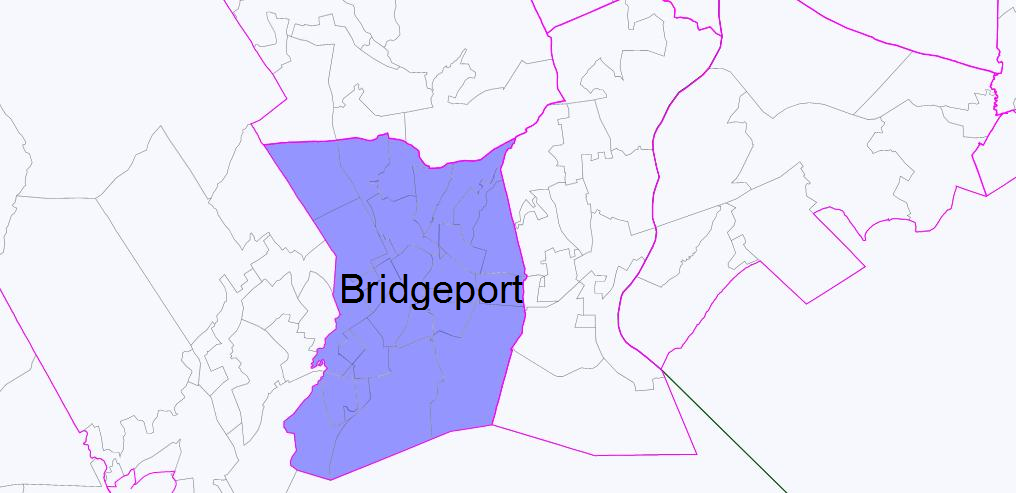 The town:
Ah, Bridgeport. The largest city in Connecticut, and the heart of Democratic strength in Fairfield County. Years ago, in a museum, I saw an old-timey tribute to Bridgeport's strength as an industrial power. An oral history I found by John Lane, administrative assistant to Connecticut Senator Brian McMahon, had Lane describe Bridgeport this way:

We were beginning to lose industry in Connecticut. They've lost it all since then, but every town had major industrial operations. Bridgeport, for instance, during World War II they called it the "arsenal of democracy." The Remington Rand, and GE had their second-largest unit there. They made all of the washing machines and dryers and what they call "white goods"; Singer sewing machines, Sikorsky, Chance Vought Aircraft, Bridgeport, the whole brass industry was there, and the hardware industry, the ball bearing industry, the machine tool industry. The first automobiles were made there. It's all changed radically.
Indeed it has. The Median Household Income (MHI) of Bridgeport is only $41,047, according to the ACS' 5-year estimates, and 17.8% of households qualified for food stamps/SNAP at some point in the 12 months before being surveyed. I recall a recent televised conference on the state's educational program, where I believe it was mentioned that
95%
of Bridgeport public school students qualify for a "free/reduced-price" lunch. 10.9% of the employed population still works in manufacturing, compared to 14.6% in retail and 25.0% in "Educational services, and health care and social assistance".
When I was in elementary school, one of my teachers was a Mrs. Paoletta, the wife of a former Mayor of Bridgeport. Unfortunately, I think she had to take a leave of absence after her husband was shot. At the time, I probably assumed this had something to do with his political status. More recently, I looked it up, and found this NYT story:
Former Mayor Leonard S. Paoletta was shot and seriously wounded late Friday night and a priest and a parishioner were injured in a shooting after a church dinner, the police said.

The shooting was just one of dozens that occur annually in a city that has become synonymous with urban decline. But unlike the others, this one, on the steps of the Holy Rosary Roman Catholic Church School, sent ripples of shock through Bridgeport. The police said the gunman was apparently aiming at another group of men standing down the street.
Interestingly, Paoletta
was a Republican!
One of Mr. Paoletta's successors as Mayor was Joseph Ganim, who was, like a lot of Connecticut Mayors, eventually
jailed on corruption charges
. (I think that Ganim's family must be prominent in the city--I see signs for various Ganim businesses all over the place whenever I go through Bridgeport.) Ganim's successor, John Fabrizi, became famous for
having to admit he used cocaine
. Fabrizi, in turn, was succeeded by Bridgeport's current Mayor, Bill Finch. Finch seems generally well-regarded. Here he is featured in a tourism video for the city, with the self-parodying title (and content) of "Surprise, It's Bridgeport"!
The fact that the city would make such an ad campaign to promote itself--playing up, as a friend of mine remarked, such banal features as indoor shopping and a zoo--should tell you something about Bridgeport's image and reputation in the area. (Another friend driving through the city memorably described parts of it as "North Philly but worse".)
Then there's former State Senator Ernest Newtown. Newtown served who also served as "a former council president [and] state representative" before being "convicted on three federal charges, including taking a $5,000 bribe to push through a $100,000 state grant, and diverting $40,682 in campaign contributions to himself and others". I said "former", but I might want to add "and future":

Former State Senator Ernie Newton Monday night continued his comeback from a federal corruption conviction seven years ago to claim the Democratic endorsement for the State Senate seat he was forced to relinquish. He won the endorsement for Connecticut's 23rd State Senate District over incumbent Ed Gomes and State Rep. Andres Ayala at the party convention at Testo's Restaurant.
(via
here
.)
I don't mean to poke fun at the city. I happen to love Bridgeport. My grandmother has lived there for years, and I enjoy the Black Rock neighborhood and the beach, and many of the restaurants. (That video reminded me of the piers at Captain's Cove, which are also fun--we just had dinner there last night.) Years ago, I saw an Amtrak magazine article about Bridgeport's ethnic food scene, which discussed how Bridgeport's (perhaps dubious) distinction as one of the cheapest places to live within an hour of New York City had helped it become a magnet for diverse immigration. According to Wikipedia, "Non-Hispanic Whites were 22.7% of the population in 2010,[37] compared to 74.6% in 1970.[38]"
And Bridgeport is diverse indeed. DRA has the city as a whole at 22.7% white, 32.2% black, 38.2% Hispanic, and 3.4% Asian.
According to the ACS' 5-year estimates, which seem as likely to under-count this kind of thing as anything, 26.6% of the population of the city is foreign-born, and only 54.4% of the five-year population speaks "English only" at home. (30.0% speak Spanish at home, and 12.2% speak "other Indo-European languages" at home.) Immigrants from Latin America constitute about 18.7% of the city's population, and 10.2% of the city was "[b]orn in Puerto Rico, U.S. Island areas, or born abroad to American parent(s)".
Bridgeport's Hispanic population, then, has increased considerably as a result of immigration, much of it taking place before 2000, but as we saw in the Mixed Metro maps, the city also has an older Hispanic community.
To depict Bridgeport's dizzying racial and ethnic diversity, I decided I had to use no fewer than seven colors to make this map, which also became my new avatar:
Red precincts are majority-white--there are just two; the southwestern one covers the Black Rock neighborhood.
Dark blue precincts are majority-black.
The dark green precincts in the center are majority-Hispanic.
The yellow precincts are "diversity precincts"; they have white, black, and Hispanic shares between 20% and 40%.
The light green precincts are "black/Hispanic coalition precincts", where the white vote share is below 20% but neither group has a majority.
The pink precinct is "white plurality"; 41.2% white, 28.7% Hispanic, and 21.9% black.
And the remarkable orange precinct is 17.1% white, 31.7% black, 34.8% Hispanic, and 13.6% Asian! That one includes South End and the peninsula around the University of Bridgeport.
Here is a map I made of the city's MHI by Census tract. Darker colors indicate a higher-income Census tract.
I had to work a bit to make this map, since if you look at all Census tracts in Fairfield County, nearly every tract in Bridgeport is the lightest color possible (or at least difficult to distinguish from it) and I wanted to get more of a sense of internal variation.
But that map would tell a useful story, too: nearly everywhere in Bridgeport is poorer than nearly everywhere else in Fairfield County.
For comparison, here is the percentage of adults with at least a bachelor's degree, also by Census tract. Both use the ACS' 5-year estimates:
The lightest color--pure yellow--means that between zero and 7.4% of adults in that Census tract have a bachelor's degree.
The politics:
I can't find precinct-level returns for Bridgeport, but it scarcely matters for most of our purposes. Only the two white-majority precincts gave Obama less than 70% of the vote, and they only missed that narrowly. Anything's possible for the Malloy/Foley race, but I doubt McMahon or Foley carried even a single precinct in Bridgeport. The city as a whole gave Obama 83.5% of the vote. Bridgeport backed Liberman over Lamont in the 2006 Democratic primary, 52.9% to 47.1%.
The state house seats: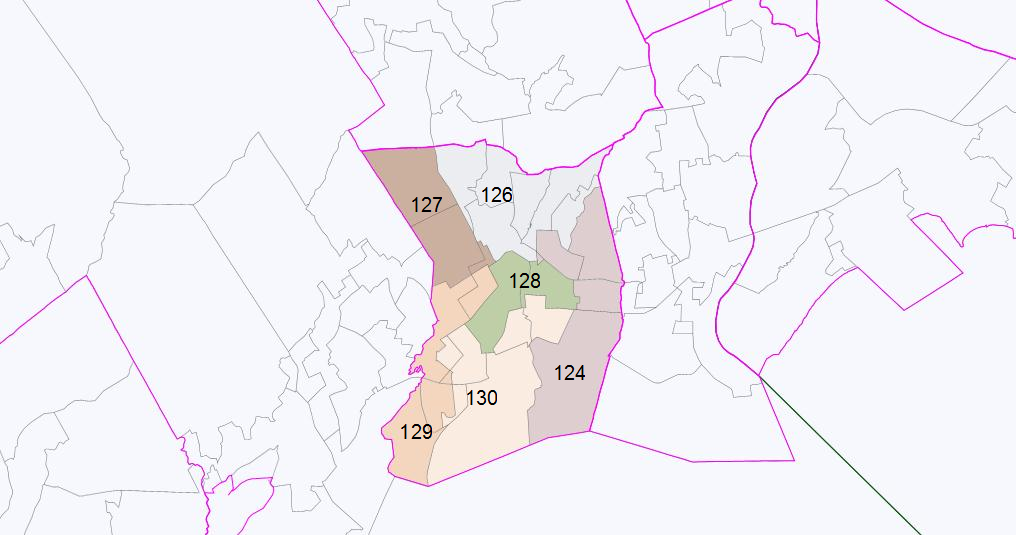 Bridgeport is currently divided into six State House seats, all of which are entirely contained within the city itself, and all of which are--of course--Democratic. Since we don't have much in the way of partisan political data, I'll be going into a bit more detail about the demographics of these districts.
I don't know why the districts were drawn the way they were, but you can kind of reconstitute the districts from the MHI and racial maps.
District 126 runs along the northern Trumbull border and covers the neighborhoods of Reservoir, Whiskey Hill, and parts of North Bridgeport and North End. It's represented by Democrat Charlie Stalllworth, and it's basically what you get if you look at the intersection of the less-white and more-affluent Northern areas. Interestingly, Stallworth is the first African-American to represent this district.
Indeed, District 126 has the city's highest MHI at $56,332 a year. It's also the only district in the city where a majority of homes--58.1%--are detached single units. Despite this, it's only 21% white, 40.8% black, and 32.5% Hispanic. It's the only one of the three "richer" districts to lack a majority-white precinct. 70.8% of housing units here are owner-occupied; the highest rate in the city, and 61.4% of housing units have at least three bedrooms, far higher than anywhere else in Bridgeport. Like the less-affluent District 124, this district isn't much of a magnet for immigrants and citizens from overseas: 69.3% of residents were born in the United States.
In the Northwest corner of the city lies District 127, represented by Caucasian Democrat Jack Hennessy. At 47% white, 19.7% black, and 25.5% Hispanic, this is the whitest district in Bridgeport. 14.8% of the district identifies their background as Italian, and 9.4% identifies their background as Irish. Strangely, 32.7% of the district is foreign-born; the highest rate in the city. With 67.2% of foreign-born residents identifying their birth region as Latin America, the vast majority of the district's Hispanics are probably immigrants. 43.4% of homes are detached single units, and 68.7% of homes are owner-occupied, only a little bit behind District 126.
Only 28.1% of occupied housing units here have had their current owners move in since 2005, compared to 52.6% in the central, heavily-Hispanic District 128, and 50.5% in the Downtown District 130. This district was almost certainly majority-white in 1990, judging by Mixed Metro, and it still has a majority-white population over 18.
District 129 begins at Black Rock and runs up the Fairfield border to a significant portion of the Brooklawn neighborhood. It's represented by Caucasian Democrat Auden Grogins, a long-time Black Rock resident. District 129 is 33.6% white, 25.4% black, and 33.6% Hispanic on paper, although Grogins might well have been helped by the fact that the Black Rock precinct--the majority white one--might have the highest turnout in her district, and indeed the highest turnout in the city outside of District 126, judging by a ratio of 2008 Presidential votes to 18+ population. It had a 45.9% turnout, with the next-highest turnout precinct in her district at 40.9%.
Black Rock, a somewhat trendy neighborhood with an active nightlife, helps make District 129 one of Bridgeport's more affluent districts. The district has the highest percentage of residents over 25 with at least a bachelor's degree (27.1%), and the lowest unemployment rate as of whenever (9.4%), although its MHI of $44,574 only places it third. 10.6% of adults have a graduate or professional degree--easily the highest of any of the city's State House districts. It also has the city's lowest unemployment rate (9.4%). District 129 seems to be a bit more "urban" than the other two relatively affluent districts. It's had a full 44.6% of its householders move into their current home after 2005. 60.7% of its occupied housing units are renter-occupied, compared to 29.2% in District 126 and 31.3% in District 127. And 29.5% of homes have at least 10 units, compared to 13% in District 126 and 21.3% in District 127.
District 130 is centered on Downtown Bridgeport and South End. It's represented by Democrat Ezequiel Santiago. This might be the most internally diverse in the city--its precincts are colored by four of my seven colors in the above map. It is 11.7% white, 34.5% black, 44.1% Hispanic, and 7.2% Asian. Only 56% of the population was born in the United States, according to the ACS' 5-year estimates, and 31% of the population is foreign-born. 21.9% of the foreign-born population said they were born in Asia, and 61.6% said they were born in Latin America, so the Asian population is probably mostly immigrants.
Unfortunately, District 130 is also his is the poorest district in the city--and one of the poorest in the entire state--with a MHI of $25,233. You can basically get District 130 by trying to "pack" many of the city's poorest Census tracts. 32.1% of households in this district qualified for food stamps/SNAP benefits--again, the highest rate in the city. By the conventional definition of the unemployment rate--the percentage of the civilian labor force that's unemployed--the ACS 5-year averages give this district a 17.5% unemployment rate, which is easily the city's worst. Interestingly, it has the second-highest share working in the "professional" category, with 11.3%, perhaps reflecting the presence of the University of Bridgeport. 69.4% of homes here have at least 3 units, and 21% have 20 units or more. Although District 130 has many families that are relatively new to this country, they might not be living in new buildings: 56.3% of the housing units were built before 1939!
District 128 is in the center of Bridgeport, and includes some or all of the neighborhoods of the Hollow, the Enterprise Zone, and the East Side. It's represented by Democrat Andres Ayala Jr.. It's only 8.7% white, 29.2% black, and it's 56.1% Hispanic--entirely contained in the "dark green" area of my map. While 71.2% of individuals are native-born, only 52.7% were born in the United States, with 18.5% born in territories or abroad--respectively, the lowest and highest percentages in the city. 80.8% of foreign-born residents give their birth region as Latin America. Once again, the Hispanic population has a large share consisting of Puerto Ricans and immigrants. In fact, 52.6% of householders moved in since 2005. Only 40.5% of the district's 5-year population speaks "English only" at home, the lowest rate in the city. 44.8% of this district speaks Spanish at home, and 22.9% speak Spanish at home and speak English "less than very well".
51.9% of the district's housing units were built before 1939--the highest rate outside of the somewhat similar District 130. There probably aren't as many large apartment buildings here, since 58.3% of the housing units are 2, 3, or 4 units in size, and 79.4% of occupied housing units are renter-occupied. Most of the employed adults work in "Production, transportation, and material moving occupations" (21.1%), in "Service occupations" (32.4%), or in "Sales and office occupations" (22.2%).
District 124 runs up the Stratford border and includes some or all of East End, Boston Avenue, Mill Hill, and North Bridgeport. It's represented by African-American Democrat Charles "Don" Clemons, Jr.. It's 12.9% white, 43.9% black, and 38.9% Hispanic. With a MHI of $34,076, you might call District 124 the city's "richest poor district". Still, there is a significant gap between District 124 and District 129, the "poorest rich district". 21.5% of District 124's households qualified for food stamps/SNAP, compared to 13.7% of those in District 129.
Despite this relatively strong divide between the "richer" Districts 126, 127, and 129 and the "poorer" Districts 124, 128, and 130, District 124 stands out in other ways. 83.2% of the population of District 124 is native-born, with 72.1% born in the United States proper, and 42.6% of the housing units here are owner-occupied--all significantly higher figures than in the other "poorer" districts, 128 and 130. In fact, District 124 has the highest native-born population in Bridgeport. This district also has the largest share of its 5-year population speaking "English only" at home, with 63.9%, and only 38.7% of householders moved in since 2005. District 124 probably a somewhat "suburban" working-class district, with the other two less-affluent districts more "urban". It has the largest shares of its employed population working in manufacturing (13.7%), in transportation/warehousing/utilities (6.8%), in educational services/health care/social assistance (29.2%), and in public administration (3.9%) out of all of Bridgeport's districts. It has by far the lowest share working in construction. It's also the second-least-educated district in Bridgeport--only 9% of adults have at least a bachelor's degree.