Unable are the loved to die. For love is immortality. ~Emily Dickinson
I Got the News Today (IGTNT) is a diary series intended to honor service members who have died as a result of the wars in Iraq and Afghanistan. The title is a reminder that almost every day a military family gets the terrible news about a loved one.
The beautiful forget-me-nots were created by llbear.
Since 2003 there have been 4486 US casualties in Iraq and since 2001 there have been 2029 US casualties in Afghanistan. Source.

The following two tributes are from Sandy on Signal

DoD Announces Army Casualties

They died June 24, in Kandahar, Afghanistan. They were assigned to the 96th Transportation Company, 180th Transportation Battalion, 4th Sustainment Brigade, 13th Sustainment Command (Expeditionary), Fort Hood, Texas.

Killed were:

Staff Sgt. Robert A. Massarelli, 32, of Hamilton, Ohio, and

Sgt. Michael J. Strachota, 28, of White Hall, Ark.
Staff Sgt. Robert Massarelli died on June 24, 2012, along with Sgt. Michael Strachota, when a suicide driver carrying explosives crashed into their vehicle. Massarelli was on his 4th tour of duty having served three previous deployments in Iraq before this one to Afghanistan. He served in Iraq during some of the most dangerous periods of Operation Iraqi Freedom : May 2004 to February 2005, August 2006 to September 2007, and January 2009 to January 2010.
Massarelli graduated from Kentwood High School in 1998 and joined the Army. He left the Army in July 2001. A couple of years later in 2003, he rejoined to serve his country. He is remembered as a "Soldier of the Soldiers" -well respected and loved amongst his comrades.
Even from a young age, Massarelli cared about his community and country. In High School he served in the Residential Construction Program, where students do hands on work to build a house which is later sold to the public by the school.
Assistant Superintendent, Michael Zoerhoff, told Michigan Live:

"He was a good student and a good kid," said assistant superintendent Michael Zoerhoff. "He was one of those types of kids who comes to school every day, does his job, doesn't get in trouble."
Staff Sgt. Robert Massarelli's awards and decorations include four Army Commendation Medals, two Army Achievement Medals, three Army Good Conduct Medals, National Defense Service Medal, Afghanistan Campaign Medal with campaign star, two Iraqi Campaign Medals with campaign stars, Global War on Terrorism Expeditionary Medal, Noncommissioned Officer Professional Development Ribbon, Army Service Ribbon, Overseas Service Ribbon, NATO Medal, Combat Action Badge and Driver and Mechanic Badge with Driver Wheeled Vehicles.
Staff Sgt. Robert Massarelli is survived by his parents, brothers, grandmother and other aunts and uncles. The family wishes donations to be made to Fisher House in lieu of flowers.
Sources: obituary, Michigan Live,DVIDS- defense video & imagery distribution services
Only days away from coming home for his son's 3rd Birthday, Sgt. Michael Strachota was killed when a suicide bomber struck his transport vehicle. Strachota joined the Army in June of 2007. He was on his second deployment, first having served in Iraq in October 2008 to October 2009. He had been in Afghanistan since November 2011.


The Pine Bluff Commercial spoke to his widow, Lauren:
"He would have been home in a week," Strachota said. "He was trying to come home for our son's third birthday on July 5. We missed it by a week."
She added:
"He was a good husband and a great father," Strachota said. "Michael was a very loving person. He was funny. Everybody liked Michael. He was always the center of attention."

"He was good at his job," Strachota said.

"In fact, he would tell everyone how great he was at his job," Strachota laughed as she described her husband's confident attitude. "He was a great soldier. He was excited about his job as a driver. He drove heavy equipment transports. When he came back from Afghanistan he wanted to either become an Army Ranger or he wanted to learn how to fly, which is something that he could do as a civilian as well. He was trying to be promoted."
Strachota's mother, Linda Baxter, told the Pine Bluff Commercial, her son delayed his R & R, just so he could be home for his son's 3rd Birthday. She added:
"He would do anything for anybody," Baxter said. "He was very friendly and outgoing."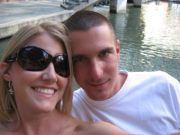 Sgt. Michael Strachota's awards and decorations include an Army Commendation Medal, Army Good Conduct Medal, National Defense Service Medal, Afghanistan Campaign Medal with campaign star, Iraqi Campaign Medal with arrowhead device, Global War on Terrorism Service Medal, Non-commissioned Officer Professional Development Ribbon, Army Service Ribbon, two Overseas Service Ribbon, NATO Medal and Driver and Mechanic Badge.
The Department of Defense announced today (July 4) the death of a soldier who was supporting Operation Enduring Freedom.

Pfc. Cody O. Moosman, 24, of Preston, Idaho, died July 3, in Gayan Alwara Mandi, Afghanistan, when enemy forces attacked his unit with small arms fire. He was assigned to the 1st Battalion, 28th Infantry Regiment, 4th Infantry Brigade Combat Team, 1st Infantry Division, Fort Riley, Kan.

The family of Pfc. Moosman request privacy at this difficult time and they ask for no contact by reporters. They released to following statement:

"Cody told us when he was in 3rd grade that he wanted to be in the Army when he grew up, so he joined in 2010 at age 22," said his family. "We think his experience as a Boy Scout, who reached the level of Eagle Scout, helped prepare him for his role as a soldier. He loved the idea of protecting his fellow citizens. Our family enjoyed watching him stand up for America. Cody loved the outdoors, and hunting and fishing were his passion.

Pfc. Moosman leaves behind his mother and father, two brothers and two sisters, his grandparents and his nieces and nephews who all very much adored him. We loved him, and we will miss him very much."

Source Source Source




Click here to read the series as begun by i dunno, and maintained by Sandy on Signal, noweasels, Blue Jersey Mom, Chacounne, Twilight Falling, Sis Two, Spam Nunn, CalNM, Wide Awake in KY,
maggiejean, Jaxdem, Kestrel9000, TheFatLadySings, and Ekaterin 


If you would like to contribute to the series, even once a month, please contact Sandy on Signal or noweasels.

To see what these tributes mean to those who have lost a loved one in Iraq or Afghanistan, please read Sandy on Signal's story about meeting the father of a soldier at NN10.

The IGTNT logo was created by Timroff.

Please bear in mind that these diaries are read by friends and family of the service members chronicled here. May all of our remembrances be full of compassion rather than politics.