Only a month ago, Republicans were vowing to block yet another action that would help tilt democracy back in favor of the people. (You know, the non-corporate kind.)

Republicans Back Down On Effort to Defund Transparency Rule
by Justin Elliott, ProPublica, June 20, 2012
[...]
The maneuver to defund the transparency rule attracted media attention and sparked outrage from outside public interest groups and Democrats.

But in a full committee hearing this morning, the Republicans backed down. Emerson offered a new amendment that removed the defunding language.
[...]

A Democratic aide on the Appropriations committee aide told ProPublica that the increasing attention on campaign finance after Citizens United made it difficult for Republicans to oppose the FCC's transparency rule.

"The backstory is that the majority thought they would slip this language in and no one would make a ruckus over it," the aide said. "I don't think the staff quite realized what they were getting into."
What a difference some internet sunlight can make ...
vampire squids and sewer rats, hate the sunlight too.

[Image Source: MarineBio.org -- Vampire Squids, Vampyroteuthis infernalis]



Back in June, it was "business as usual" for Republican Congressmen, working on the sly to: enable millionaire donors to remain unseen in their millionaire shadows -- despite whatever the Supremes had said about the vital need for disclosing the very same.
For the R's it's all about grabbing power and keeping it -- their pseudo-constitutional rhetoric is only their vehicle for doing so ... just check their actions -- to test their motives.

Republicans Block Online Disclosure Of Campaign Television Ad Spending
by Adam Peck, thinkprogress.org -- Jun 9, 2012

The Supreme Court's Citizen United decision has created a flood of television ad spending -- hundreds of millions of dollars -- from outside groups, corporations, and individuals. The Justices who voted for the decision and its supporters argue that disclosure is all voters need to make informed decisions. But yesterday, a panel of House Republicans moved to keep much of this spending in the dark.

A new FCC guideline that would have forced the nation's top television stations to list the funders behind political advertisements online.
[...]
The FCC was going to put the purchasers of campaign ads on-line,
for all the world to see
. Republicans, taking their cues from their wealthy benefactors --
and from that "liberal media"
-- were plotting and scheming to STOP these best-made FCC plans.

Republicans vote to block transparency on political ads
by Justin Elliott, ProPublica -- Jun 10, 2012
[...]
The FCC voted in April to require television stations to put detailed data on political ad purchases online. The information, which includes who buys ads, for how much, and when they run, is currently open to the public but is available only on paper at individual stations. Media companies have lobbied hard against the rule, and the National Association of Broadcasters recently sued in federal court to stop it. The rule is currently under review by the government and will not go into effect until July at the earliest.
[...]
[Image Source: americablog.com -- The GOP Horse race]

Afterall who really cares about Free Speech and "the free flow of ideas" when there are billions in non-competitive, take-it-or-leave-it Ad-rates hanging in the "free market" balance?
Certainly not those fading bastions of truth and fact-finding -- the for-profit media story-tellers and sooth-sayers:

Republicans block rule to put political ad buy data...
by Kim Geiger, Tribune Washington Bureau; therepublic.com -- June 08, 2012

[...]
Broadcasters, who are expected to reap as much as $3 billion from political ad sales this year, had lobbied heavily against the proposal, arguing that it would cost too much money and would force them to reveal information that would make them less competitive.

Stations are required to offer their lowest ad rates to political campaigns, so making the information easier for the public to access would help inform the station's competitors and their other customers about the prices they're charging. (Super PACs are not entitled to the lowest rates.)
[...]

Meanwhile, some in the media have sought to make the files public on their own. ProPublica has asked people to visit their local TV stations and submit the paper files for publication. And a group of journalism students from Kent State University, responding to a similar challenge from Bill Moyers, made a video illustrating how cumbersome the task can be.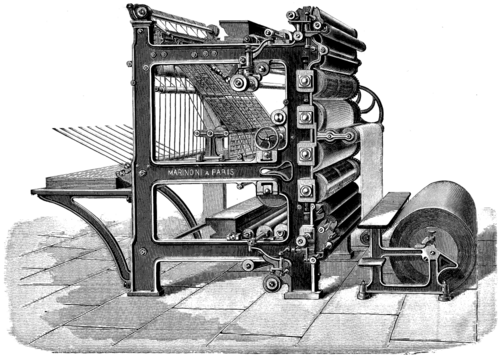 [Image Source: chestofbooks.com -- Marinoni's Rotary Printing Press]

Thankfully ProPublica cares. Cares about Free Speech and "the free flow of ideas." They have taken the initiative to track and expose the "dark money" ad trails wherever they can be be found -- when other forums for our bi-annual "national sporting event" have not ...

Meet the Media Companies Lobbying Against Transparency
by Justin Elliott, ProPublica, April 20, 2012
[...]
But now many of the country's biggest media companies, which own dozens of newspapers and TV news operations, are flexing their muscle in Washington in a fight against a government initiative to increase transparency of political spending.

The corporate owners or sister companies of some of the biggest names in journalism -- NBC News, ABC News, Fox News, The Washington Post, The Wall Street Journal, USA Today, Politico, The Atlanta Journal-Constitution and dozens of local TV news outlets -- are lobbying against a Federal Communications Commission measure that would require broadcasters to post political ad data on the Internet.
[...]

Among them are:

News Corp., which owns The Wall Street Journal and Fox News;
Walt Disney, which owns ABC News and ESPN;
NBCUniversal, which is owned by Comcast and includes NBC News;
Allbritton, which owns several TV stations and Politico;
Gannett Broadcasting, a division of Gannett, which owns USA Today:
Post-Newsweek Stations, the broadcast division of The Washington Post Co.;
Belo Cos., which owns 20 TV stations;
Cox Media Group, which owns The Atlanta Journal-Constitution, the Austin American-Statesman and other newspapers and TV stations;
Dispatch Broadcast Group, which owns Ohio and Indiana TV stations;
Barrington Broadcasting Group, which owns several TV stations around the country;
The E.W. Scripps Co., which owns TV stations and newspapers, including The Commercial Appeal in Memphis, Tenn.;
Hearst Television Inc., which owns 29 stations;
Raycom Media, which owns TV stations;
Schurz Communications, which owns newspapers and TV stations nationwide.
[...]

(ProPublica has been inviting readers and other journalists to send in the files to be posted as part of our Free the Files project.)
Here's the people-cobbled version of what new FCC Regs had intended.
All on-line no less.
Gee, it is the 21st Century in America, afterall. Sort of. Could be. Maybe.

Free the Files -- ProPublica
If TV Stations Won't Post Their Data on Political Ads, We Will
by Daniel Victor, ProPublica -- March 20, 2012

[...] the files could be a window into what may be otherwise undisclosed spending by "dark money" nonprofit groups that are playing an increasing role in the elections.
[...]

As our PAC Track interactive chart shows, Restore Our Future has spent more than twice as much as any other PAC so far — nearly $37 million.
[...]
There's no telling when our
Traditional Corporate Media GIANTS
will actually get around to it -- disclosing those hundreds of millions
they collect
--
from those shadowy figures
, intent on buying our elections.
Afterall they're too busy selling those take-it-or-leave-it Ad-Buys, front-row seats to their latest and greatest horse-race -- to actually have to stop and worry about such trivial things.

Things like Transparency and Disclosure ... like democracy and the voice of the people. Like treating the power and responsibility of the Press, with the respect that it deserves.
You know, like the "founders intended." Who's got time for that?
Someone's running for Office for Pete's sake. Stop the Presses!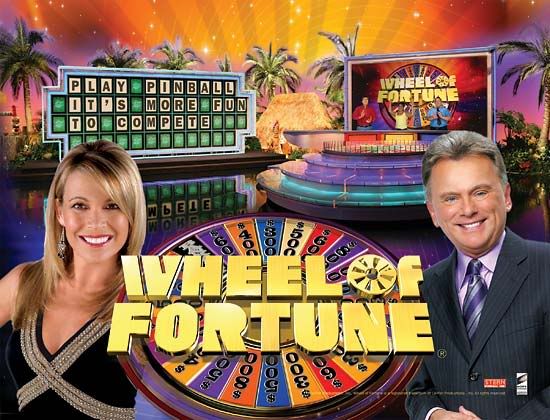 [Image Source: pinballnews.com -- Wheel of Fortune]

Jeesh, Vanna can you help them buy a clue. And remind them, about that puzzle hint again:
"What the Corporate Media is really all about?" Get ready Joe Six-pack, it's time for you to take your next spin again ... ready, set, Vote!