Redistricting in the United States took place in 2011 and 2012 following the midterms of 2010 where Republicans made historic gains across the nation. These gains left them well positioned to control redistricting for congressional seats and state legislatures across the country. In this diary, I look at what would happen if Democrats had won the closest seats prior to redistricting by applying a uniform swing of 5% to see what impact this would have had upon redistricting. Obviously this is just a counter-factual and 5% is a rough benchmark, but this diary is just for fun. The races I am considering are generally whatever was up for election last prior to redistricting. This includes all 2010 gubernatorial, legislative, and house races, as well as the 2009 gubernatorial races and 2008 state senate races for 4 year terms. I will also detail close senatorial and other statewide races from this period, but they of course do not impact redistricting. Note, I have ignored most multimember legislative seats since none of them would have determined redistricting control.
You can find my previous diaries on what if redistricting had taken place following 2008 here and here.
Let's first start with the races for the House of Representatives. Republicans picked up a net total of 63 seats in 2010 to grant them control of the house. How would this have been different had Democrats won everything within 5%, or had the generic house ballot only been R+1.6 rather than R+6.6?
This is the composition of the House of Representatives today, going by the party to last win each seat:

Granting Democrats every race within 5%, we would have held on to 20 further seats in 2010, resulting in a house map that looked like this: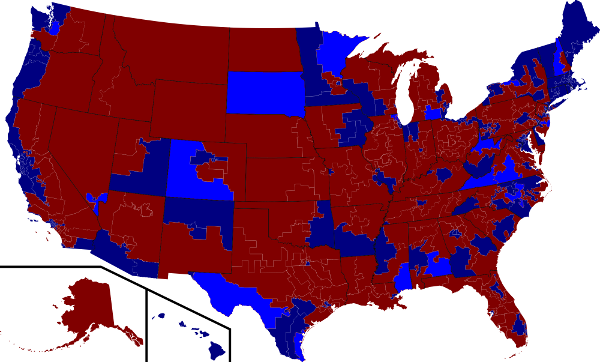 Control of the house goes from a fairly wide 242R-193D spread to a much more narrow 222R-213D spread. The list of seats and Reps. who would have won are:
AL-02 (Bright)
CO-03 (Salazar)
IL-08 (Bean)
IL-10 (Seals)
MI-07 (Schauer)
MN-08 (Oberstar)
MS-04 (Taylor)
NH-02 (Kuster)
NJ-03 (Adler)
NY-13 (McMahon)
NY-25 (Maffei)
NC-02 (Etheridge)
NV-03 (Titus)
SD-AL (Herseth-Sandlin)
TX-23 (Rodriguez)
TX-27 (Ortiz)
VA-05 (Periello)
VA-09 (Boucher)
WA-08 (DelBene)
WV-01 (Oliverio)
Next, let's look at control over redistricting at the state level. Here's the actual state control after the 2010 elections (note, Kansas and Mississippi had court-drawn maps despite Republicans having the trifecta):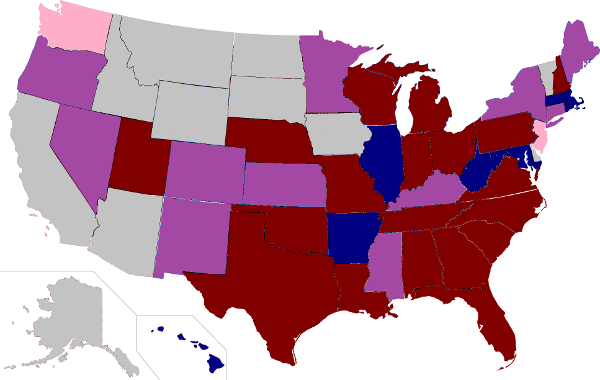 Dark Red is Republican control
Dark Blue is Democratic control
Deep Purple is split control, resulting in a compromise or court map
Light Red is a partisan commission that favored Republicans
This is contrasted with the control resulting from Democrats winning the state legislative and gubernatorial races within 5% prior to redistricting: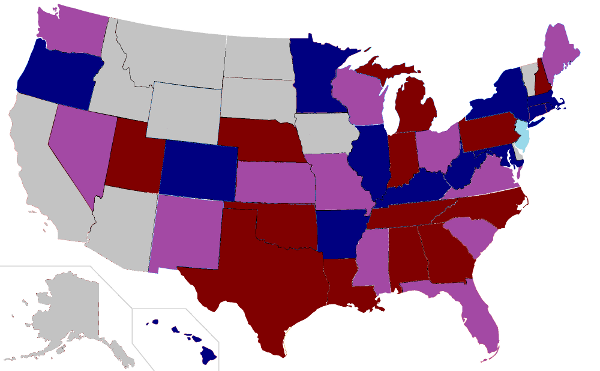 Let's go state by state to see what the impact would have been where races actually changed.
State by State
Alabama
AL-02
SD-08, SD-13, SD-21
HD-07, HD-21, HD-29, HD-38
Alabama Republicans flipped the legislature for the first time since reconstruction. Those 4 state house seats and 3 state senate seat would certainly lessen the GOP advantage, but it doesn't get Dems into the majority. The house goes from 65R-40D to 61R-44D. The senate goes from 23R-12D to 20R-15D.
The big prize in Alabama is Bobby Bright's 2nd congressional district. Bright held one of the most Republican districts of any Democrat, yet only lost by a narrow 2.2% in 2010. Had Bright survived reelection he would at least have been competitive for a third term in 2012. State Republicans undoubtedly would have drawn his district to be even more unfavorable, so it's certainly plausible if not probable that he would have lost in 2012, but the seat would have been a tossup from day 1 instead of Safe R.
Alaska
No federal or state legislative races were within a 5% loss for Democrats. Scott McAdams probably would have come close if not won outright in a one on one match up with Joe Miller, but Lisa Murkowski's presence as a write in candidate made McAdams chances evaporate.
Arizona
Attorney General
HD-11, HD-20, HD-26
Arizona Democrats actually would have come close to maintaining their House margin from before the election with 3 more house districts. Republicans' advantage in that chamber goes from 40R-20D to 37R-23D and they are deprived of their 2/3rds majority.
The biggest impact would have been on our statewide bench as attorney general candidate Felecia Rotellini lost by just 3.8% and would have been a great candidate for senate or governor.
Ann Kirkpatrick lost roughly 6% so she isn't included, but coming off just a 1% loss would demonstrate how strong of a candidate she would be in her comeback bid.
Arkansas
Lt. Governor
Secretary of State
HD-45, HD-50, HD-89
Arkansas Democrats lost their legislative supermajorities in 2010 and many of those seats were uncontested. However, with 3 more house seats their margin goes up from a rather narrow 54D-46R to a somewhat more comfortable 57D-43R. Hopefully holding the chamber would have subsequently be easier in 2012.
The main difference for Arkansas is that Democrats lost the Lt. Governor's race by 2.1% and the Secretary of State race by 2.7%, both of which would have been reversed. This would deprive Republicans of a strong candidate for governor or senate in Lt. Gov Mark Darr.
California
SD-12, SD-19
California Democrats would have actually passed the magic 2/3rds threshold in the state senate required for raising taxes, but still would have been two seats short in the assembly. The chamber goes from 25D-15R to 27D-13R.
Colorado
Treasurer
CO-03
HD-29, HD-30
This is the first state to see a major difference with those two house seats flipping the state house of representatives back to Democrats. The chamber goes from 33R-32D to 34D-31R. This gives Democrats control of the trifecta and the ability to gerrymander their own lines. The main result of this is that the 3rd and 6th districts are made much more favorable to Dems.
Additionally, John Salazar would have won in 2010 and been strengthened through redistricting making the 3rd district quite safe as well as Democrats holding onto the treasurer's office.
Connecticut
Senate districts: 4, 7, 19
House districts: 2, 21, 35, 57, 62, 63, 80, 103, 105, 132, 144
A whopping 11 house districts were narrow Dem losses in Connecticut which, along with those 3 senate districts, actually would have given Democrats control over redistricting. Redistricting in the state requires a 2/3rds majority in the legislature, which Democrats currently lack. The 99D-52R House goes to 110D-41R. The 22D-14R senate goes to 25D-11R. The main effect of this is that Democrats get to shore up the open 5th district for house speaker Chris Donovan as well as the 2nd and 4th districts.
Delaware
Auditor
SD-06, SD-15
HD-33
Christine O'Donnell was a lead weight around the necks of Delaware Republicans, causing them to actually lose seats. The 26D-15R state house goes to 27D-14R and leaves Dems just 1 seat shy of 2/3rds. The already 2/3rds majority in the senate goes from 14D-7R to a ridiculous 16D-5R 76% majority.
Dems would have won the state auditor election as well.
Florida
Governor
HD-52, HD-69
Perhaps one of the most important states, if Democrats could hold their caucus together unlike Missouri Dems. With 2 extra house seats, Republicans lose their veto proof 81R-39D majority, sending it to 79R-41D. This is important because Alex Sink would have now won the governor's race and would have the chance to veto Republicans' gerrymanders of the state legislative and congressional maps. This likely gets us an additional Orlando area house seat, makes FL-22 a guaranteed pick up, and probably makes Bill Young's, Alan West's, and David Rivera's reelection bids tougher.
Georgia
No races were within 5%. Jim Marshall in the 8th congressional district came just shy, but redistricting would have obliterated his district after 2010 anyway.
Hawaii
HD-11
Hawaii Dems house majority goes from an already ridiculous 43D-8R to 44D-7R.
Idaho
SD-18
HD-18A
Democrats got thrashed in Idaho in 2010 and few races were really that close. An additional house and senate seat bring Democrats up to 56R-14D in the house and 27R-8D in the senate.
Illinois
Senate
Treasurer
IL-08, IL-10
SD-49
HD-101
A whole slew of races were close for Democrats in Illinois. Their legislative majorities would be strengthened with 1 more seat in each house for 65D-53R in the house and 36D-23R in the senate.
More importantly, Dems would have held onto the US Senate seat with Alexi Giannoulias reversing his 1.6% loss as well as the state treasurer race where we lost by 4.4%. In the House of Representatives, Melissa Bean would have won the 8th district while Dan Seals would have picked up the 10th district. While Joe Walsh is DOA in the new 8th anyway, Republican Bob Dold! actually has a decent shot at holding the 10th, so Seals winning in 2010 would have made this Lean D seat safe for us.
Indiana
SD-26, SD-47, SD-49
HD-75, HD-76, HD-89
Indiana was pretty brutal for Democrats, but there are a few legislative seats that would have changed. Republicans keep their majorities, but the state house is now 57R-43D and the senate is 34R-16D.
Iowa
Secretary of State
SD-01, SD-40, SD-42, SD-47
HD-16, HD-23, HD-25, HD-42, HD-48
The 5 seats in Dems gain in the Iowa house leads them to a much narrower 55R-45D deficit, while the 4 senate seats would have made them actually gain for quite a substantial 30D-20R majority. Two of these seats would have been from 2008.
Additionally, Dems would have held onto the secretary of state's office, reversing a 2.7% loss.
Kansas
SD-22
HD-03, HD-67, HD-95
Kansas saw pretty large gains for Republicans and only a few are reversed. Their house majority would now be 89R-36D and senate majority would now be 31R-9D.
Kentucky
SD-02, SD-08, SD-12, SD-23
HD-38, HD-62
Including the senate races from 2008 (the last time they were up) Democrats would have actually gained seats and the chamber would be tied. Since the Lt. Governor cannot break ties, Democrats would have to peel off just 1 vote for their redistricting maps. Given Governor Beshear's shrewdness at outmaneuvering Republicans in the state that just might have been possible. Even it if weren't, I can't imagine Democrats agreeing to a Republican gerrymander when the chamber is divided. Best case scenario is we would have flipped one GOP senator and gotten to gerrymander the congressional and state senate maps. Worst case is that we get a somewhat better state senate map.
Louisiana
This one's a little difficult since the legislature flipped due to party switches and special elections rather than a general election. Still, applying the 5% rubric prior to all of those switches gives us HD-14, HD-37, and SD-01 and SD-33. It's possible that those widened majorities would have prevented en masse party switching, but if not then Democrats just gain SD-26 to bring us up to 23R-16D.
Maine
Governor
HD-64, HD-138, HD-139
Republicans won the trifecta in Maine for the first time in decades. Luckily, legislative redistricting requires a 2/3rds majority which they do not have. Democrats would have won 3 more state house seats to flip that chamber for a 76D-74R majority. Additionally, Eliot Cutler would have beaten Paul LePage as a liberal independent.
Maryland
I'm sure there were house districts, though no state senate seats, that were close enough to qualify, but they use multimember districts and Democrats already have supermajorities.
Massachusetts
Senator
9 HDs
The obvious one here is the special election for US senate won by Scott Brown in 2010. His win was just under 5% so in this scenario Martha Coakley would be seeking reelection and probably be quite safe.
At the state level, Democrats would have retained 9 more house seats: the 2nd and 3rd Bristol, 9th Essex, 3rd Hampden, 4th Middlesex, 6th and 7th Plymouth, and the 2nd and 6th Worcester. That chamber would have been 136D-24R.
Michigan
MI-07
HD-24, HD-52, HD-101
Dems got wiped out in Michigan, losing the state house and going under 1/3rd in the senate. 3 additional house seats would bring them to 60R-50D, but Republicans would still gerrymander the maps.
Mark Schauer in the 7th congressional district would have won however and it is possible that Republicans could have drawn him a vote sink out of Battle Creek, Lansing, etc. to protect Justin Amash, Mike Rogers, Thaddeus McCotter, and further screw Gary Peters.
Minnesota
MN-08
Senate: SD-15, 25, 31, 38, 40, 56
House: HD-01B, 02B, 03B, 15B, 25A, 25B, 27A, 30B, 38B, 40A, 41A, 42A, 49B, 56A, 57A
Minnesota takes the prize for the most close races it woud seem. Democrats would have kept a ridiculous 16 further house seats and 6 senate seats to keep both chambers. They would have a 78D-56R house advantage and a 36D-31R senate majority. This allows Democrats to gerrymander the maps and flip the 2nd and 3rd districts in 2012. Additionally, Jim Oberstar would have survived against Chip Cravaack, making that district safe for 2012. Last, the gay marriage constitutional amendment ban wouldn't have been placed on the 2012 ballot.
Mississippi
MS-04
SD-04, SD-18, SD-37
HD-28, HD-93, HD-11
Republicans finally captured both legislative chambers for the first time since reconstruction, but here Democrats would held onto a tie of 61-61 in the house. The senate would be a closer Republican majority of 28R-24D. Thus, Republicans wouldn't be able to draw the legislative districts for the 2015 elections.
4th congressional district Rep. Gene Taylor would have also won very narrowly, but would have been on track to win again in 2012 due to his insane crossover popularity in what was the most Republican district held by a Democrat.
Missouri
Lt. Governor
SD-01, SD-19, SD-24
HD-32, HD-90
Due to turncoat Democrats in the state house, Republicans were able to draw their own congressional map to make the 2nd district solidly Republican. Hopefully 2 additional house seats would have been enough to overcome pressure from Emmanuel Cleaver and Lacy Clay and Missouri would be court drawn. The state house would still have large 104R-59D majority, but Republicans would have needed 5 Dems to cross over to override Jay Nixon's veto. The senate would still be a 23R-11D Republican supermajority.
Democrats would have also won the 2008 Lt. Governor's race, depriving us of the comedic mess that was the brief Peter Kinder for Governor campaign. Ike Skelton in the 4th CD would have just narrowly lost unfortunately, since he would probably have held onto the district when it would have become more Democratic under a court map.
Montana
SD-18
HD-04, HD-15, HD-62, HD-63, HD-74
Redistricting wouldn't change, but Democrats would have broken Republicans' state house supermajority. That chamber would now be just 63R-37D while the state senate would be a much narrower 27R-23D.
Nebraska
This state is slightly annoying to figure out without the more explicit partisan affiliation in election result reports. There were 6 senate elections in 2008 and 2010 where a Republican won with less than 5%, but I am unsure whether the runner up was a Democrat or Republican for each race. Regardless, Democrats would have at best been down just 28R-21D. Those races are: SD-10, SD-22, SD-27, SD-33, SD-37, and SD-40. There would have been no partisan impact upon redistricting.
Nevada
NV-03
SD-Clark-5B
AD-21, AD-40
Democrats would have maintained their 2/3rds majority in the state house for a 28D-14R breakdown. Unfortunately, they would have been 2 seats short in the senate at 11D-8R and been unable to override Governor Sandoval's vetoes.
The more important race is that Dina Titus would have won the 3rd congressional district by about 4% instead of narrowly losing. If she ran for reelection in the 3rd I think we would have fairly easily held onto it in 2012.
New Hampshire
NH-02
SD-24
I didn't tabulate the multimember New Hampshire house seats since there are 400 of them and judging by how our gain of 1 in the senate only brings us to 18R-6D, I doubt enough house seats would have flipped to block the GOP super-majority.
The race that does matter is the 2nd congressional district where Ann McLane Kuster only lost to Charlie Bass by about 1.6%. She would have made winning this D+3 district quite easier as an incumbent in 2012.
New Jersey
Governor
NJ-03
Jon Corzine only lost the 2009 gubernatorial race to Chris Christie by about 3 points. Since New Jersey has a bipartisan redistricting commission, why does having the governorship matter? Well Christie intimidated the neutral tiebreaker into leaving the commission and in turn appointed a partisan Republican. Democrats foolishly agreed to this and in return got a Republican gerrymander of the congressional map.
Furthermore, John Adler would have won the 3rd congressional district and either A) not died in 2011, or B) his wife would have run in and won the special election to succeed him. Having an additional seat and a more neutral tiebreaker would have placed Democrats in a more favorable position for a compromise redistricting map.
New Mexico
SD-10
HD-37, HD-43, HD-55
Democrats lost the governor's race but held onto the state house. Luckily for Democrats, the senate wasn't up for election in 2010. The house would be a 40D-30R breakdown while the senate would have seen a 2/3rds Dem majority of 28D-14R. As with Nevada, we would still be too far away in one chamber to override vetoes.
New York
NY-13, NY-25
SD-07, SD-40, SD-60
AD-01, AD-89, AD-96
New York is a big prize here with two more congressional seats for Mike McMahon and Dan Maffei and those crucial three senate seats giving Democrats a 33-29 majority. Combined with what would be a 104-49 assembly majority and the governors office, Democrats would finally be able to gerrymander the state (as long as Cuomo didn't veto). That would allow us to lock in a 24-3 congressional breakdown with McMahon and Maffei easily holding on, Owens and Hochul being shored up, and Hayworth and Gibson being screwed. At the state legislative level, Republicans would be practically irrelevant going forward.
North Carolina
Ag Commissioner
Labor Commissioner
2 Supreme Court seats
NC-02
SD-10, SD-19, SD-50
HD-04, HD-46, HD-49, HD-77, HD-93
Republicans gained control of the North Carolina legislature for the first time in over 100 years which unfortunately allowed them to control redistricting since the governor can't veto. They do lose their supermajority in the senate, going down to 28-22, and their house majority narrows to 63-57. Democrats would still be screwed after redistricting, but Republicans wouldn't have been able to override so many of Perdue's vetoes.
Dems actually would have gained control of the state Supreme Court, sending that body from 4R-3D to 5D-2R, as well as the Agriculture and Labor Commissioner's offices. Bob Etheridge would have also won in the 2nd district, but would face a very challenging reelection after redistricting.
North Dakota
SD-12, SD-25
North Dakota uses multi-member house seats where it is a little difficult to game out how to apply a uniform swing. Needless to say, Democrats' deficit in the state house would be narrower, while the state senate would have been 32R-14D.
Ohio
Governor
Attorney General
SD-05, SD-13
HD-18, HD-21, HD-41, HD-42, HD-91, HD-96, HD-99
Ohio is another state where Democrats' position would have been vastly improved. Ted Strickland winning the governor's election removes the Republican trifecta and gets us a court-drawn congressional map. Richard Cordray also would have won election as AG.
Republicans' legislative majorities are narrowed to 21R-12D in the senate, removing their supermajority, and 52R-47D in the house.
Both Steve Driehaus and Charlie Wilson would have just barely lost and then seen their districts move a few points towards Dems under a new court-drawn map, so both would probably be able to win in 2012. Betty Sutton and Dennis Kucinich would also have kept their own districts.
Oregon
SD-15, SD-20
HD-37
Democrats didn't make up a lot of ground in the legislature, but they didn't need to as that 1 house seat breaks the 30-30 tie to give them control of the trifecta. The state senate goes to a more comfortable 18-12. Thus, Democrats get to have more control over redistricting to protect their majority.
Pennsylvania
Senate
SD-15
HD-39, HD-56, HD-104, HD-156, HD-157
PA Dems don't gain anything lasting other than a Senator Sestak, but their legislative deficits narrow slightly to 29R-21D in the senate and 107R-96D in the house.
Rhode Island
SD-21
HD-26, HD-71, HD-72
Democrats' already huge majorities go to 30D-8R in the senate and 68D-7R in the house.
South Carolina
Governor
South Carolina would have seen Democrats gain the governors office with a narrow victory for Vincent Sheheen as well as 2 house seats for a 74R-50D gap. Sheheen's veto over redistricting would keep the 5th/new 7th district much more competitive than Republicans drew them, so we could have feasibly seen a John Spratt comeback there.
South Dakota
SD-AL
SD-25
Like North Dakota, South Dakota uses multi-member house seats so there are probably a few that would have flipped. The state senate would be 29R-6D. The big prize here is Stephanie Herseth-Sandlin holding onto the congressional seat and then being a heavy favorite to win in 2012. Her win would have also made a future senate bid easier.
Tennessee
SD-25
HD-60, HD-77
Republicans' large majorities narrow slightly to 19R-14D in the senate and 64R-35D in the house.
Texas
TX-23, TX-27
HD-47, HD-78, HD-93, HD-96, HD-101, HD-106, HD-107, HD-117, HD-134
Ciro Rodriguez and Solomon Ortiz would have held onto their congressional seats, taking the 23rd from a slight Dem-favoring pick up opportunity to a more solidly Dem hold, while Ortiz's new seat would have been safe regardless.
Texas Democrats are in a very deep hole in the state legislature, but both chambers narrow. The senate goes to a fairly narrow 17R-14D spread while the house goes to 92R-58D and deprives Republicans of their supermajority.
Utah
SD-10
Not much to see here, though the state senate improves by 1 seat to 20R-8D.
Vermont
Vermont uses multimember house districts and since Democrats have supermajorities in both chambers I didn't feel the need to try to figure out which seats would have flipped.
Virginia
VA-05, VA-09
(prior to legislative redistricting)
SD-22, SD-27, SD-28, SD-37
HD-21, HD-23, HD-34, HD-51
(prior to congressional redistricting)
SD-17, SD-20
HD-12, HD-93
Democrats would have been in a much better position in Virginia under this scenario. Their senate majority would have been larger and thus their bargaining position better prior to legislative redistricting, though even looking just at 2011 improves the picture. Dems maintain control of the state senate at 22D-18R and their house deficit narrows to 66R-34D and deprives Republicans of 2/3rds.
The congressional map would have been court-drawn instead of Republican gerrymandered and would have been vastly improved when combined with Rick Boucher and Tom Perriello winning in 2010. Boucher would have won again in 2012 as an incumbent while Perriello would have been even money at worst. Additionally, the 2nd or 4th would become a Dem district and Frank Wolf's 10th would be around D+5.
Washington
WA-08
SD-02, SD-17, SD-41, SD-45
HD-06-2, HD-25-2, HD-42-2
Washington Democrats expand their legislative majorities to 31D-18R in the senate and 59D-39R in the house. Suzan DelBene would have won over Dave Reichert in the 8th district and seen her district shored up during redistricting. This likely gains us an additional seat as Reichert is safe in reality and the new 1st district would have still been swingy.
West Virginia
WV-01
HD-12
West Virginia also uses multi-member districts for some seats, though just looking at single-member house seats gives us 1 extra seat, though not a 2/3rds majority. The big prize is us winning the 1st district and being strongly favored to hold it in 2012 with Mike Oliverio.
Wisconsin
Senate
1 Supreme Court Seat
SD-05, SD-08, SD-18, SD-29, SD-32
AD-44, AD-51, AD-68, AD-75, AD-88, AD-93
With the addition of narrow losses from 2008 in the senate, Democrats would have actually held onto that chamber after 2010 with a 19D-14R majority. The house goes to 53R-45D and Democrats also win the senate race in 2010.
Without a Republican trifecta, both the congressional and legislative districts are court-drawn. Dems would have also gained a 4-3 majority on the supreme court that would draw the lines, FWIW. The big impact here is that the 7th remains Dem-leaning and that makes a big enough differences for us to take it back in 2012.
Wyoming
SD-06
HD-15, HD-49
As with Idaho and Utah, Dems are in a very deep hole here and the few seats that flip make little difference. The senate would be 25R-5D and the house would be 48R-12D.
National Overview
With a larger incumbency advantage and much more favorable position in redistricting, Democrats would have performed far better in 2012 than we actually will. Based on my
US House of Representatives analysis
, we are currently in for a gain of just 9 seats, bringing us up to 202D-233R. Applying the uniform 5% swing of this scenario, our baseline is a more narrow 213D-222R starting point and I believe we would get to 233D-202R for a gain of 20. Thus, we would be favored to win 31 more seats in 2012 than we actually will.
Looking at those seats individually, we have:
AR-01
Democrats stupidly drew this as a fairly conservative seat and would have done so again, but the difference here being that a top-tier Democrat would have run with the enticement of serving in a likely house majority.
Lean R -> Tossup/Lean D
AR-04
Similarly to the 1st, I think Mike Ross probably wouldn't have retired with the chance to regain the majority in 2012. If he still retired, we probably would have gotten a better congressional candidate.
Likely R -> Likely/Safe D with Ross
CA-21
Yet another recruiting fail that I think wouldn't have happened if Dems had the prospect of being in the house majority. Either Dennis Cardoza wouldn't have retired and thus Jim Costa would still be running here, or a stronger candidate such as state Senator Michael Rubio would have run. Instead, our nominee is John Hernandez who has raised almost nothing.
Lean/Likely R -> Tossup/Lean D
CO-06
Democrats would have gerrymandered this Aurora based seat to include more heavily Dem parts of the Denver metro area and less Republican ones, thus screwing over Mike Coffman.
Tossup -> Likely D
FL-10
Without Republicans' gerrymander, Dan Webster's 10th district becomes a Democratic leaning Orlando based seat instead of an R+6 historically Republican one. Val Demmings would have a much better shot at what would be a roughly D+3/D+4 seat.
Likely R -> Lean D
FL-13
With Governor Alex Sink vetoing congressional redistricting, the 10th would regain all of heavily Democratic St. Petersburg and be about D+3. I believe Bill Young would have ended up retiring rather than have to run a serious campaign, allowing us to win the seat.
Likely R -> Lean D without Young
MI-07
Republicans might have decided to vote sink Mark Schauer or weaken his seat slightly, but either way the new 7th would have been R+3 at worst and Schauer performed well given his circumstances in 2010. Thus, he would be a modest favorite if targeted and safe if his seat was a vote sink.
Likely R -> Lean D/Safe D
MN-02
Democrats get to gerrymander this metro-twin cities seat and could have either cracked Minneapolis or more likely just given the 2nd some of the more liberal inner suburbs. John Kline would be too conservative to win a ~D+4 district.
Likely R -> Lean D
MN-03
This seat would depend on how aggressive Dems were in unpacking the 5th district, but Erik Paulsen would probably lose anything more Democratic than D+5 which is easily doable. This district would just need to trade the dark red exurbs for more deep blue urban territory.
Safe R -> Lean D/Likely D
MS-04
Republicans might have targeted Taylor again in 2012, but given how conservative his voting record is and his long tenure, I believe Taylor would have won again in the new 4th in 2012.
Safe R -> Likely D/Safe D
NJ-03
As I said earlier, John Adler would have either not died or his wife Shelley would have won the special election to replace him in mid 2011. Without Governor Christie to appoint a Republican hack as "independent" tiebreaker, the congressional map would probably shore up this seat somewhat. With an incumbent in a stronger seat, I don't see how we would have been worse off than in reality here.
Lean R -> Lean D
NJ-07
This alternate universe congressional map would have weakened one of the white majority districts in northern New Jersey to combine with most likely Leonard Lance's seat. Unless Dems really dropped the ball again, that seat would be close to even or D+, and a Dem incumbent vs GOP incumbent in a Tilt D seat in 2012 would be probably be a Dem win.
Safe R -> Tossup/Tilt D
NV-03
Dina Titus might have run in the new 1st anyway since it's safer and has more of her base, but even so Democrats would be able to win this seat without Joe Heck's benefit of incumbency.
Tossup -> Lean D
NY-11
New York sees a huge shift in the strength of various seats as it goes from court map to Dem gerrymander. The Staten Island based 11th can easily be made into a Likely D seat without cracking Staten Island, and Mike McMahon would have to be caught in a serious scandal to lose.
Lean R -> Safe D
NY-18
John Hall would probably seek a rematch here given how he would have very narrowly lost and this seat would become one that favors Dems. Hayworth is endangered in her new R+1 seat, so it's very easy to see her lose something around D+4/D+5
Tossup -> Likely D
NY-19
Similar story to the 18th, though this would now have been the successor to Hinchey's 22nd district. If he still retired, Dems would retain their advantage here since the seat would favor Democrats by packing Richard Hanna's neighboring seat.
Tossup -> Likely D
NY-27
Kathy Hochul's fortunes would greatly improve by allowing her to keep more of Erie and even gain some of Rochester if necessary. Instead of R+8 this district could be anywhere from even to D+4.
Tossup/Lean R -> Lean D/Likely D
OH-01
This district would no longer crack Cincinnati and would be about D+4/D+5 rather than R+5. Steve Driehaus would have just barely lost in a more Republican district and would more likely than not win in a 2012 rematch.
Safe R -> Tossup/Lean D
OH-05
This would essentially be a new open seat in north-central Ohio that would be about R+1 to D+1. Democrats on average perform slightly better than the national ticket in this area (according to DRA at least), so I would imagine that Dems would be narrow favorites here in 2012 with presidential turnout.
Safe R -> Tossup
OH-06
Instead of getting more Republican, this ancestrally Democratic seat gets more Democratic and takes in Charlie Wilson's base while shedding Johnson's home. Wilson would be a narrow favorite in 2012 instead of the underdog, but this district would trend away from us.
Tussup -> Lean D
OH-13
This would be a solidly Dem Akron based seat, about as Dem as Sutton's old one. Renacci gets a safer seat as well.
Tossup -> Safe D/Likely D
OH-14
Rather than Sutton and Renacci getting combined, Steve LaTourette and Tim Ryan are in a district that favors Ryan. It contains conservative northeastermost Ohio, but also deep blue Youngstown.
Lean/Likely D
OK-02
While redistricting wouldn't have changed, I believe the same reasons that would have prevented Mike Ross from retiring would have had the same impact on Dan Boren.
Lean R/Likely R -> Safe D
SC-05
South Carolina should have been required to draw a second black majority district, but I doubt a court-map would do that. Regardless, the 5th (or 7th) district in the north/central part of the state would be quite historically favorable to Democrats and the 6th would no longer be as packed. As long as we didn't nominate too liberal of a candidate then this seat would be a Dem pick up.
SD-AL
Stephanie Herseth-Sandlin is much more popular than generic Democrat in South Dakota and even would have made it competitive vs. Kristi Noem this year. As an incumbent going into 2012 I have no doubt Herseth-Sandlin would have won.
Safe R -> Likely D
VA-04
A court map of Virginia would (or at least should) nuke the gerrymandered 3rd district in favor of one VRA district and one urban district out of the pair of Richmond and Hampton Roads. This district would most likely become about 60% Obama which is beyond safe in the south.
Safe R -> Safe D
VA-05
Tom Perriello made a surprisingly respectable showing in 2010, losing by just 4%. The new district where he would have been the incumbent would have still been about R+5, but with presidential turnout and as a 2-term incumbent, Perriello would more likely than not have won a 3rd term.
Safe R -> Lean D
VA-09
This historically Democratic seat in coal country saw Dem Rick Boucher get caught napping in 2010. Boucher lost by less than 5% with several hundred thousand in CoH. The district would likely move a few points to the left with the addition of Roanoke, which would be more than enough to reelect Boucher in 2012.
Safe R -> Likely D
WA-08
This Dem leaning seat became Republican leaning following redistricting, but if Suzan DelBene had won in 2010 then this seat probably would have been shored up for her at the expense of the 1st. Still, the new first would have remained a swing district, it would lack a popular Republican incumbent such as Reichert, Republicans would nominate tea-partier John Koster, and (too liberal for a swing district) Darcy Burner would lack the base to win the nomination.
Safe R -> Likely D/Safe D
WI-07
Without a Republican gerrymander, this seat would remain about D+2/D+3. Furthermore, while Pat Kreitlow isn't a terrible candidate, his fundraising has been very unimpressive. I think someone stronger would have run if the district were still Dem-leaning, but either way gaffe-prone Sean Duffy would lose a D+3 seat.
Lean R -> Tossup/Tilt D
WV-01
Democrats stupidly didn't even bother turning this seat into a winnable one during redistricting, but if Mike Oliverio had won in 2010 they wouldn't really have needed to. While the seat and the state are trending away from Democrats, Oliverio was very conservative and the Republicans have no base, so Oliverio would have won reelection.
Safe R -> Likely D
Honorable Mentions
AL-02: Bobby Bright would have won by ~3%, but Republicans could easily have made his district over R+20 through redistricting. If it stayed the same or became more Democratic then Bright probably would have won, but that redistricting outcome would be unlikely.
MO-02/04: There are two districts in Missouri, the 2nd and the 4th that would have been competitive under a court map under certain conditions. The 2nd would range from 47% Obama to 50%, but Russ Carnahan couldn't win there and Ann Wagner is a strong candidate so it most likely would have gone Republican. This largely just depends on if the court map packs all of St. Louis into the 1st or not. The 4th district would be a pick up if Ike Skelton ran again, but wouldn't otherwise.
So there you have it. In all likelihood, a uniform 5% swing towards Democrats prior to redistricting would have resulted in an additional 31 seats in 2012 for a total of 233 seats. Most of these gains are from redistricting, but a few are from better candidate recruitment. Still, it just goes to show how disadvantaged Democrats were by having 2010 be a redistricting year.
I hope you enjoyed this hypothetical scenario and welcome your comments.