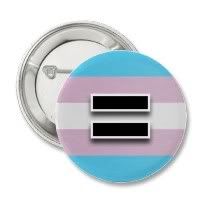 The Episcopal House of Bishops approved a prayer service, called The Witnessing and Blessing of a Lifelong Covenant, for same-sex couples yesterday. If approved by the House of Delegates the service will be authorized.
The rite includes a conscience clause, which states that nobody in the church would be forced to perform the ceremony or punished for barring its use. That sounds pretty tepid.
In what the press mostly considered an afterthought, both houses have approved anti-discrimination language for transgender clergy candidates and church members. There was already language that said "all people" were eligible for ordination, but some people needed to have it explained that "all people" included trangender people.

The House of Deputies passed legislation stating that "gender identity and expression" would not be barriers to ordained ministry, while also altering the church's canons to include the transsexual categories alongside gender, race and sexual orientation as specially protected status.
The Rev. Carla Robinson, who is transgendered and a vicar of All Saints Church in Seattle, said she was lucky to have the backing of parishes and bishops when she was considering ordination, but she said others haven't had the same support.
I stand here as a priest today because my diocese specifically said that my gender identity and expression didn't disqualify me from the discernment process. I ask that as a church we do the same for my trans sisters and brothers.

--Reverend Carla Robinson
There was a
special communion service
on Wednesday last hosted by Integrity USA. Leading the service were Gene Robinson, outgoing Bishop of the Diocese of New Hampshire, Suffragan Bishop Mary Glasspool of Los Angeles, and Carolyn Woodall, the first transgender deacon in the formerly conservative Diocese of San Joaquin (a majority of the district voted to leave the Episcopal Church in 2006).
You have no idea what it is like to be on this platform with Mary Glasspool - it's because of her that I can retire.

--Bishop Gene Robinson
"Welcome on the day the Episcopal Church put its actions where it mouth is," greeted Integrity USA President Caroline Hall at the opening of the service. Hall listed gay, straight, evangelical and catholic as all welcome at the service, briefly pausing for laughter from the assembled after saying evangelical. The Integrity president presented longtime Newark, New Jersey homosexual activist Louie Crew as recipient of an award from the caucus.
There was pushback from the usual suspects, like
South Carolina
.
I believe we need to have more discussion in the church, in our congregations, in order to be able to speak in a way that is theologically sound, that gives a deeper understanding of what it means to be a transgender person.

--Bishop Andrew Waldo, Diocese of Upper South Carolina
We are entering into a time of individualized eros … the freedom of every individual to self-define every aspect of who they are in such a way that we no longer have any kinds of norms. We are entering into the chaos of individuality. It's an idol that will break us

--Bishop Mark Lawrence, Diocese of South Carolina.
Chaos of individuality? I've got no problem with that.