OK, so this diary may feel like deja vu, but I swear it's not! Follow me below the dingledoodlesquiggliedKosagnocchidividerthingie fold after a word from our sponsor...

Here at Top Comments we strive to nourish community by rounding up some of the site's best, funniest, most mojo'd & most informative commentary, and we depend on your help!! If you see a comment by another Kossack that deserves wider recognition, please send it to topcomments at gmail by 9:30pm Eastern. Please please please include a few words about why you sent it in as well as your user name (even if you think we know it already :-)), so we can credit you with the find!

NOTE: Bowing to that newfangled DK4 stuff :-), you also may send nominations to the Top Comments group email. If you don't see a nomination you made to there in the diary, please pipe up - it means we're still trying to remember not to forget to check!
A week or two before NN12, the kids asked Mr. Brillig and I to come sit down and watch a powerpoint presentation. Before you wonder, K1 is a skilled presentation creator. She's done many of them in school. When I was her age, we did our presentations on PAPER. And we liked it that way! ... I digress...
What, you ask, was the topic? The pros and cons of bringing a second dog into the household. They've been campaigning for a year to have a second dog, and wanted to show they'd done due diligence about the real issues involved. We watched, were impressed by the thoughtfulness, and agreed to think about it.
The more I thought about it... because, face it, I'm the one home all day and in reality it's ME who will be primary caregiver to this potential new dog... the more I liked the idea. Vorpal, heretofore known as D1 definitely likes being around other dogs, we have a fenced-in yard where they can play, and more dog meant more opportunities to pet, snuggle and go for the walks that I need to stay fit. So once we'd gotten through NN12, a crazy stretch of early mornings and late nights for Mr. Brillig on a work deadline, K2's 7th birthday party and the fun of July 4th fireworks, we began looking at local shelter websites.
Last Thursday, off we went to the shelter we'd adopted D1 from. A quick check of the available dogs suggested two possibilities. We did the "meet-n-greet" with both, and while they each had plusses and minuses (as does ANY potential dog) we decided to proceed with the REAL test: how each interacted with D1. The shelter had a fenced-in area where we could introduce them one by one, and... both seemed fine. We asked the kids, and... yes, as expected, K1 and K2 had fallen in love with different dogs. While both said they'd "be ok if the other dog was chosen" we decided it wasn't fair to anyone involved, and with much tears (and a very, VERY silent ride home) we left sans a second dog. We had agreed that Our New Dog would be agreed on by everyone, canine and human, and while both were wonderful dogs, they weren't Our Dog.
By Friday everyone had calmed down a bit, and we set out for two other shelters. The first had potentials but we ALL agreed Our Dog wasn't there. The second shelter had a fantastic assortment of dogs, and we spread out to see all the friendly faces.
Then I saw her standing there, a beautiful, 18 month old Redbone Coonhound named Ruby:

Did I mention D1 is a Plott Hound? She was friendly, gorgeous, and the info on the kennel door said she was good with kids and other dogs. A meet-n-greet was wildly successful, with both kids ignoring every other dog in the shelter to coo and fawn over Ruby. We introduced the two dogs, and it was clear this was going to work. Paperwork was filled out, a 24hr mandatory wait was endured, and the next day D2, aka Snicker, came home: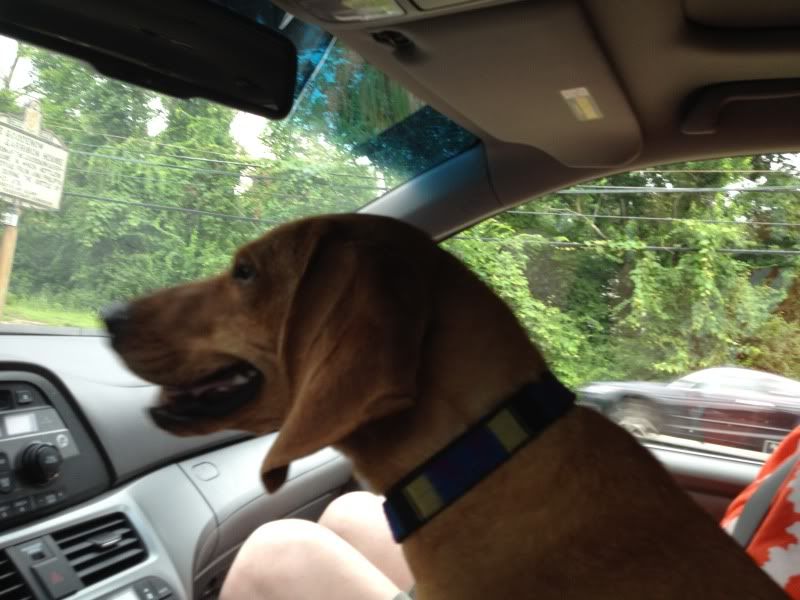 We won't mention that not only does D2 get carsick, she didn't use the little hounds tree before she got in the minivan. Enzymatic cleaners work wonders, just sayin'.
D1's been pretty good about the whole thing. She's being treated as alpha dog, getting first dibs on doorways, humans and food (plus the coveted spot on the couch with whoever's sitting there). This morning they actually played together, D1 chasing D2 around, and around, and around the back yard. Meaning I had tired dogs this afternoon. Which, as dog owners know, is a Good Thing.
Getting a picture of them both doing the same thing (sitting, standing, laying down) has been impossible so far, but here's our best attempts:
Sure, we'll hang out in the kitchen: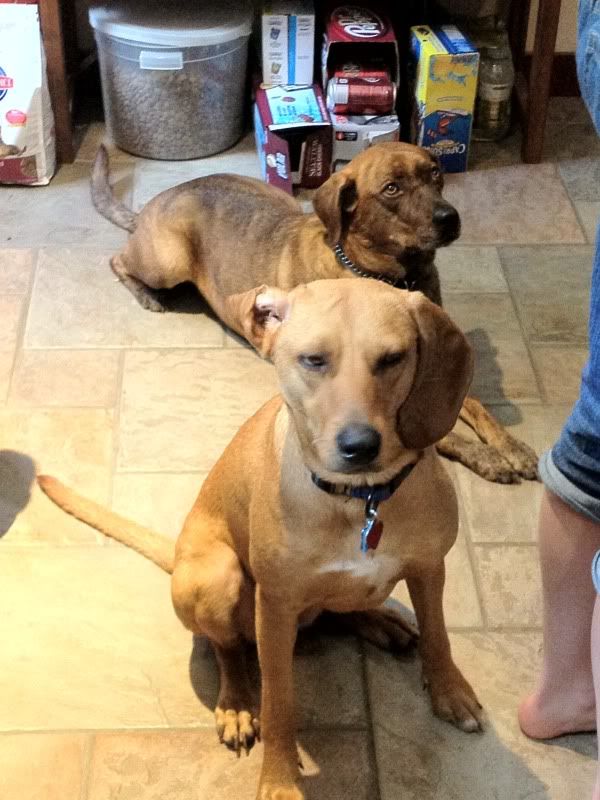 TREATS!!!!

D1 in her spot: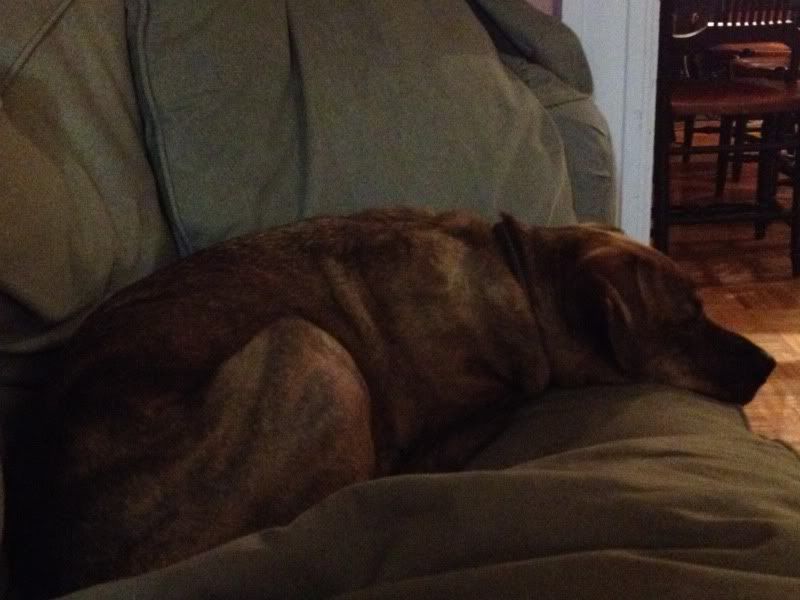 D2 in hers:

So, as a friend said, with the K's and D's, we're almost ready to do complex equations using only family variables :). Let the mayhem begin, and I'd love to hear your pet stories in the comments!
---
Brillig's ObDisclaimer:
The decision to publish each nomination lies with the evening's Diarist and/or Comment Formatter. My evenings at the helm, I try reeeeallllyy hard to publish everything
without
regard to content. I really do, even when I disagree personally with any given nomination. "TopCommentness" lies in the eyes of the nominator and of you, the reader - I leave the decision to you. I do
not
publish self-nominations (ie your own comments) and if I ruled the world, we'd all build community, supporting and uplifting instead of tearing our fellow Kossacks down.
From virgomusic:

TrueBlueMajority has a great comment on the tricky topic of knowing when to give one's trust, noting that it's worth erring on the side of trust, because "love can never be deceived."
From Noddy:

Wisepiper explains why people keep responding to comments even when they know better in Williston Barrett's diary Did Anyone Here Send Money to " The Nephew" or "The Aunt" way back when?.

dewtx gets punny in his comment about Texas politics in MinistryofTruth's diary Paul Begala goes OFF : "It's one thing to be anti-government. It's another to be pro-stupid.

In the same diary, parker parrot stalled MinistryofTruth's brain with a quote from a relative.
From Steveningen:

IndyScott lets loose with the excellent zinger in Jed Lewison's diary Mitt Romney says he wants Sesame Street to start running advertisements.
From white blitz:

stevej thinks Jed Lewison buried the real story about Mitt.
From yours truly, brillig:

tekno2600 repeats the meme we need to push between now and November.

texasmom's comment in Joan McCarter's Eric Holder: New voter ID laws are 'poll taxes' is one the very demographic we need to reach understands... or should.
---
Top Mojo for yesterday, July 9th, first comments and tip jars excluded. Thank you
mik
for the mojo magic!
1) And also by SwedishJewfish — 265
2) Yup, I have disappeared for a few weeks more by blue jersey mom — 164
3) Oh thank you Meta Jesus by SwedishJewfish — 159
4) Yeah. I had started to suspect something was up by weatherdude — 158
5) He is getting help by SwedishJewfish — 155
6) His dogma was strapped to the roof of his karma... by Dood Abides — 151
7) I just kind of drift away by dirkster42 — 142
8) Let me second everything you said... by Mets102 — 139
9) Labor on the cheap by madasheck — 135
10) I trusted Matt. I defended him from the people by Shawn Russell — 131
11) A Reminder About Blogging Etiquette by JekyllnHyde — 129
12) And how he kept begging by Cali Scribe — 127
13) What this REALLY means... by JayFromPA — 124
14) i waited up for this by jlms qkw — 123
15) Bully! by WisePiper — 121
16) Heh. by weatherdude — 116
17) We are surrounded by pear farms. Our "neighbor" by Regina in a Sears Kit House — 114
18) Oh dear Lord by blue aardvark — 111
19) The foreclosures need to stop by Horace Boothroyd III — 110
20) Bibi, that is, in case I was unclear. by Crashing Vor — 104
21) Yes! Stop giving them what they want; a reaction. by Eileen B — 101
22) Timaeus has also been reinstated by Robobagpiper — 99
23) This still is Daily Kos, right? ;-) n/t by Mets102 — 98
24) Isn't it? by SwedishJewfish — 96
25) glad you came back by TrueBlueMajority — 96
26) That post of mine was an egregious violation by Timaeus — 96
27) I Have Come To Believe This Is The Major by webranding — 95
28) May I just say that you have been one cool by marleycat — 94
29) Recommendation: by Bob Johnson — 94
30) Not just retail by magicman3315 — 92
---
Top Pictures for yesterday, July 9th. Click any image to be taken to the full comment. Thank you
jotter
for the image magic!