Mitt Romney's had a bad week. Even his much ballyhooed presiding over the Salt Lake City Olympics in 2002 is catching grief now. And it's about to get worse.
ThatPoshGirl has a diary on the Rec List up right now about the financial shenanigans that went on during Mitt's tenure.
And after the complaints from both left and right this week about this year's Olympic Team uniforms being made in China, it is not surprising that Mitt also outsourced the US Team's uniforms in 2002. Comments in ThatPoshGirl's diary suggested that they were made in Canada, rather than in the US. I don't have documentation on that.
But what I do have is even better. Photo proof of where the uniforms were made that were used for the Olympic Torch Relay.
Relay Runners took great pride in carrying the Olympic Flame for a short distance (usually just a few hundred yards) as it criss-crossed the country in the summer of 2002. Eventually that flame was handed off to the ceremonial lighters of the flame in Salt Lake City.
Here is what part of the front of one of the Torch Bearer's uniforms looked like, with a close-up view of the tag: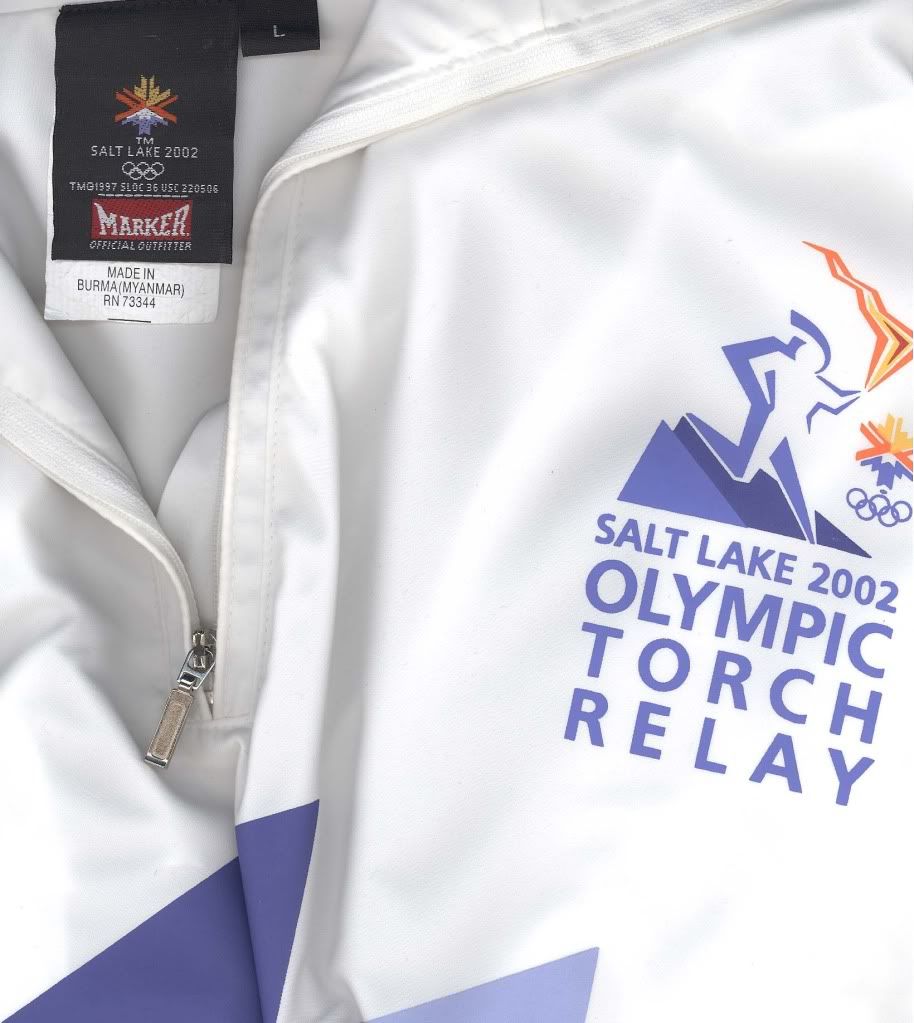 As you can see, Mitt outsourced the uniforms for the patriotic duty of carrying the Olympic flame to the despotic military junta of Myanmar (Burma).
Here is part of the Wikipedia entry on Myanmar:

In 1988, unrest over economic mismanagement and political oppression by the government led to widespread pro-democracy demonstrations throughout the country known as the 8888 Uprising. Security forces killed thousands of demonstrators, and General Saw Maung staged a coup d'état and formed the State Law and Order Restoration Council (SLORC). In 1989, SLORC declared martial law after widespread protests. The military government finalised plans for People's Assembly elections on 31 May 1989.[47] SLORC changed the country's official English name from the "Socialist Republic of the Union of Burma" to the "Union of Myanmar" in 1989.

In May 1990, the government held free elections for the first time in almost 30 years and the National League for Democracy (NLD), the party of Aung San Suu Kyi, won 392 out of a total 489 seats (i.e., 80% of the seats). However, the military junta refused to cede power[48] and continued to rule the nation as SLORC until 1997, and then as the State Peace and Development Council (SPDC) until its dissolution in March 2011.
It is only since 2011 that there has been more of a normalized relationship between the US and Myanmar. At the time of the 2002 Olympics, with Mitt at the helm, Aung San Suu Kyi was still under house arrest. But that didn't matter as much as saving a dollar here or there, by outsourcing these uniforms to a country ruled at that time by an oppressive military junta .