Science talk returns to brighten your day one more time. New discoveries, new takes on old knowledge, and other bits of news are all available for the perusing in today's information world. Over the fold are selections from the past week from a few of the many excellent science news sites around the world. Today's tidbits include volcanic ash fall preserved a 'nursery' of early animals, mapping the interior motions of the Sun, scientists clean up the physics mystery of cornstarch, Paisley caves yield 13,000-year-old Western stemmed points and more human DNA, and veterinary vaccines combine to form new viruses.
Pull up that comfy chair and grab a spot on the porch. There is always plenty of room for everyone. Another session of Dr. Possum's science education, entertainment, and potluck discussion is set to begin.
Featured Stories
A volcanic ash fall similar to the one that buried Pompeii preserved a collection of early animals.
A volcanic eruption around 579 million years ago buried a 'nursery' of the earliest-known animals under a Pompeii-like deluge of ash, preserving them as fossils in rocks in Newfoundland, new research suggests.

A team from the Universities of Oxford and Cambridge, in collaboration with the Memorial University of Newfoundland, looked for evidence of life from the mysterious Ediacaran period (635-542 million years ago) in which the first 'animals' – complex multicellular organisms – appeared.

The team discovered over 100 fossils of what are believed to be 'baby' rangeomorphs; bizarre frond-shaped organisms which lived 580-550 million years ago and superficially resemble sea-pen corals but, on closer inspection, are unlike any creature alive today. This 'nursery' of baby rangeomorphs was found in rocks at the Mistaken Point Ecological Reserve in Newfoundland, Canada.
Mapping the
interior motions of the Sun
is a complex effort leading to better understanding in the end of the star overall.
In order to develop their "MRI" of the Sun's plasma flows, the researchers examined high-resolution images of the Sun's surface taken by the Helioseismic and Magnetic Imager (HMI) onboard NASA's Solar Dynamics Observatory. Using a 16-million pixel camera, HMI measures motions on the Sun's surface caused by convection.

Once the scientists captured the precise movement waves on the Sun's surface, they were able to calculate its unseen plasma motions. This procedure is not unlike measuring the strength and direction of an ocean's current by monitoring the time it takes a swimmer to move across the water—currents moving against the swimmer will result in slower times while those going in the same direction will produce faster times, with stronger and weaker currents enhancing or diminishing the impact on the swimmer.

What they found significantly departed from existing theory--specifically, the speed of the Sun's plasma motions were approximately 100 times slower than scientists had previously projected.
The mystery of Oobleck (as Dr. Seuss readers know the stuff) or a non-Newtonian liquid as scientists prefer has been explained by the
examination of cornstarch
.
This substance, a liquid that can instantaneously turn into a solid under the force of a sudden impact, behaves in surprising ways. It consists of a simple mixture of cornstarch and water, and adults can actually run across a vat of this liquid, as has been done many times on television game shows and programs such as MythBusters.

(snip)

Cornstarch and water individually behave strikingly differently to the application of force than they do when mixed. With water, a normal liquid, the resistance to intruding objects is hundreds of times smaller. A bucket of dry cornstarch grains, meanwhile, exists in a jammed state courtesy of gravity, and slamming a rod into the bucket unjams the grains. With mixtures of cornstarch and water, the material starts out unjammed and blunt force drives it to jam locally.
As old as Clovis but not Clovis, the
Paisley caves in Oregon
provide more evidence of human habitation with DNA and stemmed points.
The radiocarbon dating of the Western Stemmed projectiles to potentially pre-Clovis times, (researcher) Jenkins said, provides new information in the decades-old debate that the two point-production technologies overlapped in time and may have developed separately. It suggests that Clovis may have arisen in the Southeastern United States and moved west, while the Western Stemmed tradition began, perhaps earlier, in the West and moved east.

One example, he said, is the discovery of Clovis points below Western Stemmed points at Hell Gap, Wyo. While this example suggests that Clovis was older in that location than Western Stemmed, the new Paisley Caves evidence indicates that Western Stemmed are at least the same age as Clovis (about 12,800-13,000 years old) in the northern Great Basin of Oregon — about 1,000 miles west of Hell Gap.
Bad news in the veterinary as two
chicken virus vaccines
are found to combine to form new viruses.
The vaccines were used to control infectious laryngotracheitis (ILT), an acute respiratory disease occurring in chickens worldwide. ILT can have up to 20% mortality rate in some flocks and has a significant economic and welfare impact in the poultry industry.

The research found that when two different ILT vaccine strains were used in the same populations, they combined into two new strains (a process known as recombination), resulting in disease outbreaks.

Neither the ILT virus or the new strains can be transmitted to humans or other animals, and do not pose a food safety risk.
Knucklehead's Photo of the Week
Six Line Wrasse
(with assorted corals)
©Knucklehead, all rights reserved. (Click on the image to see more in the same series.)
Other Worthy Stories of the Week
Fiery image shows life and death of stars in Vela C
Scientists confirm the first known 'middleweight' black hole
The mysterious case of the disappearing dust
Corals on the ocean-side are most susceptible to recent warming
New species of wirerush from the wetlands of New Zealand
Video: Solar eruption caught on camera
Peering into the heart of a supernova
The beauty of Vela C
Fossils of early human ancestor discovered in rock
Antarctica at risk from human factors
Poisons on public land put wildlife at risk
Ancient domesticated remains are oldest in southern Africa
Million-year storage solution is set in stone
Solar system ice: Source of Earth's water
For even more science news:
General Science Collectors:
Alpha-Galileo
BBC News Science and Environment
Eureka Science News
LiveScience
New Scientist
PhysOrg.com
SciDev.net
Science/AAAS
Science Alert
Science Centric
Science Daily
Scientific American
Space Daily
Blogs:
A Few Things Ill Considered Techie and Science News
Cantauri Dreams space exploration
Coctail Party Physics Physics with a twist.
Deep Sea News marine biology
Laelaps more vertebrate paleontology
List of Geoscience Blogs
ScienceBlogs
Space Review
Techonology Review
Tetrapod Zoologyvertebrate paleontology
Science Insider
Scientific Blogging.
Space.com
Wired News
Science RSS Feed: Medworm
The Skeptics Guide to the Universe--a combination of hard science and debunking crap
At Daily Kos:
This Week in Science by DarkSyde
Overnight News Digest:Science Saturday by Neon Vincent. OND tech Thursday by rfall.
Pique the Geek by Translator Sunday evenings about 9 Eastern time
All diaries with the DK GreenRoots Tag.
All diaries with the eKos Tag
A More Ancient World by matching mole
Astro Kos
SciTech at Dkos.
Sunday Science Videos by palantir
NASA picture of the day. For more see the NASA image gallery or the Astronomy Picture of the Day Archive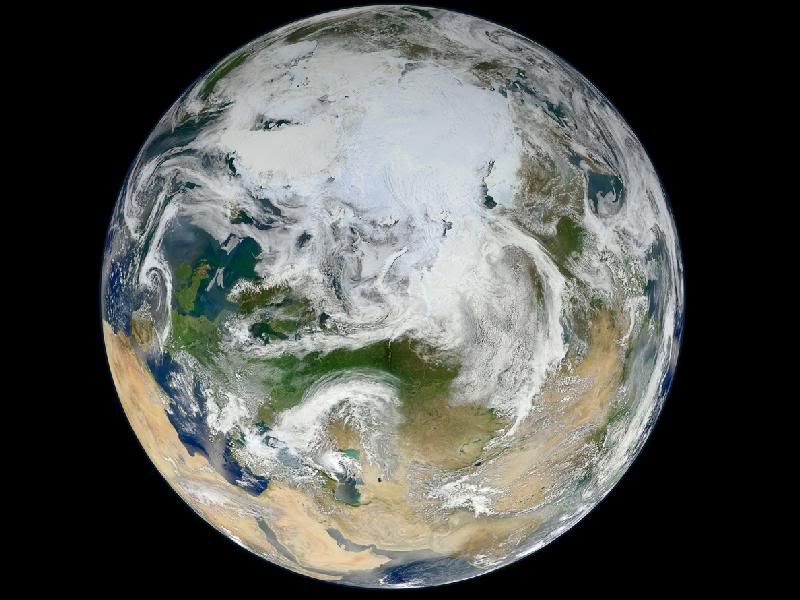 Earth, Arctic view, NASA, public domain