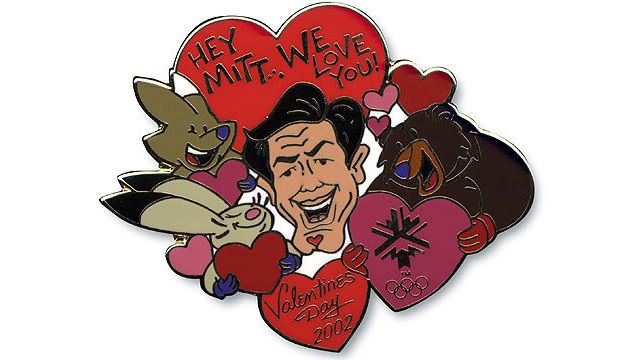 A toy company pays the 2002 Salt Lake Olympic Committee (SLOC) a million dollar licensing fee for the rights to produce and sell stuffed animal likenesses of the Olympic mascots.
The SLOC makes an honest mil, and children everywhere smile.
But when the CEO of the licencor is the CEO and owner of a company with an ownership stake in the licencee, and when both of those CEOs are named Mitt Romney, you know there is a bigger story there, and you know that things are about to get interesting.

September 25, 1999
By Jerry Springer
Desert News Staff Writer

Mattel To Bring Mascots to Life
Toymaker signs on as Licensee for 2002 Games

On Friday the Salt Lake Organizing Committee, announced that Mattel, the renowned maker of such toys as Barbie, Cabbage Patch Dolls, Chatty Kathy, and Hot Wheels, has signed on as a Games Licensee. The deal guarantees SLOC more than $1 million in advance payments from sales royalties.

"There is no better company than Mattel to help us bring the Olympic Mascots to life for children of all ages." Said SLOC President Mitt Romney.

Romney said SLOC was immediately drawn to Mattel because of the company's worldwide reputation and an existing distribution network rivaled by no other toymaker. "To have a toymaker of Mattel's stature is a great benefit" Romney said. "They are a premier manufacturer."
What Mitt Romney neglected to mention on September 25, 1999 was his own personal ownership stake in Mattel, and the not quite so plush and cuddly story behind it.
Below the orange indictment we'll help #retroactively restore the record.
Quick Version: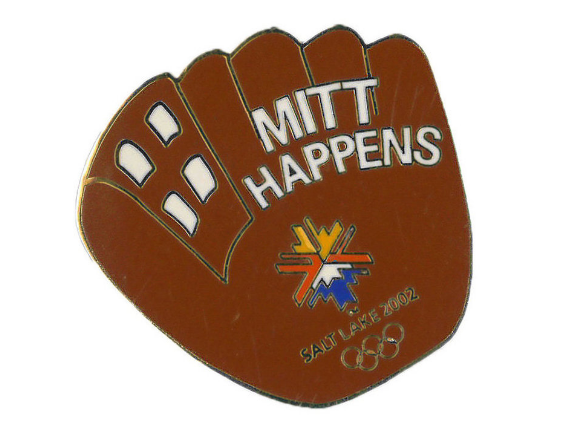 Short Version:
1997 Bain and others acquire principal stake in The Learning Company (TLC)
1998/12 Mattel Toys announces $3.8 billion purchase of TLC
1999/02 Romney leaves Bain for the Olympics
1999/05 Mattel/TLC Merger is completed
1999-2000 Mattel bleeds money
1999/09 Mattel signs on as sponsor for the Olympics
2000/02 Mattel CEO resigns over TLC debacle
2000/04 Mattel walks away from the near worthless wreckage of the The Learning Company
2001-2002 A whole bunch of cool Mitt Romney commemorative Olympic pins are released to the adoring public.
Long Version:
1980
The Learning Company is founded
1984
Bain Capital Inc. is founded. W. Mitt Romney is sole shareholder and controlling entity
1997/08/26
Romney and Bain to acquire stake in The Learning Company
Learning Co., the troubled software company, said it will retire $150 million in debt by issuing preferred stock to financiers Thomas H. Lee Co., Bain Capital Inc. and Centre Partners Management LLC... The financiers will pay about $123 million for the notes, then surrender them to Learning Co. for preferred stock.
http://articles.chicagotribune.com/...
Lee's contribution is $75m, Romney/Bain's is $28m and Centre's is $20m.
Romney/Bain's $28m is equivalent to 22.7%, which will be used below to determine their post-merger position in Mattel.
1997/12/12
SEC Filing
http://www.sec.gov/...Lee, Bain, and Centre Purchares will acquire common and preferred stock and seats on the TLC board of directors.
1998/12/14
Press Release
Toy maker Mattel today said it will acquire educational software maker the Learning Company for $3.8 billion in stock.
http://news.cnet.com/...
CNBC will later list this as
one of the 5 Worst Mergers of All Time
Mattel has remained a childhood staple for decades, and in 1999, it attempted to tap into the educational software market by scooping up almost-bankrupt The Learning Company (creators of great learning-is-fun games like Carmen Santiago & Myst).

Less than a year later, The Learning Company lost $206 million, taking down Mattel's profit with it. By 2000, Mattel was losing $1.5 million a day and its stock price kept dropping. The Learning Company was sold by the end of 2000, but Mattel was forced to lay off 10 percent of its employees in order to cut costs.

1998/12/15 - 1999/02/11
Mitt Romney, by virtue of his control of a seat on the board of directors of The Learning Company, either is or is not actively participating in the Mattel/TLC merger process. Any information about Romney's participation in the merger would be more than I have now, which is zero.

1998/12/22
This SEC 13D filing documents the acquisition of beneficial interest in Mattel by Lee, Bain, and Centre, notes their voting their shares in favor of the merger, and requiring them to maintain ownership of their shares until completion of the merger.

General statement of acquisition of beneficial ownershipAcc-no: 0000898430-98-004512 Size: 46 KB
(3)...the Lee and Bain Stockholders have agreed to vote the 572,315 shares of TLC Preferred Stock (convertible into 11,446,300 shares of TLC Common Stock) over which they have voting power in favor of the Merger Agreement

(4) ...the Lee and Bain Stockholders may not dispose of the [shares] that are directly held by them until the consummation of the Merger or the termination of the Merger Agreement.

1999/02/11
Mitt Romney is announced as CEO of the 2002 SLOC Olympic Games.
He remains sole owner, CEO, etc. etc. etc. of Bain Capital

Nevertheless,


Romney will have to sever ties with any companies that do business with the games. Bain Capital has ownership stakes in many companies and Romney serves on various boards of directors.Kristin Moulton, AP

1999/02/12 - 1999/05/13
This is the period between Romney's stepping on as CEO of the Olympics and the completion of the Mattel/TLC merger. The fundamental question for this three month period is: "Did Mitt Romney participate in Mattel/TLC merger process between February 12, 1999 and May 13, 1999?

1999/04/19
Mattel/TLC Joint Prospectus

1999/05/13
Mattel/TLC Merger is completed.

Mattel, Inc today announced that it has completed its merger with The Learning Company, and that The Learning Company is now a division of Mattel.
http://www.datamonitor.com/...

1999/06/22
This date brackets Bain ownership in Mattel as a 'key financial investor.' My source is secondary as linked in the blockquote. The uncited reference to the primary source is quote "On 6/22/99, Bear Stearns issued a report "Initiating Coverage" on Mattel by Jacobson."

Signs that The Learning Company Integration Is Going Smoothly. Investors continue to worry about the possibility of a [sic] unforeseen blow-up as Mattel moves to integrate The Learning Company, which was acquired in May 1999. We think these concerns are overdone.
...
Finally we also like that key financial investors in TLC, Thomas H. Lee Company, Bain Capital and Centre Partners, have 18 million Mattel shares and show no indication of wanting to sell. Looking at the long-term big picture, we are enthusiastic about the long-term implications of Mattels diversification-minded acquisitions, which should reduce the companys dependence on any one brand in the future. We would also note that TLC sell-through trends are picking up with sales in April up 25%, according to PC Data
http://www.whafh.com/...

1999/06/22
I think I now have enough information to estimate Romney/Bain's stake in Mattel based upon three factors:

the 18 million shares held by Lee/Bain/Centre above
Bains fractional ownership relative to Lee and Centre pre-perger = 22.7%(Lee:9,146,340;Bain:3,414,640;Centre:2,439,020;Total=15,000,000exact;)
Mattel closes at $24.14 on June 22, 1999

18,000,000 * 22.7% * $24.14 =

$98.6 Million

===

Another way to arrive at an estimate of Romney/Bain's position is as follows. SEC filings state that

approximately 126 million Mattel common shares were issued in exchange for all
shares of Learning Company common stock outstanding as of the merger date.

Romney/Bain at 22.7% of 18 million shares would hold about 4.1 million. Those 4.1 million represent about 3% of the 126 million shares noted above. The stock merger was noted to be values at about $2.8 billion. 3% of 2.8 billion is about 84 million, placing this estimate well within range of the $98.6 million tallied above.

1997/07/22
Mattel Press Release (as cited in SEC Filing)

"Our U.S. business was up 5 percent in the quarter, driven by
increases in Fisher-Price(R), American Girl(R), Mattel Media and The
Learning Company," Barad said.
...
"And, as we expected, The Learning Company is producing above average
growth in both revenue and margin, which was one of the reasons this
merger made so much sense for Mattel.
http://www.sec.gov/...

1999/08/16
Mattel releases report for the 2nd Quarter of 1999
(SEC Filing)

1999/09/25
The Salt Lake Olympic Committee and Mitt Romney announce that Mattel Toys has signed a contract as an official licensee for the 2002 Winter Olympics.

1999/12
Mattels loss for the 4th quarter is $184 million, "again primarily due to sales declines at The Learning Company." http://www.tuck.dartmouth.edu/...

2000/02/03
Jill E. Barad resigns as CEO of Mattel Toys

"There is nothing I can say to gloss over how devastating the Learning
Company's results have been to Mattel's overall performance. Because
there must be accountability, I and the board agree that I must resign today
as chairman and chief executive and from the board." – Jill E. Barad,
Former Mattel CEO, Conference call with analysts on February 3, 2000
http://www.tuck.dartmouth.edu/...

2000/04/03
Mattel to Ditch The Learning Company


Call it a learning experience. Mattel said today that it is looking to sell its interactive software unit, The Learning Company, which the toy maker had characterized as a distraction and blamed for disappointing 1999 earnings, less than a year after buying it. http://www.forbes.com/...

2001/08/08
"Are we there yet Mitt?" commemorative Olympic Pin released to the adoring public


2001/10/31
"Keep Pulling Mitt" commemorative Olympic Pin released to the adoring public


2002/01/01
"Happy New Year Mitt" commemorative Olympic Pin released to the adoring public


2002/02/14
"Hey Mitt, We Love You" commemorative Olympic Pin released to the adoring public.


Notes & Credits:
I took a moment this morning to look for any relation between Bain and sponsor Mattel. I quickly found this giant monster under the bed. I'm still not even close to understanding what this all means but getting the timeline out there will allow the dates and documents to be filled in as we go. I was going to credit an earlier diary for my inspiration, but on reread of that particular diary and its back-links I won't mention it at all.

Postscript:
The Olympic commemorative pins are authentic. I don't believe they were made by Mattel but by a different vendor. There's even one for sale on Ebay right now. Credit to many of the images here goes to Ken Bullock, who has this to say about them:


Ken Bullock scoffs at what he calls "the Superman" pin, which features Romney "with a Clark Kent chin," wrapped in an American flag.

"I don't know how to put words to describe how narcissistic they are," Bullock says.
http://www.npr.org/...

. If I'm using them without copyright permission the 2002 SLOC Olympics and Super Mitt are welcome to sue me.


8:52 PM PT: Re-worded title, to make it clear Bain owned part of Mattel, not the other way around.

Mon Jul 16, 2012 at 7:20 PM PT: I just found a secondary reference in a legal filing that references a 1999/06/22 Bear Stearns report noting Lee, Bain, and Centre as stakeholders. This is a key date, and a key fact.


Wed Jul 18, 2012 at 12:50 PM PT: Posting changes to the timeline.