In light of the tremendous sociopolitical stakes at play in reelecting Obama and pushing our country FORWARD, it's important to remain motivated and maintain a steely sense of resolve in bringing Tuesday, November 6 to a fruitful conclusion.
But that doesn't mean we can't celebrate a bit, so let's! There's a lot of good news to go around below the orange Mittbuster.
1. Obama "Firms" Ad Officially Viral: 1,000,000 Views in Two Days
0:18 gets me every time.
Why is the virality of "Firms" so important? Because it's a messaging coup-de-grace. You realize this isn't Nyancat or Justin Bieber's latest song. It's not entertainment by design. It isn't asking you to step into a slim jim. This is a political ad. A brutal, fist-pounding, ass-kicking, devastating, brass-knuckles-to-the-kneecap political ad that has made Mitt Romney look like a shallow, lip-serving hypocrite one million times and counting. Talk about effective messaging. We've already seen the blogosphere erupt in delight, but this stupendous and representative description of why by The Rude Pundit captures the reason in all its glory:
From "What Mitt Is Hiding: Rich Dicks Act Like Rich Dicks" cross-posted at Democratic Underground:

You can explain it all away as merely working within the law. But it sure as shit makes for an awesome commercial against you, like "Firms," the orgasm-inducing Obama ad that features singing Mitt. You need a cigarette and a towel after it because it's like getting your nipples pinched while your prostate is massaged. The point of the ad is that Romney can say he loves America, but only as an image, not when it counts.
Say that again,
1 million times
. And, by the way, Romney has yet to crack a million views on any video. Sheldon Adelson can shove that up his
ostensibly Foreign Corrupt Practices Act-violating ass
.
2. Sarah Palin Will Be Irrelevant in 3, 2, 1...
I took special joy this morning in seeing the Atlantic headline "Sarah Palin's Incredible Shrinking Act Is Almost Complete". I never took her seriously personally, but I've always recognized that, as a cultural lightning rod for the conservative base, she commanded more distractionary power than just about anyone. That woman is a monster, and I say that with all the seriousness of someone that doesn't believe in evil in the literal sense but makes an exception just for her.
Thus, this makes me happy:

Now, four months ahead of the election, she seems smaller than ever. The latest sign of her diminished political significance is that Palin hasn't even been invited to the Republican National Convention by Mitt Romney, Newsweek's Peter Boyer reports. But it doesn't appear that it's because she's too busy with other things. The chief of staff for her SarahPAC quit, ABC News' Shushannah Walshe reports, because he didn't have enough to do. Palin hasn't totally endorsed Romney and she hasn't done any campaign events for him, and the worst part is, hardly anyone's noticed. -The Atlantic
Good. Those words capture just how laughably pathetic she and her encroaching irrelevance are and always have been. I hope the LHC creates a Higgs field-induced small black hole that only Palin can see from her backyard. I bet no one would notice her absence. She no longer has any credible political mass anyway.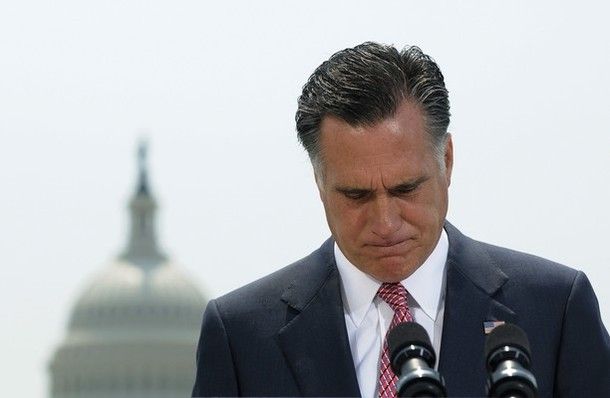 3. The Coming Bain Implosion


Can anyone else feel that? I'm talking about the wind from the fan that the shit is about to hit.
From "A Few Thoughts On Bain" via Ezra Klein:

2. The Romney campaign'€™s preferred defense is that after 1999, he was "€œsole stockholder, CEO, chairman, and president of Bain Capital"€ in name only, and therefore not responsible for any of the decisions made. I suspect this narrative will, in the long-run, prove worse for Romney than the narrative it'€™s trying to defend against.

...

4. What isn'€™t a mystery is why he isn'€™t releasing more of his tax returns now. As John Cassidy writes, "€œIt'€™s only fair to assume that Mitt is doing what he always does: acting on the basis of a careful cost-benefit analysis. [George] Will'€™s comments on this were spot on: "€˜The cost of not releasing the returns are clear,"€™ he said. "€˜Therefore, [Romney] must have calculated that there are higher costs in releasing them.""€

...

5. This is one of the most devastating attack ads I'€™ve ever seen:

[Insert Firms here]

...

8. ...As the former CEO of Bain Capital, he would have been credible on the economic argument in a way most politicians simply aren'€™t. As the first governor to successfully pass and implement a universal health care program in the United States, he would have been credible on the safety net in a way most Republicans simply aren'€™t. But rather than merging Bain and Massachusetts into one campaign, he'€™s running from both.

At the rate he's going, Mitt won't be running much longer for much of anything. Alright, perhaps that's an overstatement. Or maybe not. We don't know what's in those tax returns.
But we know Mitt will have to release those tax returns.
The reason is simple: something stinks. The only thing worse than a stench is not knowing where that stench is coming from, and this is finally a big enough stench and a big enough story that enough people are digging, and it's in everyone's best interest (the media included,
now that more readers are curious
) to
keep digging
. The Bain pain ain't going away (and the debut of The Dark Knight Rises, cruelly,
as a matter of pure word association
, won't help matters).
Mitt Romney is...(vote in the poll)

UPDATE

What better way to celebrate the 1 million views than to let Obama know we're proud of the feat? Click this link to tweet the following message:

Congrats to @BarackObama on its officially viral Firms video: http://youtu.be/.... ONE MILLION views in 2 days! :) #obama2012

UPDATE X2

LOL I just got back home and realize my previous URL had a SPACEFAIL! Sigh—just a single little space in the URL threw it off. Ah well, here's the fix:

By the way, top of Google News's Mitt Romney headlines is...Repubs are firing "friendly fire" to get Romney to release his taxes. Ooh baby!

UPDATE X3

Tonight's edition of Obama Nightly News (ONN) is up courtesy of Mets102. Go check it out! It's pure Town Halls/Elections/Firms deliciousness.
FINAL UPDATE

Alright, folks, I'm out of here for the night. Thanks for playing :)! I do want to run one more headline by you, because it shows that our celebration and elation shouldn't mask the real hard work that lies ahead to get our boy back in office. Money still matters, and even though Obama raised record amounts democratically via small indie donations through his campaign's ingenious and organized use of technology in 2008, this time around, there's this:

From Romney Victory Raises $140 Million, Exploits Campaign Finance Loophole


More than half of the $140 million came from just 1,355 individuals and political action committees, each giving more than $35,800 -- the maximum amount that can be transferred to the Romney campaign and the RNC. In total, these donors provided $72 million to Romney Victory, which included at least $24 million above the individual contribution limits of $5,000 to the Romney campaign and $30,800 to the RNC.

In other words, a little more than 1,000 people and groups gave about $55,000 EACH. That is not democracy at work! Our GOTV efforts this year will need to be super on point, then. And we should DONATE DONATE DONATE as much as we can to keep things as even keel as possible.
DONATE YOUR MONEY
.
DONATE YOUR TIME
. If you're jaded,
join ONN
.
GOOD NIGHT.