It occurs after a segment of his Hannity Interview that begins at the 23:47 Mark.


Hannity: What do you make of all the National Media attention in this case?
Yeah, you mean like giving a fawning national TV interview to a man whose facing charges of 2nd Degree Murder?
H: There are crimes that happen everyday.
As of today with yet another tragic Colorado shooting, that is true more than ever. P.S. Are you admitting here that George committed a "crime", or are you accusing Trayvon of something?
H: The nation is focused on your case, why do you think that is? ANd what does it mean to you?

Zimmerman: It's surreal. I don't like that they've Rushed to Judgement the way they have. I feel that anytime they have a story that's remotely positive they interpret it negatively.
Oh, so poor Georgie's legal problems are really just the result of that Darn Liberally Biased Media with all it's
facty questioniness
about why he didn't listen to the dispatch officer, why his claim that Travon came up from behind him, punched him causing to fall backward - and yet the two of them landed 20-30 feet
in the opposite direction
- why the audio forensic experts say the screaming for help
couldn't be his voice
, why the screaming stopped exactly when the gun went off when George claims at the time the gun went off Trayvon was trying to cover his mouth and suffocate him, yet if George was the one screaming for help to attract the police whom he knew were coming - and he didn't even know or realize that the gun shot had even hit Trayvon as he's repeatedly claimed even in this interview with Hannity - then why'd he stop?
Yeah, stuff like that.
How could anyone dare to consider and discuss all those contradictions out loud? Especially people like y'know - Police and Prosecutors who all think he's been lying this entire time.
But wait, there's more - over the flip.

Continued at 26:17

Hannity: There was a bounty put on your head by the New Black Panther Party. "Wanted: Dead or Alive".

Zimmerman: Yes sir.
Sean, buddy, pal - you do realize there are only like
five
of those guys right? And that they have nothing, NOTHING to do with the original Black Panther Party which was - at it's core - a 2nd Amendment Rights group?
Hannity: Even though no one had been arrested?

Zimmerman: Yes sir.

We all know that the issue at the time, after the 9-11 tapes had been released and we heard Zimmerman saying "They always get away" and 'F-ing Punks" that there was more to this than just a simple misunderstand gone tragically awry - hence the Media attention and hence the NBBP and their delusions of relevancy showing up.
Hannity: Do you feel threaten, do you feel your life is in danger?

Zimmerman: Yes sir.

H: By The Black Panther Party?

Z: Amongst others.

By the WHAT?? Sean, you know DAMN WELL that's a completely different group dude.
H: You've had multiple death threats?

Z: Yes sir.

Y'know what I consider a Death Threat? Putting something like this on the Wall of a Black Studies Building at Ohio State just a few weeks ago. (And this is an image that George had posted on his own website - the one that netted him $100 Grand and helped his wife wind up in jail for perjury after failing to disclose they had access to those funds in court and lying about the funds they did have.)
Doing this - on that building - isn't that far from lighting a cross on their lawn, or hanging noses in the trees or even - painting swastikas on the side of a synagogue.
George was Using THAT IMAGE to Fund raise for himself.
That was a Direct Threat - Long Live the Guy who Shot Down an Unarmed Black Teenager because y'know - He so clearly DESERVED IT.
Don't they all deserve it? All those "F-cking Punks" - who "Always get away" with it?
Think I'm going overboard with the Swastika reference? Ok, how about the defacing of this mural which was dedicated to President Obama.
This is only a few blocks from the "Long Live Zimmerman" graffiti by the way. Coincidence? Probably not.
And then let's not forget these which have been a hot selling item recently.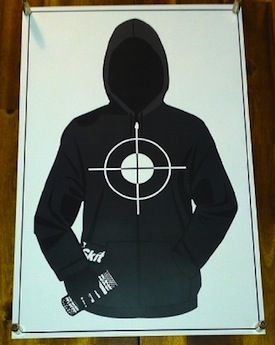 Tell me again how Georgie thinks he's the only one in danger,
Of course, Sean's gonna try.

Hannity: Look at what happened in this case because it became so public. Spike Lee is tweeting out what he thinks is your home address.
A trick he learned from Michele Malkin - no doubt.
H: The Reverend Al Sharpton and NBC News attempt to use this case to bring up the subject of Racial Profiling...

Uh huh, and how many unarmed dead white kids in hoodies do we have shot (or asphyxiated) by cops and cop wannabe's lately? Without blinking I can think of Kendrick McDade (whose mother I met recently when I did the artwork for a memorial T-Shirt for her Son who was mistakenly
shot by Pasadena Police
) Oscar Grant, Patrick Dorismon, Sean Bell, Jonny Gammage, Amadour Diallo, Ron Settles and Yula Love.
And that's not counting police shootings like this one.

And this one.

And this one.

When it comes to unarmed white kids all I can think of is SCOTT OLSEN and various kids who tried to #Occupy to restore their - and our - rights. Only they have been on the receiving end of the kind of police violence that used to be reserved exclusively for - The Black Panthers.
But then I digress.

H: What do you say people like Spike Lee - who don't know the facts of the case, they hadn't been revealed - what do you say to people like Al Sharpton and NBC News who Rush to Judgement - what do you say to them? What do you think their motives were?

Z: I can't guess to what their motives are...
Haven't got a clue have ya? What a surprise. Try Scrolling up a bit.
It's at this moment that things turn truly, what was that word - oh yeah - Surreal.

Zimmerman: I would just ask (of MSNBC, Spike Lee & Sharpton) - for an apology. If I did something that was wrong - I would apologize
If. You. Did. Something. that. was. wrong?
YOU KILLED AN UNARMED KID - you self-aggrandizing FRACKTARD.
Your actions and your actions alone led to his death. You followed him when you shouldn't and were told not to, you set conditions into motion - you had several opportunities to disengage and let the cops handle it - but you didn't. Frankly, there was nothing to handle, Travon was the one being stalked and harassed - HE HAD EVERY RIGHT TO STAND HIS GROUND! But you - You Pulled The Trigger.
Your defense is that he was kicking your ass? You deserve to get your ass kicked. You were convicted of attacking an undercover cop. Fired from you job as a bouncer for violently throwing a woman against a wall.
And now you think Spike Lee, Al Sharpton and MSNBC have wronged you? That they should apologize to you?
Is it Al Sharpton who prompted the No Confidence Vote in the Sanford Police Chief who didn't arrest you that night which led to his being fired?
Did Spike Lee do the wrong thing here somehow?
PLEASE!
I don't think so. Spike and Al have free speech rights - just like Sean Hannity. They talked, sometimes off the cuff - But It's JUST. TALK. They didn't kill someone - you did.
At this point they begin discussing "Witness #9" the apparent cousin of George's who claims that he's been a racist for along time, and also that he sexually molested her for years.

Z: The FBI cleared me of racial profiling in this case. It's ironic that the one person they could find to accuse me of anything racist, is also accusing me of this...

Yeah, that is ironic - it's also a LIE.
One of Zimmerman's former co-workers reported to Prosecutors that George Racially Taunted Him Repeatedy and Incessantly.

For the amusement of co-workers, Zimmerman repeatedly teased the witness, who is Middle Eastern, about his race, calling him "Achmed the terrorist" and making other remarks connected to bombs, terrorism and murder, as well as repeatedly calling him a "fucking moron."

"I tried to ignore it. It was like, middle school, high school humor, but he was going on and on and on for days and days," the witness said during the 15-minute interview. He testified that Zimmerman singled him out because he was "an easy target" because of his race and because of Zimmerman's eagerness to fit in with the other workers.
So yet again we have a case of another self-serving Zimmerman lie.
It's not the first, it won't be the last.
After discussing with George his advocacy on behalf of a Black Homeless Man who had been attacked by an off duty police officer - yay, good for ya Georgie - that happens to be a case that was discussed by former MSNBC Host Keith Olberman on the CurrentTV version of Countdown (while it was still on the Air)

Jealous: 2005, two men, security guards with connections to this police department, one a weekend volunteer police officer the other with family on the force, kill an unarmed black man and ultimately get away with murder.

Then in 2010, caught on video tape - it made national news - the son of a Lieutenant on this force jumps a black homeless man, beats him up and serves no jail time
A lot of people protested that case, a lot people thought
there should have been an arrest when there wasn't
. (Wow, how familiar that feels to something else that people have been 'Rushing to Judgement" on.. hmmm what was it again?)
George's reaction wasn't unique there. It was exactly like how people have reacted to his own case Maybe he thinks he shoulda got a medal? Might go well with that 20 Year Sentence.
Does his prior advocacy in favor of arresting a cop who rabbit punched a homeless black man prove that George couldn't possibly have been motivated by racial fears and projection when he decided to wrongly report a "suspicious teen in a hoodie" in the area, follow him, stalk him, then kill him?
Not to me. Not to Detective Serano. Not to the Prosecution. Not hardly to anyone paying real attention I would suspect.
Vyan