Denial is a funny thing -- it is typically an assertion of fact, without convincing "factual" proof to back it up.
Denial is often more about creating confusion about "Facts" -- than actually finding them.

Why would any Corporate entity intentionally "create confusion"?
In a word: Profits. In two words: Easy Money.

But Denial doesn't exist in a vacuum. The agents of Denial "create confusion" for reason.
In a word: Funding. In two words: Easy Money.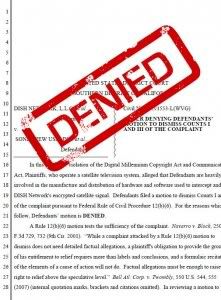 [Image Source: satscams.com -- Sonicview Motion to Dismiss denied ]



Here are a few examples of what makes the agents of Denial do what they do ...
The Heartland Institute, according to the Institute's web site, is a nonprofit "think tank" that questions the reality and import of climate change [...]

Exxon contributions include:

$30,000 in 1998;
$115,000 in 2000;
$90,000 in 2001;
$15,000 in 2002;
$85,000 for General Operating Support and $7,500 for their 19th Anniversary Benefit Dinner in 2003;
$85,000 for General Operating Support and $15,000 for Climate Change Efforts in 2004; and
$119,000 in 2005; and
$115,000 in 2006.

While Heartland once disclosed its major supporters, it now refuses to publicly disclose who its corporate and foundation funders are.
The American Petroleum Institute (API), is the largest trade association for the oil and gas industry, claiming to represent around 400 corporations engaged in oil production, extraction (including hydrofracking), distribution, and other aspects of the industry. API is based in Washington, D.C. and has offices in 27 state capitals. [3]

API is a powerful lobby, spending around $7.3 million on lobbying each year in 2010 and 2009, and spending $6.3 million in 2011. [1]
[...]

Questioning global warming

An API "Communications Action Plan" from 1998 stated: "Victory will be achieved when ... citizens 'understand' uncertainties in climate science ... [and] recognition of uncertainties becomes part of the 'conventional wisdom.'" [18]
Hmmm ... sounds like a confusing, "hollow victory" ...
as "conventional" as
it may now be?
The American Enterprise Institute for Public Policy Research (AEI) is an extremely influential, pro-business, conservative think tank founded in 1943 by Lewis H. Brown. It promotes the advancement of free enterprise capitalism[1], and succeeds in placing its people in influential governmental positions. It is the center base for many neo-conservatives.
[...]

Casting Doubt on Global Warming

In February 2007, The Guardian (UK) reported that AEI was offering scientists and economists $10,000 each, "to undermine a major climate change report" from the United Nations Intergovernmental Panel on Climate Change (IPCC). AEI asked for "articles that emphasise the shortcomings" of the IPCC report, which "is widely regarded as the most comprehensive review yet of climate change science." [...]

The Guardian reported further that AEI "has received more than $1.6m from ExxonMobil, and more than 20 of its staff have worked as consultants to the Bush administration. Lee Raymond, a former head of ExxonMobil, is the vice-chairman of AEI's board of trustees," added The Guardian. [8]
Just because the agents of Denial are
very effective
at what they do, does not make what they say and do -- "
Right
" ... either economically or morally.
Someone has to pay for the hidden costs
that Denial ignores, both in the short and the long runs.
Newsweek -- Aug 12, 2007
Sen. Barbara Boxer had been chair of the Senate's Environment Committee for less than a month when the verdict landed last February. "Warming of the climate system is unequivocal," concluded a report by 600 scientists from governments, academia, green groups and businesses in 40 countries. Worse, there was now at least a 90 percent likelihood that the release of greenhouse gases from the burning of fossil fuels is causing longer droughts, more flood-causing downpours and worse heat waves, way up from earlier studies. Those who doubt the reality of human-caused climate change have spent decades disputing that. But Boxer figured that with "the overwhelming science out there, the deniers' days were numbered." [...] A conservative think tank long funded by ExxonMobil, she told Boxer, had offered scientists $10,000 to write articles undercutting the new report and the computer-based climate models it is based on. "I realized," says Boxer, "there was a movement behind this that just wasn't giving up."
[...]

Just last year [2006], polls found that 64 percent of Americans thought there was "a lot" of scientific disagreement on climate change; only one third thought planetary warming was "mainly caused by things people do." In contrast, majorities in Europe and Japan recognize a broad consensus among climate experts that greenhouse gases—mostly from the burning of coal, oil and natural gas to power the world's economies -- are altering climate. [...]

(pg 3)

"There was an extraordinary campaign by the denial machine to find and hire scientists to sow dissent and make it appear that the research community was deeply divided," says Dan Becker of the Sierra Club. Those recruits blitzed the media. Driven by notions of fairness and objectivity, the press "qualified every mention of human influence on climate change with 'some scientists believe,' where the reality is that the vast preponderance of scientific opinion accepts that human-caused [greenhouse] emissions are contributing to warming," says Reilly, the former EPA chief. "The pursuit of balance has not done justice" to the science. Talk radio goes further, with Rush Limbaugh telling listeners this year that "more carbon dioxide in the atmosphere is not likely to significantly contribute to the greenhouse effect. It's just all part of the hoax." In the new NEWSWEEK Poll, 42 percent said the press "exaggerates the threat of climate change."
[...]

(pg 4)

The GOP control of Congress for six of Clinton's eight years in office meant the denial machine had a receptive audience. Although Republicans such as Sens. John McCain, Jim Jeffords and Lincoln Chafee spurned the denial camp, and Democrats such as Congressman John Dingell adamantly oppose greenhouse curbs that might hurt the auto and other industries, for the most part climate change has been a bitterly partisan issue. Republicans have also received significantly more campaign cash from the energy and other industries that dispute climate science. Every proposed climate bill "ran into a buzz saw of denialism," says Manik Roy of the Pew Center on Climate Change, a research and advocacy group, who was a Senate staffer at the time. "There was no rational debate in Congress on climate change."

The reason for the inaction was clear. "The questioning of the science made it to the Hill through senators who parroted reports funded by the American Petroleum Institute and other advocacy groups whose entire purpose was to confuse people on the science of global warming," says Sen. John Kerry. "There would be ads challenging the science right around the time we were trying to pass legislation. It was pure, raw pressure combined with false facts." [...]
Corporate Profits
should not be
the end-all-be-all of Human Events. Especially when unchecked Corporate activities have adverse and negative impacts on Human Lives. In either the short, or long runs.
Protecting Human Lives should be much more important than protecting Corporate Profits.
If any truths were inherently
"self-evident"
that one certainly should be. That,
Human Life is much MORE important than Corporate Profits
.

Occasionally our self-governing leaders, skirt around the edges of these "self-evident" truths ... only to end up with a confusing and cloudy conclusions ... with respect to the actual facts, or the corrective actions that must be taken.

REP. WAXMAN: The meeting of the subcommittee will come to order. I'd like to ask our guests to please take your seats. This is an historic hearing. For the first time ever, the chief executive officers of our Nation's tobacco companies are testifying together before the U.S. Congress. They are here because this subcommittee has legislative jurisdiction over those issues that affect our health. And no health issue is as important as cigarette smoking. It is sometimes easier to invent fiction than to face the truth. The truth is that cigarettes are the single most dangerous consumer product ever sold. Nearly a half million Americans die every year as a result of tobacco. This is an astounding, almost incomprehensible statistic. Imagine our Nation's outrage if two fully loaded jumbo jets crashed each day, killing all aboard. Yet that is the same number of Americans that cigarettes kill every 24 hours. [...]

For decades the tobacco companies have been exempt from the standards of responsibility and accountability that apply to all other American corporations. Companies that sell that sell aspirin, cars, and soda are all held to strict standards when they cause harm. We don't allow those companies to sell goods that recklessly endanger consumers. We don't allow them to suppress evidence of dangers when harm occurs. We don't allow them to ignore science and good sense. And we demand that when problems occur, corporations and their senior executives be accountable to Congress and the public. [...]
Hearing on the Regulation of Tobacco Products
House Committee on Energy and Commerce Subcommittee on Health and the Environment
April 14, 1994

Of course "unaccountable" Corporate CEOs get paid exorbitant salaries to ALWAYS place importance of Corporate Profits above -- WAY ABOVE -- the importance of Human Life. In both the short, or long runs.
Even when CEO's are compelled to speak and testify in what amount to an indelible "permanent record" -- Corporate CEOs will still cling to their Denial, and still intentionally "create confusion," instead of speak the simple, obvious, scientific truth.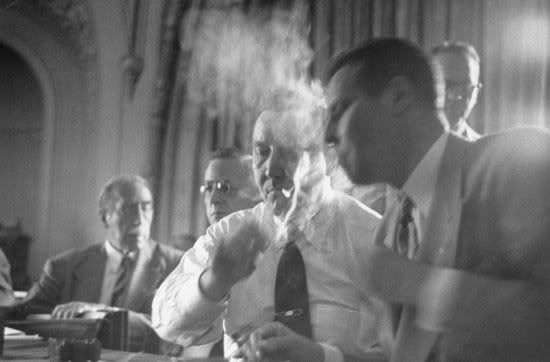 [Image Source: lefteyeonthemedia.wordpress.com -- Landmines And Witch Hunts]
Afterall there are Corporate Profits at stake. And their own personal salaries too. Factual Obfuscation -- that is why they get paid the Big Bucks!
"Smoking is a personal choice is it not?" is the rationalization that comforts the soulless CEO. Since in their tunnel-vision world -- "their Denial of Facts" -- HAS NOTHING TO DO WITH IT; Neither, the long-term harm their Corporations cause ... "What about the role of personal responsibility?"

And so the Denial just rolls, so easily, off their tongues:

Congressional Hearing Transcript:

REP. RON WYDEN: Let me begin my questioning on whether or not nicotine is addictive. Let me ask you first, and I'd like to just go down the row, whether each of you believes that nicotine is not addictive. I heard virtually all of you touch on it. Yes or no, do you believe nicotine is not addictive?

MR. WILLIAM CAMPBELL
I believe nicotine is not addictive, yes.

REP. RON WYDEN: Mr. Johnston?

MR. JAMES JOHNSTON
Mr. Congressman, cigarettes and nicotine clearly do not meet the classic definition of addiction. There is no intoxication.

REP. RON WYDEN: We'll take that as a "no." Again, time is short. I think that each of you believe that nicotine is not addictive. We would just like to have this for the record.

MR. JOSEPH TADDEO
I don't believe that nicotine or our products are addictive.

MR. ANDREW TISCH
I believe that nicotine is not addictive.

MR. EDWARD HORRIGAN
I believe that nicotine is not addictive.

MR. THOMAS SANDEFUR
I believe that nicotine is not addictive.

MR. DONALD JOHNSTON
And I, too, believe that nicotine is not addictive.



Hearing on the Regulation of Tobacco Products

Witnesses:

William Campbell, President & CEO, Philip Morris, USA
James W. Johnston, Chairman and CEO, RJR Tobacco Company
Joseph Taddeo, President, U.S. Tobacco Company
Andrew H. Tisch, Chairman and CEO, Lorillard Tobacco Compnany
Edward A. Horrigan, Chairman and CEO, Liggett Group Inc.
Thomas E. Sandefur, Chairman and CEO, Brown and Williamson Tobacco Corp.
Donald S. Johnston, President and CEO, American Tobacco Company

Chaired by: Henry Waxman (D-CA)

Corporate Denial doesn't exist in a vacuum. The agents of Denial "create confusion" for reason.
In a word: Profits. In THREE words: Insanely Easy Money.

But we, the Human Lives negatively impacted by such Corporate Denial, must find the wherewithal to somehow answer back:
We believe that Corporate Denial should not be just accepted, as a Fact of Life.

That Corporate Profits -- as a sole guiding principle -- be held to account. Or at minimum be seriously taxed and regulated. Amounts to be based on the actual facts, in evidence. Both in the short, or long runs.