In lineatus' honor I thought I would borrow her sometime habit of incorporating song titles in diary titles. This is the start of lineatus' (hopefully not too long) hiatus from Dawn Chorus. A variety of volunteers, including your humble servant typing this, will be posting diaries in her stead. More detail on this at the end. Now on with the birds.
This is a Florida Scrub Jay. It is a member of a family owned business that is struggling in these tough economic times.

So what the heck did I mean by what I wrote above? You'll just have to wait and see. Aside from being an attractive bird and very tame and easy to watch, Florida Scrub Jays have a number of points that make them particularly fascinating.

They are the only eastern representative of a group of jays (the genus
Aphelocoma
)that is widespread in the southwestern US and Mexico. The Florida Scrub Jay only occurs in central and south Florida and the nearest populations of other species are in the hill country of central Texas.
So why are FSJs only found in a small part of the world far away from any of their kin? The reason for the odd geographic distribution is the changing climate since the last ice age. The southeastern US was much drier in the past and many arid environment organisms were found here a few thousand years ago. As the climate became less arid most of these species vanished from the southeast. The exception to this is the interior oak scrub habitat of Florida. This is an upland (to the extent that the word upland can be applied to Florida) habitat with extremely sandy soil, derived from sand dune in ancient coastal areas. The Florida Scrub Jay is restricted to this environment and is Florida's only endemic (found nowhere else) bird. At least four species of reptile (Florida worm lizard, sand skink, Florida scrub lizard, and short-tailed snake) and one species of mammal (Florida mouse) are also endemic to this habitat as well as numerous plants and insects. See this link for more info on the scrub habitat.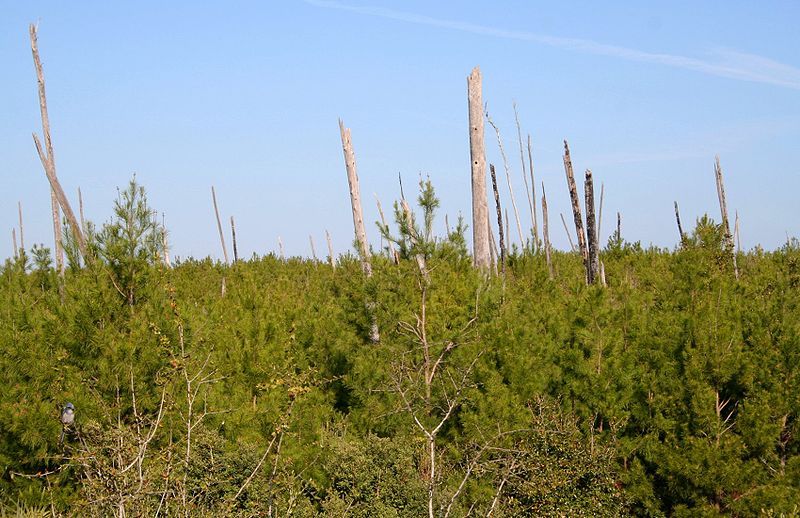 Juniper Prairie Wilderness in the Ocala National Forest. An example of Pine Scrub, one of several scrub habitats Photo from Wikimedia Commons

Coastal Scrub Habitat, similar in appearance and only a few miles from the bird photos' location
The FSJ's habitat is similar in structure to the chaparral type habitats favored by its western relatives. It is completely restricted to this habitat and occurs nowhere else. Unfortunately humans also like to build housing developments in dry upland parts of Florida and the FSJ's habitat has been shrinking with the explosion of the human population of the central and southern parts of Florida. The fidelity of Scrub Jays to the scrub habitat and the shortage of that habitat has led to the evolution of the FSJ's most notable characteristic: cooperative breeding.

Cooperative breeding (in birds often called helpers-at-the-nest) refers to a situation in which individuals other than the parents participate in the care of the offspring. Although the nature of the social group varies from species to species typically members of the group are close relatives. As more and more research has been done, cooperative breeding has been discovered in many species. An exhaustive review of patterns of parental care in birds by Australian biologist Andrew Cockburn in 2006 found that about 9% of bird species were cooperative breeders (
link
to table of number of species by bird family). I haven't delved in Cockburn's methodology in detail but a perusal of the massive table of individual species (available in the supplementary data as a pdf file) leads me to believe that he is including species as cooperative breeders if they have ever been known to exhibit this behavior. He includes widespread and well known species such as Merlin, Peregrine Falcon, and Western Scrub Jay for example which to my knowledge are not known to regularly exhibit cooperative breeding.
Three species of North American cooperative breeders have been the subject of intensive long term study of their social systems. They are the Mexican/Gray-breasted Jay studied in Cave Creek Canyon in the Chiricahua Mountains of Arizona by Jerram Brown, the Acorn Woodpecker (written up by lineatus in Socialist Pecksticks) studied at the University of California's Hastings Natural History Reservation by a series of ornithologists but most notably by Walter Koenig (not the Star Trek actor) and colleagues, and finally the Florida Scrub Jay, studied originally by the late Glen Woolfenden at Archbold Biological Station in Florida.
Acorn Woodpeckers social groups have communal nests in which multiple females (having mated with multiple males) lay eggs. Mexican Jays live in large social groups that defend territories in which multiple monogamous pairs of birds will nest and non-breeding members of the group will help out at particular nests.

Mexican Jay. Photo from Wikimedia Commons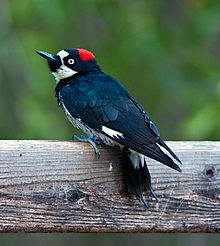 Acorn Woodpecker. Photo from Wikimedia Commons
Florida Scrub Jays have the simplest social system of the these three species. Monogamous pairs maintain territories and are assisted in parental care by a variable number of non-breeding adult birds. The driving force behind cooperative breeding in this species is thought to be the lack of suitable habitat for young birds to move into and start their own breeding territories. Even before human development there was a very limited amount of scrub habitat and it was generally full of scrub jay territories. A young pair of jays, looking to make a start on their own, faced dismal prospects. Studies showed that birds that tried to establish new territories were generally in suboptimal habitat and not very successful.

In a situation that somewhat spookily mirrors our own economic situation, the best option for adult offspring of FSJs is to stay home with the parents. By helping mom and dad they may result in the production of more brothers and sisters than would otherwise be the case. In evolutionary terms an extra sibling is just as good as an offspring. Then when mom and dad eventually shuffle off this mortal coil, junior is well positioned to take over the territory. Unlike the 'socialism' of the Acorn Woodpeckers, cooperative breeding in the FSJ is more like a family owned small business.
I hope this wasn't too long and technical. I know I have tendencies that way. But hopefully the inherent interest of the story makes up for any flaws on the part of yours truly.

Now for the business portion of our diary. Below is the schedule and some other information generated in last week's diary. As you can see we have a solid schedule for over two months in advance. There is also a list of additional volunteers to be added to the schedule at their pleasure. Last week Angela Jean also made the excellent suggestion of using google docs and creating a google group to ease the joint organization of this group. Unfortunately I have been absolutely slammed at work and haven't had time to follow up on that. In fact I'm going to be either quite busy or away for most of the next month. If any of the other admins want to take the lead on this I say have at it. Or taking action can wait for a month, as we have a full schedule for the immediate future.
Current Schedule
July 22 - matching mole (unless someone else wants it)
July 29 - matching mole (unless someone else wants it)
August 5 - Kestrel
August 12 - Kestrel
August 19 - SallyCat
August 26 - Tyto Alba
September 2 - Angela Jean
September 9 - SallyCat
September 16 - cardinal
September 23 - Kestrel
September 30 - matching mole (unless someone else wants it)
I have the following people on a list to do diaries at some point in the future. Given the schedule at the moment there isn't a lot of urgency about signing up. But if anyone is itching to write something in the near future let us know and we can probably get you in.
I will be happy to give up a diary slot if there is another volunteer itching to write. I'm also posting the schedule of Sundays through to Thanksgiving. Not that we need to be thinking that far ahead but if someone is looking for a far off time then this makes it a bit easier to do that. If you want to sign up just leave a comment or kos mail me and I will add you to the list and/or schedule.
Cali Scribe, tgypsy, quill, Ebby, olivia, enhydra lutris, and BCO gal

October 7 - Kestrel
Oct. 14
Oct. 21 - SallyCat
Oct. 28 - Kestrel
Nov. 4 - Polly Syllabic
Nov 11 - tygypsy (possibly the next week as well or instead)
Nov 18
Nov 25