A close relative used to own an extremely successful business in a major U.S. city that catered to the wealthiest people, organizations and businesses. She would often tell me stories about the difficulties she encountered dealing with some* (see update) wealthy people and how self-centered and rude they were. They were also the people who tried to bargain down the price of her high-quality services, and the ones she had the most difficult time collecting payment from in a timely manner after those services were delivered. I thought about her characterization of "some of these wealthy people" when I read this piece by Paul Krugman:

"Let me tell you about the very rich. They are different from you and me." So wrote F. Scott Fitzgerald — and he didn't just mean that they have more money. What he meant instead, at least in part, was that many of the very rich expect a level of deference that the rest of us never experience and are deeply distressed when they don't get the special treatment they consider their birthright; their wealth "makes them soft where we are hard."

(snip)

Anyway, what's now apparent is that the campaign was completely unprepared for the obvious questions, and it has reacted to the Obama campaign's decision to ask those questions with a hysteria that surely must be coming from the top. Clearly, Mr. Romney believed that he could run for president while remaining safe inside the plutocratic bubble and is both shocked and angry at the discovery that the rules that apply to others also apply to people like him. Fitzgerald again, about the very rich: "They think, deep down, that they are better than we are."
Update*: The person I was talking about in this opening paragraph, has admonished me and requested a correction: "If it is me you are referring to, I only wish you had said "some" rich people. Not all of them are rude and difficult. Many are kind and extremely generous. Large generalizations such as the wording in your first paragraph are not helpful, and hurt all those who live in the many grey areas in-between." She is correct, and Krugman also pointed out and I quoted at the end of this diary: "There are plenty of very rich Americans who have a sense of perspective, who take pride in their achievements without believing that their success entitles them to live by different rules."
Mitt Romney doesn't want to play by the rules other candidates (including his own father) have played by for years because he doesn't think he has to and he's never really had to before. When Ann Romney went on television the other morning and said "we've given all
you people
need to know," she was expressing the indignation that both she and her husband feel. Perhaps, Mrs. Romney was just having a bad day, and only needs a course in
Anger Management
.
Probably not. It is more likely that when the Romneys were asked to release more of their income taxes, they said no. In the bubble that is the world they live in, they believe that should be the end of it. They are not accustomed to having their decisions questioned.
Mitt Romney defines himself as a wealthy, successful businessman, ex-Governor and savior of the 2002 Olympic Games. His strategy for the presidential election is simple: demonize President Obama for the state of the current economy. He thinks he doesn't have to worry about personal attacks because they can be easily overcome by his using his exorbitant, overflowing war chest to flood the airwaves with negative attack ads. That strategy worked in the primaries, and so it should work against President Obama. So as Krugman pointed out, he is "completely unprepared for the obvious questions" because he doesn't think he needs to answer the questions. He just needs to keep talking about the economy.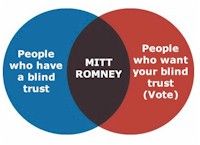 Romney won't release his taxes because he thinks doing so would be worse than keeping them a secret. He also won't provide details of his plans to save the economy because doing that would give ammunition to the Democrats to use against him. "Don't ask the CBO or the Joint Tax Committee to evaluate Romney's plan, because they refused to even try. It's too fuzzy." Romney's plea for votes boils down to asking you to trust him because he has plans and he can do a better job than President Obama. You just have to trust him.
There are members of the right-wing who hate President Obama so much that they are going to vote for any one who is "not President Obama." Mitt Romney has those votes in the bag. So it's curious that when pressure started mounting from conservatives that he release more of his income tax returns, he continued to adamantly refuse to do it. Instead, he decided to change his strategy.

But now that the murmur had built itself into a din, the Romney camp finally acted. Its initial response, however, was a little lacking: Romney's team indicated that it was poised to go "full Breitbart" and resurrect the old, wild-eyed nonsense of the 2008 campaign. The name "Tony Rezko" got dropped on a conference call. Campaign surrogate John Sununu got deep into the Dinesh D'Souzan weeds, calling Obama un-American. The Romney camp seemed, for a time, to be genuinely poised to unleash a barrage of negativity -- the kind that frosts the affections of independent voters. As Kevin Drum put it:


"Operation 'Piss Off Mitt' Seems to be Working."

Obama is unquestionably running a tough campaign, but if Romney is losing his cool over questions about his taxes and his stewardship of Bain Capital, he's just showing he's not ready for the big leagues. Wild countercharges about Obama's teenage drug use will only confirm that. It's obvious that Obama is hoping to get under Romney's skin and provoke him into doing something stupid, and right now it looks like Romney may be about to take the bait.

Mitt Romney Searches For A Hit, Scores On An Error: The 2012 Speculatron Weekly Roundup For July 20, 2012
Responding to calls to release his taxes by doing things that appeal to the people who are already going to vote for him demonstrates that Romney is clueless. So Krugman may be on to something with the conclusion of his opinion piece.
O.K., let's take a deep breath. The truth is that many, and probably most, of the very rich don't fit Fitzgerald's description. There are plenty of very rich Americans who have a sense of perspective, who take pride in their achievements without believing that their success entitles them to live by different rules.

But Mitt Romney, it seems, isn't one of those people. And that discovery may be an even bigger issue than whatever is hidden in those tax returns he won't release.
Romney is not prepared to campaign in the same world that all other politicians campaign in. He doesn't think he has to because of the privileged life he has lived. He will try to buy the election with his huge cash advantage, but as any good business person knows, when you have a flawed product no amount of advertising dollars is going to increase your sales.