An amiable ramble through photos from a pleasant trip to a socialist city…
Follow me over the fleur-de-Kos if you have the bandwidth.
Musée McCord
Tall Papa and I enjoy "city museums," museums dedicated to the city that they are in. These often combine geology, history, ethnography and a variety of other approaches to the human nexus we call a city. Montréal, as an excellent city, has a city museum that happily was four blocks from the venue for my husband's meeting so we spent several hours there.
McCord has several free apps - this is for their urban museum app, which lets you take a self-paced tour around the city. Each circle on the sidewalk matches to an entry in the app.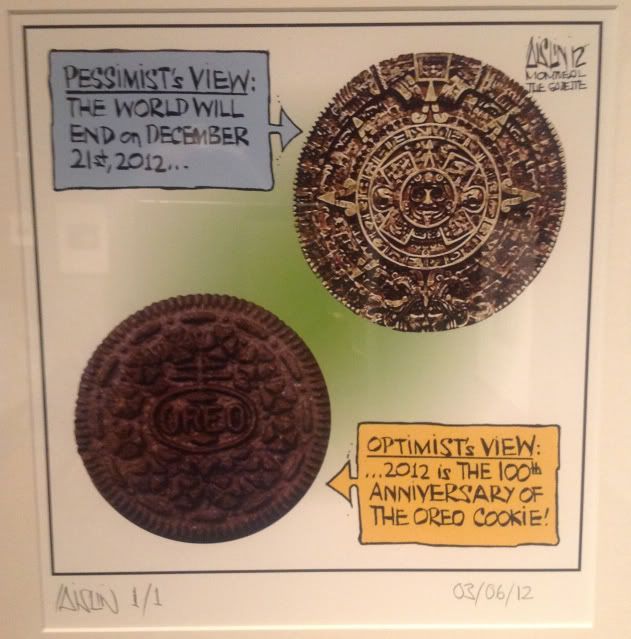 One of the rotating exhibits was of cartooning, organized around several motifs such as political commentary and the end of the world. This one amused me.




















There were ethnographic exhibits from before the European presence. This picture was taken with the panorama app and the orientation locked so that I could use it upwards.
Outside the museum and run by it is an urban forest, an entire block turned over to the use of children for the summer, with carpet on the pavement and purple "trees."
Christ Church Cathedral
This Anglican cathedral is the "new" one (built mid-nineteenth century after the old one burned down).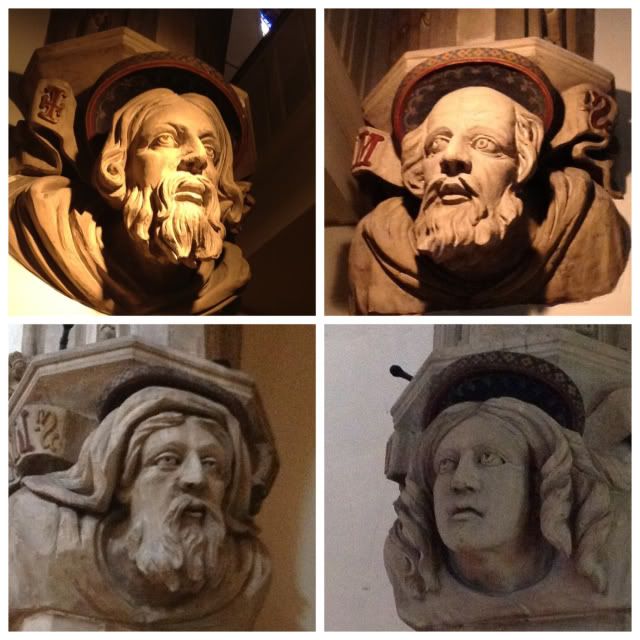 The four evangelists keep an watchful eye from the four corners of the church.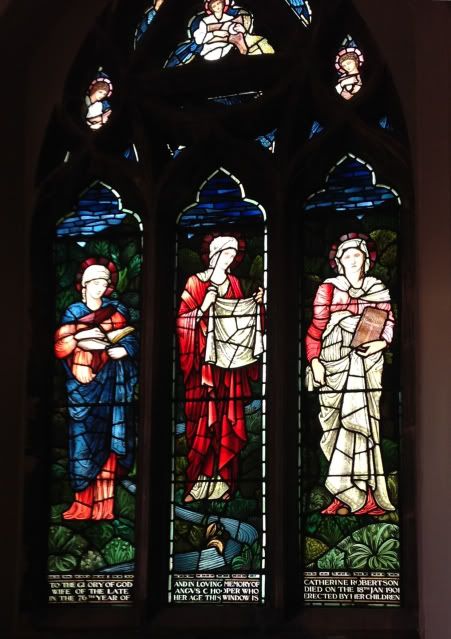 Most of the stained glass windows go back to the nineteenth century.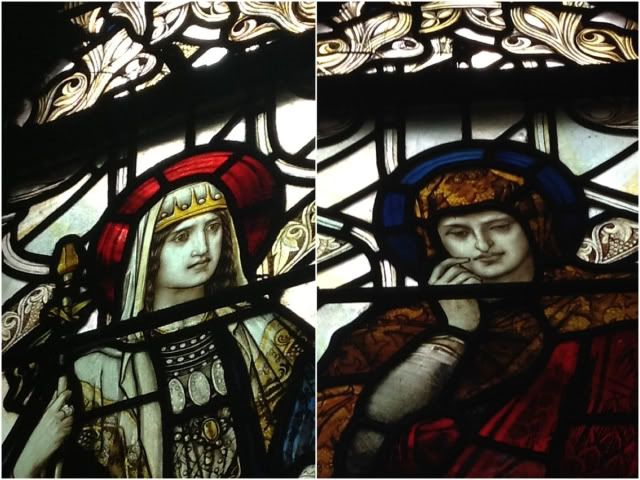 Some, like the windows of St. Joseph and St. John that these are taken from, are by William Morris.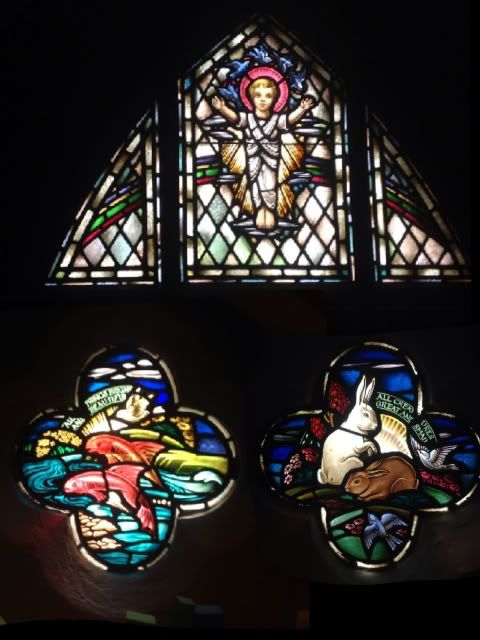 The Children's Chapel, about ten feet square, is repurposed from the Queen's Door because, as the guide said, she doesn't need a door of her own.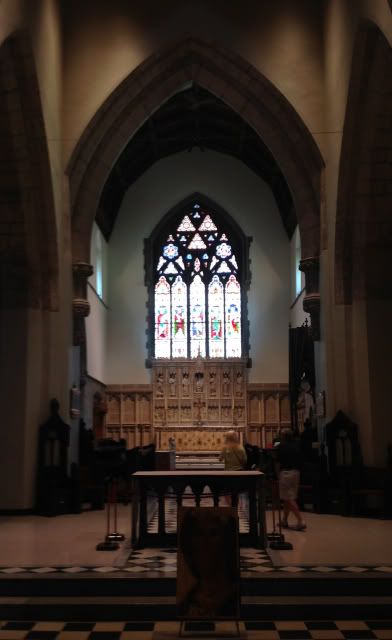 The high altar - its reredos has Canadian and military associations as it was built after WWI.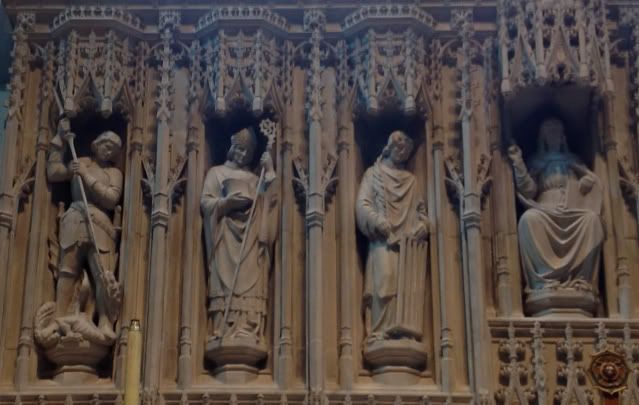 St. George, St. Alban and St. Lawrence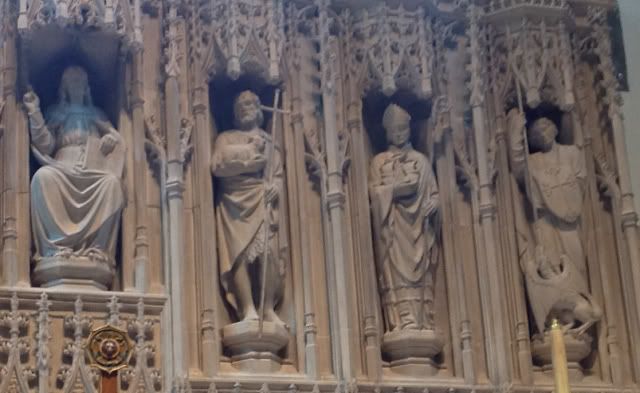 St. John the Baptist, St. Nicholas (patron of sailors) and St. Michael
A banner affirming solidarity and equality - the Anglican Church of Canada has been doing same sex marriages for a while now.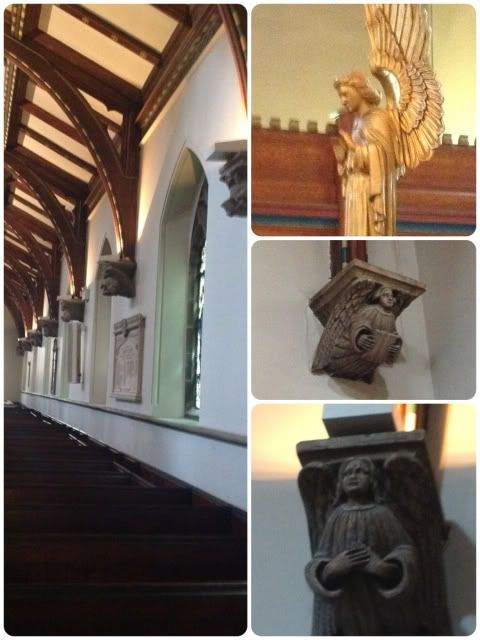 A few of the 148 angels in the cathedral. The bishop who built it liked angels.
Montréal Quotidienne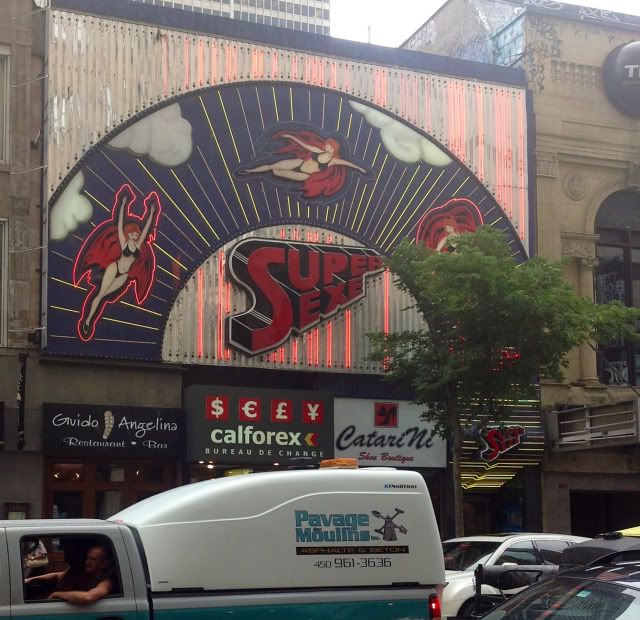 These angels, about a block away, have a very different feel to them!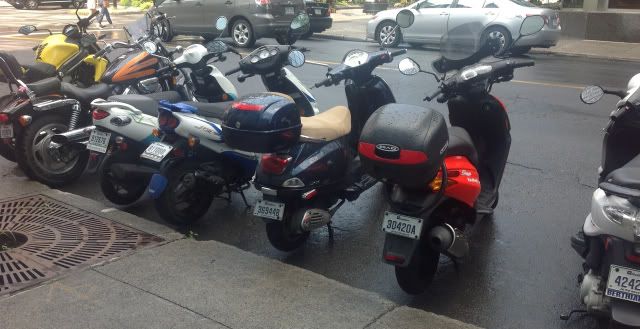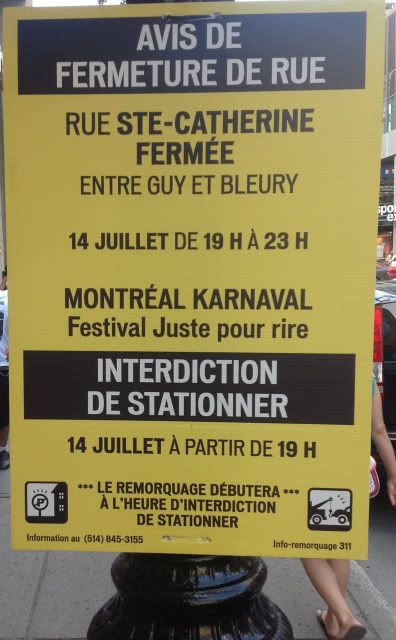 A festival just to laugh!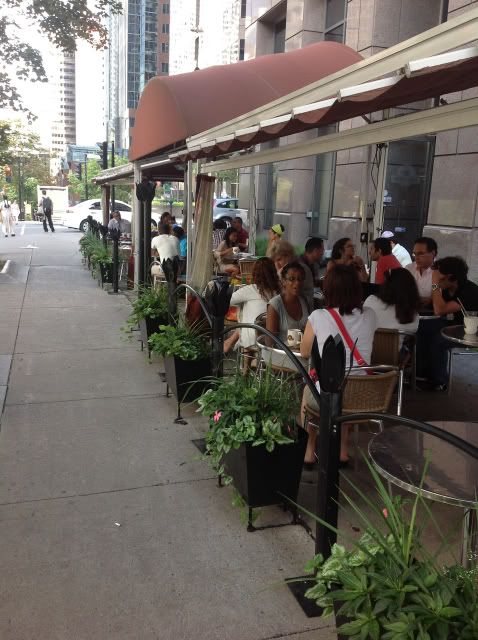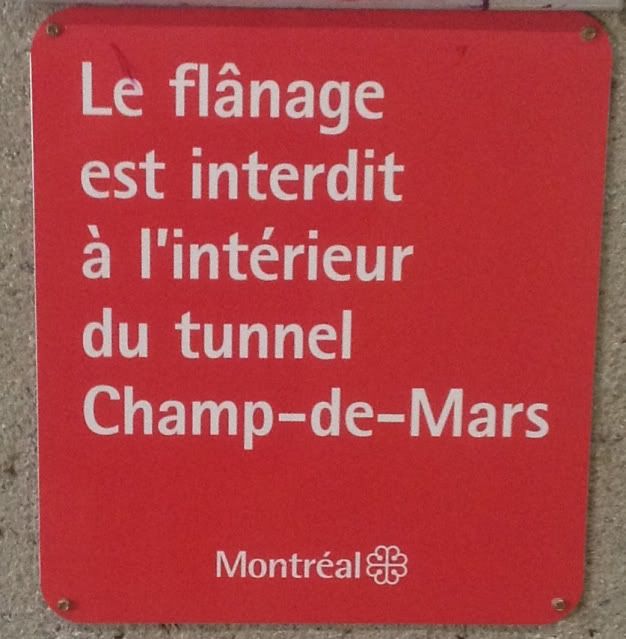 No loitering.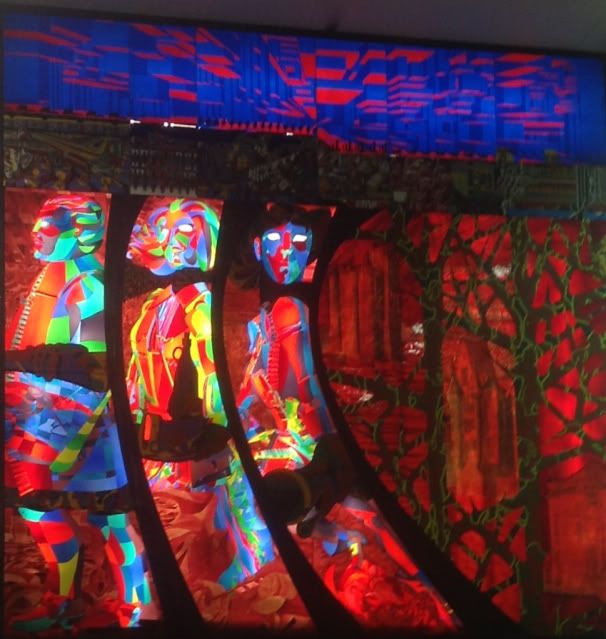 Subway art.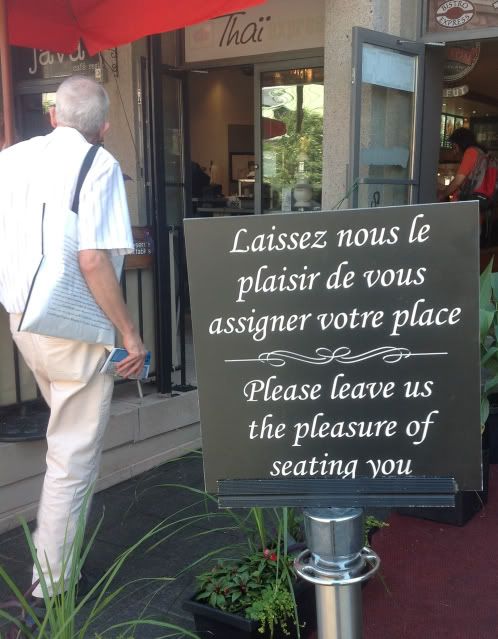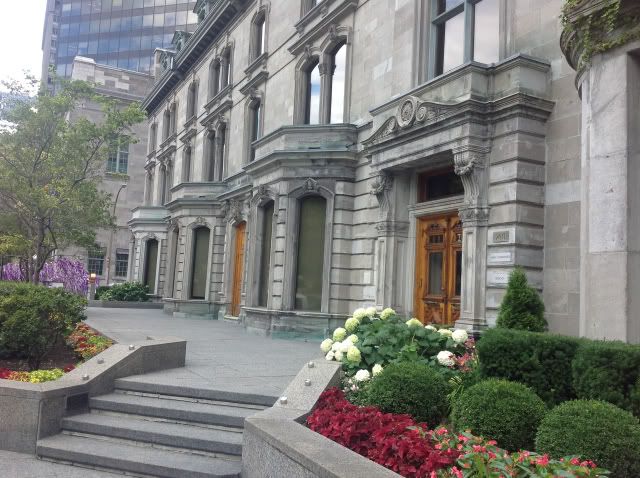 The Old City and Chateau Ramezay
Chateau Ramezay has been in continuous use since the early 1700s and now is an historical museum.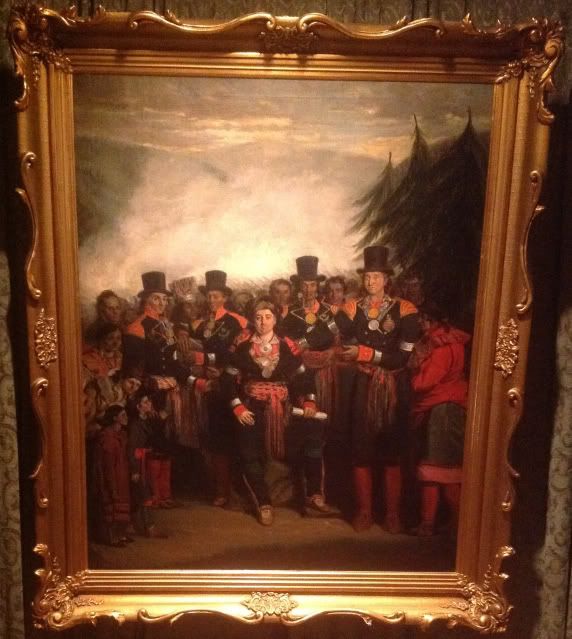 The election of an Iroquois chief - notice the ethnicity of the newly elected chief.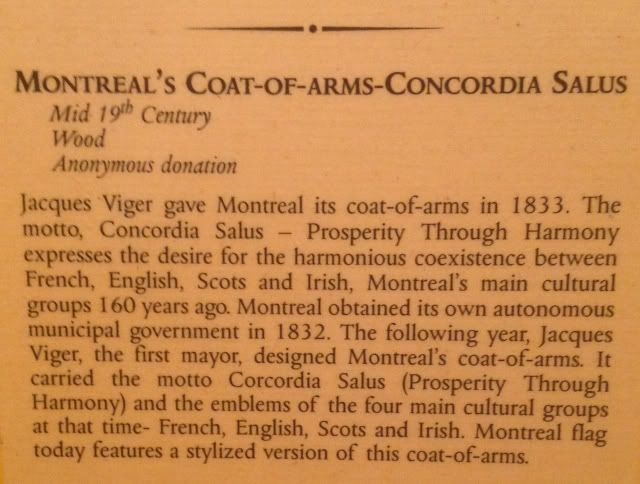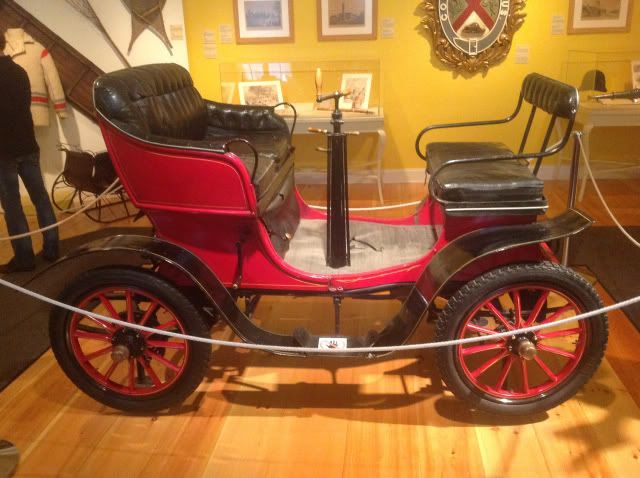 The first car in Quebec - and it still runs!