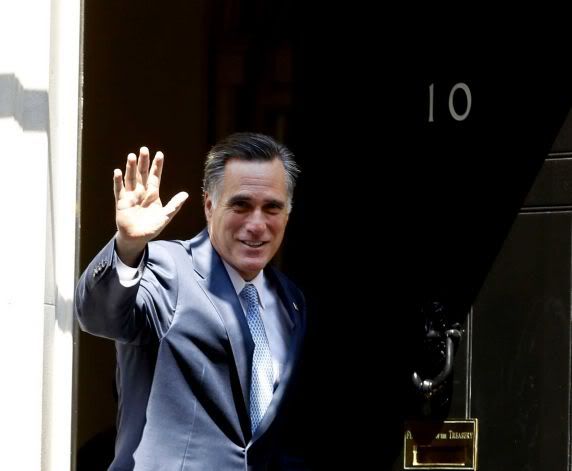 Wonderful Willard
I know this isn't long enough to be a post. It might not even be long enough to be a comment. No matter. You don't need a lot of space to express delight.
I am just so very happy with Willard, my head could explode in paroxysms of delight, in ecstacy, in joyfulness. I have never, never, never before seen a candidate do such a wonderful job of helping the other side. And for once "the other side" is my side. Finally. As I said, never before. In fact, just when I think Willard might have gotten something going for him, like that ridiculous assertion those who built the Erie Canal a small business didn't use a steam driver like John Henry anybody's help in any way, he finds a way to knock that meme right off the front page. And in its place he gives us something really negative about him to contemplate. Something negative about his stupidity and lack of sense. Something that shows how alien he is. Like this:

Mitt Romney's carefully choreographed trip to London caused a diplomatic stir when he called the British Olympic preparations "disconcerting" and questioned whether Londoners would turn out to support the Games.

"The stories about the private security firm not having enough people, the supposed strike of the immigration and customs officials, that obviously is not something which is encouraging," Mr. Romney said in an interview with NBC on Wednesday.
Willard, you are so wonderful. This is such Great Work, Willard. I love how you're running your campaign. I am delighted. I am overwhelmed with joy. Ecstatic. I am doing the happy dance as I type.
Please Willard, please keep it up. Please.