The Republicans have you square in their sites. Here's what they plan to do to you if they win the the house this November: That twice a year meeting you have with your primary VA doctor? Fer ged 'bout it. Those specialty clinics staffed with really good specialty doctors? Gone. In fact, VA outpatient clinics? Nope. They have a plan. It's the same one former Veteran's Affairs Secretary Principi's brain trust was working on before they got caught. Their plan was and remains to privatize the Veteran's Administration - both the Veteran's Benefit Administration and the Veteran's Health Care Administration.
OK: That's the worst case analysis. But, already in the works is this: It's all spelled out in black and white. It's the Ryan budget. Click on the links below and search on the word Veteran. [hint: it's not there] It's the Paul Ryan Budget
Below the Flying Spaghetti Monster's butt print, a defensive plan:
It is absolutely critical that we elect as many progressive - and, dammit - liberal Democrats to Congress in November. You know how insideous Blue Dog Democrats are when it comes to taking care of veterans. Well, here is a candidate that is not only progressive, but an Air Force Brat. Her dad served during Viet Nam. She is perhaps the best known of 5 candidates in the August 7th primary. She is Darcy Burner.
From her Campaign page:
I will never stop working to make sure we keep our promises to our nation's veterans. I come from a military family – my father, husband, and brother all served in the armed forces – so I understand the sacrifices made by our troops and their families. I will work to ensure that our veterans always receive the support they deserve for their service to our country, and I will opposed attempts to cheat them out of the medical services, educational opportunities, and retirements they have earned through their service.
Now look, I want you to donate on this paycheck. But if things are a bit tight and your spouse is holding you back,
Sara R and Winglion
(Sara & Ann) have worked their fingers to the bone to produce an enticement.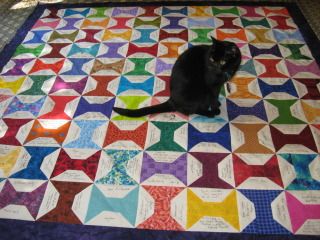 Quilt signed in Providence at NN12, "Love Notes to the Future" -- it could be yours!
The entire month of July will be a quilt fundraiser for Darcy Burner, candidate for Congress, WA-01. There will be a drawing for the quilt signed in Providence at NN12 the first week in August. Everyone can get one chance per day, each and every day in July by EITHER donating $10 or more to Darcy Burner's campaign through this Act Blue page OR by writing a 50-word-or-less essay on this topic: How can we bend the arc of history more towards justice for all?. If we deem your essay to be on topic, it will count for a chance. Send essays to winglionquilts AT gmail DOT com with "Darcy Burner" in the subject line. To recap, earn an equal chance once a day every day in July by either donating or sending a short essay (one or the other). That means everyone who began at the beginning can have as many as thirty-one equal chances in this drawing. The first week in August, I will find a neighborhood child to do the drawing and someone will become the new owner of the quilt.
Quilt stats: It will be about 66" square, sleeved for hanging. The fabric is cotton, the batting a fine wool. I am quilting it by hand and am close to finishing it.

Click on the thermometer to donate!
Here is a quilt fundraiser diary schedule for the rest of July. Please let me know in the comments if you would like to post a diary. Thank you!
Friday, July 27 - belinda ridgewood
Saturday, July 28
Sunday, July 29
Monday, July 30 - Patriot Daily News Clearinghouse
Tuesday, July 31