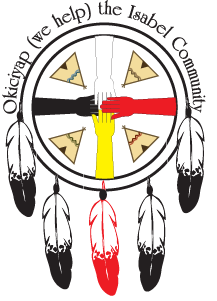 When Okiciyap lost Georgia Little Shield in April 2012, the Isabel community on the Cheyenne River Reservation in South Dakota was dealt a terrible blow. Georgia was instrumental in the development of the 501(3)(c)Okiciyap (we help) Food pantry and Youth Center. Last year she found a building, got it moved and set up the pantry. Now, Cindy Taylor and the Okiciyap Board are stepping forward to insure the food pantry and community center project goes forward. Okiciyap dkos group was formed to support the pantry.

I am asking you to help us make sure that every Isabel student has a backpack and school supplies when he or she returns to school on August 20th.
The shelves in the pantry are completely empty. The Spirit Dancer Challenge asks that you consider sending a small monthly donation.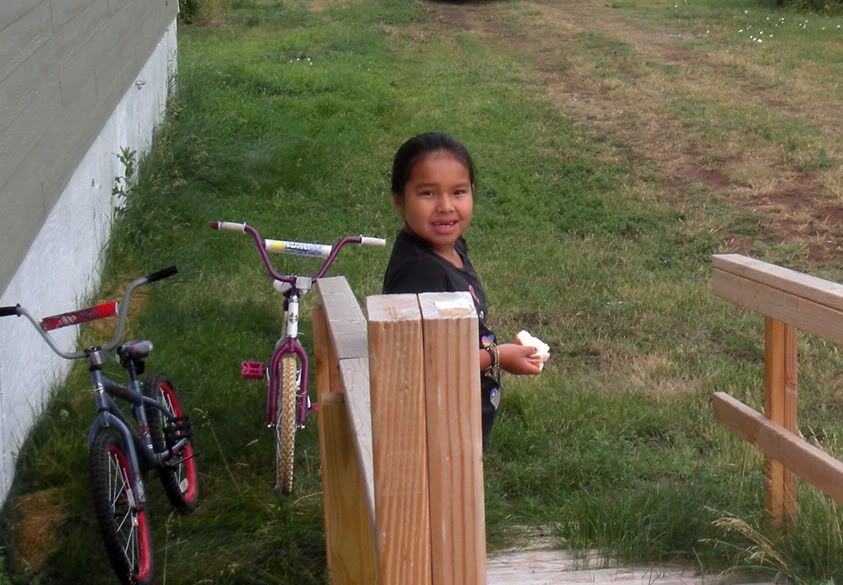 Food Pantry

Spirit Dancer: I thought perhaps you'd like to know how much it costs for them to make 1 trip to Pierre, SD to get food at The Feeding. It cost $200 in gas for 2 pickups and 1 horse trailer to drive 4 hours round trip. It cost $900 for the food for a total of $1100, this doesn't include expenses like water and electricity the for Okiciyap food pantry. So they need at least $1200 to $1300 for this to help them help others. Of course we aren't their only source of help but as we all know, money is hard to come by unless you are the 1%.

So, please give what you can.
Cost of food breakdown:
$0.18 buys 1 pound of food
$1.80 buys 10 pounds of food
$18.00 buys 100 pounds of food

Small donations are valuable! Please join the Spirit Dancer Monthly Challenge! Only 18 cents a day, that's roughly $5.50/month!
School Supplies and Backpacks

There are 90 K-6th graders and 50 middle and high-schoolers in the Isabel community. Their school and library were closed and now they must be transported many miles to three different schools. These children don't have the resources to go "back to school" the way so many of us remember; the excitement of shopping for new shoes, clothes and school supplies is tough when you live far away from stores.

Backpacks are in short supply in Isabel, so we are asking you to help. Additionally, we are hoping to stuff the backpacks with school supplies needed by students K - 12.
Cindy: Our parents are allowed to pick what they need as some can buy some but not all, and what is left over will be used at the after school program or if the child runs out and needs it. New and used backpacks are also needed. Please put the word out for our group.
Approx. 50 middle school/high school students:
1. 50 5-subject notebooks (now have 0)
2. 150 pencils (now have 272)
3. 50 or more pens (red, blue, black inks)
( now have 34 red, 95 black and 140 blue and 20 green)
4. 25 scientific calculators (now have 2)
5. 50 velco or zipper binders to carry between classes (now have 12)
6. 150 2-pocket folders (now have 150)
7. 50 backpacks (adult-sized) (now have approx. 50 )
8. 2 or more graphing calculators with 6x9 screen (now have 0 )

We now also have 2-125 pks of flag stickies, 3-5 pack mixed color sharpies, 2-12 pack coloring pencils + 4 packs of 15 + 45, 30 mechanical pencils, 2-100 pk 3x5 index cards, 9 lint rollers, 2 dry erase boards, 2 bic correction tape, 60 sheet protectors, 2 5 pk dividers, 5 mini-memo/assignment notebooks, motivational stickers, badminton for 8 players, 2 puzzles, 300 paper clips, 4 boxes of chalk and 6 marble composition books 3 sets of alphabet stickers 2 boxes of staples 1 pound of elastics. (Some of these items will be moved when transferred to the specific needs diary)

Cindy: I talked with some kids to see if they had their backpacks from last year and surprise some have them from grade school! They need new ones...

Approx. 90 K-6 students:
1. 90 crayons pks (now have 2 boxes 8 Lg crayons and 34 boxes Sm crayons and 0 boxes of 16 crayons)
2. 90 scissors small and reg size mixed (now have 13 sm pair, and 8 large pair and 6 safety)
3. 90 rulers (now have 72)
4. 90 protractors (now have 16)
5. 90 washable markers (now have 1 pkg of 16 and 4 pkg of 10)
6. 300 single subject notebooks (wide ruled) (now have 28 + 10 college ruled)
7. 300 pencils again (now have 352)
8. 90 pencil top erasers (now have 269) or the big erasers (now have 36)
9. 90 12" pencil boxes (now have 4)
10. 90 Glue stixs (now have 152) and regular glue (now have 8)
11. 300 2-pocket folders for all k-12, lots of them! (now have 90)
12. 90 Backpacks (smaller for grade school) (now have approx. 20)
13. 90 kleenex (now have 24 small packs)
Warning!! Crayons will melt in the heat ! Wrap in plastic bags just in case !

.
How to help Okiciyap!
.
You can mail new or gently used backpacks or school supplies directly to Okiciyap c/o Cindy Taylor, Box 172, Isabel, SD 57633-0172. We recommend parcel post with an extra 85 cents for delivery confirmation, (provided you are not in a hurry to get a package there, but you want to be sure your package arrives). The flat rate boxes are faster.
You can use credit/debit cards to order a new backpack or school supplies from a retailer (see list below for links) and have items delivered to Isabel. The post office box is listed above. If you need a street address for delivery please contact Spirit Dancer by private message Kosmail. If you register with IGive before ordering, the IGive site will send up to $10.00 to Okiciyap and the stores will send a percentage of the purchase (varies with the store). This is an ongoing source of funding for the pantry, and will have long-lasting benefits.
You can send checks payable to Okiciyap, (address above) and Cindy will fill in the needs of the students where donated items haven't covered a specific item.
Finally, you can donate directly to Okiciyap and leave a message about how you would like you donation to be directed using the widget below.
.
Okiciyap is a 501(c)(3) non-profit organization, so your contribution is tax deductible.

If you have read this far, we would appreciate the tips, recs, comments and republishes that will keep us visible. Be sure to leave a comment if you are sending a check, so we can include it in the updates. Many, many thanks.
Also consider registering at
IGive
for stores to donate a small percent when you shop online with them. The stores marked with
asterisks
donate with IGive. If you sign up, then shop, Okiciyap will receive $10 from IGive and a % from the store. This will also provide ongoing support to the food pantry as you continue to shop online for back-to-school or the holidays.
Check it out!
Here is a list of links to retailers of backpacks in no particular order:
Sears*
Amazon*
J.C. Penney*
Target
Walmart
Kohls
Overstock.
L.L.Bean*
Land's End
Zappo's
eBags*
Staples*
Discount School Supply*
Here is a list of other things that are needed for back to school and beyond;

(There will be other diaries later to address these needs; watch for us on Sundays.)
Also Needed: Art Supplies Volleyballs and Nets Children's books

Printer cartridges: Cannon PG-210XL-Black, CL-211XL-Color

Office supplies & stamps, DVD/VHS player Blankets

Kitchen Supplies Clothing for kids Winter Clothing

(new or very gently used) jeans, hoodies, t-shirts, new sports bras,
new socks and underwear, snowboots, gloves, snowpants

New or Gently Used Laptops (and broadband)

$409.45 in donations for Tables and Chairs

Mail to: Okiciyap, c/o Cindy Taylor, PO Box 172, Isabel, SD 57633-0172

Specific future needs are listed here.
Please, Tip and Rec and Republish (and Tweet and FB and Pin) this Diary!!
To see other Diaries about Okiciyap, follow this link: http://www.dailykos.com/...
To inquire about joining Okiciyap Group, send a Kosmail message to to Oke, nomandates, betson08 or Spirit Dancer

Thank you for reading. Thank you for helping. Thank you for all you do!
Mon Aug 06, 2012 at 10:26 AM PT: UPDATE Monday Aug. 6, 1:30 pm EDT: The school supply lists have been updated to show donations through Sunday Aug 5 Diary. Thanks again everyone!