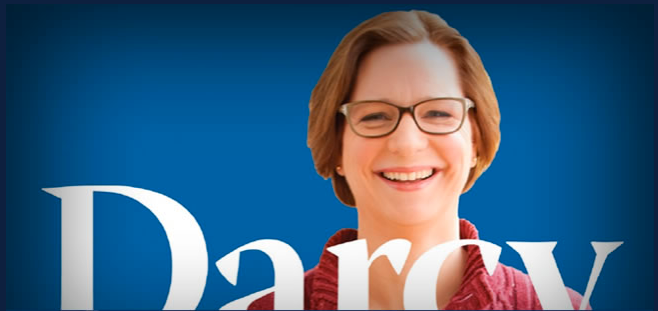 I was chatting with Darcy the other day, and told her I was writing this diary as part of a month-long fundraiser for her organized by Sara R. Darcy joined DK in 2005, so I asked her what she liked about Daily Kos:

Right now our democracy faces an existential threat as multimillionaires and billionaires try to buy our government outright. The best hope we have is a self-organized movement of engaged citizens informing themselves and others -- people-powered politics fully realized. DailyKos is people-powered politics at its finest.
Yes, we do a darn good job here!
As Meteor Blades stated eloquently, progressives would love to have Darcy in DC!:

On issue after issue, she's been there for us, whether it's the war in Iraq, the war in Afghanistan, the war on workers, the war on voters, the war on women. She stands for economic democracy. She's not just on our side. She is one of us.

Darcy doesn't just hold positions on issues that matter. She's a fighter. Even when it goes against the grain, even when she's in the minority of her own party, she stands up for what's right, unhesitatingly. Sure, she's an idealist. But that doesn't make her impractical. On the contrary, it informs her political practicality.
Meteor Blades
is right that Darcy has been there for us on the issues.
Darcy's also been there for us here at Daily Kos. I've organized a number of blogathons over the years, and Darcy is one who responds immediately to our invitations, and with a YES. This year is no different. Bill McKibben, boatsie and I are hosting a climate change blogathon next month, and Darcy accepted our invitation immediately, and stated why this issue is so important:

Catastrophic climate change is the greatest challenge humans have ever faced. We must stop giving our consent for our own destruction. No laws are just which allow the extinction of the species for profits; no laws are just which allow billions to face death for the convenience of a few. Justice requires that we take whatever steps are necessary to stop climate change and save humanity.
Now, we can be there for Darcy by donating to her campaign.
Sara R gives us the details of how you can win a quilt Sara R made for this fundraiser:

The entire month of July will be a quilt fundraiser for Darcy Burner, candidate for Congress, WA-01. There will be a drawing for the quilt signed in Providence at NN12 the first week in August. Everyone can get one chance per day, each and every day in July by EITHER donating $10 or more to Darcy Burner's campaign through a special Act Blue page which I will post on July 1, OR by writing a 50-word-or-less essay on this topic: How can we bend the arc of history more towards justice for all?. Send essays to winglionquilts AT gmail DOT com with "Darcy Burner" in the subject line. To recap, earn an equal chance once a day every day in July by either donating or sending a short essay (one or the other), every day in July. That means everyone can have as many as thirty-one equal chances in this drawing. The first week in August, I will find a neighborhood child to do the drawing and someone will become the new owner of the quilt.
You may
contribute to Darcy here
.
Our goal is $2,500 and right now we are at $2, 208!
Here are the quilt signatories:

TexDem
Sara R
Kitsap River
Charles CurtisStanley
Chris Loesch
Phyllis DeGrave
Monsieur Georges
Velo Vixen
Hawkwife
Abraham J. Bonowitz
CA Berkley WV
Ramara
Barbara Banoff
Leslie Simmons
Jessica Wainfor
Immy Humes
The Fat Lady Sings
Marcy Miranda
Ann Porter
Carol Neil
Malaka Gharib
Susie Kameny
Sandy on Signal
Bill Lusk
Charlie Harris
Macaela Gardner
Flamingogirl
Paul Krugman
Martin Garcia
Lefty coaster
Samuel Skurkovich
Krista Brewer
Markos Moulitas
Hunter
Ken Schider
Sharon Saltzberg
Nancy St. Germain
Carl Farmer
Angelajean
Susan Gardner
Brian Loper
Betsy Cazden
Catherine Casas
Erika Martinez
Marcy Chong
Faith Gardner
Pamela Mackey
Shirley Koegel
Andy the Cat
Mimi Marziani
Sonrisa
Cheryl Krauss
Ann Savage
Paula Dove-Jennings
Megan Secatore
Jee Fedele
Dominique French
Dennis Travares
Mark Musho
Hayden
Erin Hofteig
Bill in Portland Maine
Common Sense Mainer
Canilo Viveiros
Sean Kitchen
SSMIr
Marta Turnbull
Navajo
Grace
Priscilla Cruz
Shayan Zdrisavi
Nomandates
Jodie Evans
Glitterscale
Nik Swiatek
Sam Schoeburg
Rachel Gordon
Jamie McGonnigal
Brillig
Mik
Laura Clarckson
EK Hornbeck
Hannah Resseger
Alan Grayson
Arjun Jaikumar
Kari Fulton
Terilee Edwards-Hewitt
Alisa Roost
Linda Lee
Luan Tatum
Karen Bradbury
Kate Coyne McCoy
Elena Perez
Triciawyse
Steve Dondley
Katie DeCarlo
Diane Palmer
Eric Packer
Cheryl McLeod
Chacounne
Keesha G
Oke
Greyhawk
Meteor Blades
Rep. David Cicilline
Sen. Sheldon Whitehouse
Charles Patenaude
Tool
Cynthia Kain
Mike Ertel
Emberlyn
Transactivist
Patrick St John
David Braun
Una Spenser
San Mateo DFA
Evan Leeson
Moody Loner
Erin souza
Jeana Brown
Sen. Jeff Merkley
Maria Luz Torre
Olive Niccoli
Nancy Peckenham
Matt Bors
Yasuragi
Benis Binion
LaToya Egwekwe
Peregrine kate
NW Terri D
David Gusick
Vicky Rateau
Marcia Robbins
Eric Thut
Molly D
CJ
Adam Skoog
Brandon Silverman
MsSpentyouth
Jay Lustgarten
Onomastic
Mommy Pooka
The momcat
Lilian Molina
Robyn Carmichael
Ed Tracey
Suzanne Turner
Erika Boulware
Amy Ziering
Joan Brooker
N in Seattle
Malik Rhasaan
Kafi Rouse
Poe
42
gizmo59
Regan McCarthy
4Freedom
Scottie Thomaston
Jo Lux
Arenosa
Megan Lickley
Polisigh
True Blue Majority
Kelly Lincoln
Eclectablog
The left neck chick
Tarryl Clark
Little Loner
Nancy Green
JoAnn Schwartz
Side pocket
Dev Tobin
Brian Swinehart
Andrew Hubbs
Don Rhodes
Belinda ridgewood
Winglion
Cendwyn
Winkk
Commonmass
Terri Foster
April Pederson
Loggersbrat
Katrina Gamble
Lightbulb
Jennifer Miller-Smith
Vec
Gina Fesmire
Clytemnestra
As Darcy says: