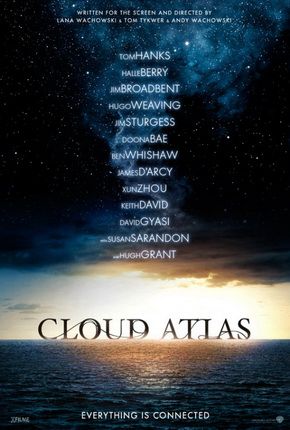 The reclusive creators of the Matrix trilogy, the Wachowskis have appeared in public with their collaborator Tom Tykwer in an attempt to explain the trailer to their new movie, Cloud Atlas. The movie is based on the 2004 novel by David Mitchell.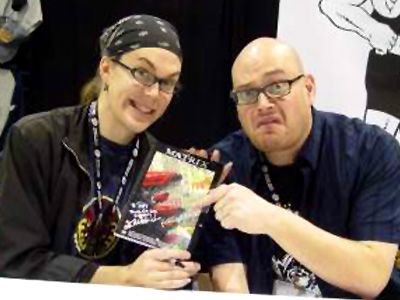 The story for most of the media was not the new movie itself, but the fact that Lana Waschowski appeared in public for the first time since she began her transition.
Unless, of course, you have been paying attention. The photo to the right is from 2004 San Diego ComicCon. Lana is on the left.
The video appearance is below the fold.
I just started Cloud Atlas, which is available on Kindle, so I shall have to reserve speculation about the book, beyond the canned hype:

From David Mitchell, the Booker Prize nominee, award-winning writer and one of the featured authors in Granta's "Best of Young British Novelists 2003" issue, comes his highly anticipated third novel, a work of mind-bending imagination and scope.

A reluctant voyager crossing the Pacific in 1850; a disinherited composer blagging a precarious livelihood in between-the-wars Belgium; a high-minded journalist in Governor Reagan's California; a vanity publisher fleeing his gangland creditors; a genetically modified "dinery server" on death-row; and Zachry, a young Pacific Islander witnessing the nightfall of science and civilisation -- the narrators of Cloud Atlas hear each other's echoes down the corridor of history, and their destinies are changed in ways great and small.

In his captivating third novel, David Mitchell erases the boundaries of language, genre and time to offer a meditation on humanity' s dangerous will to power, and where it may lead us.
Mitchell's virtuosic novel presents six narratives that evoke an array of genres, from Melvillean high-seas drama to California noir and dystopian fantasy. There is a naïve clerk on a nineteenth-century Polynesian voyage; an aspiring composer who insinuates himself into the home of a syphilitic genius; a journalist investigating a nuclear plant; a publisher with a dangerous best-seller on his hands; and a cloned human being created for slave labor. These five stories are bisected and arranged around a sixth, the oral history of a post-apocalyptic island, which forms the heart of the novel. Only after this do the second halves of the stories fall into place, pulling the novel's themes into focus: the ease with which one group enslaves another, and the constant rewriting of the past by those who control the present. Against such forces, Mitchell's characters reveal a quiet tenacity. When the clerk is told that his life amounts to "no more than one drop in a limitless ocean," he asks, "Yet what is any ocean but a multitude of drops?"

--The New Yorker
The lengthy trailer to the movie, which stars Tom Hanks, Halle Berry, Hugh Grant, Susan Sarandon, Hugo Weaving, Jim Sturgess, Ben Whishaw, Keith David, Jim Broadbent, James D'Arcy, Doona Bae, and others is below: