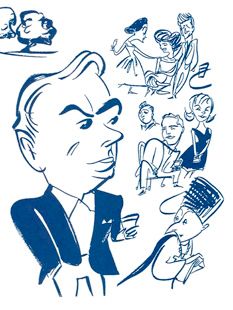 Gore Vidal was an American original and perhaps the last of a generation of authors whose early years were shaped by their experiences in World War II. His multi-faceted brilliance - along with his towering intellect - was never in question. Even his detractors would concede that.
He was an elegant writer and public intellectual whose kind we rarely, if ever, see on television any more. His acerbic wit, penetrating insights, and, even, his understated sense of humor separated him from his contemporaries.
Growing up in Washington, DC as the grandson of a United States Senator, Vidal was well-connected to the literary, political, and movie industry establishment. And he never feared to criticize those who, for better or worse, make momentous decisions on our behalf.
Last night, this country lost one of its brightest lights and literary giants. We could all use a few more Gore Vidals amongst our midst.
RIP, Mr. Vidal. You lived life with style, zest, and panache. And we are all the more richer for your many contributions to our lives.
The British have a saying for evaluating what outsiders write about their society and country - "Seeing ourselves as others see us." In that vein, it is useful to look at what others outside the United States thought of Gore Vidal. As reported in foreign news sources, here is a smattering of tributes paid today to this most remarkable of men.

Video: Carr on Vidal the political philosopher

In this excellent, wide-ranging interview (over 12 minutes) earlier today, Australian Foreign Minister Bob Carr fondly remembers his friend

"It's sad to see a polymath, someone with that wide-ranging intelligence go," he said.

"And it's sad to lose someone who was a master story teller and what we'd call a great wordsmith. I think he was the greatest essayist in America without a doubt." - ABC News


Throughout his life and career, Vidal was known for his wit and wisdom, not to mention a willingness to challenge convention. His 1948 novel 'The City and the Pillar' outraged conservative critics - it was one of the first major American novels to feature unambiguous homosexuality. - George Stroumboulopoulos, CBC


Along with contemporaries Norman Mailer and Truman Capote, Mr Vidal was among the last generation of literary writers who were also celebrities, written about in gossip columns and interviewed on talk shows...

He picked apart politicians, living and dead; mocked religion and prudery; opposed wars from Vietnam to Iraq and insulted his peers, once observing that the three saddest words in the English language were "Joyce Carol Oates." (The happiest words: "I told you so"). - Channel 4 News


A few tributes and tweets by well-known celebrities and others in the literary world:
"Gore Vidal dreaded the idea of an afterlife, because it would mean he'd have to see Norman Mailer again. Rest In Peace," said comedian Frank Conniff on the social messaging service Twitter, where tributes to Vidal mainly took the form of quotations from the writer.

Documentary filmmaker Michael Moore and rock singer Courtney Love were among the many celebrities who posted their favourite sayings.

"'Style is knowing who you are, what you want to say and not giving a damn.' quoted by Gore Vidal ... you will be missed, rest in peace Gore," said Love in a Twitter message. - Reuters

You can read more tweets and tributes by Michael Moore, Rob Lowe, Joan Collins, and many others in the
Wall Street Journal
,
Guardian
, and
Telegraph
.

A few of Vidal's quotes as reported by Australian Television, ABC News
"There are many bad regimes on Earth, we can list several hundred. At the moment I would put the Bush regime as one of them, but I don't want anybody to attack the United States. Just send Bush back to Texas."
"The United States was founded by the brightest people in the country - and we haven't seen them since."
"We should stop going around babbling about how we're the greatest democracy on earth, when we're not even a democracy. We are a sort of militarised republic."