I,TexMex (former expat in Canada for over thirty years) have been wandering about in San Antonio looking to see what the San Antonio Democratic support for President Obama looks like and it is very exciting.
(Shout out to Blue Armadillo whom I met at the AlamObama meeting last night.)
For starters I went to see what AlamObama was all about when I was invited by Judy Hall.
ALAMOBAMA 2.0 !!!!!
(Please click and share! Drive up the number of youtube views! You know I wouldn't steer you wrong)
Obama UCan2 Challenge- San Antonio, Texas
http://www.youtube.com/...
alamObama 2.0 is a grassroots group dedicated to doing our part to re-elect President Obama.
Description
OUR STORY: In March 2007, eight ordinary people met in a San Antonio bookstore and created alamObama to support Barack Obama. Over the next 19 months, alamObama grew and grew, leading an army of volunteers across our city to an Obama victory on November 4, 2008.
Four years later, alamObama 2.0 "Is In!"- pledging, from deep in the heart of Texas, to do our part to re-elect President Obama.
https://www.facebook.com/...
I will tell you about the meeting last night over the Kos Kurl.

please click and share
http://www.youtube.com/...
So I jump in my car last night leaving hubby to his own devices for supper and headed down Broadway to the meeting.
It was not too big a group, but it grew as people arrived. Young people, older folks and folks sporting their LGBT button for Obama, African Americans, Anglo Americans, Mexican Americans and one Australian! I met one amazing woman, Millie who was in her 80's all raring to "git er done!".


The techie part of the meeting didn't work too well, the computer connection to the fellow in Charlotte was bad so the audio was garbled. Oh, noes, fail!!!!!
But Jenn comes to the rescue!!! She listens on the phone and then jumps up and makes an "on the spot presentation" on social media and using it to promote President Obama and GOTV!
Then of course pee wee here (me) had to speak up and tell the group that all their efforts mattered a great deal. I told them all their emails, facebooking, tweets and shares really mattered and not to be shy! Boy, was I delighted by the reaction. "Oh, don't worry we know!!!!!" They were the seasoned campaign workers, I was the newbie!
This was a group of people confident that their efforts will pay off, because they did it before.
I saw Judy Hall moving to action, taking the stage and giving the orders!
I met Judy at the Netroots in Austin, I think. We sat together and I thought "Nice lady".
NICE LADY, MY BUTT!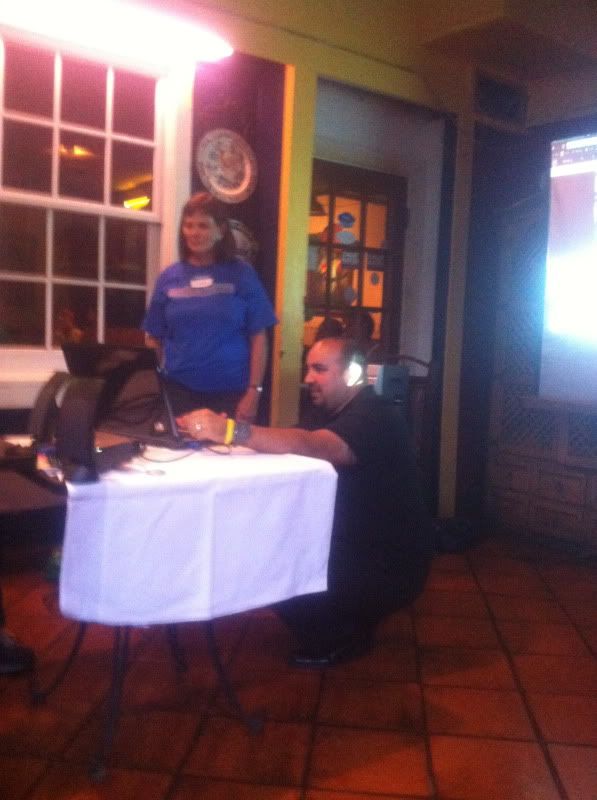 Judy Hall was aaaaaalll fired up and she lit the room up! "Sign up for phone banking! We are calling the battle ground states"
I sat gob smacked, "Well shut the front door!" as polite people say.
The group was excited and ready for their marching orders.


The AlamObama group couldn't wait!
They were all excited for phone banking, block walking, President Obama's birthday, the watch party for the convention, sharing the video, and raising friends for President Obama.
(Please click and share)
http://www.youtube.com/...
AlamObama was featured in The Rollingstone Mag back at the last election!
http://archive.truthout.org/...
"In Iowa, the campaign was on the ground for six months," says Judy Hall, a college professor who co-founded the group. "They come here, and it's like they've already been on the ground for six months. Those of us in the grass roots, we simply minded the store.

"Well," she says, reconsidering her words, "I guess we actually built the store - but that's what this campaign is all about."

As Hall's well-honed operation makes clear, the Obama campaign has succeeded not by attracting starry-eyed followers who place their faith in hope but by motivating committed activists who are answering a call to national service. They're pouring their lifeblood into this campaign, not because they are in thrall to a cult of personality but because they're invested in the idea that politics matter, and that their participation can turn the current political system on its ear.
They group was thrilled that our mayor, Julian Castro was going to be the key note speaker at the convention.
People can say that Texas is no contest because it is so "red", let me tell you. The Democrats of Texas, the Democrats of San Antonio are rolling up their sleeves and
GETTING OUT THE VOTE ACROSS THE COUNTRY calling battle ground state voters.
Thank you Judy!
Thank you all you wonderful AlamObama workers.
Let's let them know we appreciate their time, talent and treasure considering they go out there for all of us, because frankly being a activist Democrat in Texas is no small feat.
please view, like and share this video.
http://www.youtube.com/...
It would mean a lot to them to know we have "their back" when they are supporting President Obama in battle ground states, your states.
I ain't no "kewl kid" but I am TexMex