According to the Bureau of Labor Statistics, total non-farm payroll added 163,000 jobsin July. Comparing that with private sector jobs growth over the last three and one half years, one can see that once we climbed out of the jobs losses at the end of the Bush recession starting in the first quarter of 2010, there has been a slow period in each of the last two years, which are circled in the graph below: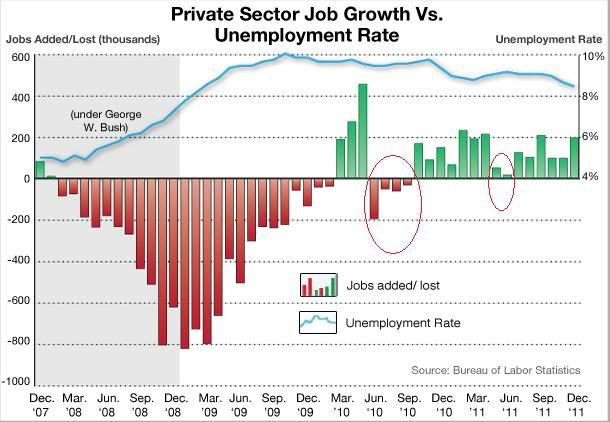 Comparing that graph with the chart released today from BLS, notice the same slow growth periods (which I have circled in red) and the similar slow growth period (also circled in red) for 2012:
It is possible that the July numbers could be revised down later. But, in comparison with recent years, we seem to be at the end of an annual slow period for jobs creation. Although one would like to see higher numbers, there are several things to be kept in mind. First, since Mitt Romney's job creation plans are basically the same as those of George W. Bush (lower taxes on corporations and the wealthy which resulted in a net loss of 653,000 private sector jobs.), his plan would likely cause job losses rather than jobs growth. Since it has almost identical features, the same could be said for the Congressional Budget for 2013 submitted by Congressman Paul Ryan. Via ThinkProgress, here is a comparison of the Romney and Ryan tax plans:
Finally, these jobs creation numbers from BLS are a little muddled because they include both private sector and public sector jobs. I specifically chose that first graph to look only at private sector because that gives a better sense of annual trends in jobs creation numbers. When compared with the jobs creation numbers of previous presidents, the private sector grew faster in the first three years of the Obama administration than it did in three of the previous five administrations — the exception being Bill Clinton's administrations, when private sector growth was more rapid. In both of George W. Bush's terms as well as in the first three years of the George H. W. Bush administration, though, the private sector grew more slowly. (link)
The main drag on the economy is in the public jobs sector. This is not due to federal cuts in public jobs but due to cuts at the state and local levels, mainly in red states which Tea Party Republicans seized control of in 2010. I'm going to leave it to Ezra Klein to explain the importance of public sector jobs:
Governor Romney has said we didn't need private sector jobs, which the Obama team hammered him on:

Then he denied he meant what he said and tried to change the subject:

Caveat emptor!