Disclaimer - I am currently in the process of revising this article to incorporate actual election results from 2012 and to provide more research to support alternative maps. (January 2013)
This November's elections for the House of Representatives will be the first cycle to take place after decennial redistricting resulting from the 2010 census. As many observers of American politics will know, gerrymandering is a topic which infuriates many independents and partisans alike. Due to their historic gains in the 2010 elections in many states, Republicans were well positioned to exercise control over redistricting covering a large fraction of districts. In this diary, I take a look at how the implementation of non-partisan redistricting nationwide would impact the 2012 elections to the House of Representatives.
Several states already have independent commissions, or because they had split partisan control of the state government required a court to step in and draw the lines. For these states, such as California, I assumed no change to the maps since they were actually drawn independently. For the others, I've used Dave's Redistricting App to draw the lines, relying on uselectionatlas.org for political data and my own knowledge of local and regional politics from years of extensively following Daily Kos Elections (formerly Swing State Project).
Note: the maps I present are mainly used for analyzing the political impact of redistricting and as such I think they are quite realistic. You may disagree with some of the particular localities I've included with a certain district, but the goal was to put regions and communities of interest together. And of course, if you disagree with how I've drawn something, feel free to try drawing it yourself!
New Congressional Districts by Presidential Vote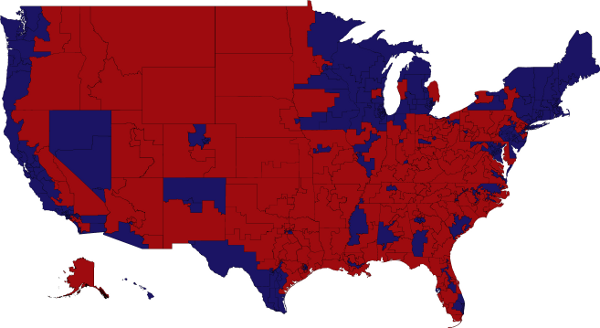 full size, customize-able png image here
For those of you who haven't seen it yet, here is the new map of congressional districts in place for the actual 2012 elections. See DKE's Complete Redistricting Resources for individual state maps. You can find election percentages for the districts here.
Control of Redistricting by Party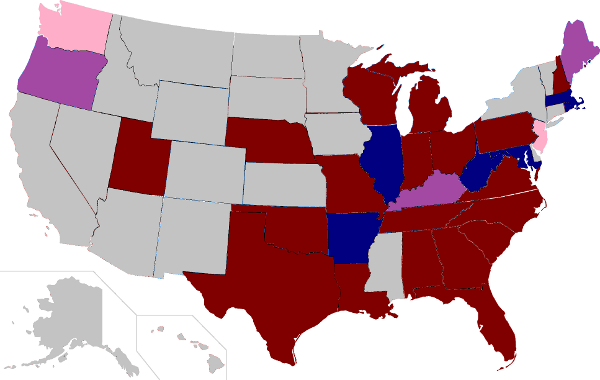 Dark Blue/Red - Democratic/Republican control
Light Red - Bipartisan Commission adopted GOP plan
Purple - Bipartisan Compromise
Gray - Independent Commission, Court-Drawn or At-Large
As should be immediately evident, Republicans control redistricting in far more states than Democrats. Below I'll present maps for all of the dark red and blue states. Additionally, I've included maps for Oregon and Kentucky which were compromise maps, as well as Washington state and New Jersey where Republicans were able to push through maps that were favorable to them. Let's get started.
Alabama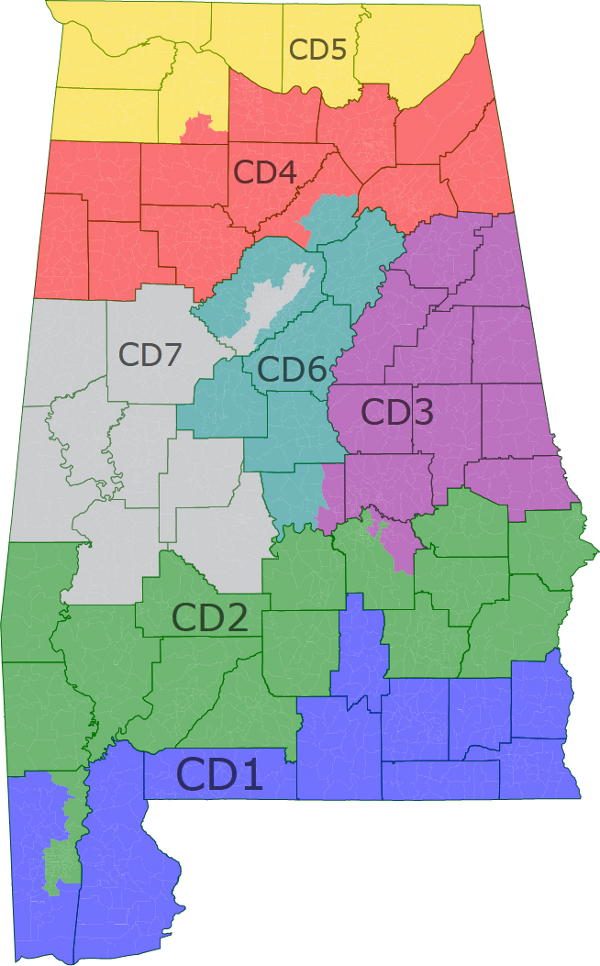 First up is Alabama, which was drawn by Republicans after they claimed the legislature for the first time since Reconstruction. The major change I made compared to the old map concerns the 2nd district. In this first and main version, I have added a second VRA district since I believe the state should have been required to draw one. The 2nd district now spans from Mobile to Montgomery, taking in some of the eastern black belt to become majority VAP black and nearly 60% Obama. This would be an easy pick up for Democrats and Martha Roby would probably retire.
Aside from that, the 7th district remains a Birmingham/Tuscaloosa/western black belt district, and the 5th remains open to voting for a conservative Democrat. Politically though, only the 2nd district undergoes significant change.
As some may disagree with my (non-lawyer) interpretation of the VRA, this alternate version shows what the 2nd district would look like if it weren't required to be majority black. It no longer contains Mobile, but still contains all of the heavily Democratic portions of Montgomery, Tuskegee, and Columbus. These additions make the district only R+7 instead of the actual blood red R+18. Former Rep. Bobby Bright, who just narrowly lost a much more conservative district in 2010, would instantly make this seat competitive and would probably even be favored. Thus, even without a 2nd VRA seat, Democrats would have a strong chance of picking up the 2nd district, but in this case with a Blue Dog rather than a more liberal black Democrat.
Arkansas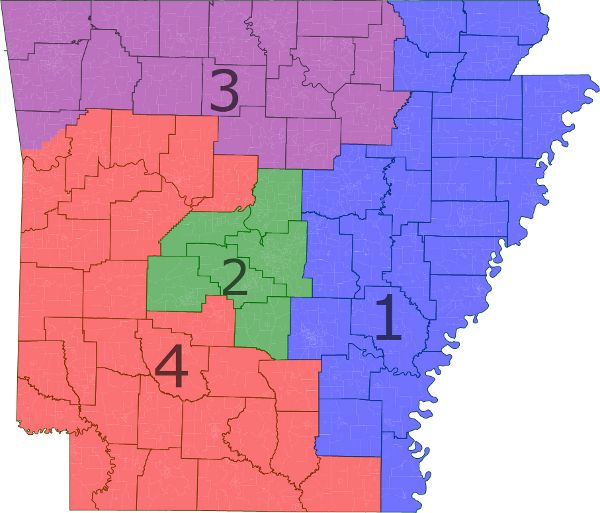 The partisan average consists of all statewide races on uselectionatlas.org from 2004 through 2010.
Arkansas Democrats easily won the award for biggest dummymander when they passed a map which tried to make 3 of the 4 seats competitive, but will result in us winning none. This non-partisan map would have been an improvement though, as it makes the 1st district much more Democratic. This district contains all of the Delta, including Pine Bluff, while shedding more conservative territory near the Ozarks. Dems would be the clear favorites here as long as we nominated a moderate who campaigned competently.
The 4th district shifts several points to the right with the loss of Pine Bluff though, enough so that I think Mike Ross still would have retired. With the right sort of Democrat, such as state senator Larry Teague, we probably would have held this seat, but as happened in reality we probably would not have run our strongest candidate. With Ross or Teague this seat probably leans Dem, but otherwise it's Lean to Likely R.
Florida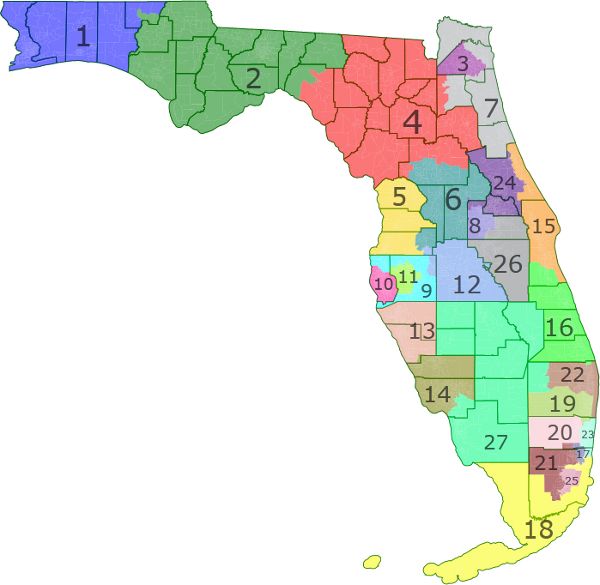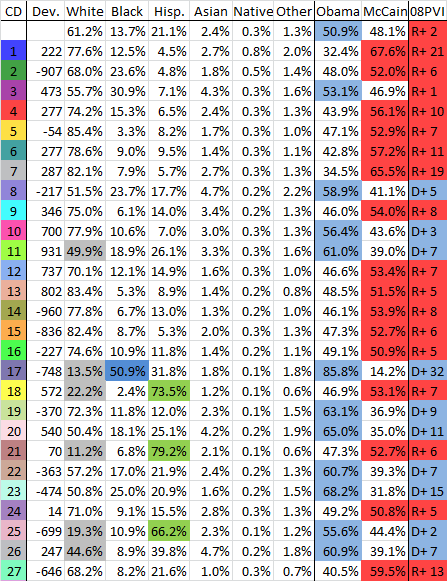 In 2010, Florida voters passed a constitutional amendment aimed at creating fair congressional and state legislative redistricting. Unfortunately, since the amendment didn't actually create a commission itself, the result was that state Republicans only had to pass tamer gerrymanders while the courts settle the issue. In this map I tried my best to adhere to the Fair Districts Amendment, which among other things stresses the integrity of counties.
Starting at the north of the state, the districts change substantially as the old 3rd (new 5th), a Democratic vote sink going from Orlando to Jacksonville, is dismantled. This results in a new 3rd district contained entirely within Duval County and contains the city proper as well as some nearer suburbs. The big loser here is Corrine Brown, who wouldn't stand a chance at winning a swing district. On the other hand, Jacksonville mayor Alvin Brown would be a great candidate seeing as how he appears to be fairly popular after his initial election, and while the new 3rd is R+1, any Obama district in this part of the south should be Dem leaning with a well-fitting candidate.
In the Orlando area, the lines are cleaned up significantly and this results in two Dem-leaning, but still Bush-Obama districts. The 8th district contains most of Orlando and the western part of the county. It also contains a substantial black population which would ensure that former police chief and candidate for the actual 10th district, Val Demmings, would win in November.
The other district, the 26th takes in all of Osceola County and the more hispanic heavy eastern half of Orange County. This creates a nearly 40% hispanic district and it should become even more so. Alan Grayson might still run here as it is fairly similar to the actual 9th district where he is running. Still, he could face a strong challenge from a hispanic Democrat due to the demographics of the district, but either way Dems would be slight favorites to win this district.
The nearby 15th, 16th, and 24th districts are all made Republican leaning, but could be competitive under the right conditions.
Next up is the Tampa area, where fair districts force Bill Young to take a sizable hit with the inclusion of all of St. Petersburg. The new 10th district becomes D+3 and while Young would be a slight favorite, one of two things could happen. First, Young, who is 81, might decide to retire rather than face a tough race. Secondly, Charlie Crist could complete his transition to a Democrat and run here, which also might make Young retire. In either of those situations, Dems would be favored to pick up the seat, but with Bill Young vs. generic Dem, Young would probably hold on.
The downside of a fair Florida maps for Dems is the new 16th district. In reality, Tom Rooney abandoned this seat (the 18th) to run in a nearby safely Republican district which resulted in Allen West and challenger Patrick Murphy running here. West is enough of a lightening rod that I believe he will lose in November, but under this map the district is strongly Republican enough that Rooney would still have run here. Thus, West is still in the 22nd and we don't pick up both it and the 16th.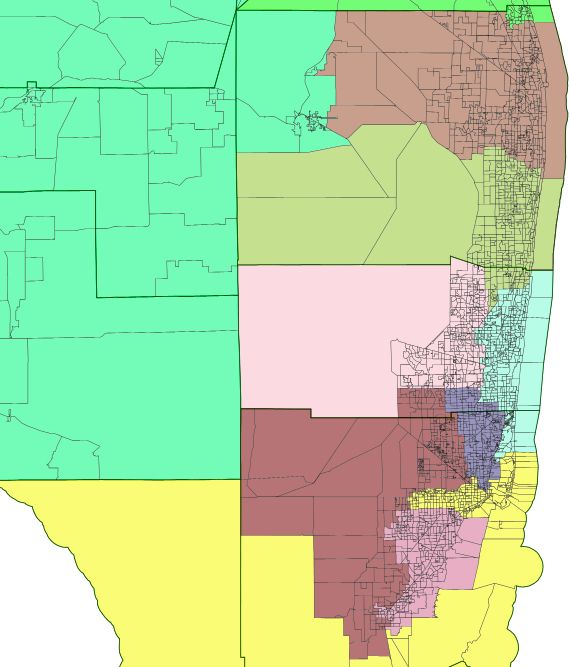 Moving onto south Florida, I should first note that I disassembled the old 23rd district since I don't believe it is required by the VRA, but if it indeed is, the 22nd district would still be quite Democratic and Allen West is screwed either way. The second thing to note is I don't really like how the three Hispanic VRA districts turned out, but since David Rivera is vulnerable even in his actual R+4 district, he should lose in anything more Democratic. Thus, it doesn't really matter whether his seat is R+2 or D+2, Dems should pick it up regardless.
Georgia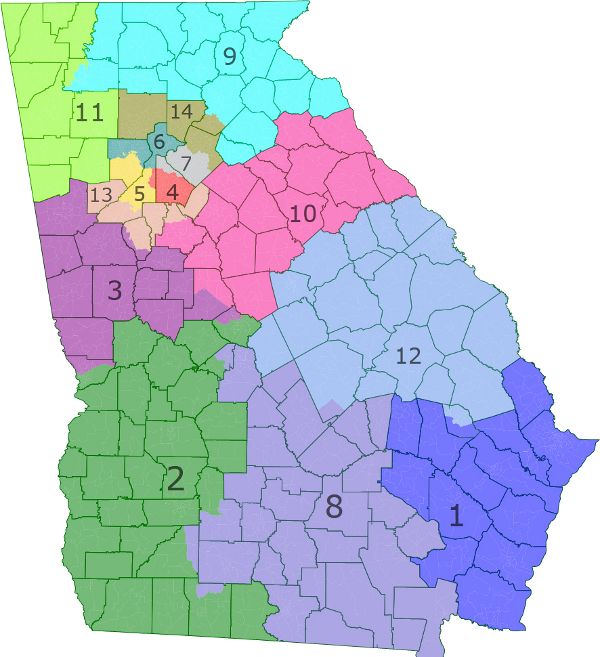 In Georgia the big winner is John Barrow, who gets a district that is R+5 instead of R+9. Given how relatively conservative he is and his huge warchest compared to his challengers in his actual district, Barrow should be a decent favorite in this new 12th.
The big loser in the state is without a doubt Rob Woodall, whose district moves roughly 10 points to the left and gave McCain just a narrow win. While Woodall probably wins in 2012, this district is rapidly becoming less white and subsequently more Democratic, meaning that we would probably pick it up by 2016 at least.
Illinois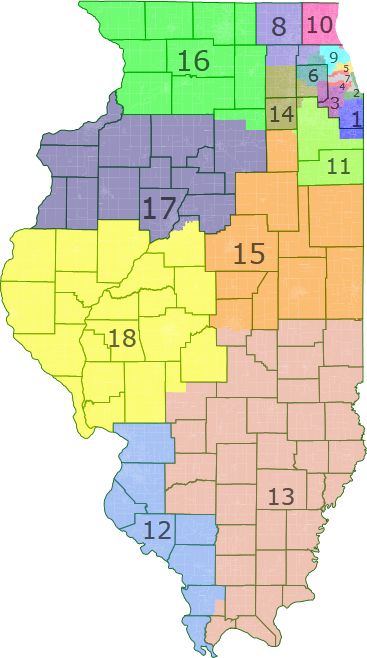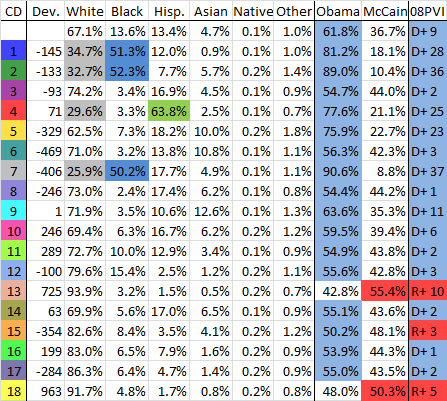 Illinois was Democrats' best state in terms of being able to gerrymander districts, so it should come as no surprise that a fair map causes us to take a huge hit. Overall, most of the Chicago suburbs districts become nominal D+ seats, but are Republican locally though still quite competitive.
Starting downstate, the 12th district actually becomes slightly more Dem and should be slightly easier to hold. The 17th district still contains Rock Island, but no longer contains Rockford, trading it for Peoria instead. Still, the blue areas of the cities balance out the redness of its rural areas to create a Dem leaning seat that is only 1% more Republican than the one Bobby Schilling won in 2010. While Cheri Bustos would no longer be a sure thing, she should still ultimately prevail with Obama atop the ticket. Next is the 15th, which would be open due to Timothy Johnson's retirement. Unfortunately, this seat moves 5% more towards Republicans which should be enough to prevent Democrat David Gill from winning.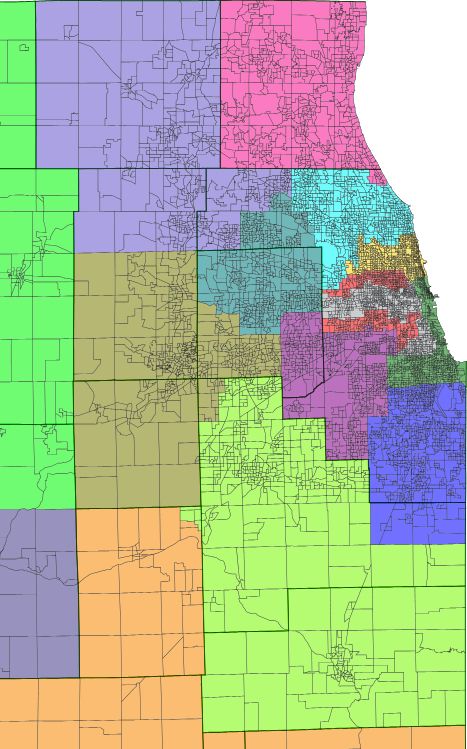 (note, the 4th district in red is actually connected via a narrow strip along the county line)
In the Chicago suburbs, Democrats lose out big as all of the seats we would have hoped to win are fairly Republican. The 11th, where Bill Foster would have beaten Judy Biggert, is now more likely to send Adam Kinzinger back to Congress. Biggert on the other hand has her seat eliminated. Foster's best bet would be to run in the neighboring 14th which contains Aurora and Naperville, but it is no more Dem than his old seat so he would likely still be an underdog to Randy Hultgren.
Going further north, the new 8th district takes in all of McHenry County as well as some towns to the south of it. It's about as Republican leaning as the prior iteration was. Given how abrasive Joe Walsh is, a competent moderate Democrat in the Melissa Bean mold should send him packing, but this seat would be competitive with a non-crazy Republican. Next is the 10th district, which is essentially Lake County. Bob Dold pulled off a bit of an upset in 2010 and this seat is 2% worse for Obama, but Dold loses many of his downballot Republican towns in Cook County. Given how Lake is Dem leaning and trending in our direction, Dems would probably oust Dold, but he now has a much greater shot at holding on.
Lastly, and this may have just resulted from how I drew the VRA 4th district, but Dan Lipinski's 3rd district actually gets quite vulnerable on paper, though he should be fine in practice. It could in turn cede some of its DuPage county territory back to the 6th which would shore up both districts for their incumbents. Anyway, this was the first time I've completed an Illinois map and I wasn't particularly satisfied with this area of Chicagoland.
Indiana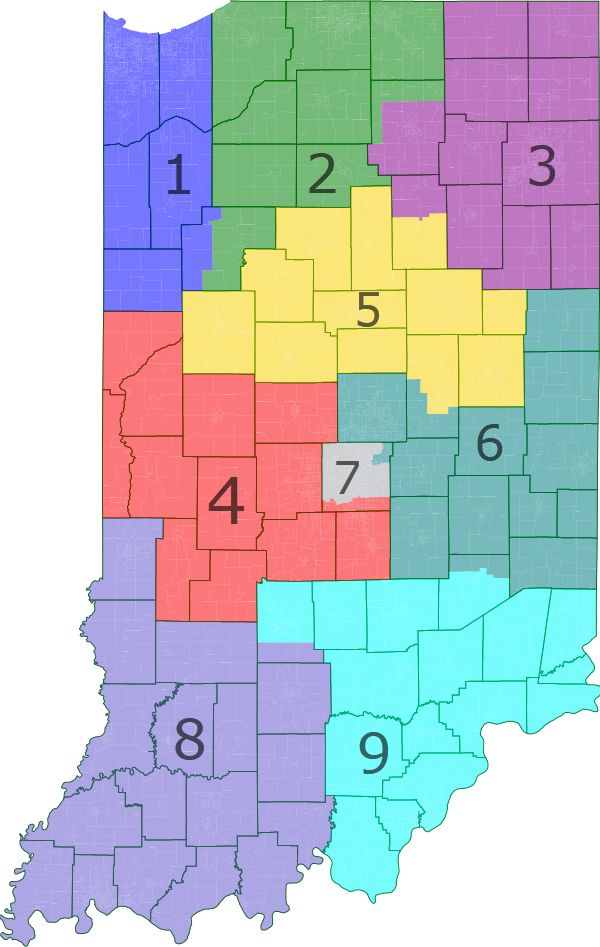 The partisan average is of all statewide races from 2004 through 2010 and calculated for whole counties.
Indiana Republicans actually drew a fairly tame gerrymander, but this non-partisan map manages to improve a few districts for Democrats. The 2nd district gets about 3% better by Obama numbers and should be a tossup. Hopefully that change is enough for Brendan Mullen to hold the open seat. The neighboring 5th district actually moves enough to the left that Obama outright won it with a majority of the vote in 2010. It is still Republican-leaning seeing that this is Indiana, but Democrats would be quite competitive in this open seat.
Downstate, the big change involves the 9th district which stays away from the Indianapolis suburbs and thus remains a heavily Blue Dog district. Todd Young would probably be a slight favorite, but Democrats would easily compete heavily here seeing as how it's essentially the same district Barron Hill won in 2002, 2006, and 2008. The neighboring 8th district moves back 1% to the right, but it's just as Democratic as the version Brad Ellsworth won and would remain quite competitive with state Rep. Dave Crooks as our candidate.
Kentucky
The partisan average is of all statewide races from 2004 through 2011.
Unlike nearly all of the other states here, Kentucky had a bipartisan, quasi-incumbent protection map which is undone here. Still, my map is not too dissimilar from the actual one.
The big changes are primarily to the 1st and 5th districts, which shift to the left some and are now about the same as the state, and the 6th district where Dem Ben Chandler receives a district about as red as his old one.
The impact on the 2012 elections would be quite negligible, but in an open seat situation Dems would have a better chance of picking up the 1st or 5th while Republicans' chances improve in the 6th.
Louisiana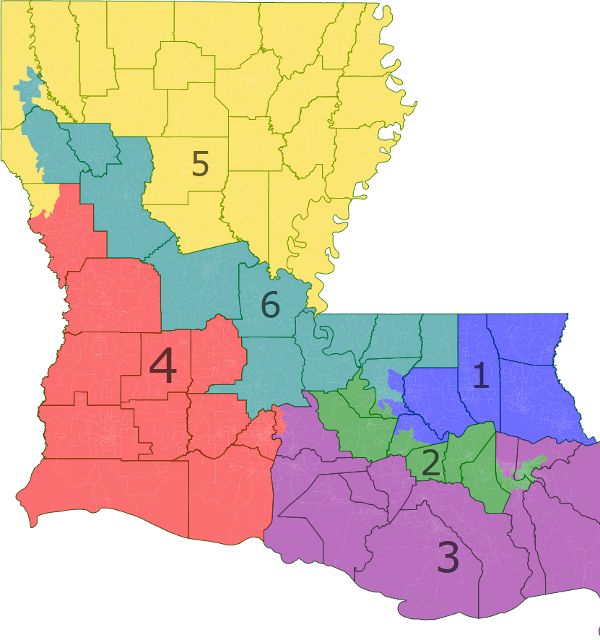 Louisiana is the second state where I believe Republicans should have been required to draw a second VRA district. The state is one of if not the most politically polarized along racial lines and if anywhere needs VRA districts, it's Louisiana.
This first version should demonstrate just how easy it is to draw another VRA seat, as the new 6th district goes from Baton Rouge to Shreveport while splitting few counties and barely disturbing the New Orleans based 2nd. It is only D+3, but given how poorly Obama performed in the deep south among conservative whites, it should be a safe seat for a Sanford Bishop type of Dem.

(Baton Rouge, left - New Orleans, right)
This second version splits more counties, but results in a 6th district which has a slightly higher black VAP. Either way, the result is that Jeff Landry is saved while John Fleming is screwed, and Bill Cassidy retires a cycle early to prepare for his 2014 senate run.
Maryland

Maryland is another one of the few Democratic gerrymandered states and accordingly sees Republican's fortunes improve. The biggest difference is that the 6th no longer contains any of Montgomery County and remains quite conservative. The other big change is that the 2nd district combines both John Sarbanes and Dutch Ruppersberger into an R+1 seat. Still, Obama underperformed local Dems pretty significantly in eastern Baltimore County and northern Anne Arundel, so whichever of Sarbanes or Ruppersberger runs here should be a decent favorite.
Massachusetts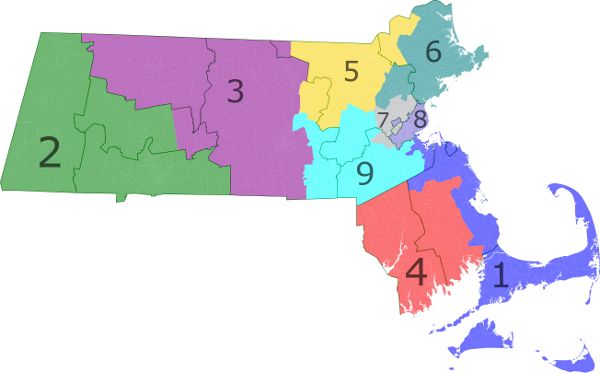 Massachusetts is the third and final state where the Democratic gerrymander improved our odds by a significant amount. Now, the state is drawn without regard to particular incumbents preferences. While several districts take a hit, all of them are at least D+3/D+4 and should favor Democrats in anything other than a 2010 wave.
The biggest loser is Stephen Lynch, whose district shifts away from Boston and is the weakest at just D+3, but that shouldn't be enough to imperil the district and it Leans Dem at worst. Joe Kennedy III no longer has a Boston based district to run in, but the south shore based 4th district would still be open and Kennedy and his fundraising machine would likely make this D+4 district a solid hold.
Michigan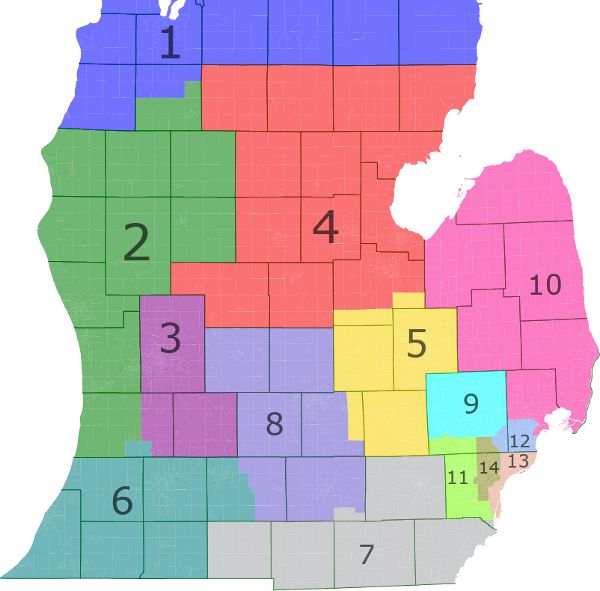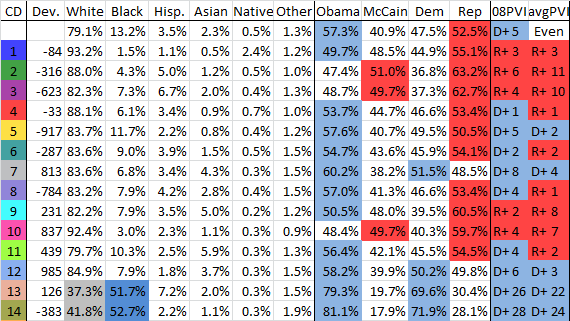 Michigan represents one of Democrats' best states in terms of improvement over the actual Republican gerrymander. Rather than eliminate the 9th district, this map combines John Dingell and Tim Walberg in a new Ann-Arbor based 7th district that strongly favors Dingell. This allows for the creation of a compact Lansing based seat which becomes D+4 and would give someone like senate leader Gretchen Whitmer a good shot at knocking off Mike Rogers.
Other changes include the 11th being mostly Wayne County based and getting 6.5% more Dem than the version Thad McCotter abandoned. With this seat being open, Dems would have better odds than not of picking up the seat. On the other hand, the 9th district is now comprised entirely of central and northern Oakland County and drops heavily Democratic suburbs of Detroit further south. It shifts 6% more Republican and would be quite tough for Gary Peters to hold. Hansen Clarke would have little trouble winning the primary in the new 14th under this map.
The last set of big changes concern the 4th and 5th districts which both become more competitive. The 4th is now based in the tri-cities area plus north-central Michigan and should favor entrenched incumbent Dave Camp, but would be very competitive in with an open seat or 2008 style wave. The 5th district remains based around Flint, but drops Bay City for conservative Livingston County, though it is still D+5 and should be a Dem hold.
Missouri

Missouri saw the Republican state legislature pass a moderate gerrymander with the help of a few turncoat Democrats. This map surprised me at how little things are actually improved for Dems though, since Democratic voting strength is so heavily concentrated in St. Louis and Kansas City.
The district to see the biggest chance here isn't the 2nd as I had hoped, but the 4th which regains some more Blue Dog territory. Ike Skelton probably would have narrowly won here in 2010 and could make it very competitive were he to seek a rematch, but otherwise Vicky Hartzler is a Lean R to Likely R favorite. The 2nd district essentially represents what is Democrats' worst case scenario for Missouri as it contains none of St. Louis proper, but all of its suburbs that aren't in the 1st which makes it quite Republican downballot. It's plausible that the district would add Jefferson County to the south rather than parts of St. Charles to the north, but even that only improves the seat 1-2% and leaves it still Republican leaning.
Nebraska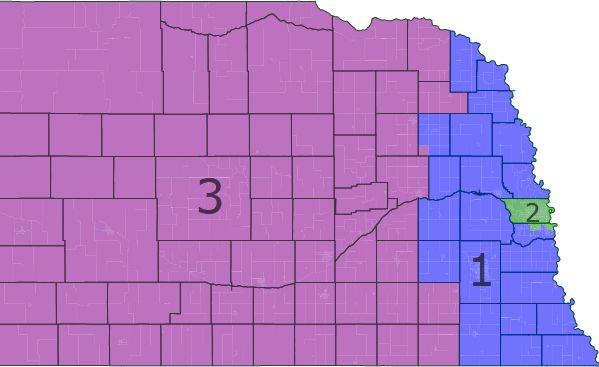 Not much to see here as the biggest change is the 2nd district retains the eastern, more urban part of Sarpy County rather than the more conservative western part. This boosts Obama's performance by about half a percentage point which would help us if we were seriously targeting this seat, but Lee Terry is essentially safe.
New Hampshire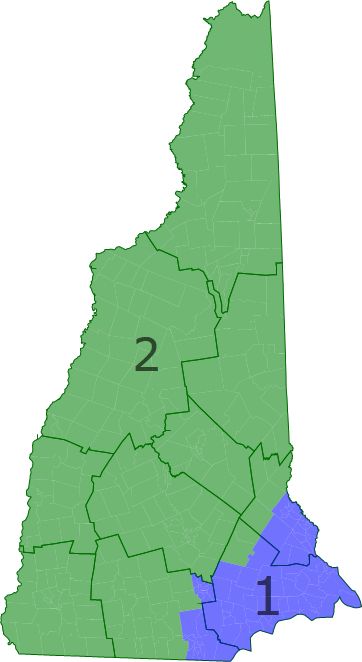 The partisan impact of this map is pretty negligible as well, since this one merely sought to keep the rural areas of central New Hampshire in the 2nd district while placing the more Boston-centric areas such as Nashua in the 1st.
New Jersey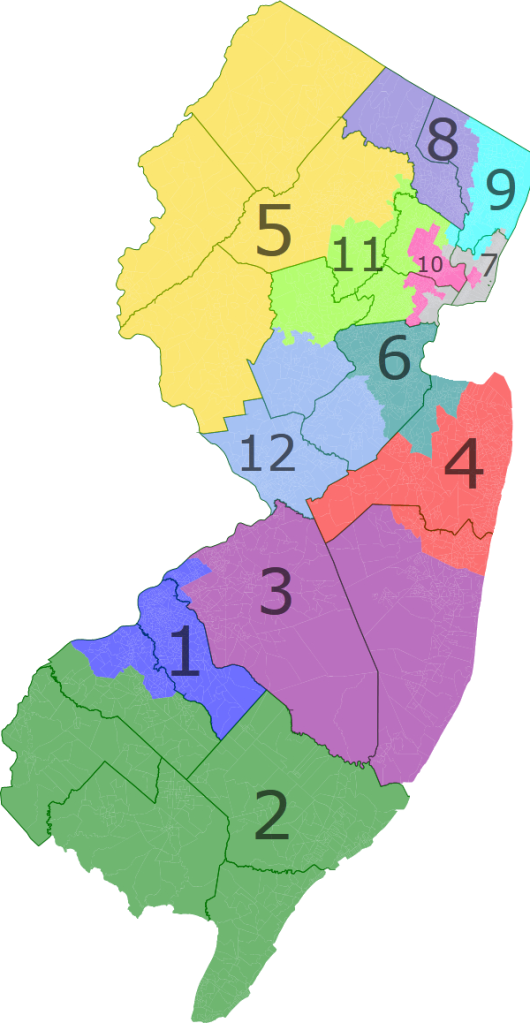 While New Jersey has a bipartisan committee that handles redistricting with 6 Dems, 6 Republicans, and a tie-breaker the state Supreme Court appoints, Republicans were able to hijack the process when Chris Christie threatened to withhold funding from professor Alan Rosenthal's Rutgers University. Without Rosenthal, who was the tiebreaker for previous rounds of redistricting and this round's state legislative redistricting, a new tiebreaker John Farmer was appointed who was a former Republican Attorney General and acting Governor (both appointed). Thus, the actual map was a mild Republican gerrymander that will result in a 6-6 breakdown in a blue state.
In this map, the eliminated district is Leonard Lance's 7th instead of Bill Pascrell's 9th (by population, not number). Lance is left without any good option too, but his best bet is probably running against Scott Garrett in the 5th.
Politically, this map shores up Jon Runyan slightly and weakens Rothman and Pascrell by a few points. Both of those districts are still fairly Dem leaning though, as local Dems performed better relative to Obama in Bergen and Passaic counties.
Rush Holt also receives a safer district, while Frank Pallone's is about as Dem as his old one. All in all, this map should result in a 7-5 Dem split, but could go anywhere from 10-2 Dem to 7-5 Republican depending on retirements and the national environment.
North Carolina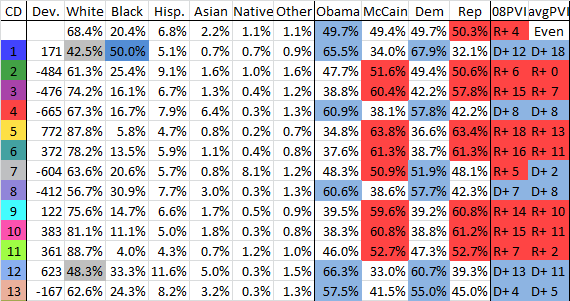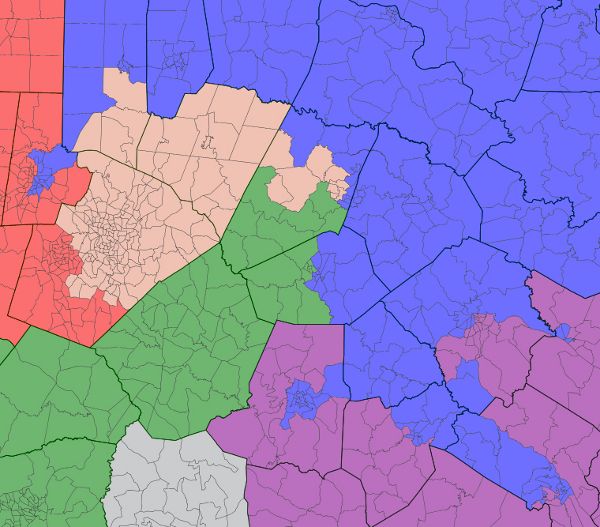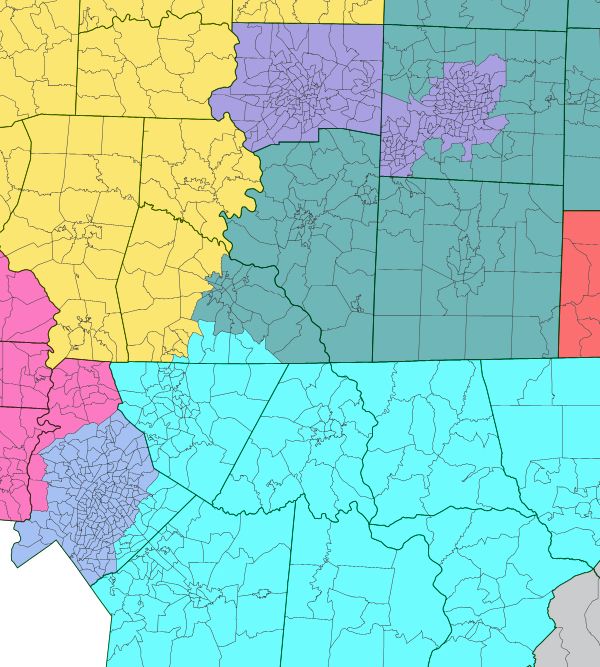 North Carolina is another of the biggest improvements for Dems over the Republican gerrymander and could result in 3-5 more seats than the actual map yields.
Starting in the eastern part of the state, Mike McIntyre's 7th district moves several points back to the left with the inclusion of all of Wilmington and Robeson County and the exclusion of David Rouzer's base in Johnston County. McIntyre is well entrenched here and should have absolutely no trouble winning another term.
Further north, Renee Ellmers 2nd district becomes more Democratic with all of Fayetteville and is fairly similar to the old 2nd district. Though it's about 4-5% more Republican than the old version, I think Bob Etheridge would easily make this a competitive race. This seat all depends on who Democrats field to run and how effectively they are able to pain Ellmers as a beholden to the tea party.
Getting to the triangle area, Brad Miller's 13th district is very different than the actual version and now retains all of Raleigh and northern Wake County. This turns a heavily Republican district into a Dem leaning one that is trending Democratic quickly. Miller should be fine here and definitely wouldn't have retired.
One loser among Democrats is Larry Kissell, whose 8th district is effectively merged with the 9th into a much more conservative district where he would have no hope of winning. Kissell might have run again in the new 9th, but I think he would have just called it a day and retired.
Since the old Charlotte to Greensboro 12th was dismantled, a new 12th takes shape that is comprised almost entirely of the city of Charlotte and is safe for Mel Watt. This allows the new 8th to be placed around the Triad area and is a safe Dem replacement for Larry Kissell's seat.
In the western part of the state, Heath Shuler's 11th district reclaims all of Asheville and goes back to being about R+6. Given how strongly Shuler has performed in each of his three elections, he should be safe here and without a doubt wouldn't have retired.
In total, Democrats would have no trouble in holding their current number of 7 seats and would have good odds of retaking Renee Ellmers' 2nd district.
Ohio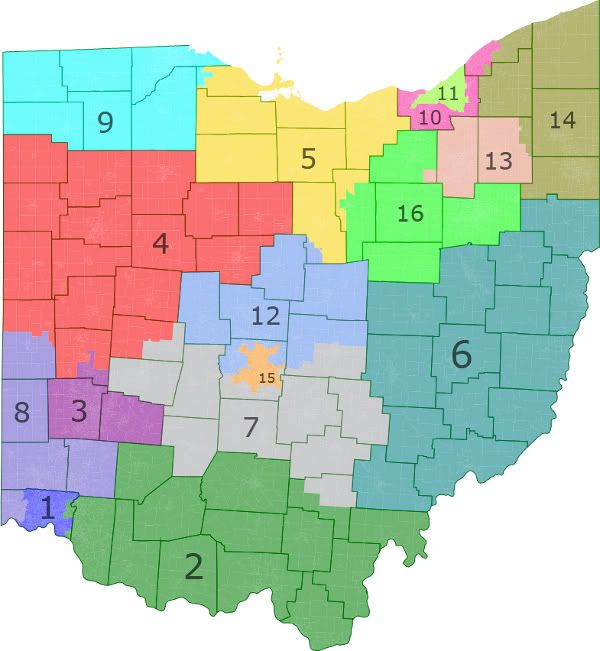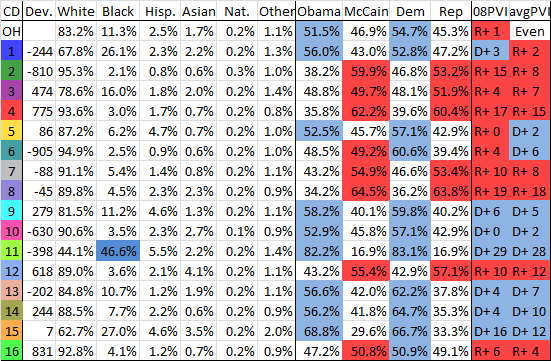 Ohio is another state that's a huge boon to Democrats; this is a map that could feasibly be in place for 2014 if Dems are able to pass the independent redistricting commission ballot measure in 2012.
Among the biggest changes are the 1st district which no longer cracks Cincinnati between two districts and now takes in the entire city as well as some nearer suburbs. This causes the seat to be D+3 rather than R+6. Former Rep. Steve Driehaus would be no worse than a tossup against incumbent Steve Chabot, though any well funded Democrat should be competitive if not favored here.
Moving east is the 6th district, which gets 4 points more Democratic and is even more Dem than the version Johnson won in 2010. By adding areas like New Philadelphia, the district gives former Rep. Charlie Wilson a huge boost by adding his base. The district is Democratic enough locally that Wilson should be a favorite to beat Johnson in a rematch.
Next up is the 13th district, which is resurrected as an Akron based district perfect for Betty Sutton. It's just as Democratic as her old 13th district, contains her base north of Akron, and should have no trouble reelecting her to a 4th term.
Because the 13th district is based in Akron, the old 14th and 17th are merged into a Youngstown/northeastern Ohio district that is much more Dem locally. With Steve LaTourette retiring, Tim Ryan wouldn't have had much trouble winning here. Additionally, the new 16th district is much more similar to Jim Renacci's old one. It could be competitive with a strong Obama performance this November and a good candidate, but Renacci should be favored. Because of this however, Bob Gibbs has his district eliminated and would have nowhere good to run.
Since the 11th no longer extends into Akron to pack Democrats, it becomes a compact district based entirely in Cleveland, though it is still quite blue. This turns the 10th district into a Dem leaning swing seat based around suburban Cleveland. Dennis Kucinich couldn't win a district this swingy, but he would probably lose the primary given his past few performances. As long as Dems nominated a decent candidate they should be able to hold the 10th.
Last comes the 5th and 9th which sort of switch places. The 9th takes in all of Toledo and northwestern Ohio and is Dem enough that Marcy Kaptur should win relatively easily. Bob Latta might be better off running in the new 5th despite losing a lot of territory, since it will be an open swing seat. Still, given how strongly Obama is performing in Ohio and that this seat is slightly better for local Dems, we should probably win this seat at least in 2012.
Oklahoma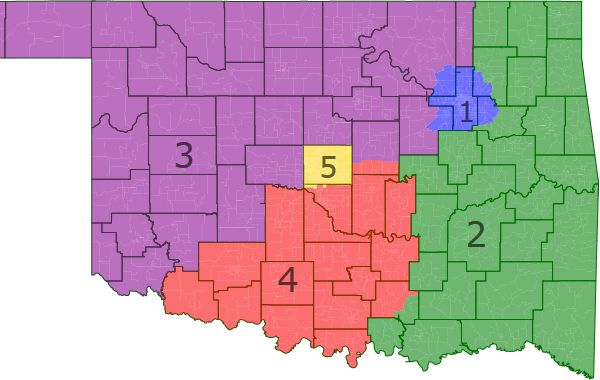 Oklahoma is mostly the same as the actual map, some outlying areas of districts were traded around to make better sense of CoI, but there is no partisan impact as Republicans didn't need to draw much of a gerrymander.
Oregon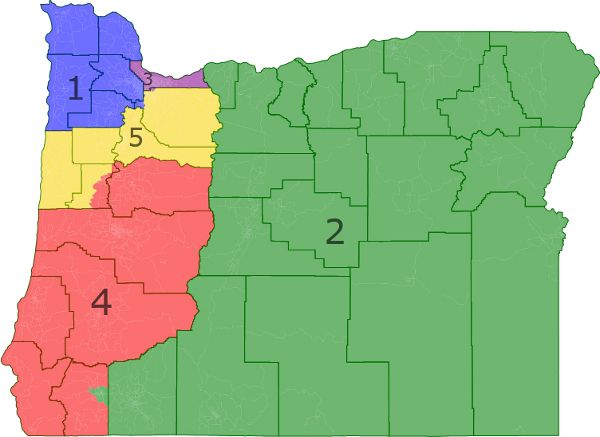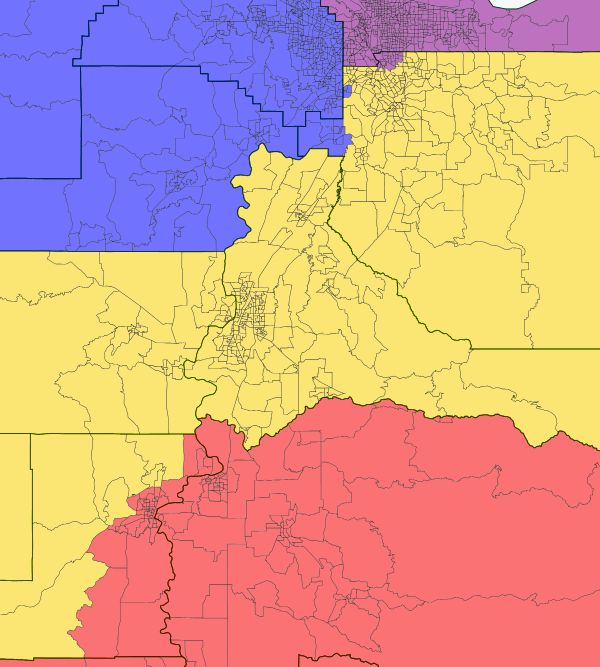 Oregon's compromise map was pretty much exactly like this, but there are some mild changes to the 5th district that shift it slightly to the right. Kurt Schrader is still safe though as he is in reality.
Pennsylvania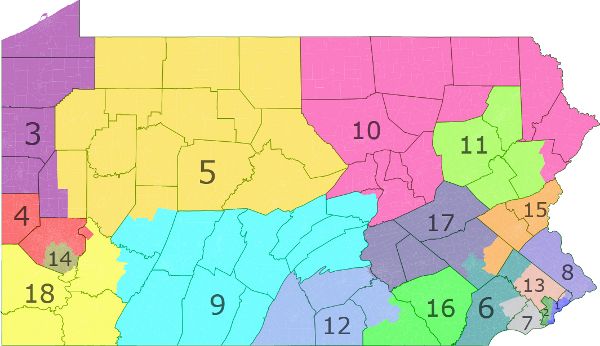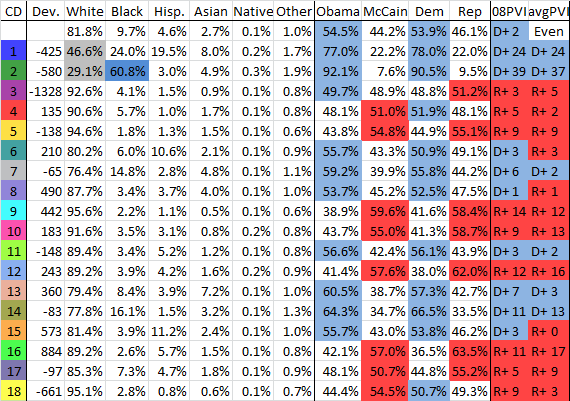 Pennsylvania is the last big fish that Democrats catch with independent redistricting. Starting off in western Pennsylvania, the 3rd district becomes a few points more Democratic to the point that Obama actually won it now. I believe we would have fielded a stronger candidate with these lines, but incumbent Mike Kelly is probably still favored regardless.
Next is the 4th district where Jason Altmire is made pretty much safe given how well he performed in his Republican district. This seat is 3% more Democratic than the on where he won election from 2006-2010. Since Pennsylvania lost a seat in reapportionment, the seat eliminated is still effectively the 12th district as Mark Critz and Tim Murphy are combined in the new 18th. The 18th is still much more Democratic at the local level though, as Obama underperformed a generic Dem in the district by about 8%. This seat would be nothing other than a tossup given how much new territory each candidate has and how the district is less safe than either Critz's or Murphy's old seat. Given how this area is trending Republican and Murphy has always won campaigns convincingly, he probably has a slight edge, though Critz could very easily overcome that.
In eastern Pennsylvania, Tim Holden's political career would have been resurrected in a district fairly similar to his current one, meaning it's safe for him but Republican leaning otherwise. To make that happen, Lou Barletta's 11th district reverts to a Scranton Wilkes-Barre seat that should lean Dem enough to give him the boot in 2012.
Closer to Philadelphia, the biggest changes involve the 6th and 7th districts which are much more Democratic than the actual versions. The 7th contains all of Delaware County and the closer parts of Chester County while becoming even more Dem than the old incarnation. Pat Meehan should lose as long as we don't face another GOP wave.
The 6th district is now comprised of the rest of Chester County and all of the city of Redding, which actual makes Jim Gerlach safer than his old district, but slightly more endangered than his new one. Not helping him is the fact that he'll face a lot of new constituents and a strong opponent in Manan Trivedi. All of these factors together make this seat a tossup, though given Gerlach's penchant for pulling it out in close races, he probably has the edge.
Another loser is Charlie Dent in the 15th district, which reverts back to its prior configuration of Allentown plus Bethlehem. Democrats targeted this seat for a while in 2010 and as long as we field a top tier candidate this seat should absolutely be competitive, though Dent retains his incumbency advantage and will probably hold on.
Finally, there's the 8th district which gets slightly more Democratic, but is essentially the same. The big difference is I think there would have been a much larger chance that Patrick Murphy might have opted for a rematch, giving us our strongest candidate, though that is unknowable.
Rhode Island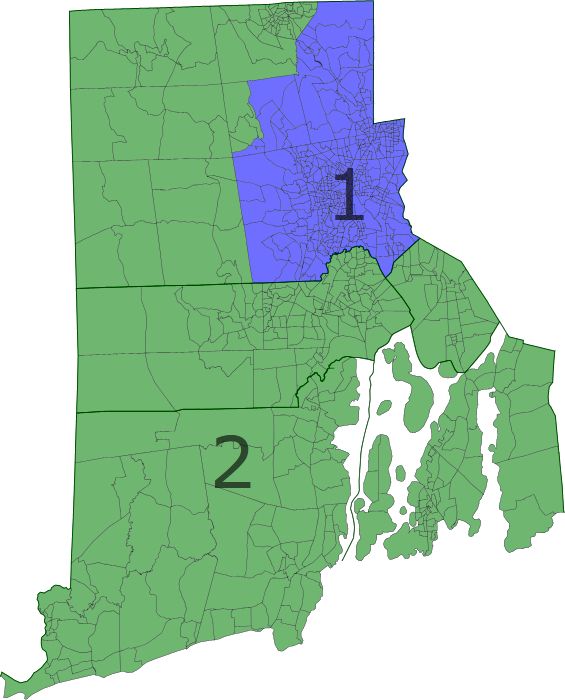 Rhode Island saw a minor Democratic gerrymander to protect unpopular freshman Rep. David Cicilline, though this map actually makes his seat more Democratic. By reuniting all of the city of Providence into one district, this seat moves a few points more Democratic to be D+16, which should practically ensure that Cicilline is reelected.
South Carolina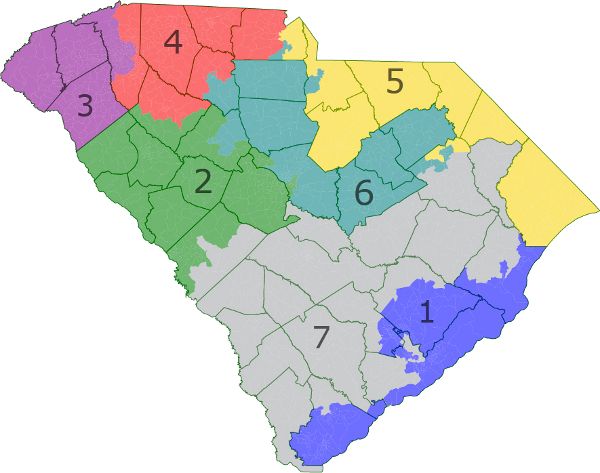 South Carolina is the final deep south state which I believe should have been required to draw a second black majority VRA district and is the one which I think has the strongest case.
The two VRA seats I've drawn, the 6th and 7th, have been drawn to show how compact and "clean" the districts can look while still being majority black. The old 6th is based around Columbia and Sumter and also includes parts of cities like Rock Hill. The new 7th district takes in the more rural black belt areas as well as the blacker parts of Charleston and should easily send a black Democrat to Congress.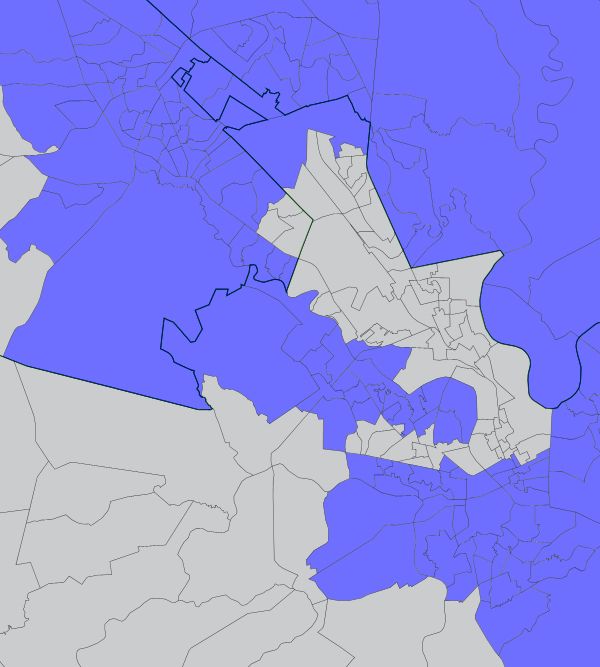 Tennessee

Undoing the Republican gerrymander in Tennessee doesn't do that much for Democrats since they are already quite concentrated in Memphis and Nashville. The 5th district is almost identical to the 1990s version of the district and is safe for Jim Cooper.
The big changes are the 7th district, which sheds all of its suburban Memphis and Nashville territory for Democratic areas like Clarksville, potentially enough to endanger Marsha Blackburn, but this is still a fairly conservative district. The 4th district is also potentially winnable for Democrats since it keeps a lot of the counties that Harold Ford won in his 2006 senate campaign.
Texas
click for detailed maps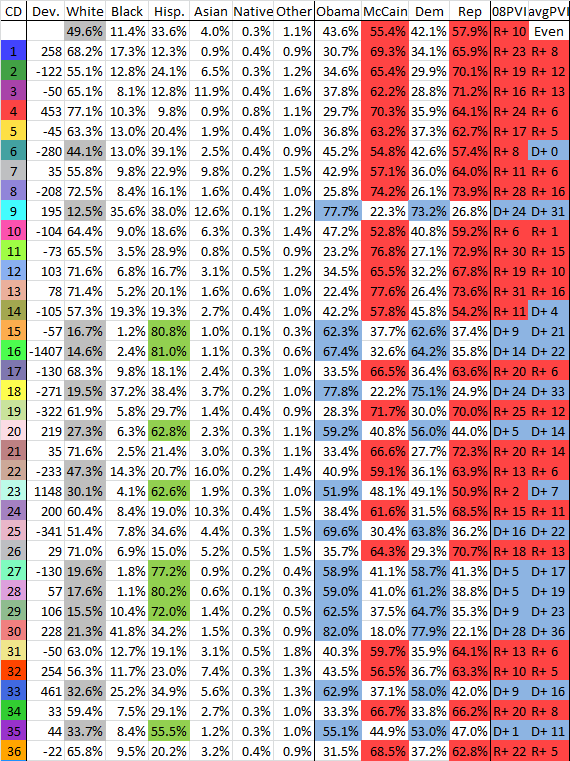 For Texas I've simply used the interim map C220 drawn by the San Antonio court, but was eventually struck down by the Supreme Court. The only significant difference between this one and the actual one involves the 25th districts and 35th district, which are now both Democratic seats. Thus, we would end up with the original situation of Lloyd Doggett running in the Austin-based 25th, Juaquin Castro running in the new 35th, and Ciro Rodriguez running in the the open San Antonio based 20th. End result is Democrats get one more seat.
Utah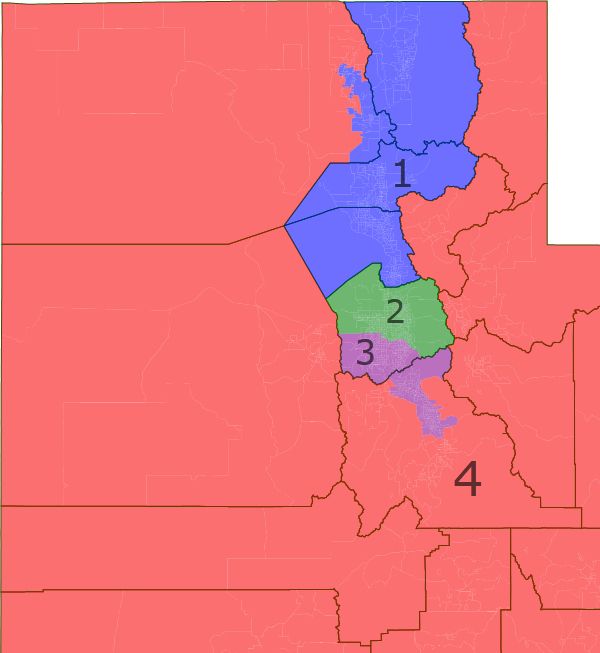 In Utah Jim Matheson actually gets screwed, but Democrats come out ahead with a compact district containing all of Salt Lake City and most of the county. Hopefully Matheson would retire to run for statewide office either in 2012 or further on, but this D+3 seat could easily elect someone more liberal. All of the others are heavily Republican.
Virginia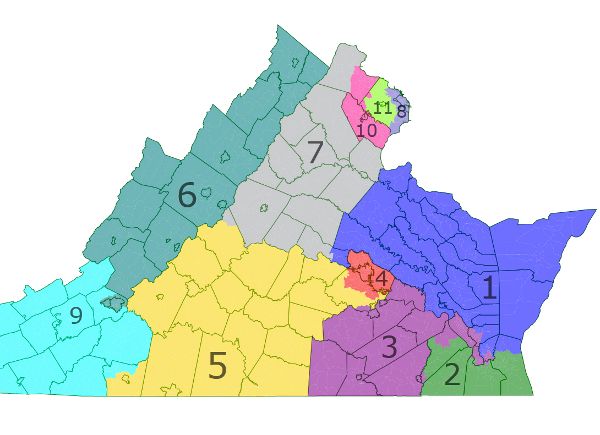 In Virginia, the most significant change involves the 3rd and 4th districts to undo the packing of Dems into the 3rd. That seat is now based in Hampton Roads and some of the southside such as Petersburg. The 4th becomes a compact seat containing all of Richmond and its closer suburbs and subsequently becomes much more Democratic and should be an easy pick up.
These changes cause the 2nd district to become a touch more Republican, but at R+4 it isn't totally out of reach for Democrats. Additionally, the new 2nd contains a lot of territory that is new to either Rigell or Forbes should either be nominated.
In northern Virginia, the districts are divided into an inner Fairfax seat with Arlington and Alexandria, a seat containing the remainder of Fairfax, and an outer suburbs/exurbs seat containing all of Prince William and 5/6ths of Loudon counties. This last seat is Frank Wolf's and it should make him more endangered as half of it is new to him and it is D+3.5 and trending more so. While Wolf would probably win, this seat should definitely go Democratic if he retired.
The last two seats to undergo significant change are the 5th and 7th. The 5th drops liberal Charlottesville and zooms to the right which protects Robert Hurt. The 7th though, by dropping the Richmond suburbs and picking up Charlottesville becomes much more Democratic to the point that Obama actually won it, making it R+3. Eric Cantor remains an unpopular figure among swing voters and would be in the battle of his life in this district. Add to it that progressive favorite Tom Perriello could potentially seek a return to Congress in this seat and the district is a tossup.
Washington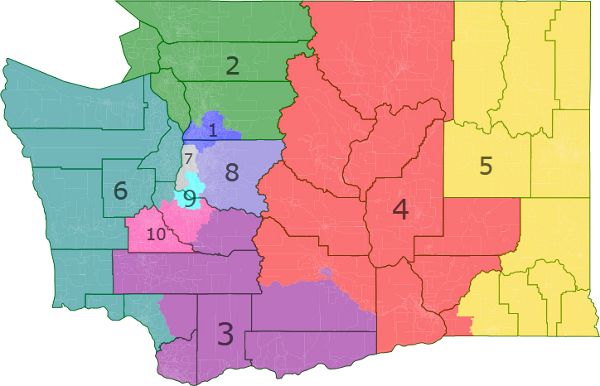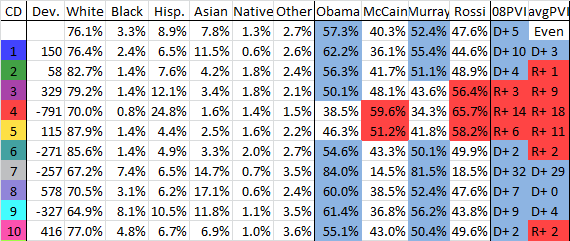 Washington state, like New Jersey, uses a bipartisan commission which usually results in an incumbent protection map. This map though, improves Democratic odds by cleaning up the lines significantly.
The biggest loser of this map is Dave Reichert, who instead of getting conservative territory east of the cascades receives a purely King County based district that moves several points to the left. Either Darcy Burner or Suzan DelBene would be favored to beat him here.
Further north, the open 1st district reverts back to the southern Snohomish County iteration that easily elected Jay Inslee and would be safe for any Democrat. Neighboring 2nd district incumbent Rick Larsen gets a district about as Democratic as his old one and should be quite safe as an entrenched incumbent.
The new 6th district becomes more vulnerable though as it drops Tacoma and gains everything west of the sound. In addition it picks up the rest of the Pacific Coast as well as Longview. The district is more Dem locally, but swingy enough that it only Leans Democratic.
The 10th district becomes a Dem leaning seat based around Olympia and western Pierce County and shouldn't be too difficult a win for Denny Heck. The 9th district shifts to contain Tacoma and southern King County areas such as Sea-Tac and Federal Way and makes Adam Smith even safer.
On the other hand, Jaime Herrera Beutler's 3rd district becomes a few points more conservative by crossing the Cascades and taking in the city of Yakima. I wasn't thrilled with how this district turned out around Yakima, but I only wanted one district to have to cross the cascades and the 3rd was the most logical district to do so. This seat might be winnable with a good candidate in a Dem year, but for 2012 it would be relatively secure for Herrera Beutler.
West Virginia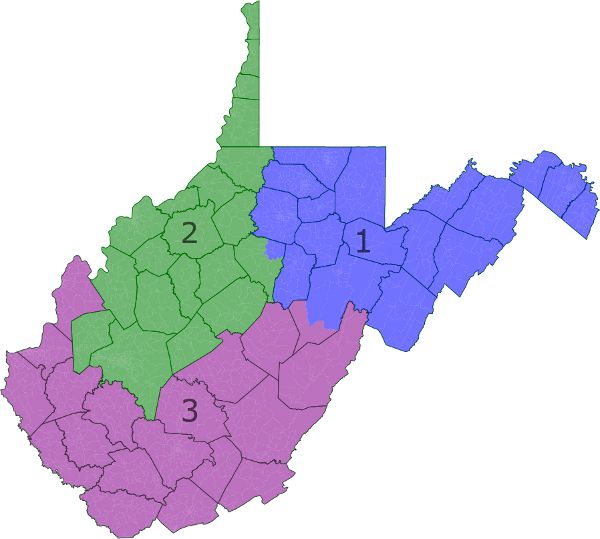 Though nominally drawn by Democrats, West Virginia's congressional map was essentially a non-partisan map favoring particular geographic areas rather than a partisan gerrymander. Here, I've kept the 3rd district the same as it contains all of southern West Virginia's coal country, but now the 1st and 2nd are divided into an eastern and western seat. This move actually makes the 1st district more conservative with the inclusion of all of the eastern panhandle, but with such a large amount of new territory McKinley would still be vulnerable.
Whether Democrats win the 1st or 2nd all depends on who is running, as it does with the actual map. Should Shelly Moore Capito leave the 2nd district open to retire or run for statewide office, Democrats should be favored to pick it up. If Democrats had actually fielded a strong candidate in the blue dog model of Nick Rahall, they should be able to win the 1st, but not with a liberal like Sue Thorn.
Wisconsin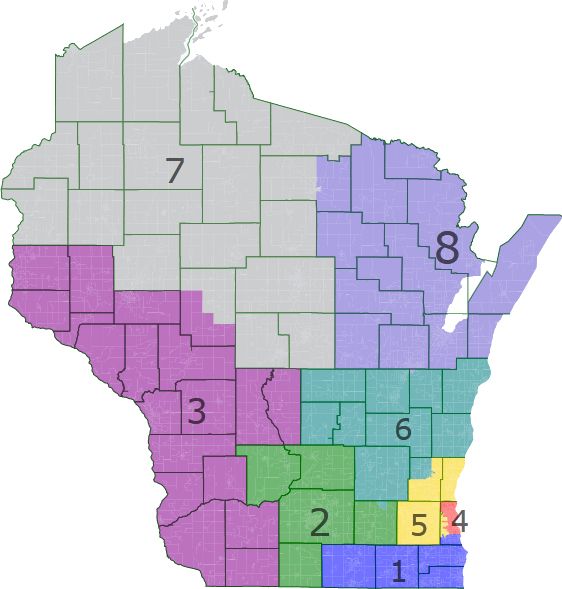 The last state we get to is Wisconsin where Republicans drew a map intended to produce a 5-3 Republican advantage. The big change here is the 1st district which drops dark red parts of Waukesha County and gains heavily Democratic Beloit to give incumbent Rep. Paul Ryan a D+2 seat. Though he is the author of the unpopular, Medicare-destroying Ryan budget, he would have several million to campaign with. Whether we could knock off Ryan depends on if Democrats field a candidate who can raise enough money to viably compete, though at worst this is a tossup.
The other main change is that the 7th district becomes Democratic leaning again by regaining Steven's Point. Hopefully this would be enough to beat Sean Duffy who has proven particularly gaffe prone, but Pat Kreitlow has so far run a lackluster campaign. Still, the seat should be a tossup.
National Impact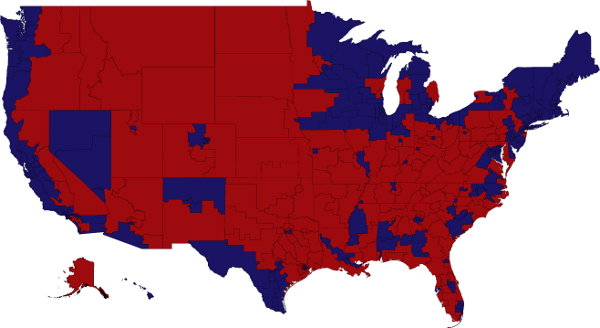 click for larger image
(new map by 2008 presidential vote)

151 seats are Safe D, 150 are Safe R
Together, all of these maps yield a national race ratings map which is much more competitive for Democrats than the actual version. You can compare these ratings to my actual ratings to see the impact of the changes. Of particular note is how many further seats across the midwest become competitive. Some seats, such as CA-21 see improvement, likely due to a better candidate being recruited. In total this would yield a much more level playing field for Democrats and should even favor them to retake the house.
My 95% confidence prediction for the real elections is that Democrats gain 10-15 and for this alternate set of maps it would be in the 30-40 range. Here is one such scenario I believe would be realistic: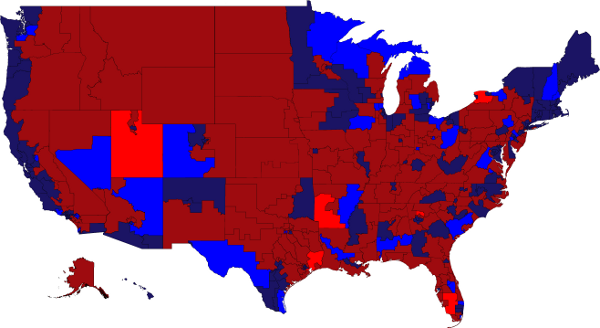 click for larger image
Here Dems gain 36 for a total of 229 seats compared to the 10 I think we'll actually gain.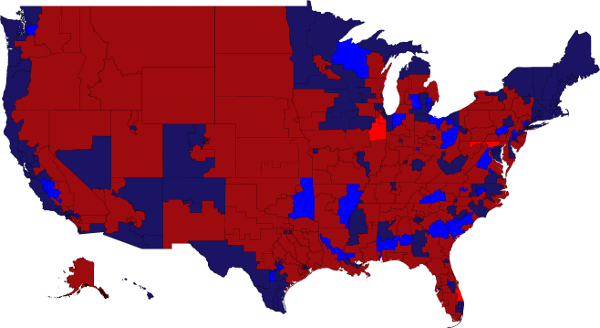 click for larger image
Here I've mapped out the changes between the above map and what I think will happen. You can see that very few seats flip (back) to Republicans, but that Democrats flip multiple seats in bigger states such as Michigan, Ohio, and Pennsylvania. The districts (by the new, actual numbers) that flip to Republican from what I think democrats will actually win are:
FL-18 - Patrick Murphy
IL-11 - Bill Foster
IL-13 - David Gill
MD-06 - John Delaney
The districts that flip to Democratic from Republican are:
AL-02 - Martha Roby
AR-01 - Rick Crawford
CA-21 - David Valadao
CA-31 - Gary Miller
FL-10 - Dan Webster
GA-12 - Rick Allen or Lee Anderson
IN-02 - Jackie Walorski
LA-06 - Bill Cassidy
MI-07 - Tim Walberg
MI-08 - Mike Rogers
MI-11 - Nancy Cassis
NC-08 - Richard Hudson
NC-11 - Mark Meadows
NC-13 - George Holding
NJ-07 - Leonard Lance
OH-01 - Steve Chabot
OH-05 - Bob Latta
OH-06 - Bill Johnson
OH-07 - Bob Gibbs
OH-14 - Steve LaTourette's replacement
OK-02 - Markwayne Mullin or George Faught
PA-07 - Pat Meehan
PA-08 - Mike Fitzpatrick
PA-11 - Lou Barletta
SC-07 - Tom Rice
TX-25 - Roger Williams
VA-04 - Randy Forbes
VA-07 - Eric Cantor
WA-08 - Dave Reichert
WI-07 - Sean Duffy
CA-21, CA-31, and OK-02 are due to stronger candidates running.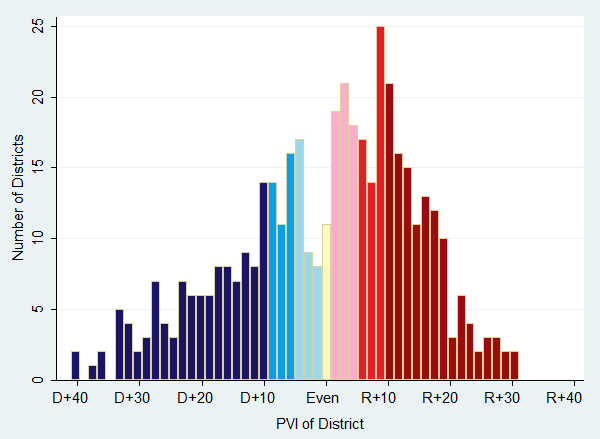 This is the distribution of the actual congressional districts by Partisan Voting Index. The median district is Republican Jeff Denham's CA-10 at R+2.25.
There are 242 R+ districts and 193 D+ ones.
Obama won 237 districts to McCain's 198.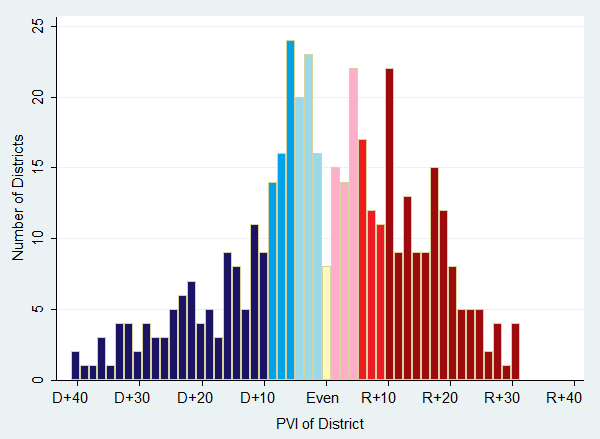 And here is the distribution of the seats with my alternative non-partisan maps in place.
The new median district is Republican Bob Latta's OH-05 at R+0.24.
There are 220 R+ districts and 215 D+ ones.
There are 249 Obama districts and 186 McCain districts.
Here's a spreadsheet with Obama/McCain numbers for all the actual districts and "fair" districts.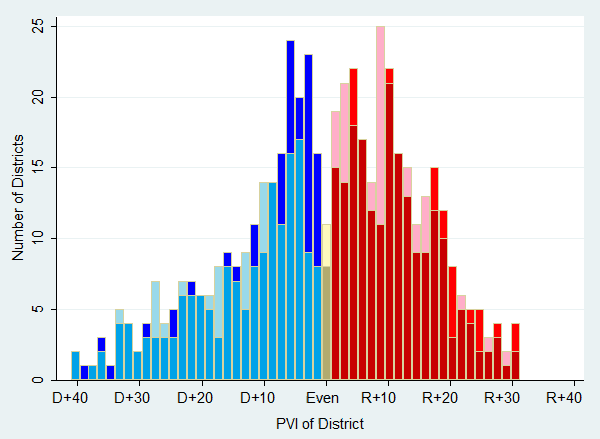 In this last graph, I've shown the difference between the actual and alternative districts, with the lighter colored bars removed and the deeper colored bars added.
The median congressional district gets 2% more Democratic, but as you can see the distribution is still slightly skewed in favor of Republicans and is not exactly a normal distribution. What sticks out to me is how many moderately or Likely Republican seats are eliminated and how many marginal or Lean Democratic seats are added.
The bottom line is this: partisan redistricting almost certainly cost Democrats a large enough number of seats to prevent them from retaking the House. My 95% confidence interval is that gerrymandering costs Democrats 20-30 seats in the upcoming elections. Additionally, it makes the representatives Democrats do elect be more moderate than they otherwise would be under a system that incorporated proportional representation.