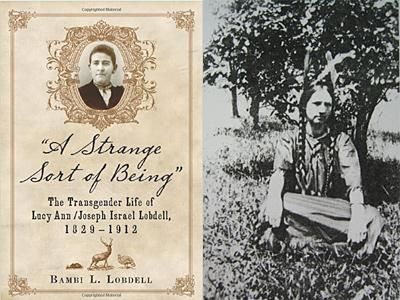 The Advocate recently interviewed the author of the book whose title I used for this article. I have not yet myself read the book, but it has moved to the top of my "next" list.
The subtitle of this monograph by Bambi L. Lobdell is The Transgender Life of Lucy Ann/Joseph Israel Lobdell, 1829-1912. The author is the second cousin four times removed of the subject, who once earned the nickname of "The Female Hunter of Delaware County." Dr. Lobdell is a faculty member in Women's and Gender Studies at SUNY Oneonta. The book is a transformation of her PhD dissertation, A man in all that the name implies: Reclassification of Lucy Ann/Joseph Israel Lobdell at SUNY Binghampton.
Born in 1829 to a working-class family in upstate New York, Lucy Ann Lobdell was not your average girl. Donning her brother's clothes, she worked on the family farm and in her father's saw mill, demonstrating marksmanship skills that earned her the nickname "The Female Hunter of Delaware County." After leaving home, she moved to the frontier, married a woman, and lived for sixty years as a man named "Joe." Because of nineteenth century social restrictions and gender expectations, Lobdell endured forced marriage, arrest, and incarceration in an insane asylum. Although twentieth-century scholars have labeled her a lesbian, this study incorporates queer theory, analysis of stories about Lucy and Joe, and Lobdell's own writings to reveal that he was actually a transgendered man.
Based on Professor Lobdell's conclusions, I shall use male pronouns when referring to Lucy-Joe (the name Dr. Lobdell uses).
Lucy's autobiography, The Narrative of the Female Hunter of Delaware and Sullivan County, published in 1855 (excerpts gives no indication of male identification or desire for women. The autobiography presents an intelligent and strongly worded feminist manifesto for equal pay and opportunities for women and a personal refusal to live an oppressed life in the domestic sphere; she also presents her bold plan to seize freedoms and opportunities that women did not have legal rights to at the time by going out into the world in men's clothes. The few newspaper articles available were modern retellings of older newspaper articles that often only featured Lucy as a woman who refused to stay in the place society set for her. When this lack of information was combined with a general cissexist ignorance of transgender identity that is still common, the first stories out of my family were not complete.

--Bambi Lobdell
Professor Lobdell says it was an encounter with a distant cousin, Susan Crawson Shields, who was Lucy-Joe's great-great-granddaughter, who put her on the trail of the real story. Shields had pictures. Dr. Lobdell then stumbled across an article by a Dr. P. M. Wise, a sexologist at Willard Insane Asylum, where Joe had been sent against his will. Wise's report quote's his patient as three times as stating that he was a "man in all that name implies".
Even after being incarcerated in Willard Insane Asylum, Lobdell "dressed in male attire throughout and declared herself to be a man, giving her name as Joseph Lobdell, a Methodist minister; said she was married and had a wife living," according to Dr. Wise. Dr. Wise states that his patient is lucid, clear, coherent, not confused, not erratic, and able to relate vivid recollections of his life. In other words, Joe is not acting deluded or disconnected from reality.
Joe was, of course, born at the wrong time. But his story is definitely familiar to many of us who live today. It is in face Dr. Wise's article which first shines a light on our existence to the so-called "sexologists".
It was Joe's gender difference that got him committed, and his frank discussion of sexual desire confuses Dr. Wise, who believes his patient delusional. Joe describes experiencing nuptial satisfaction with Marie, which Dr. Wise dismisses as delusion because at the time, everyone knew sex was not possible without a penis, which Joe did not have. Joe's words seem to reinforce Dr. Wise's opinion that his patient is insane, and having never seen a person like Lobdell, he declares this case a rare clinical curiosity, never to be seen again.

--Bambi Lobdell
Once outed as having a female body, Joseph was hounded from place to place,
he was chased from one community by a tar-and-feather crew, and arrested and tried for impersonating a man in two other communities.
Times haven't, seemingly, changed that much.
Joe and his wife, Marie, who was never arrested, lived in caves and huts Joe built in the woods, surviving on Joe's hunting prowess.

In 1878, Joe's brother John helped him receive 15 years of back widow's pension he had coming to him because the man he had been forced to marry had been killed in the Civil War. With that money, Joe bought a small farm, and he and Marie set up housekeeping like any other couple, which made him socially dangerous because he could no longer be arrested for vagrancy. In 1879 the same brother went to the judge in Delhi, the county seat of Delaware County in New York State, and asked the judge for a lunacy hearing. The judge told John to select 12 true and honest men and take their testimonies that Lucy was insane. Twelve men, including John Lobdell, handwrote testimonies that Lucy was insane for wearing men's clothes, pretending to be a hunter, and pretending to love a woman. Three of these men had never even met Lucy; neither had the judge or the doctor who signed the certificate of insanity. In 1879 the Lobdell family released a false obituary that made newspapers from The New York Times to the Galveston Daily News, so wide was the Female Hunter's notoriety. In reality, the family somehow managed to contain Joe in his brother's house until he was taken to Willard Insane Asylum in Ovid, N.Y., in October of 1880. Joe was incarcerated at Willard but moved to the Insane Asylum at Binghamton, N.Y., in 1898, where he was held until he died in 1912.

--Bambi Lobdell
So Joe spent 33 years in the asylum for insisting he was a man.
So what happened to Marie? Well, when Joe "was called away" and ended up in the asylum, Marie went looking for him when he didn't return. She was then told that Joe had died. She was then dispossessed of the farmstead and Joe's pension. She tried to live in the woods on the survival skills she had learned from Joe, but she was less skilled. She became beloved by her community near Honesdale, PA, and people let her stay in their barns or homes for awhile, but eventually she made her way back to her childhood community of Whitman, MA. She worked in a factory until she died in 1890.